Seer Secrets Skincare and Haircare Products: Review and Analysis
As a skincare and haircare enthusiast, I occasionally come across amazing brands that are of Indian origin. I feel extremely proud whenever I find such brands. Well! It is the right time to confess that these days, I am on a spree to promote Indian brands more and more.
If you have been following my site for some time now, then you may know already that I love brands that talk about safe formulations. More and more, we need such formulas that are safe for both the environment and also for our organs.
Very recently, I came across the brand 'Seer Secrets' which comes from the house of an Indian Apothecary. This brand is all about safe formulations and amazing ingredients.
After putting all the 7 Seer Secrets skincare and haircare products on my testing table, I am ready to jot down my experience here. Well! Let's dive in to know how amazing or effective the products are.
Table of Contents
A Brief Words about Seer Secrets
Seer Secrets is all about amazing formulations and unheard ingredients. All the products are just what modern-day folks need. Seer Secrets use ancient techniques, double boiling, steam distillations methods to get the extracts from natural resources.
Seer Secrets aims to deliver safe products that can meet all the demands and requirements of this generation. Get ready to indulge in the goodness of nature.
A Few Common Ingredients Used in Seer Secrets Products
Every product is different. The formulation is also pretty different from one another. But, here are a few ingredients which are all common in most of the formulations. Take a look!
1. Linalool
Linalool is basically a fragrance ingredient. Its aroma is pretty similar to French Lavender and Bergamot. According to the FDA, this component is enlisted as safe.
2. Limonene
Because of its sweet citrus aroma, it is quite popular as a fragrance agent in cosmetics. It also functions as a solvent.
3. Xanthan Gum
Just like Carboxymethyl Cellulose, it is also a thickener that is generally used in cosmetics to thicken the texture.
4. Zinc Oxide
It is one of the most commonly used ingredients in sunscreens. If you are looking for a safe sunscreen formula, then it must include zinc oxide in it. Zinc Oxide is a strong physical block to the UV rays.
Well! Often it is confused with Iron Oxide where the latter is nothing but a cosmetic colourant.
All of these ingredients are safe according to the FDA. And, Seer Secrets has put all these components pretty wisely into the formulations.
Seer Secrets Skincare Products: Review and Analysis
I have tried 6 skincare products from the brand in between. And, here is my in-brief genuine review and analysis.
Seer Secrets Hydrating Soy Milk Enzyme Body Cleanser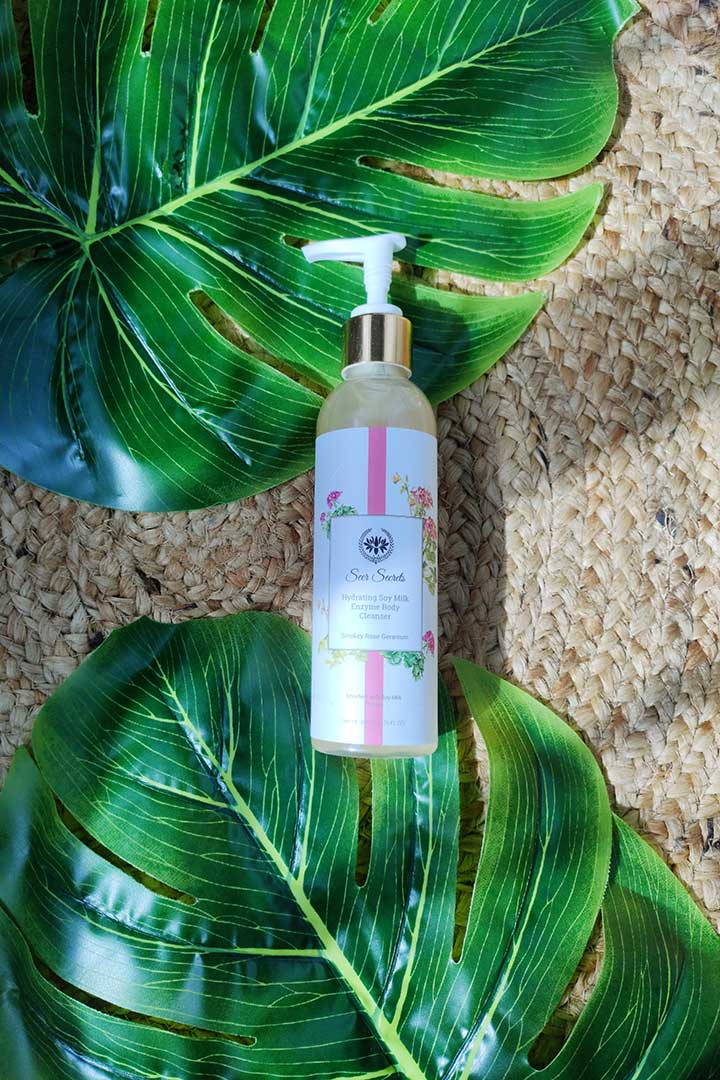 Buy Now!
This is the first skincare product that I tried out from the bunch. The name intrigued me instantly.
Soy Milk is pretty popular in the world of cosmetics because it is loaded with antioxidants. The rich protein content is pretty good for all types of skin.
I love body cleansers. It's been pretty long since I switched to Shower gels or Body Cleansers from bar soaps.
How Does it Feel on the Skin?
Well! I must say that the cleanser is perfect for any season whatsoever. It is creamy and has a rich texture.
The moment it touches your skin, you know that you are pouring something luxurious. The surfactants are derived from Coconut and are safe to use. It not only cleanses well but also makes the skin hydrated.
This body cleanser has all the traits that my super dry skin needs. I also love how refreshing the aroma is. The aroma is not overpowering at all but rather leaves a faint rosey aroma afterwards.
It is not only enriched with Soy Milk but also contains extracts of Amla, Reetha, and Rose. Phenoxyethanol is used here as the preservative.
Overall, Seer Secrets Soy Milk Body Cleanser is quite effective and comes with an amazing formulation.
Apart from this Soy Milk, Seer Secrets Body Cleanser is also available in 4 more variants.
Seer Secrets Deep Moisture Replenishing Bath & Shower Oil Mist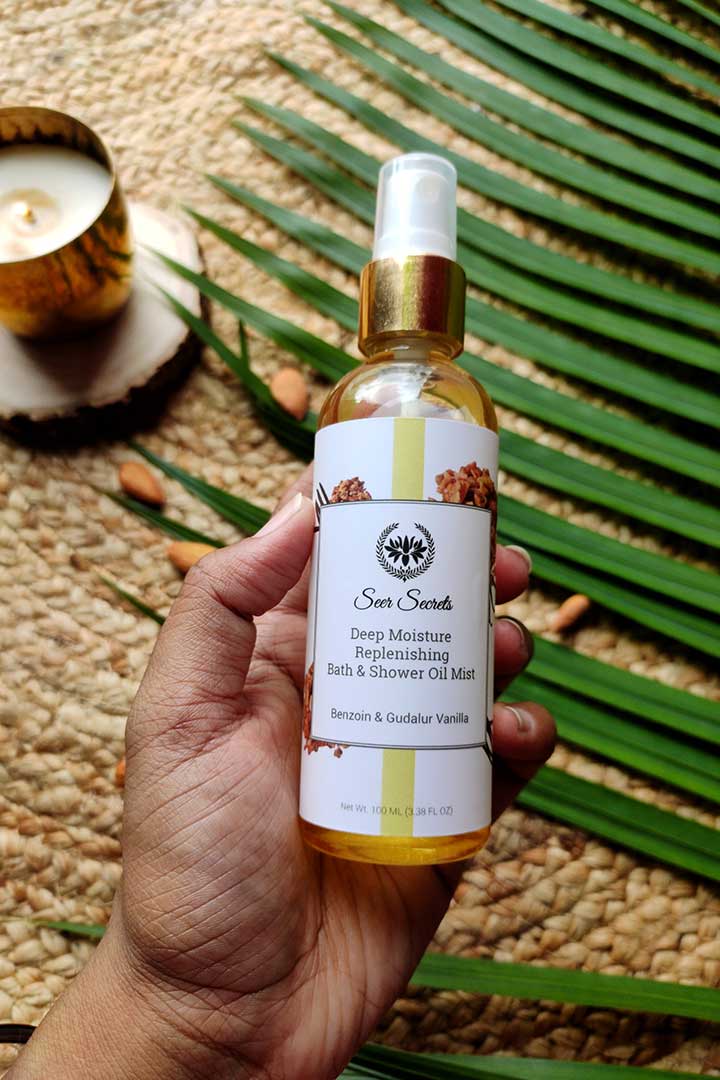 Buy Now!
Well! Honestly, I had no prior idea that Benzoin Resin extract can be used in a formulation until I came across this oil mist.
Benzoin Resin is a potent solution for dry, cracked, and eczema-prone skin. It has strong anti-bacterial and antiseptic properties.
The first noticeable thing in this product is an amazing vibrant fragrance.
Just like the body cleanser, this shower oil mist does not has an overpowering fragrance. But, it is strong enough to stay for quite some time after you are done with bathing.
How Does This Shower Oil Mist Feel on the Skin?
This shower mist is enriched with Coconut Oil, Benzoin Resin and Vanilla extract, Almond Seed oil. and Vitamin E.
The moment I spritz and massage this mist, it provides my skin with an intense moisturization. Well! The formula is not sticky at all.
The feel of a luxurious moisturizer is not something temporary. It stays even after two hours of bathing. And, that is pretty impressive.
Overall, the formulation of this shower oil mist is perfect for all the people out there with dry skin.
Apart from this variant, Seer Secrets Body and Shower Oil Mist are also available in 3 more variants.
Seer Secrets Heat Absorbing Body and Foot Mist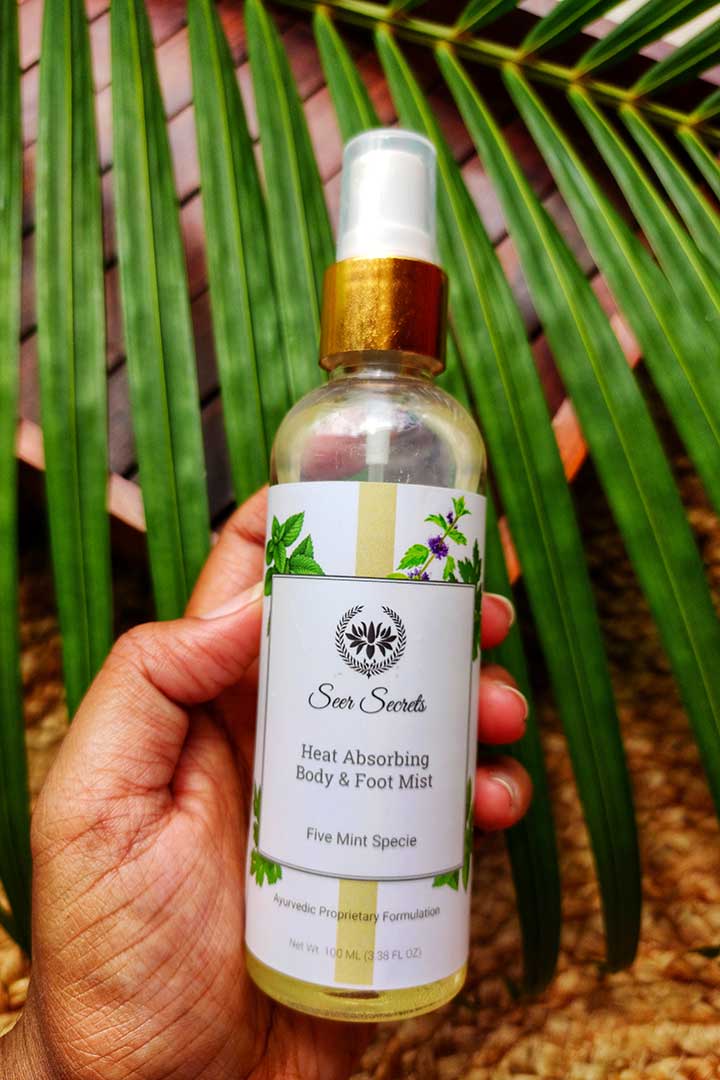 Buy Now!
Mint is something that I prefer all the year-round. The freshness of mint makes me instantly happy and rejuvenated.
So, when I spritz this body and foot mist for the first time, it felt divine. Every spritz of this mist has a charming minty aroma that works like magic.
Apart from Alcohol (derived naturally from molasses), it has the goodness of Benzoin and five types of mint essential oil namely Japanese Mint, Peppermint, Coriander Mint, Bergamot Mint, and Camphor Mint. Amazing, isn't it?
How Does The Body & Foot Mist Feel on the Skin?
It makes my vibe happy and delighted instantly. The minty aroma feels enchanting. It has an instant cooling formula that snatches away all the tiredness within a few seconds.
Especially, when I spritz this mist on my feet, it feels quite relaxing. Indeed, amazing the experience is.
During days when you are out for a long time, you can easily slip this mist into your bag. And, you can spritz it all over your body and on feet on & off. Honestly, it is so relaxing that everyone must experience it.
Just make sure to not spray this mist on your armpit or other sensitive areas directly. As the tingling sensation might feel strong in some case; especially for people with sensitive skin.
Seer Secrets Hydrating Toning Facial Serum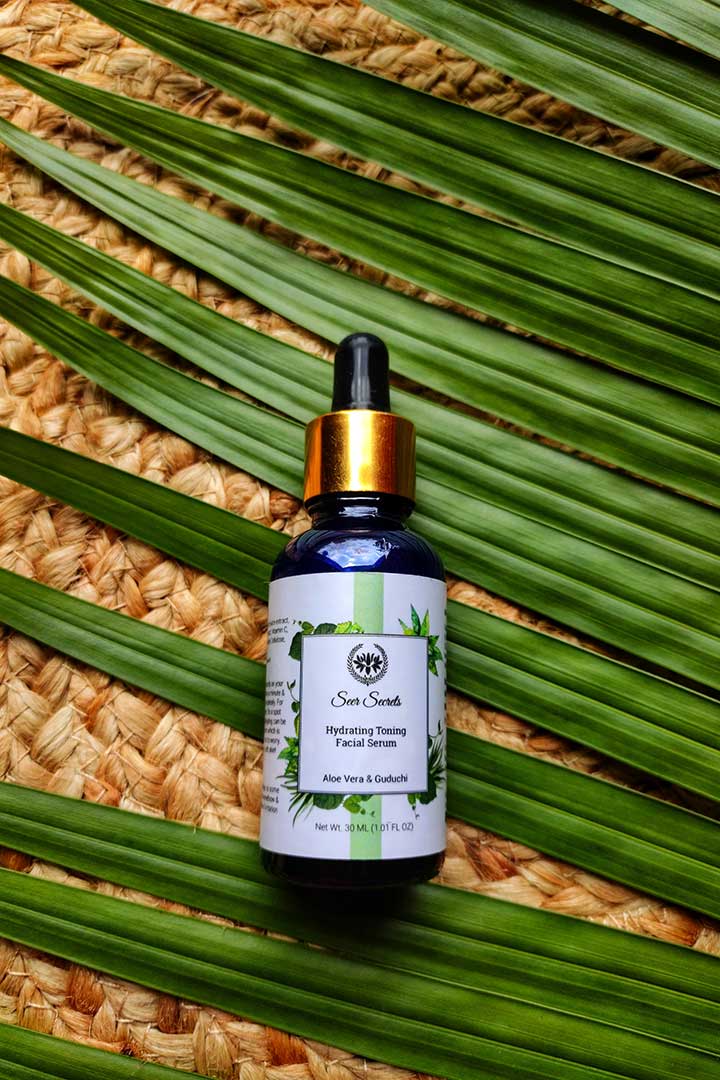 Buy Now!
If you observe the Indian cosmetic industry, then you would find out that serums are usually pretty expensive. Those tiny bottles of 30ml costs whooping INR 600 or more.
I feel happy to share that this facial serum from the house of Seer Secrets is quite affordable. To slash the price more, purchase with my coupon code which is given at the bottom of this article.
It is not only inexpensive but also has a brilliant formula. The serum is enriched with Aloe Vera, Orange, Sugarcane, and Guduchi extract.
How Does The Facial Serum Feel on the Skin?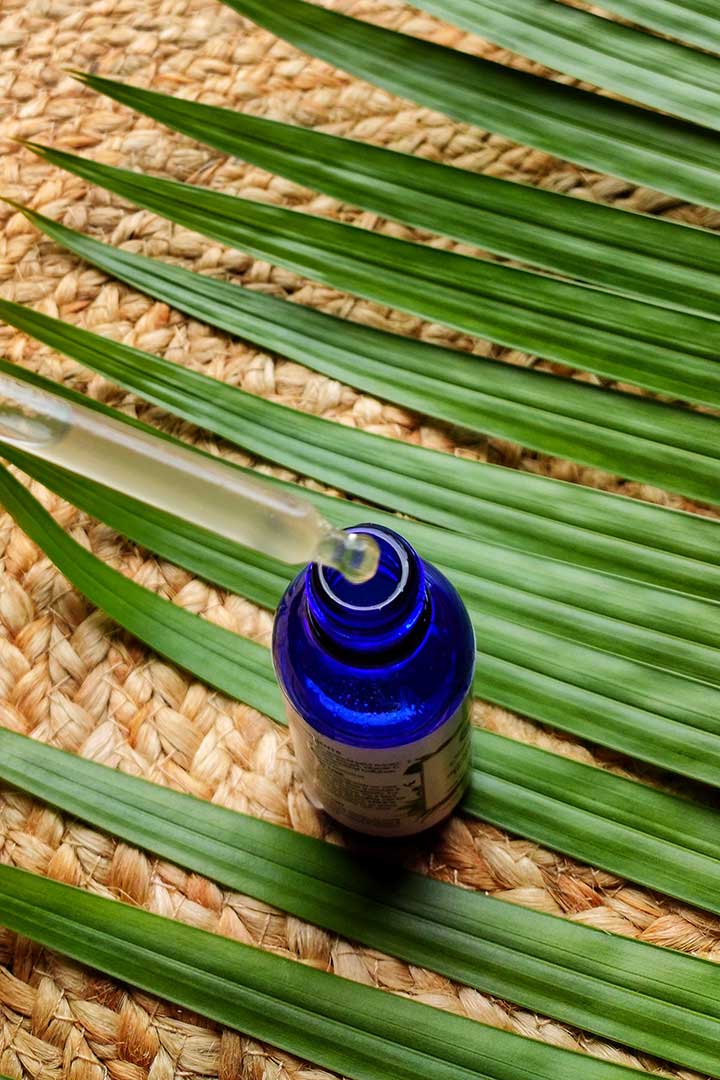 The texture is pretty watery. It just completely absorbed into the skin. Within 5-8 seconds, the serum just gets disappeared.
The non-sticky watery formula is excellent for all types of skin. Especially, people with oily skin would find it more suitable.
Just make sure to include this serum to your nighttime skincare regime for better results. Well! The formula is quite safe for everyone.
Seer Secrets Active Silver Ion Deodorant Cream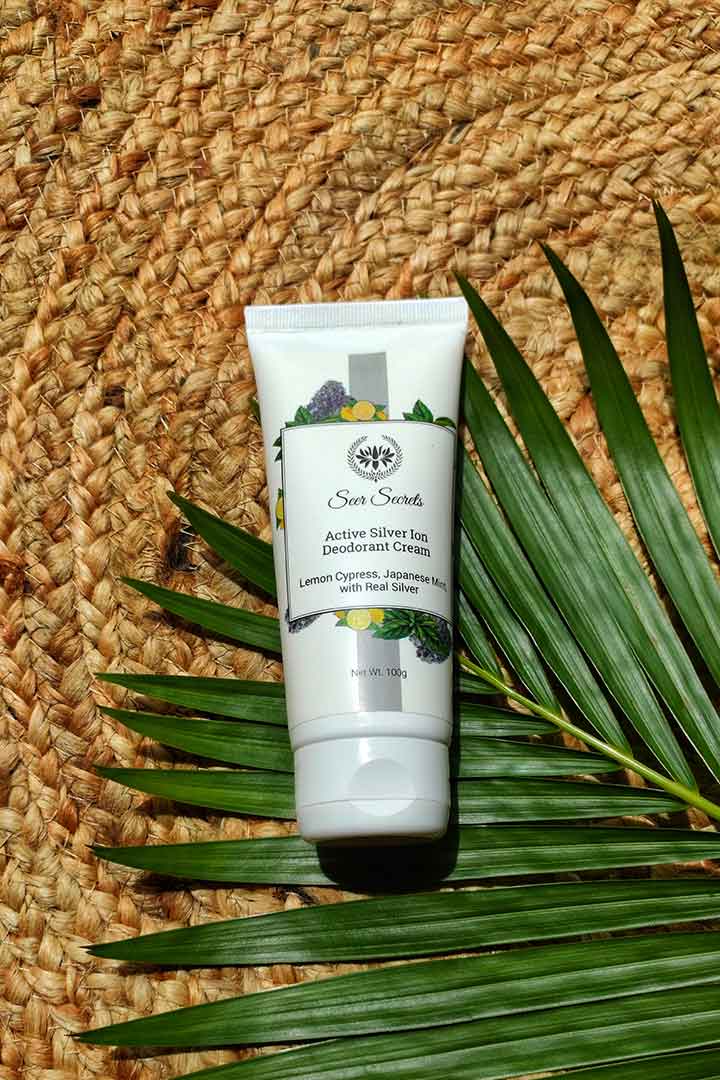 Buy Now!
Not many brands bottle up deodorant creams meant for sweaty areas like the armpit or the genital area. I am glad that Seer Secrets has designed this product.
The formula is quite safe. Most importantly, it comes with a pretty basic formula yet works amazingly. The formulators have done an amazing job, I must say.
It is rich in Cocoa Butter, Olive Oil, Japanese Mint EO, Lemon EO, Cypress EO, Kaolin Clay, and activated Silver leaves.
How Does The Deodorant Cream Feel on the Skin?
In spite of claiming it a deodorant cream, the brand has not included any fowl fragrance ingredient here; which is indeed commendable.
It feels like regular cream onto the skin. But, the cream is quick-absorbing in nature. The non-sticky formula is apt for all types of skin.
I have tried in on my neck and armpit area. It feels really good. The cream has odour control and sweat-absorbing ability.
In my opinion, once applied, the cream controls the odour for at least 2-3 hours. At such an affordable price tag, it is indeed an amazing product for your sweaty and sensitive parts.
Seer Secrets Lip Plumper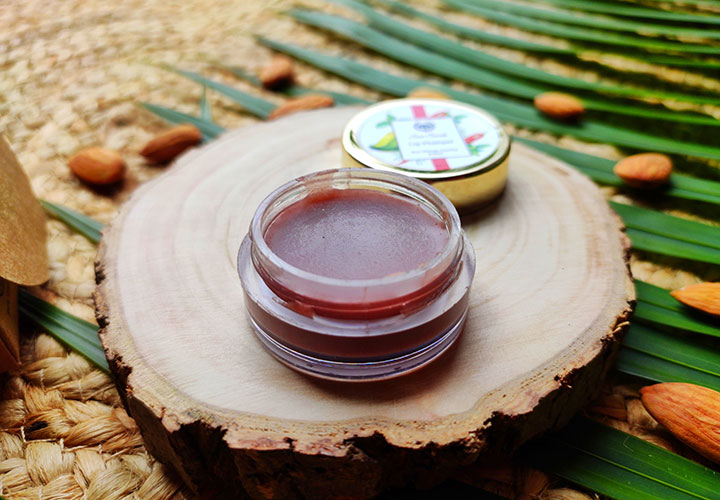 Buy Now!
Who doesn't want plumpy lips? In fact, lipsticks look good only on juicy and plumpy lips. For a fuller look, you need lip plumper.
This plumper is enriched with Castor Oil, Vitamin A & E, Paprika Oleo Rasin, Mango extract, Sunflower Oil, and Cocoa Butter. It is red in colour. But, no worry! The colour is so light that it would never leave any stain or tint on your lips.
How Does The Lip Plumper Feel on My Lips?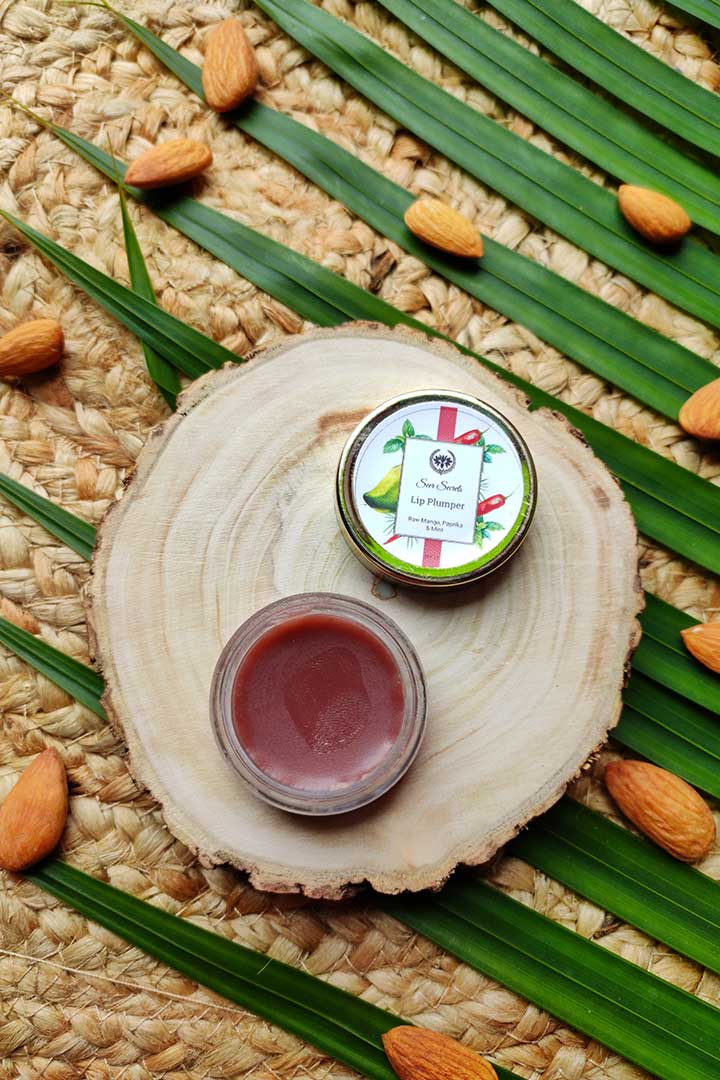 The formula is absolutely safe and feels pretty light on the lips. The texture is soft and creamy.
The moment I apply it, I have felt a mild cooling & tingling sensation. And, guess what! Within a few seconds of application, you would feel that your lips have become fuller now. The plumpy effect is going to last at least 3-4 hours.
The tub is indeed tiny. But trust me! It is going to last at least 2 months even if you apply every now and then.
Seer Secrets Haircare Products: Review and Analysis
I have tried out Seer Secrets Hair Oil from the range of products. And after trying it out several times, here is my honest review.
Seer Secrets Restorative Scalp Oil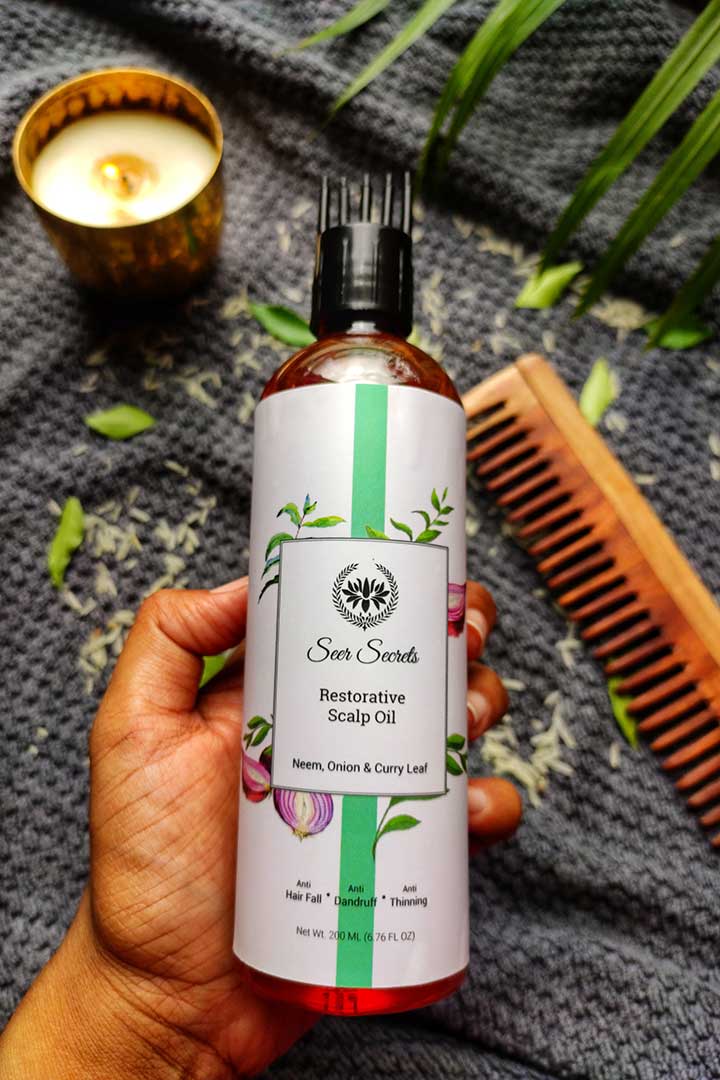 Buy Now!
Hair oil is an essential part of any hair care regime. These days, we often ignore this part. Many people think that applying hair oil is problematic as it requires more shampoo to clean up all those oils. But, what if a brand comes with an all-natural non-sticky solution?
Seer Secrets Hair Oil is exactly what you need in this era. It is enriched with Tea Tree EO, Onion and Neem Seed Oil, Curry Leaves Extract, Sulphur Extract, Vitamin E, etc.
And surprisingly, the oil is not at all sticky or harmful.
It feels pretty light on the scalp and is pretty quick-absorbing in nature. Every time, I apply it, my scalp feels relaxed and rejuvenated.
The cooling sensation and the refreshing aroma of Tea Tree EO are one of the big reasons behind purchasing this oil. At this point in time, I am not facing any dandruff or hair fall issue. But, I am pretty sure that the formula is potent enough to combat against all your hair woes.
Coupon Code to Purchase Seer Secret Products at Discounted Rate
Seer Secrets products are available on discount round the year. But, to avail, more discount, check out with my coupon code "arena15". And, avail a discount of 15% on all purchase from the official website of Seer Secrets.
So, that's all for today! If you find this article helpful, share it with your friends and family. Don't forget to subscribe to Cosmetics Arena to get the notifications of such articles before anyone else.