Earth Rhythm Solid Conditioner Bar Review
In recent times, Earth Rhythm products have become pretty popular. Earlier it was known as Soapworks India.
Some of their products like the AHA Face Wash, Murumuru Shampoo Butter, etc. have created quite a hype in the market. In fact, if the formulation is considered, I too believe that the shampoo bar is indeed one of the best mild shampoos in India.
Honestly, it would be wrong to state that I was in a dire need for a conditioner. The sole reason behind purchasing this solid conditioner bar was to try out an Earth Rhythm product.
So, this conditioner is enriched with Argan Oil and Jamaican Black Castor Oil. Indeed the ingredients sound awesome.
But, the question is, how worth the brand hype is? What about the other ingredients? Is the formulation effective? Well! Let's find out the answers.
Basic Details about Earth Rhythm Solid Conditioner Bar
Price: INR 539 without tin box and INR 549 with a tin box
Quantity: 80gm
Shelf Life: 12 months
Buy From: Earth Rhythm Official Website
Ingredient Analysis of Earth Rhythm Solid Conditioner Bar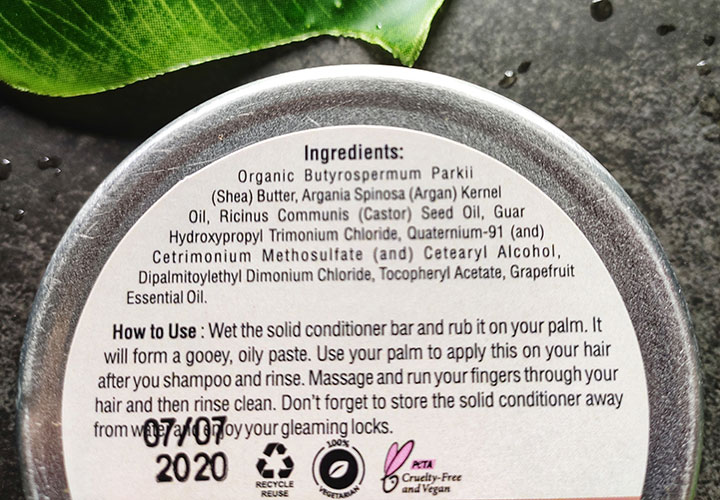 I strongly believe that ingredients are what make a brand popular. The more effective the ingredients are, the more amazing a brand is. In this case, Soapworks products were already popular. So, when the brand changed its name and came with totally different packaging, its popularity went sky-high.
Well! Now, the question is how effective the ingredients are. So in this section, I am going to analyze the ingredients of Earth Rhythm Solid Conditioner Bar. Let's take a look.
1. Organic Butyrospermum Parkii (Shea) Butter
Shea Butter is believed to be a den of moisture. Thie top-notch natural butter provides moisture to dry and damaged hair. In fact, it is excellent for the dandruff-prone scalp too.
2. Argania Spinosa (Argan) Kernel Oil
There is enough reason to call this oil Liquid Gold. It is rich in antioxidants, fatty acids, and Vitamin E. And thus, Argan Oil is amazing to soften and repair hair.
3. Ricinus Communis (Castor) Seed Oil
The brand has actually used Jamaican Black Castor Oil which is known as one of the best natural oils to regrow hair. There are literally tons of pictures on Amazon and also on the net world on this. It makes hair soft and shiny.
4. Guar Hydroxypropyl Trimonium Chloride
This is a safe hair conditioning agent which is also a derivative of Guar Gum as it increases the viscosity of a formula.
5. Quaternium-91 (and) Cetrimonium Methosulfate (and) Cetearyl Alcohol
The deadly combination of all these ingredients helps to condition and soften hair. In fact, it also protects coloured hair from further damage.
6. Dipalmitoylethyl Dimonium Chloride
It is an absolutely safe hair conditioning agent that is also used as an antistatic agent.
7. Tocopheryl Acetate
Well! This component is also known as Vitamin E Acetate. And, Vitamin E is an excellent emollient for hair. It makes hair smooth and soft.
8. Grapefruit Essential Oil
One of the best natural ways to make hair aromatic and also helps to detangle hair. This EO makes hair strong and helps to fight dandruff.
That's all! I must say that all of these ingredients are absolutely safe. Most importantly, the brand has not added any colour or unnecessary fragrance to the formula which is indeed incredible. This simplicity in making this product is compelling me to rate it 5 out of 5.
How to Apply Earth Rhythm Conditioner Bar
Wet your hands and hair
Rub the bar on your palm
Keep on rubbing until you get a gooey and oily paste
Now, run your palm on your wet hair from root to tip
Massage lightly
Keep it intact for 2 few minutes
And finally, rinse off with cold water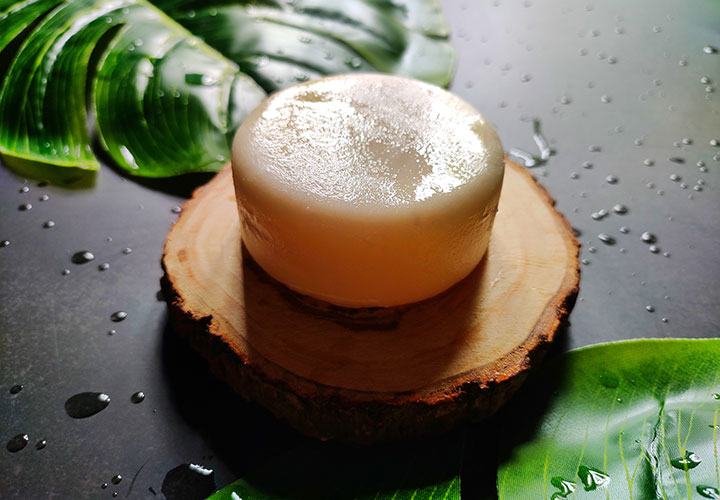 Packaging
The bar comes in an environment-friendly packaging. With tin or without tin, both the options are available. I opted for the tin as it makes the storage easy.
Within the tin, the conditioner bar is wrapped beautifully in a paper. Overall, the packaging is pretty practical and convenient.
Texture and Aroma
As the brand claims, the bar is pretty hard in texture that glides smoothly on the palms.
The white colour reminds us of the purity of the bar.
Talking about the aroma, I was surprised to find that it is absolutely devoid of fragrance. Literally, this product has no significant scent. It is definitely a plus point for people who use fragrance-free products.
My Experience with Earth Rhythm Solid Conditioner Bar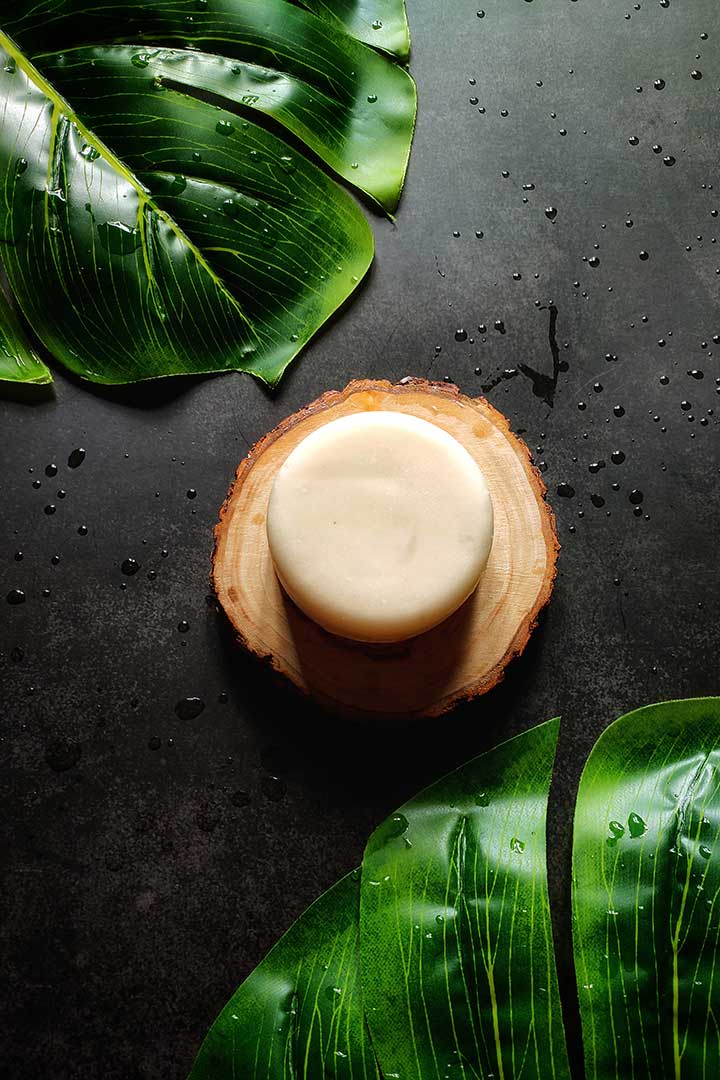 It's been more than a month now that I am using this conditioner bar. I have a habit of cleaning my hair twice a week. Sometimes, I shampoo for three times.
Every time I have shampooed my hair, I have used this conditioner just the way I am supposed to. After using a couple of times, I am ready to take this discussion forward. And, here are the things I have observed so far.
Does Earth Rhythm Conditioner Bar Melt Fast?
This is indeed an amazing thing that this bar melts pretty slowly. After using the product for a couple of weeks now, I have only finished 1/4th of the product. And, this feature makes this conditioner a value for money product out there.
Does Earth Rhythm Solid Conditioner Bar Stop or Increase Hair Fall?
Well! I might have easily dodged off this question. But usually, people have this question in their mind. The answer is a big neutral.
This conditioner bar is formulated to make hair silky soft and smooth. It is not designed to stop hair fall.
After using it, I have not faced any abnormal hair fall as well. So, it neither stops nor increases hair fall.
Does Earth Rhythm Solid Conditioner Bar Make Hair Soft and Manageable?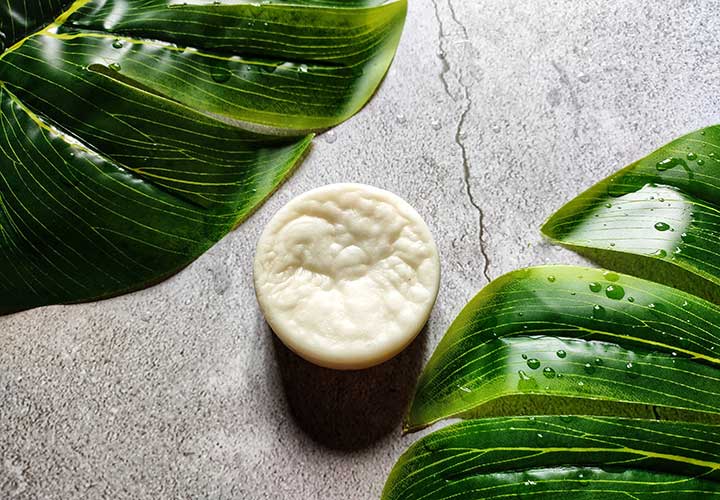 Of course! Honestly, I did not have any expectation from this product. I thought this conditioner bar is just another organic product. But, the formula is totally brilliant.
It makes hair soft and manageable in reality. I have extremely dry hair ends and oily scalp. This conditioner bar balances both the attributes beautifully.
After rinsing off the conditioner, my hair strands feel soft and smooth at least for 2 straight days. Amazing, isn't it?
Pros of Earth Rhythm Solid Conditioner Bar
Made with natural and safe ingredients
Free from harmful chemicals like Sulfate, Paraben, Silicones, Mineral Oil, Phthalates, etc.
All the ingredients are perfect and top-notch
No additives are used e.g. colour, preservatives, fragrance
Zero addition of water to the formula justifies the absence of preservatives in the formulation
Makes hair soft and manageable
Value for money product
Does not enhance hair fall
Cons of Earth Rhythm Solid Conditioner Bar
Well! After cross-examining all the features, I could not find any significant negative points about this product.
And, that's all for today! I hope you find this review genuine and helpful. Make sure to share this article with your friends and family. Also, follow us on Instagram as we keep posting interesting contents back there as well.