Hola sweethearts! Today I am gonna review Juicy Chemistry Lavender Rosemary Neem Gourmet Soap. Probably, I am reviewing a soap bar after an ages. Summer is just becoming horrific day by day. And of course my work out regime is getting harder. Gosh! sweat and sweat. The way I sweat, looks like my whole body is actually peeing :P.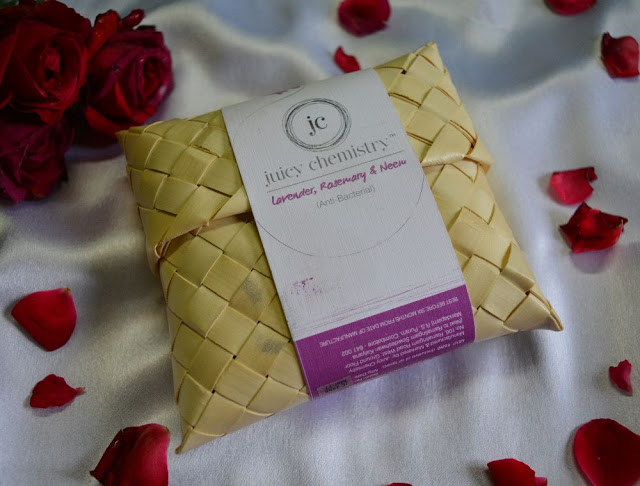 This summer, I have decided to pamper my hair in an organic and also chemical free way. That is why I bought this expensive Soap bar. Yes! it is quite expensive. So, won't you like to know my experience? Then let me start telling the story.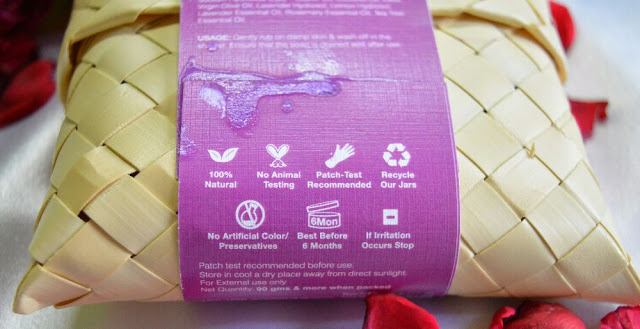 Price: INR 550 for 90g!! this is the cheapest Gormet soap from Juicy Chemistry.
Shelf Life: 6 months
Product Description and Ingredients: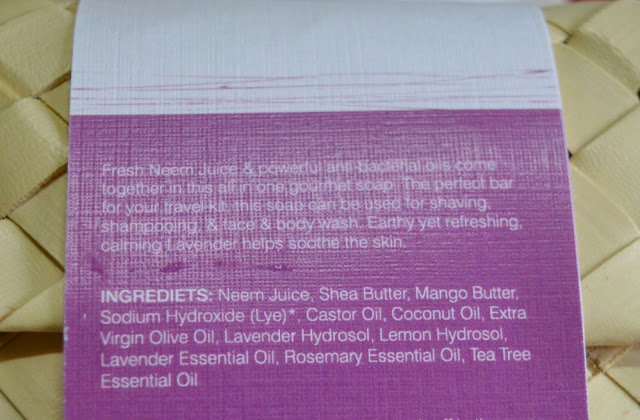 Honestly,  I picked up this product for two reasons: 1. Price point and 2. Ingredients. Seriously! just look at the pic. It starts with our favourite neem juice. It also has Mango and Shea Butter. Lavender and Lemon Hydrosols. Fabulous! isn't it?
Now, the only chemical component is Lye or Sodium Hydroxide. Lye is necessary to create any natural handmade soap. It reacts with the oils and creates a binding formula. As a by product, Glycerine is produced. Many times, companies fool people by selling Glycerine soap. They show as if Glycerine has been added separately.
Actually, Glycerine is quite useful product. So, mostly companies simply separate the thing and sell the soap without it.
After the binding is done, they curate the soap bars and just keep it aside. After a few weeks, no traces of lye remains. Now a days, with modern technology, soap making has become very easy. Overall, soap bars are quite safe. I am totally impressed with the ingredients :)).
My Experience with Juicy Chemistry Lavender Rosemary Neem Gourmet Soap 
The soap came in a Soap pouch made of Cane. That pouch is absolutely reusable. I have kept 4 lipsticks inside it. The Packaging is quite unique. The label was wrapped around it like shown in the picture. The soap was placed in a plastic packet which I think they should change. Otherwise, I am very very impressed with the pouch :).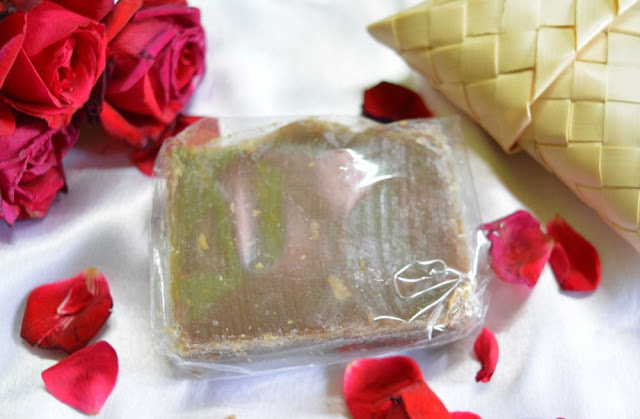 The texture is semi hard. Also the size is not very big. One can easily grab it and apply it.
The Aroma is note worthy. It has a mixture of Lavender and Lemon fragrance which feels heavenly on hair after 2 to 3 days of application.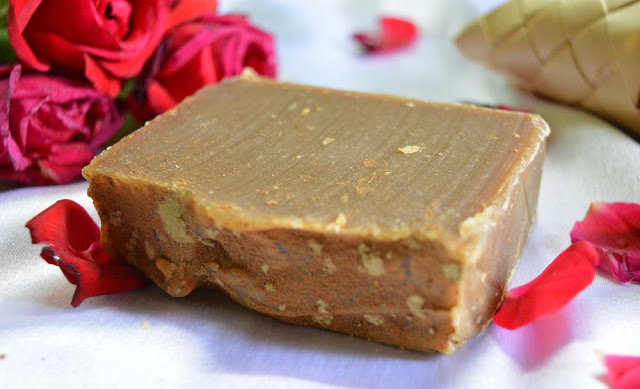 This was my first ever Shampoo bar. So, initially I had a tough time in application. Now I just wet my hair, rub the bar my hair shafts and on my palm to create mild lather. Then I just massage with my fingers. Bingo! all done. Lastly, just rinse my hair with cold water. This particular variant is for those beauties who have Oily scalp. My dandruffs are also gone now. I am truly happy with the results. Now, I would like to share few of my observations with all of you:
On day 1, I rinsed my hair with Apple Cider Vinegar which gave me hairfall. I concluded that Soap bars have a high pH value, so ACV rinse right after that may imbalace a healthy pH cycle. Another thing is that our hair takes some time to adapt to a new product.
On day 2, I diluted the ACV with a lot of water and rinsed. The result was good but not upto the mark. Then I learnt that our skin and scalp actually retains its pH after some time. But if we forcibly try to balance the pH, it may not be good. That is why pH balanced shampoo also might not be good always. Whoa!! This was something new for me.
Day 3, I rinsed my hair without ACV and this time I saw an amazing result. After shampoo hairfall did not occur much. Some may feel that hair feels rough without ACV. But, if you rinse thoroughly and let it dry. Hair would look quite healthy and soft. Currenlty I am using their Leave in conditioner with this bar which I am gonna review soon.
I have also got this cute natural loofah with the soap. It is very soft and easy to use.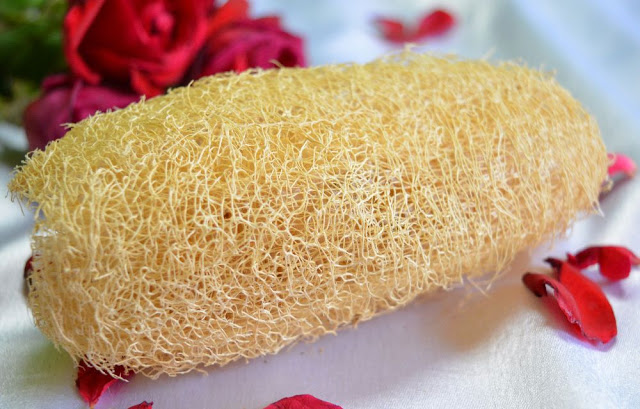 ***CA IMPRESSION : 4/5***
Overall, I am quite happy with this purchase. It does not melt easily. So, a total value for money. Single wash is needed to clean the scalp. And the fragrance stays for two to three days which is a great thing indeed. My hair definitely feels healthy and shiney now. So, I would definitely recommend this product. Just use it once, you would feel the difference. 
I hope this detailed review helps you. Currently, I own and gonna buy a number of Juicy Chemistry products. Their products are really superb. Most importantly the finest ingredients they use are amazing.
Anyways, Take care sweetipies. Love you all a lot. Celebrate the womanhood within you each and every day :)).
Thank you for reading. Have you ever used any shampoo bar? Please share your experiences here. Love you all.

**This is 100th post. Yepppiiieeee! :))