Introducing Reequil's latest innovation in sun protection – the O Free Sunscreen with SPF 50, PA+++. Specifically formulated for dry and sensitive skin types.
The lightweight and non-greasy formula effortlessly absorbs into the skin, providing a broad-spectrum shield that effectively prevents sunburn, premature aging, and skin damage.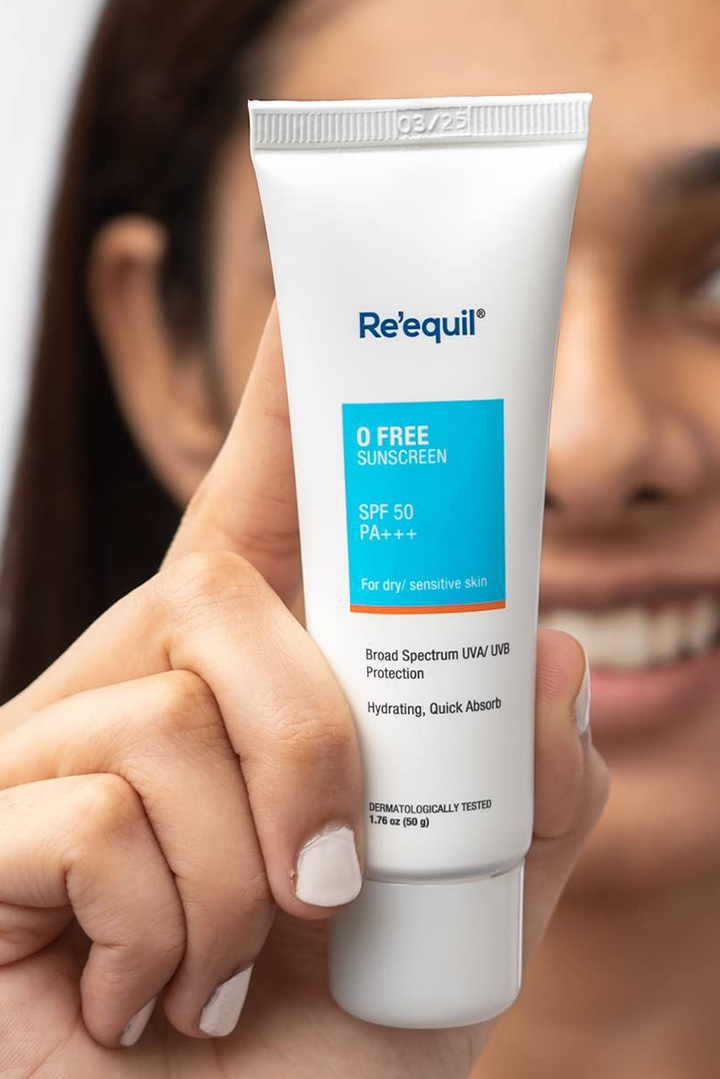 Courtesy of Brand
Price: INR 550 for 50g
O Free Sunscreen is a first-of-its-kind chemical sunscreen that is entirely free of Oxybenzone, Octinoxate (OMC), and Octocrylene.
Like all Re'equil products, this O Free sunscreen is also certified dermatologically tested.
Key Ingredients of This O Free Sunscreen
1. Tinosorb M
Tinosorb M has strong UVA absorption properties. UVA rays penetrate deeper into the skin and are associated with long-term skin damage, such as premature aging and the development of skin cancers.
Tinosorb M effectively absorbs these UVA rays, providing enhanced protection against their harmful effects. In addition to its UVA protection, Tinosorb M also offers some UVB protection.
2. Tinosorb S
One of the key advantages of Tinosorb S is its photostability, meaning it remains effective under exposure to sunlight.
This stability ensures that the sunscreen maintains its protective capabilities over an extended period, offering reliable and long-lasting sun protection.
It has undergone rigorous testing to ensure its compatibility with different skin types, including sensitive skin.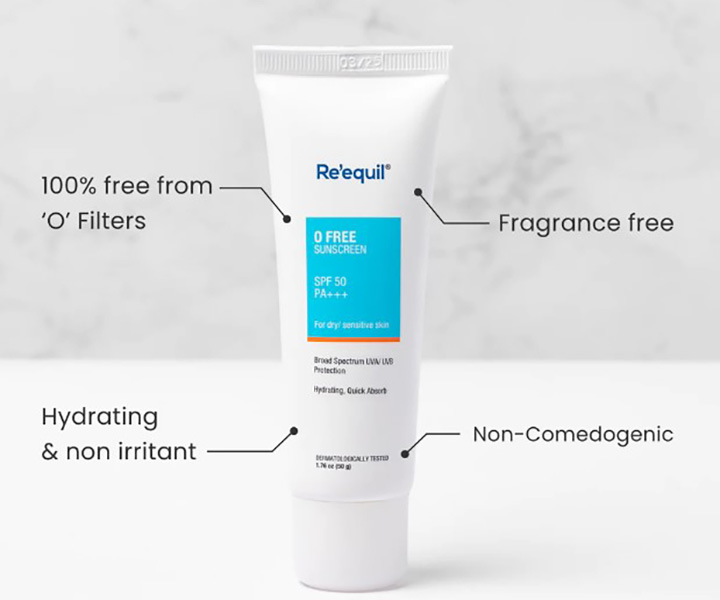 3. Prunus yedoensis leaf extract
Prunus yedoensis leaf extract is included in sunscreens because of its natural antioxidant properties.
It helps protect the skin from damage caused by free radicals, which are generated by exposure to UV radiation and environmental pollutants.
By neutralizing free radicals, Prunus yedoensis leaf extract helps minimize oxidative stress on the skin and reduce the risk of premature aging, including fine lines, wrinkles, and age spots.
Features of Re'equil O Free Sunscreen
Here are some key features of this sunscreen:
1. Superior Sun Protection
The sunscreen offers a high level of sun protection with SPF 50 and PA+++. It effectively shields the skin from both UVA and UVB rays, preventing sunburn, skin damage, and premature aging caused by sun exposure.
2. Dry Skin Hydration
Hydrating elements have been added to the sunscreen's mix to assist fight dryness and preserve the skin's ideal moisture levels. This guarantee that even in extreme sun conditions, your skin will remain nourished and supple.
3. Gentle, Quick-Absorbing, and Non-Irritating
This sunscreen was created with delicate skin in mind and is free of abrasive chemicals, perfumes, and preservatives that could irritate or trigger allergic responses.
This gentle sunscreen penetrates the layers of the skin pretty easily and is great for even the super dry skin types.
To ensure that it is suitable for skin types with sensitive characteristics, it has undergone dermatological testing.
4. Lightweight and Non-Greasy
The sunscreen has a lightweight and non-greasy texture, allowing for comfortable and hassle-free application. It gets easily absorbed into the skin without leaving a heavy or sticky residue.
5. Suitable for Daily Use
The sunscreen's moderate formulation makes it appropriate for daily usage, whether you're heading to work, running errands, or taking part in outdoor activities.
This sunscreen should be applied frequently to help shield your skin from the sun's persistently harmful effects.
How to use
Apply liberally every day during the day on your clean face and other exposed areas.
A Few Words from the Brand Re'equil

Embrace the new era of sun protection with Re'equil's O Free Sunscreen and let your skin thrive, even in the harshest of conditions.

Say goodbye to dryness, sensitivity, and sun damage – and say hello to a glowing, protected complexion.

Trust Re'equil to provide you with the best in skincare innovation, and embark on a journey towards healthy, happy skin.