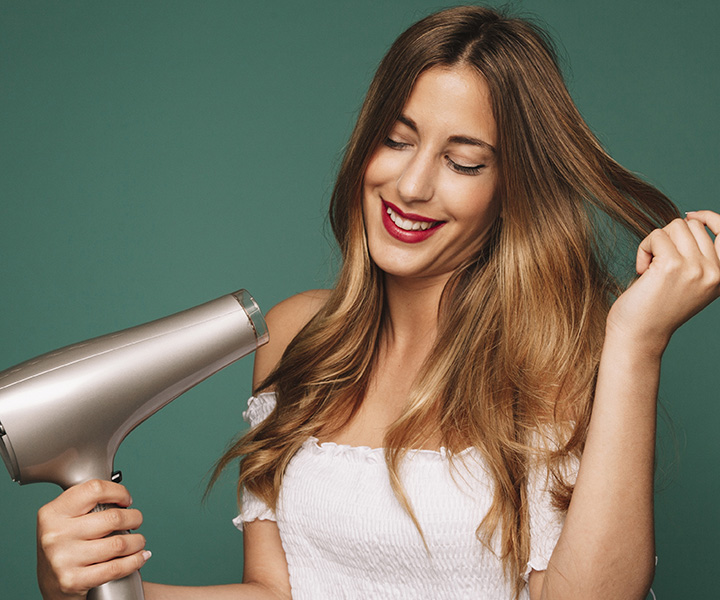 Ladies, isn't it just a mood when we swish out of the salon with a fresh blowout, only to wonder the next day how to keep up that sizzle?
What if I told you that a salon-quality blow dry is totally doable, right from your favorite lounging spot at home? (And for those moments when you just can't, there's always the lifesaver that is a mobile blowdry.) But for now, prep your locks and let's dive right in:
Pre-Wash Ritual
Begin by indulging in a therapeutic hair cleanse. Opt for a shampoo and conditioner tailored for your hair type. Just like how a canvas needs prepping before painting, your hair needs the right base for styling.
Drying the Diva Way
Say "ta-ta" to aggressive towel rubbing that only invites frizz to the party. Embrace the gentleness of a microfiber towel or a soft vintage tee. Pat and squeeze, darling. Your locks will thank you.
Heat
Not Always Your Frenemy: Sure, we've heard all about the drama between hair and heat, but with a trusty heat protectant, consider the feud over. Spritz or slather generously to prevent those meanie heat damages.
The Detangle Dance: Keeping It Simple and Snag-Free
Meet Your BFF
First up, let's chat about the wide-tooth comb. Think of it as that super-helpful friend we all need – always there, never complains, and gets the job done.
It's been the go-to for many, and if you haven't met yet, you're in for a treat.
Start Low, Go Slow
Begin at the tips of your hair. This might feel a bit backward, but trust us, it's a game-changer. You'll deal with those little knots and tangles without creating bigger ones. Win-win!
Step-by-Step Moves
Imagine you're climbing up a ladder, but with your hair. You wouldn't jump five steps at once, right? Same here. Work your way up from the tips to the roots, section by section.
No Tug-of-War, Please
If you hit a knot, don't go all Hulk on it. Keep it cool and work through it gently. Sometimes a little patience can save you from a lot of breakage.
A Little Help Goes a Long Way
While our trusty wide-tooth comb does wonders, sometimes you might need an extra hand. A bit of detangling spray or conditioner can be that backup singer, making the whole process smoother.
And… You're Done! Once you're all detangled, give yourself a pat on the back. Your hair's ready for whatever comes next, and you've just saved it from a lot of unnecessary stress.
Sectioning
The Secret Sauce
Those stylists aren't just playing peek-a-boo when they section our hair; they're onto something big. Divide and conquer with clips to ensure you're not just drying, but styling.
Glam Gear
Here's where you channel your inner diva and invest. A luxe hairdryer with the frills and thrills (multiple settings, darling!) is your ticket to hair stardom.
And don't get me started on nozzles and diffusers; they're not just fancy words but game-changers.
The Infamous Hard-to-Reach Spots: Ah, the challenge!
Mirror Mirror
Who's the fairest of them all? With a hand-held mirror, you can keep tabs on those sneaky spots at the back of your head.
Strategic Sectioning
This isn't your everyday divide and rule. Smaller sections at the back? Genius and oh-so-manageable.
Over-Direct to Impress
Want a crown that's envy-worthy? Direct those sections forward and let the volume do the talking.
SOS – Ask for Help
No shame in the game, honey. Get a trusted friend, your partner, or a sibling. Teamwork makes the dream work!
Blow Dry with Pizzazz
Whether you're feeling like a sultry siren or a voluminous vixen, angle your dryer to suit your mood. Up for va-va-volume or down for a sleek, runway finish.
Heat Wisdom for the Modern Gal
Begin with a teaser—a moderate heat setting. As you and your hair get into the groove, feel free to turn up the heat, but always seal the deal with a refreshing cool shot.
Finishing Touches to Die For: Round off with a serum that screams "shine bright like a diamond" or a hairspray that whispers "I woke up like this."
Here are some products that can help you.
Combs and Brushes
Wet Brush Pro Detangle Hair Brush: Known for its flexible bristles, it's great for detangling wet hair without causing breakage.
Tangle Teezer
A compact and ergonomic brush designed especially for detangling without pulling or tugging.
Detangling Sprays and Conditioners
#1 It's a 10 Miracle Leave-In Product
This is a multipurpose product that not only detangles but also moisturizes, reduces frizz, and adds shine.
#2 Kinky-Curly Knot Today Leave In Detangler
A favorite for those with curly hair, it helps smooth out knots while keeping curls defined.
#3 Shea Moisture Raw Shea Butter Extra-Moisture Detangler
Perfect for dry, damaged hair, it not only detangles but also keeps hair moisturized.
Serums and Oils
#1 Moroccanoil Treatment
A versatile oil that can help with detangling and provide a smooth, shiny finish to the hair.
#2 Paul Mitchell Super Skinny Serum
Helps in smoothing hair, reducing frizz, and making detangling easier.
Heat Protectants (For those who follow up with heat styling)
#1 Tresemmé Thermal Creations Heat Tamer Spray
Protects hair from heat damage and also makes it easier to style.
#2 Bumble and bumble Hairdresser's Invisible Oil Heat & UV Protective Primer
This multitasker protects, conditions, and detangles.
Who said you need a salon to look and feel fab? With a sprinkle of patience, a dash of technique, and a whole lot of confidence, you're ready to rock that blow dry, Cosmo-style.