Vilvah Organic Rosehip Seed Oil
So, it has been almost 3 years now that I am using Rosehip Seed Oil. Juicy Chemistry was the first brand from where I bought the oil.
The impact of the oil is such that I can talk about it incessantly. I have my share of horrible skin days. But, the oil has helped my skin a lot to heal and rejuvenate. And, the results are going to stay with me.
It makes me pretty happy to share my experience with pure Rosehip Oil. As a blogger, I never stick to one product. And thus, I was looking for a different brand.
But, no brand could convince me to give their Rosehip oils a shot. Lately, I heard about Vilvah Organic Rosehip Seed Oil. And, I immediately bought that.
After trying it out for over a month now, I am ready to talk about this oil in-depth. Here we go!
Basic Details about Vilvah Organic Rosehip Seed Oil
Price: INR 530
Shelf Life: 12 months
What Does the Brand Claim about Vilvah Organic Rosehip Seed Oil?
Indulge in the goodness of the oil that is extracted from the seeds of rose bushes. It is popularly known as "Miracle Skincare Oil.' This oil is full of antioxidants, fatty acids, and a number of vitamins.
All of the ingredients help to reduce dark spots and deep scars. If you got an ageing skin, this oil is going to erase all those fine ageing lines.
Ingredients of Vilvah Organic Rosehip Oil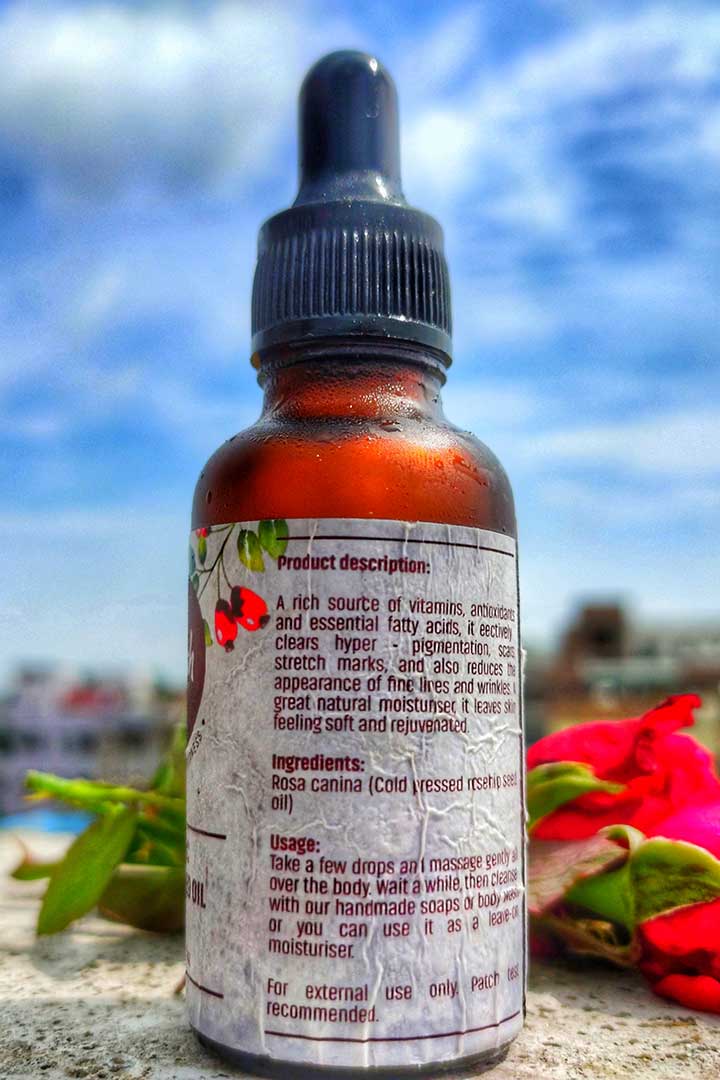 Honestly! I was pretty happy to find that the brand has not used any additive to formulate this miracle oil. The bottle is full of pure cold pressed Rosehip oil. And, there is hardly anything that can beat the benefits this multifunctional oil offer. Let's take a look.
It is one of the best hydrating oil ever; a boon for dry and itchy skin
It is unquestionable as an anti-ageing element. Rosehip oil offers intense moisturization and makes the fine ageing lines disappear.
Continuous application of Rosehip oil helps to brighten skin tone and also improves the overall skin texture.
This remarkable oil not only erases fine lines, but also helps to reduce dark spots, hyperpigmentation, and scars
Well! It would be wrong to state that Rosehip oil offers these benefits only. In reality, this oil has a long history of using it as a therapeutic remedy.
Overall, zero additive and oil extraction using a hydraulic press, both the attributes make Vilvah Organic Rosehip Seed Oil pretty competent in the market.
Packaging, Colour, Texture, and Aroma
The packaging is pretty simple. Vilvah Rosehip Oil comes in a simple dark glass-made bottle. The dark brown bottle protects the efficacy of the oil for a long time against the harsh UV rays.
Deep reddish colour defines the purity of Rosehip oil and fortunately, Vilvah oil offers the same level of purity. It is said that the reddish colour defines that the product is cold-pressed. Take a look at the comparison picture between this and the Juicy Chemistry Rosehip Oil.
Rosehip oil is a bit heavy but is absolutely non-sticky. And, this oil has the same texture.
This oil carries a distinctive aroma which is another attribute of the pure organic Rosehip oil. The aroma is not similar to anything else.
Well! As a whole, Vilvah Organic Rosehip Seed Oil resembles the original one from all angles.
But, is it equally effective? Well! Let's find out the answers.
My Experience with Vilvah Organic Rosehip Seed Oil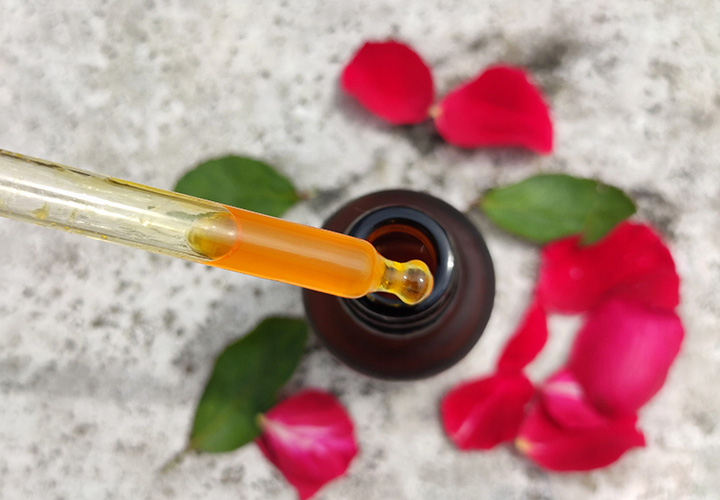 So, as I was saying, Rosehip oil has strong rejuvenation power. And thus, I exclusively use this as a part of my nighttime skincare routine. I must say that Vilvah Rosehip Oil is pretty potent. Not only it moisturises my skin for long, but also makes it look a tone brighter.
When you use Rosehip Oil, there is hardly anything called bad skin day. And, since the last month, this oil has made me only happier. Indeed, my skin has fallen in love with it.
Well! In this context, I would like to share one thing. In the past few years, I have asked numerous people with problematic skin to apply Rosehip Oil. They have all thanked me later on. It works for real.
Usually, people ask me a lot of common questions before trying out Rosehip oil. Let's take a look!
What Type of Skin Profile is Suitable for Organic Rosehip Oil?
Well! Primarily, it is meant for dry and mature skin. But, it has been seen that people with all types of skin can apply Rosehip oil. No matter whether you have oily/mature/dry/sensitive/combination skin, it is safe to apply. Check out my story to know how Rosehip Oil saved my skin a few years back.
Does it Make Skin Itchy?
Nope! Not at all. I have super dry and sensitive skin. But, it never caused me any itchiness. This oil goes smooth on any skin profile.
Within one or two weeks of application, people especially the one with severe acne often notice a surge of acne. But, worry not! This is basically called the 'Detox Period'. During this time, Rosehip Oil helps skin to purge out all those nasty things.
After the period is over, skin starts healing for real.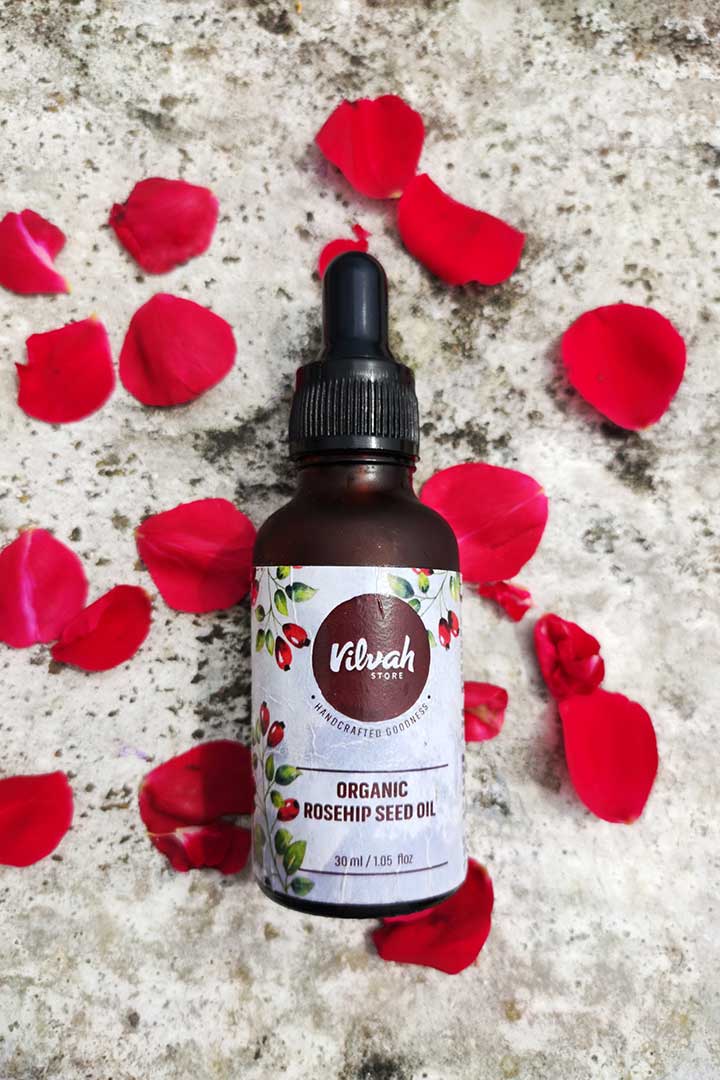 How Long Does it Take to Heal a Scar? 
Well! There is no specific set of time. The healing period varies from person to person.
But, in order to understand things, here I want to share my timeline of experience.
1-2 Week
You might notice more acne if you have severe acne. Otherwise, within 4 to 5 days of application, you would notice smooth and soft skin.
From the second week onwards, you can expect a brighter skin tone that looks super hydrated and moisturized.
2-4 Week
During this period, you would start noticing that your acne scars or dark spots are fading away gradually. Well! Don't you believe me? The internet is filled with 'Before and After' pictures of using Rosehip Oil.
Overall, Vilvah Organic Rosehip Seed Oil is absolutely mind-blowing. It works for real. In fact, I liked it much more than the Juicy Chemistry one.
Now, let's sum up everything in a nutshell.
Hey! If you are enjoying reading this article, then please share it with your friends and family. Also, make sure you subscribe to Cosmetics Arena to stay connected forever.
Pros of Vilvah Rosehip Oil
100% pure without a trace of additive
Cold-pressed
Organic oil that is extracted from the hips of rose bushes
Packed well
Pretty affordable compared to all the contemporaries
Keeps skin hydrated and moisturized throughout the day
Helps to reduce scars in reality
Suitable for people with even the most sensitive skin; does not make the skin itchy
Cons of Vilvah Rosehip Oil