Hello beauties! Welcome to Cosmetics Arena. Today I am gonna review Merit VCO Extra Virgin Coconut Oil. This is kinda a long awaited review.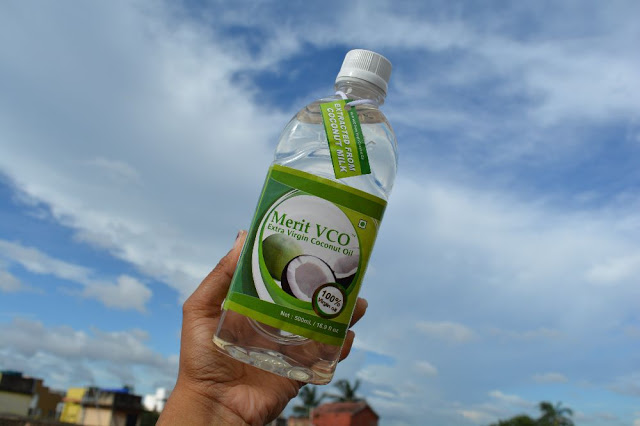 Coconut oil is such a thing that is used at my household round the year. My parents use this oil regularly during bathing. For me, coconut oil is like a burst of happiness because I use it in many ways. So, when Merit VCO sent me these cute bottles last month, I felt like overjoyed. Without further ado, let me give you a brief review on this.
Price: INR 110/225/375 for 100/250/500ml
Shelf Life: 12 months
Product Description and Ingredients: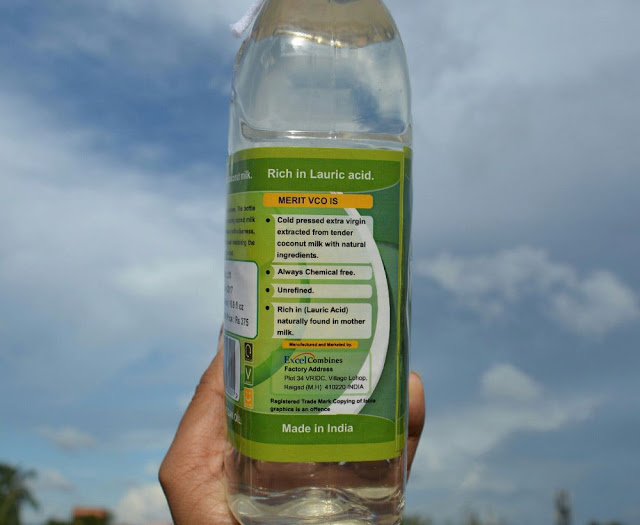 Merit VCO is known for its purity. Their products do not require an introduction. All of their EV Coconut oils are extracted from tender and fresh coconuts. They are 100% pure coconut oil. No additives or preservatives are used.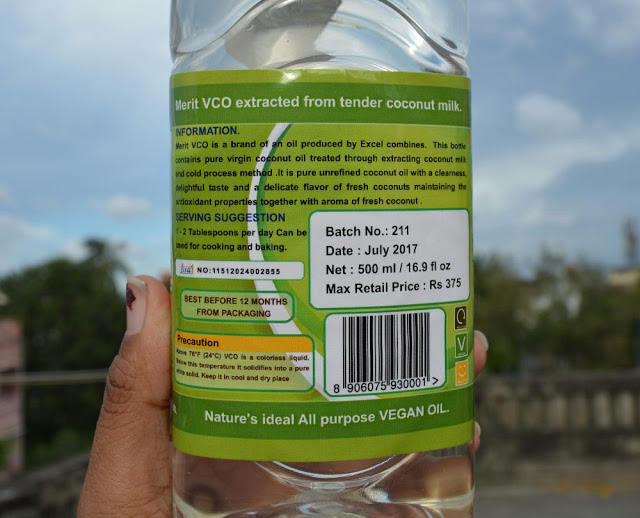 My Experience with Merit VCO Extra Virgin Coconut Oil 
These oils come in three different sized packagings i.e. 100/250/500ml. And I find all of them super affordable. The bottles are super sturdy and easy to use. The 100ml bottle is in fact quite travel friendly.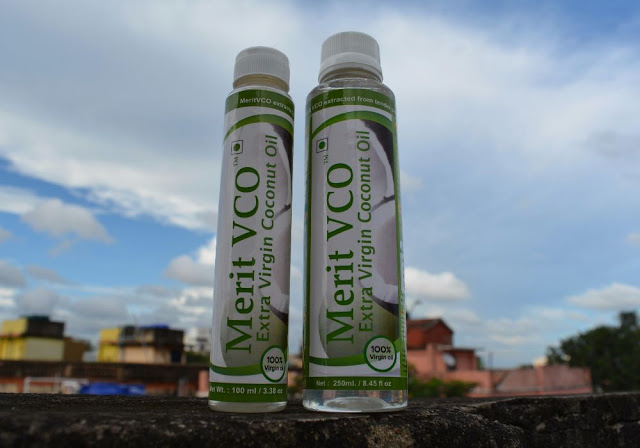 The texture is a brilliant factor of this coconut oil. Not extremely heavy, absorbs within minutes. And skin feels nourished for real unlike those oils which only float at the surface of skin.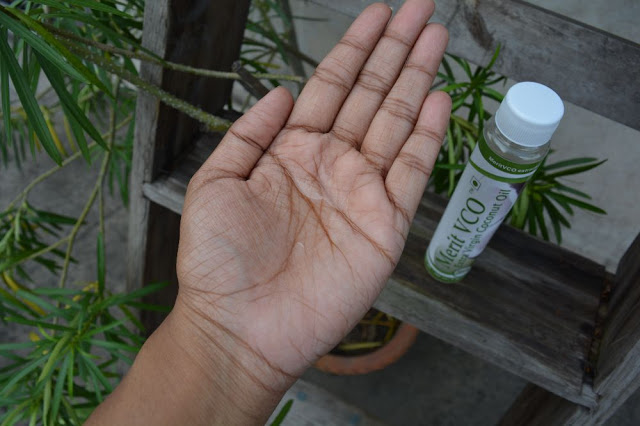 If you are someone who loves coconut oil, you must know that how exotic the fragrance is. This extra virgin coconut oil has a next level superior aroma which you would love to smell all day long. Ansolutely fresh and soothing. I feel my words are not doing justice in describing this beautiful aroma.
Now, I find this oil very very versatile.
It is an amazing moisturiser,

Absorbs within pretty fast

The aroma indeed pampers my mind.

No need to say that how beneficial this oil is for scalp and hair. It is full of protein and gives my scalp the proper nourishment.

In many of my DIYs I use this oil.

Sometimes when I am at home, I skip my body lotion, and use coconut oil. It works amazingly. 
***CA IMPRESSION: 5/5***


Merit VCO Extra Virgin Coconut oil is 100% pure oil. I can definitely see a difference. My hair and skin look more healthy and nourishing now. I recommend this oil to everyone. Try this once my dear angels, you will surely forget the other EV coconut oils.
Now coming to the DIY part. I recently made a DIY video on a hair mask which I have been using since the past few months. And it has helped me a lot to solve my hair related woes. Earlier I used to add Almond oil. But when I replaced it with coconut oil, the result was more satisfactory. Just try it for once. I am sure you will like it more than me. So, here goes the video my dearies.
This is all for today. I hope you find this review helpful. Very soon, I would come up with few DIYs using this oil both on my channel and blog :). Take care. Love you.  See you soon on my next blog. 
Thank you for reading. Have you used Merit VCO product? Please share your experiences here. Love you all.
**PR product sent by Merit VCO. I am thankful to them. But all the opinions are unbiased and honest.