|| Juicy Chemistry Baobab, Rosemary, and Tea Tree Shampoo Review||
Hello, my dear angels. Today I am going to review Juicy Chemistry Baobab, Rosemary, and Tea Tree Shampoo which is a liquid shampoo. This is an absolutely new launch by the brand Juicy Chemistry. If you are following my website for a long time, then you might know that I am an ardent fan of Juicy Chemistry. This brand is all about natural and organic products. And, I am a die-hard fan of both types of products. I believe that the power of organic products is infinite. That is why I am all into an organic skincare routine. I know that I have already created much hype about the brand. Now, let's see whether Juicy Chemistry Baobab, Rosemary, and Tea Tree Shampoo can fulfill the demands or not.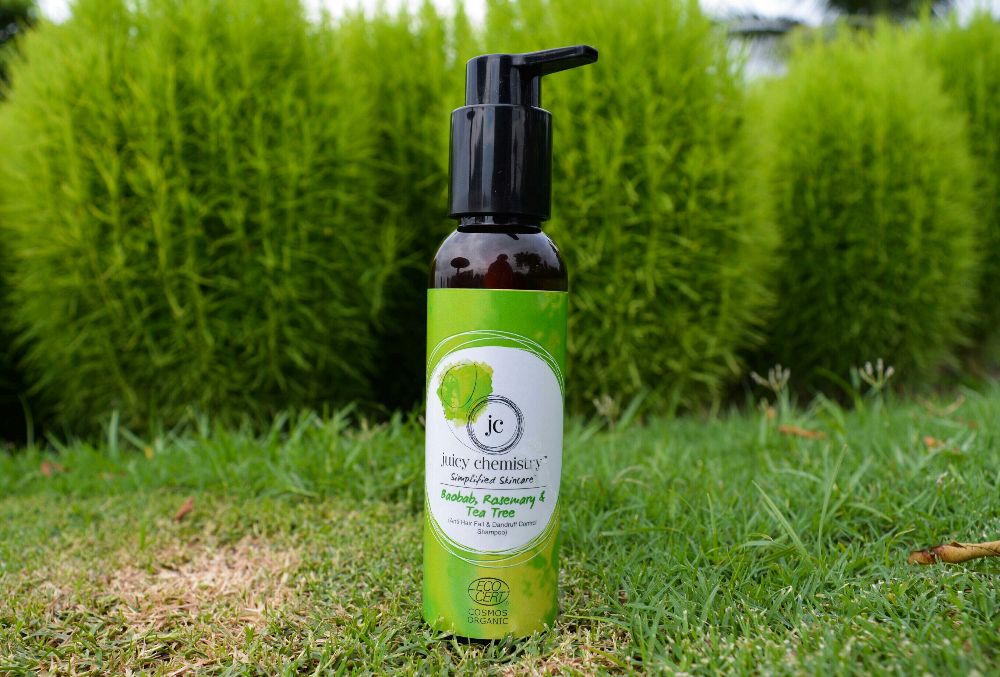 Basic Information about Juicy Chemistry Baobab, Rosemary, and Tea Tree Shampoo:
Price: INR 450/850 for 100/200ml. I bought the 100ml variant.
Shelf Life: 6 months from the date of manufacturing.
Buy: Juicy Chemistry, Nykaa
Few Lines about the Brand 'Juicy Chemistry':
Juicy Chemistry is a joint venture of Pritesh and Megha Asher. They started this beautiful journey in 2014. This brand is totally focused on producing products made from the purest and the most nutritious ingredients from the lap of nature. All the ingredients are hand-picked mostly, and thus the quality assurance is 100%. The duo researched a lot and formulated some stunning products. Most of their products are made using essential oils, beeswax, and natural butter. What started as a journey that became a global phenomenon. Now, they have global consumers all around the world. Very recently, Juicy Chemistry has been awarded Certified Organic by Ecocert Greenlife under COSMOS Standard. At this point in time, just within a year, they have over 100+ products in their kitty which is stunning in every sense.
What does the Brand Claim about Juicy Chemistry Baobab, Rosemary, and Tea Tree Shampoo?
Now, you can easily tame the discomfort of your irritated and itchy scalp and control your hair fall at the same time. Try this stunning formulation that does a double-duty by strengthening hair and improving the overall scalp health. Rejuvenating Baobab stimulates new hair growth, Tea Tree acts as an anti-bacterial, and Rosemary works as an anti-inflammatory. This is such a mild shampoo that can be used daily. Regulate your scalp's sebum production by this shampoo. It clears dandruff and other build-ups. Hydrating oils and amazing botanical extracts would leave you with a shiny, soft, and nourished mane.
Ingredients of Juicy Chemistry Baobab, Rosemary, and Tea Tree Shampoo: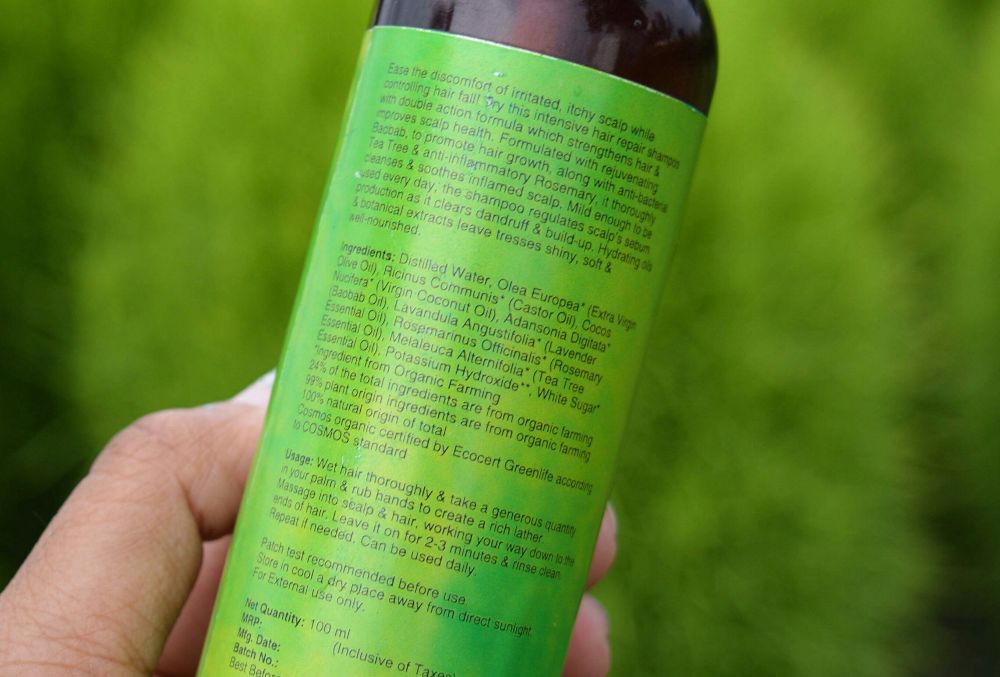 Juicy Chemistry and Aroma Essentials believe in the same mantra, the purest the ingredients are, more effective the product becomes. And, they have applied the same thought here as well. The ingredients are well-researched and perfect from every aspect. They have maintained a beautiful balance among the ratio. It is not easy to make a Sulphate (or, SLS) free shampoo, but Juicy Chemistry has done the job gracefully. Let's talk about the stunning ingredients in detail. Stay tight because the list is very long.
Distilled water: The foundation of any liquid shampoo.

Extra Virgin Olive Oil: Hair becomes more manageable and soft with regular usage of this oil. Olive oil helps to grow thick and dense hair.

Castor Oil: This amazing ingredient can regrow hair, it also prevents hair loss. Castor oil is the most famous carrier oil for hair.

Virgin Coconut Oil: This oil increases the strength of hair. It protects hair from split ends and damage. Overall, this is an excellent moisturizer for hair.

Baobab Oil: I had no idea about this oil. Honestly, Juicy Chemistry introduced Baobab Oil to me. It is the rescuer of dry, damaged, and dull hair. It is a natural conditioner and helps to soothe the irritated and itchy scalp. Indeed this is a stunner ingredient.

Lavender Essential Oil: One of the most famous essential oil of all time. This EO helps to maintain a healthy hair profile. It has anti-microbial property and is an excellent hair serum. Overall, if you use products that have Lavender EO daily, it would be surely beneficial for you in the long run.

Rosemary Essential Oil: Another amazing EO that has a number of benefits. It promotes hair growth and that has been scientifically proven again and again. Thus, Rosemary is a must while talking about the best hair care ingredients.

Tea Tree Essential Oil: Tea Tree oil promotes long and thick hair; it helps in eliminating dandruff and is a potent solution for itchy scalp. These 3 reasons are enough to tell you that why you should start incorporating Tea Tree EO in your hair care regime.

White Sugar: Sugar in shampoo has actually become a global trend. Sugar makes hair soft, smooth, and glossy. It is a great humectant for hair. I was stunned to find this ingredient in this shampoo.

Potassium Hydroxide: This is the surfactant. I was really happy to find this ingredient. This is a proper Sulphate (or Sulfate) free and mild shampoo. You might have noticed this ingredient in bar soaps as well. This is the basic ingredient to make soaps. Juicy Chemistry uses this ingredient in making all their Gourmet Soaps. So, I was happy to find that they have not drifted from the idea while making the liquid shampoos as well.
The brand says that this shampoo is made from 99% plant origin ingredients where the ingredients are from organic farming. And, this shampoo is 100% natural origin of the total which is definitely a great thing. Overall, the ingredients are clear and well-sorted. I am extremely impressed with all the elements.
---
Know the secrets of healthy and bouncy hair:
---
Texture: The amber color shampoo is quite thick in texture. In fact, if you try to pump out the shampoo after a gap of few days, at first a hard yellow substance would come out and then the liquid shampoo comes out. The shampoo is almost as tempting as honey in color and texture. This shampoo is adorable in one word.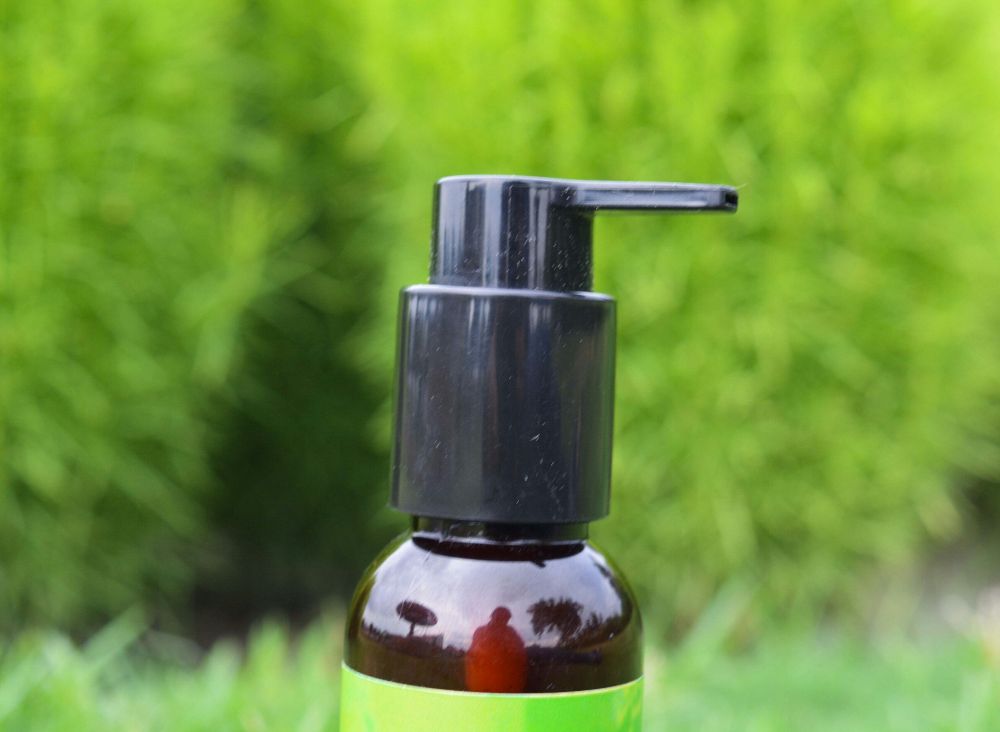 Packaging: The packaging is truly impressive. Because this product is organic, so they have bottled it in a dark color plastic container to protect it from the harsh pollution and the harmful sun rays. The shampoo dispenser part is gorgeous too. The right amount of product comes out each time through the nozzle. It is absolutely a travel-friendly bottle and a very sturdy one as well. The quality of the material is impressive indeed.
Aroma: Organic, soothing, and calming. The aroma is the perfect blend of all those oils and EOs. It would be wrong to guess the aroma in particular. But somehow I felt that the aroma has a strong resemblance with that of Lavender Essential Oil.
My Experience with Juicy Chemistry Baobab, Rosemary, and Tea Tree Shampoo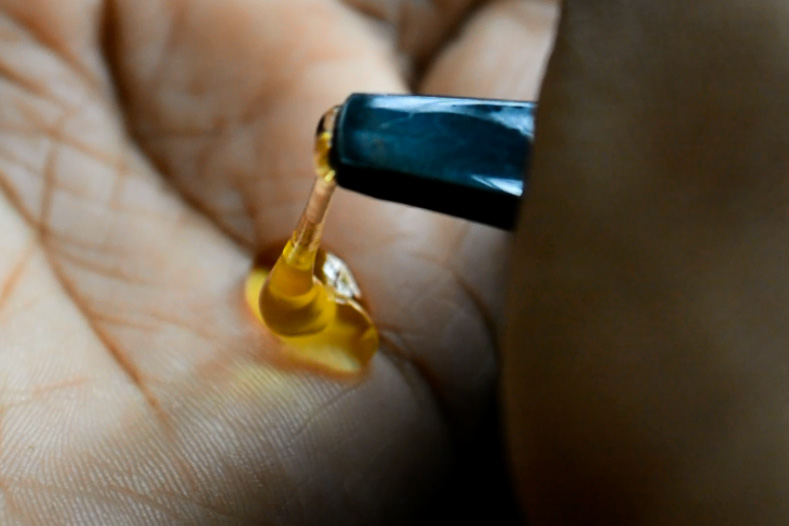 It's been almost a month now that I have been using this shampoo. I have almost finished a bottle. This shampoo produces the right amount of lather. As it is a mild shampoo so do not expect it to create an artificial foam. The lather is perfect to cleanse your scalp.
Does it reduce scalp irritation?
I believe that I have the itchiest and disturbed scalp ever. This shampoo has truly helped me a lot. My scalp irritation has reduced to a great extent. Honestly, this shampoo provides a cooling sensation on to my scalp which is very soothing especially in this humid summer.
Does it cause any extra hair fall?
As I always say that each time when we shampoo our hair, some hair fall because their life cycle was almost over. So, a similar thing happened here as well. But, it did not notice any extra hair fall. I was amazed to find this. This thing is rare and I am evidently very happy with this fact.
Pros of Juicy Chemistry Baobab, Rosemary, and Tea Tree Shampoo:
Amazing ingredients.
Sulfate-free formula.
Cleanses very well.
Stunning aroma.
Reduces itchiness.
Scalp feels relaxed.
Hair feels soft and smooth. It does what it claims.
Cons of Juicy Chemistry Baobab, Rosemary, and Tea Tree Shampoo:
The quantity is extremely low with respect to the price.
It does not tame the fizzy hair. You need a separate serum or conditioner.
You might end up using more quantity than usual for each wash because of its mild nature, I faced the similar problem with their Gourmet Shampoo bar as well.
If you love heavy oiling, this shampoo might not cleanse the oil in 2 washes even.

Final Words:
Juicy Chemistry Baobab, Rosemary, and Tea Tree Shampoo is a beautiful blend of natural oils and essential oils. This is such a mild Sulphate free shampoo that can be used by both men and women. It is one of the best shampoos to reduce hair fall and dandruff indeed.
---
***********COSMETICS ARENA RATING: 4.5/5*************
---
Would I recommend Juicy Chemistry Baobab, Rosemary, and Tea Tree Shampoo?
If you are looking for a great SLS free shampoo that can soothe your irritated and itchy scalp, then you must try this shampoo as soon as possible. I would definitely recommend this one.
Would I repurchase Juicy Chemistry Baobab, Rosemary, and Tea Tree Shampoo?
Yes! Of course.
So, this is all for today my dear angels. I hope this review helps you a lot. Take care; I love you all. If you have any suggestion, please let me know in the comment section. And, if you really like this review, then do not forget to SUBSCRIBE for more such interesting unbiased reviews. I will meet you seen with something exciting.
A question of the day: Which is your favorite Sulphate free shampoo? Please let me know in the comment section below.
Let us be friends forever on social media too.