Rustic Art Charcoal Mint Shampoo
Recently, after using an Onion Shampoo, my dandruff issue went to an alarming level. And, that made me crazy to another level. Not only the shampoo was a bit pricey but also not useful to me anymore. So, I was looking for a decent shampoo that is affordable.
The problem with purchasing a shampoo is that it is quite difficult to predict the efficacy. My past experience says that even if a shampoo is made with good ingredients, the efficacy cannot be guaranteed.
The Onion shampoo was indeed SLS and Paraben free. But this time, I was looking for something more. After giving a lot of thought, I decided to try out Rustic Art Charcoal Mint Shampoo. Reviews by consumers say that it is one of the best affordable SLS and Paraben free shampoos. Well! Is it true? Let me share my experience to reveal the truth.
Basic Details about Rustic Art Charcoal Mint Shampoo
Price: INR 325 for 175g
Shelf Life: 24 months
Buy From: Amazon
What Does the Brand Claim about Rustic Art Charcoal Mint Shampoo?
Does your scalp feel oily? This Charcoal Mint formula has been made for you. The formula is absolutely perfect for oily and itchy scalp.
Well! You would be happy to know that this shampoo from Rustic Art is completely biodegradable. The Amino Acid surfactant is sourced from Sugarcane and other natural resources.
Most importantly, this non-drying shampoo needs very less water to wash off. Amazing, isn't it?
Ingredient Analysis of Rustic Art Charcoal Mint Shampoo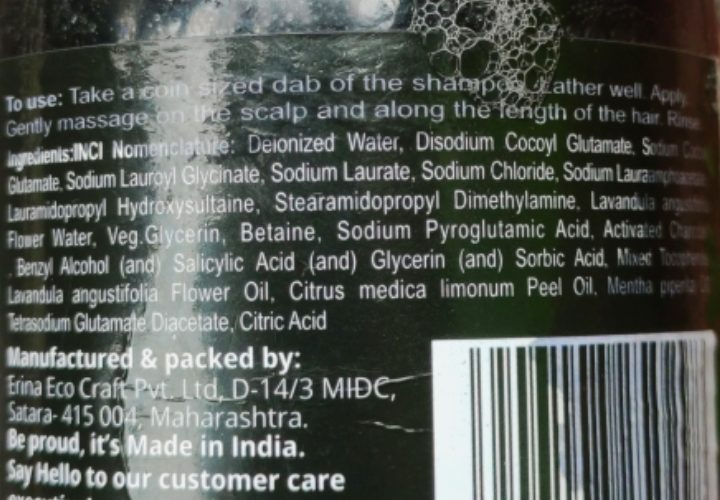 Well! One thing I always keep saying that ingredients play a major role especially while talking about cosmetics and food. Without the analyzation of the components, review of a cosmetic is never complete.
This shampoo is made with a number of components; some are surfactants whereas some are hair conditioners. Let's talk about the components of Rustic Art Charcoal Mint Shampoo in depth.
Deionized Water
It is the base of liquid-based any shampoo
Disodium Cocoyl Glutamate
This is one of the safest surfactants ever. According to EWG, it is pretty safe.
Sodium Cocoyl Glutamate
Just like the previous ingredient, this component is safe too. Sodium Cocoyl Glutamate is an amazing cleansing agent.
Sodium Lauroyl Glycinate
I have not seen this component much in cosmetic formulations. This is a safe hair and skin conditioning agent.
Sodium Laurate
Another cleansing agent which is absolutely safe.
Sodium Chloride
Commonly known as Table salt is usually used as a viscosity increasing agent in cosmetics.
Sodium Lauraamphoacetate
This is an organic compound that works as hair conditioning agent and also as a cleansing agent.
Lauramidopropyl Hydroxysultaine
Well! I must say that Rustic Art has done a really good job in formulating this shampoo. Just like the above-mentioned ingredients, this component is safe too. It is a multi-purpose component. It is used as an antistatic agent, cleansing agent, foam booster, and hair conditioner.
Stearamidopropyl Dimethylamine
This is a moderately safe hair conditioning agent.
Lavender Flower Water
For oily and itchy scalp, this floral water is a brilliant ingredient. Lavender water is a boon for dry and dull hair; it restores moisture.
Vegetable Glycerin
An excellent humectant that retains moisture.
Betaine
Usually, Cocamidopropyl Betain is used in cosmetics. Well! I must say that Rustic Art has done an excellent job using this ingredient. Betaine functions as anti-irritant and also a humectant.
Sodium Pyroglutamic Acid
It is a safe hair conditioning agent that also works as an antistatic agent.
Activated Charcoal
It is said that for itchy and oily scalp, activated charcoal is the best. In fact, this ingredient is amazing for dandruff prone scalp too. Bring back the bounce in your hair with this charcoal enriched shampoo.
Fuller Earth Clay
Not only this clay absorbs excess oil from the scalp but also conditions hair. This naturally found clay is an excellent boon to improve the overall health of scalp and hair.
Benzyl Alcohol (and) Salicylic Acid (and) Glycerin (and) Sorbic Acid
Wow! Rarely brands use such an excellent eco-friendly preservative. This unique blend offers excellent broad-spectrum antimicrobial protection. It gives protection against bacteria, yeast and moulds.
Lavender Flower Oil, Lemon Peel Oil, and Peppermint Oil
All of these ingredients make the scalp dandruff free, make the hair stronger, and also help to regrow hair. Hair growth becomes faster.
Tetrasodium Glutamate Diacetate
It is a bio-degradable ingredient. Generally, used as a stabilizer in cosmetics; so that, cosmetics do not discolour. In fact, it also works as a chelating agent.
Citric Acid
A naturally found chelating agent and fragrance ingredient. Don't worry! It's safe.
Well! Overall, I must say that the ingredients of Rustic Art Charcoal Shampoo are quite impressive. All the components are safe. Rustic Art has tried to keep the sources as much natural as possible. As a whole, the brand has done a commendable job in formulating this shampoo. And thus, I would rate the ingredients 5 out 5 solely for the ingredients.
Packaging, Texture, Colour, and Aroma of Rustic Art Shampoo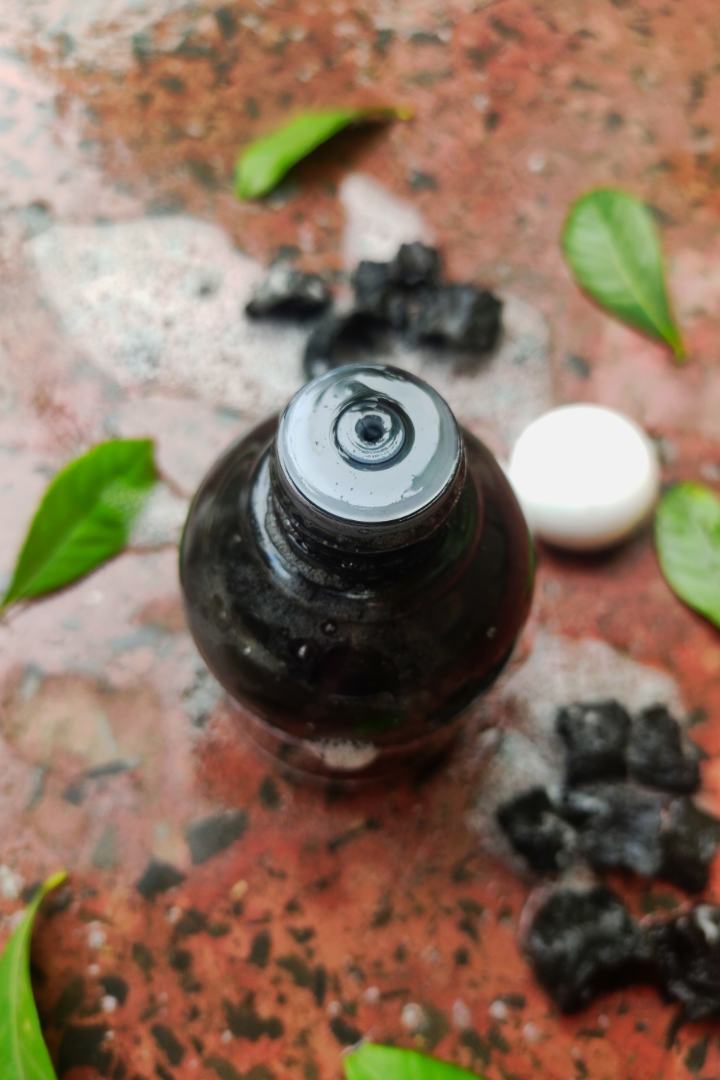 The packaging is pretty basic. It comes in a plastic bottle. The jumbo tub-like shape is not much effective in dispensing the right amount of shampoo. I think that the brand must consider to redesign the bottle.
Texture of this shampoo is neither like gel nor like cream. It is easy to spread on the entire scalp.
The colour is deep black. It reminds me of charcoal all the time. I love that how the brand has not added any artificial colour to the formula!
And lastly, the aroma is soothing. It has a minty essence because of the Peppermint oil. But overall, the scent is nothing extraordinary.
My Experience with Rustic Art Charcoal Mint Shampoo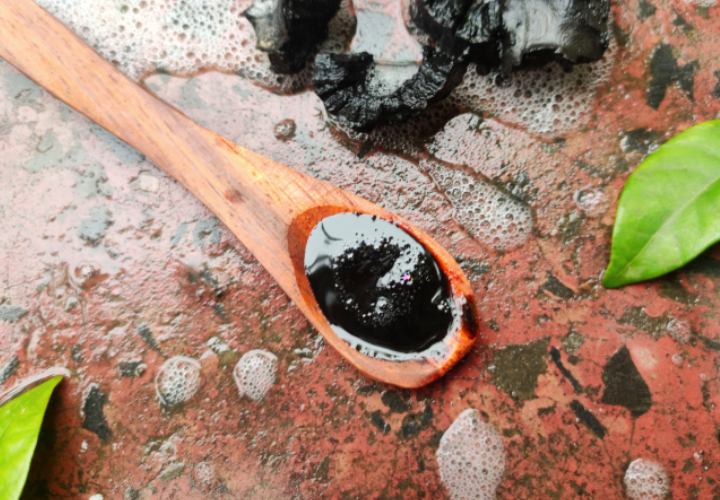 Usually, I apply shampoo twice a weak. My scalp is extremely oily and dandruff-prone. And thus, I try to take extra care of my scalp.
While applying this shampoo, I just take three pea-size quantity on my palm. And, apply on my wet scalp. The shampoo lathers pretty well on wet scalp and hair.
After massaging for a while, I wash off with cold water. As the shampoo is on the drying side; thus, I try not to apply it on my hair strands.
I must say that the shampoo has strong cleansing power. I have even applied it on my oiled hair too. Trust me! The shampoo takes away every trace of oil and dirt. Now, let's talk about two FAQs.
Does Rustic Art Charcoal Shampoo Cause Irritation?
Absolutely not! I have pretty sensitive scalp. It did not cause me any scalp irritation.
Does Rustic Art Charcoal Mint Shampoo Cause Hair Fall?
Well! The result was pretty impressive. I did not see any extra hair fall. Though I would not say that it controls hair fall. Overall, neither I experienced excess hair fall nor did I see hair fall control.
Pros of Rustic Art Charcoal Mint Shampoo
Free from SLS, Paraben, and other harmful ingredients
Affordable
Safe surfactants are used
Enriched with brilliant naturally sourced ingredients and floral water
Does not cause excessive hair fall
Apt for oily and itchy dandruff-prone scalp
Makes hair soft and bouncy
No irritation
Cons of Rustic Art Charcoal Mint Shampoo
Packaging need to be improved
Drying formula; thus, conditioner is a must