Hello, my Angels! Welcome back. So, as you have already understood that this post is all about Bio Oil. Well! I had always been a very vocal person. I raise my voice whenever I see things are off the track. So, I have seen on multiple occasions that people including bloggers and influencers recommend Bio Oil. Two years back, I was extremely interested to buy this oil. And, as always I started the research work that I do before every product purchase. Umm…I found something and dropped the idea and since then, I never recommend Bio Oil to anyone. So, in this article, I am going to talk about that.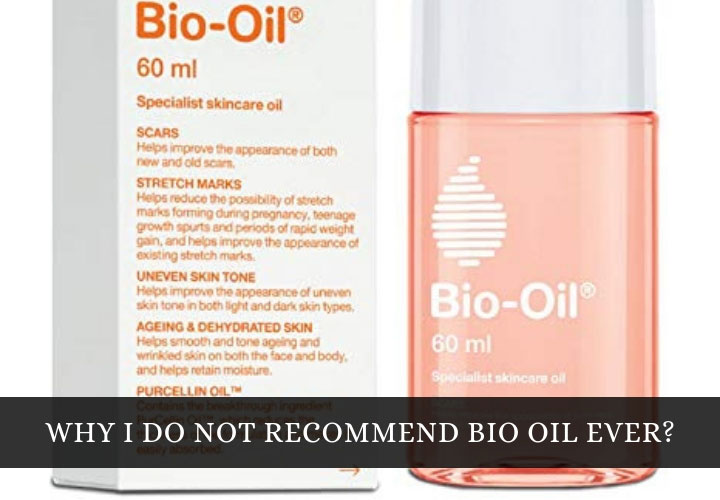 Well! Bio Oil is known to be a specialist skincare product that aims at improving scars appearance, make skin smooth and even tone, and also helps in reducing stretch marks. The start ingredient of Bio Oil is known to be PurCellin Oil. This oil is pretty famous to treat skin concerns; it is also highly effective for ageing skin and dehydrated skin.
No matter how reputed a brand is, for me, the ingredients are always going to be the ruling formula. If the ingredients are good, then whatever might be the brand, I would certainly talk about it and recommend it. But, vice versa is definitely not possible. Before I through the reasons and the explanation, I would like to analyze the ingredients of Bio Oil right now. Just a caution, the list is quite long, so stay tight. And now, it's time to roll the intro.
Ingredients of Bio Oil
Paraffinum liquidum: Well! If you just google this term, the first article you would find it out is 'Toxic components that you should never apply to your skin'. This is actually Liquid Paraffin which is also known as Mineral Oil. According to EWG, it is low to moderately a hazardous component. Mineral Oil is something that I would not even want to apply to my body. I wonder why Bio Oil add this ingredient within the formulation.
Trisononanoin: It is a safe Skin-Conditioning agent that is also an excellent emollient.
Cetearyl Ethylhexanoate: It is a safe skin conditioning agent or emollient that can also be used as a thickener and hair conditioning agent.
Isopropyl Myristate: It is a synthetic oil that is used as an emollient, thickener, or lubricant in cosmetics. It is believed to be a safe component.
Retinyl Palmitate: It is actually an ester of Retinol or Vitamin A and Palmitic Acid; this component belongs to the retinoid family. Retinoids are tiny molecules that have the power to penetrate the outer layers of the skin and repairing the lower layers where the collagen and also the elastin is produced.
Tocopheryl Acetate: This component is also known as Vitamin e. It is an excellent natural emollient and a great moisturizer.
Anthemis Nobilis Flower Oil: Chamomile flower extract is known as an excellent Skin conditioning agent. It is also a great fragrance ingredient. And, of course! This is an absolutely safe component.
Lavandula Angustifolia (Lavender) Oil: Lavender oil is a great moisturizer and also works great as an oil that has antibacterial properties. It helps to reduce acne scarring and redness of the skin.
Rosmarinus Officinalis (Rosemary) leaf oil: Rosemary oil is full of nutrients that protect the skin from Sun Damage. Rosemary oil is a natural antiseptic. So, indeed it is a great addition to this formula.
Calendula officinalis flower extract:  It is a natural oil that is antifungal, antiseptic, and also antibacterial. It helps in healing wounds, it soothes eczema and also helps in relieving from diaper rash.
Helianthus Annuus (sunflower) seed oil: Of course! This is oil is enriched with Vitamin E; so, it's a great emollient and moisturizer. It is known to be an excellent antiageing oil.
Soybean Oil: It is vitamin enriched emollient that our skin can absorb very quickly. It moisturizes and softens skin.
BHT: Butylated hydroxytoluene or BHT is actually a preservative. This component is often linked with organ toxicity. So, I wonder why this ingredient is even part of Bio Oil.
Bisabolol: Bisabolol is a safe scent ingredient naturally occurring in chamomile. It is also used as a skin conditioning agent.
Parfum: According to EWG, it is a pretty hazardous component in cosmetics. Generally, parfum in cosmetics are phthalates which are quite detrimental for the skin. This is such a component that I still wonder why Bio Oil has even added this component. I believe that Parfum should be the last component in cosmetics.
Amyl Cinnamic: It is a moderately hazardous ingredient that is used as a fragrance ingredient in formulations.
Benzyl Salicylate: A pretty hazardous component that is generally used as a UV absorber.
Citronellol: It is a volatile fragrance chemical that is extracted from geranium, rose, and other plants.
Coumarin: It is a white solid which has a nutty scent. so, mainly this component is used as a fragrance agent.
Eugenol: It has a clove-like aroma. It is generally used as a denaturant and a fragrance ingredient.
Geraniol: It is moderately hazardous fragrance ingredient.
Hydroxycitronellal: Another moderately hazardous fragrance ingredient which is often associated with allergies.
Hydroxisohexyl 3-Cyclohexene Carboxaldehyde: Well! This is one such component that is enough to give you a headache. It is not only hazardous but also often is associated with Cancer and organ toxicity. This is actually a synthetic fragrance.
Limonene: It is a moderately hazardous fragrance component. This is a naturally occurring component in citrus fruits,
Linalool:  It is actually a terpene which can be used as a fragrance ingredient.
Alpha-Isomethyl Ionone: Phew! I am just tired by listing so many fragrance ingredients. This is another low to a moderately hazardous component.
CI 26100: This is actually a dye.
The Reasons that I Never Recommend Bio Oil to Anyone
Oh my goodness! Honestly, after listing 27 components, I need an energy drink. Well! As you can see, there are way too many fragrance components which are not only unnecessary but also hazardous. Honestly, when I first heard the term 'Bio Oil', I thought it was an all-natural oil which is full of nutrients. And, I literally had high expectations from this oil.
But, when I analyzed all those components, the only thought that struck my mind that what these are in the name of Bio Oil. The first component which is Mineral Oil is something I never ever recommend to anyone. All those components are more harmful than doing any good. For me, ingredients in a cosmetic are something that can entirely change the course of a cosmetic.
I believe that Bio oil is something that should never be recommended to anyone. It has never been a recommendable face oil. Rather, I would suggest, in fact, I have suggested Rosehip Oil to many on multiple occasions. And, it has worked too.
For me, oil is all about natural components. But, Bio Oil does not fit my lexicon. I feel that the publicity of this oil is nothing but hype. There are numerous other beneficial oils that are quite effective to treat scars and also you would not need to compromise with your health. So, Bio Oil is a big no-no for me.
So, that's all about today's post. I hope you like it. Tell me your opinion in the comment section below. Take care. Celebrate and embrace womanhood. See you soon with another exciting post.