Plum Hello Aloe Micellar Cleansing Water Review with Ingredient Analysis
Lately, I have been trying out a few products and Plum Hello Aloe Micellar Cleansing Water is one such. It is a new launch from the brand and I was quite eager to try it out.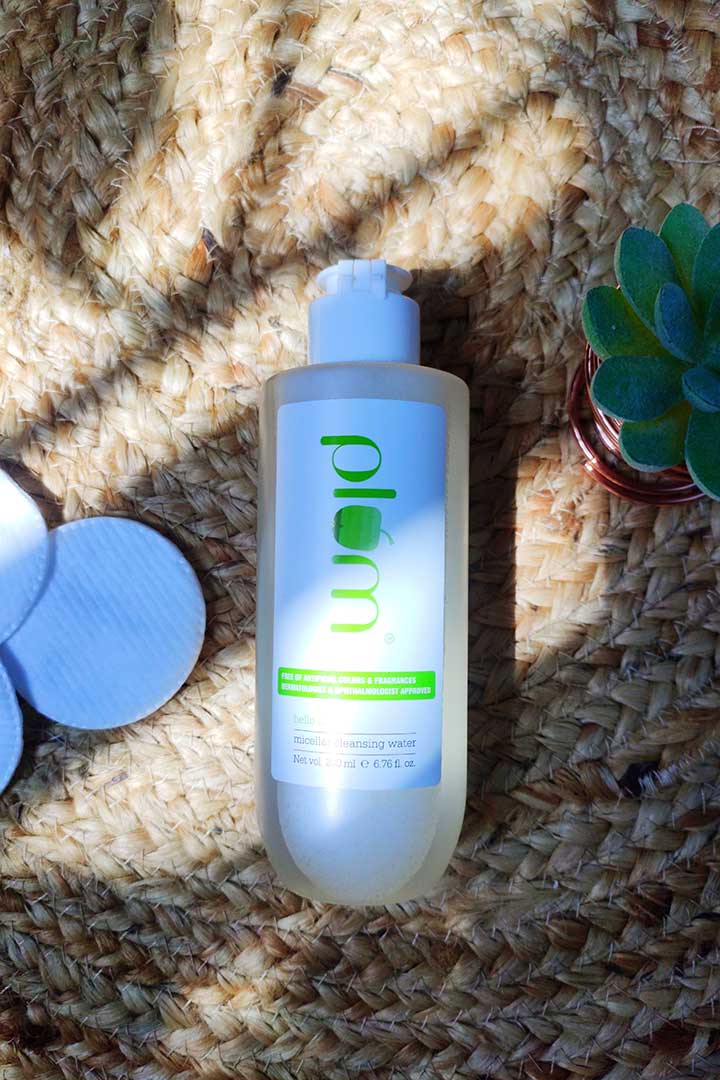 Well! I have always been a fan of micellar waters. Round the year, I prefer micellar water above any kind of makeup removers. So, a few months back, when I came to know about this launch, I was quite excited.
It's been more than a month already that I am using this Plum Micellar Water. Can it beat the popularity of Garnier Micellar Water? Can it remove makeup well? It's showtime to reveal the answers.
Basic Details about Plum Hello Aloe Micellar Cleansing Water
Price: INR 375 for 200ml
Shelf Life: 2 years
Buy From: Amazon
What does the Brand Claim about Plum Micellar Cleansing Water?
It's time to introduce an Aloe Vera based Micellar Cleansing Water. The formulation is free from artificial fragrance or additives. It is gentle enough to remove all water-based makeup.
The micelles are rich in aloe vera and are formulated powerful to take away the last bit of dirt. The coconut water extract in this micellar water helps to keep your skin smooth, soft, and hydrated.
Ingredient Analysis of Plum Hello Aloe Micellar Cleansing Water
Without ingredient analysis, a product review remains incomplete. And, I am glad that gradually people have started realizing that.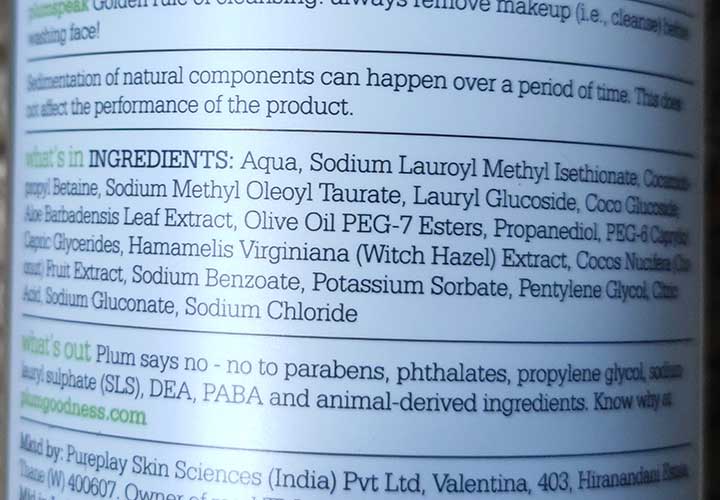 The micellar water is made of a number of active and inactive ingredients. But, are those inactive ingredients safe? Well! Let's take a look.
1. Aqua
Water is the base of this liquid micellar water.
2. Sodium Lauroyl Methyl Isethionate
It is a safe and mild surfactant that is derived from coconut water.
3. Cocamido propyl Betaine
A moderately safe surfactant.
4. Sodium Methyl Oleoyl Taurate
A safe surfactant that is often used as cleansing agents in cosmetics. It enables the binding of oil and water.
5. Lauryl Glucoside and Coco Glucoside
Both the ingredients are safe and mild surfactants. It's good how the brand has used a number of mild surfactants
6. Aloe Barbadensis Leaf Extract
Full of enzymes and vitamins, aloe vera extract is a nourishing & skin-loving ingredient in this micellar water.
7. Olive Oil PEG-7 Esters
A moderately safe skin conditioning agent that is pretty popular in cosmetics.
8. Propanediol
This component functions as a viscosity controller.
9. PEG-6 Caprylic/Capric Glycerides
This ingredient is a moderately safe skin conditioning agent that also functions as a surfactant.
10. Hamamelis Virginiana (Witch Hazel) Extract
This herb extract is specifically beneficial for acne-prone skin. It helps to control the excess sebum production and also tightens the pores.
11. Cocos Nucifera (Coconut) Fruit Extract
A nourishing and moisturizing natural ingredient for dry, sensitive, and acne-prone skin.
12. Sodium Benzoate & Potassium Sorbate
Both the ingredients are popularly known to work as preservatives.
13. Pentylene Glycol
It primarily functions as a solvent and also as a skin conditioning agent.
14. Citric Acid
This ingredient works as a pH controller and also has a mild preservation power.
15. Sodium Gluconate
Widely popular as a chelating component that helps to reduce the reactivity of metal ions if any present in a cosmetic.
16. Sodium Chloride
Commonly known as salt, this component helps to increase the viscosity in a formulation.
Altogether, the ingredients are a balance between safe and moderately safe ingredients. And, I love that. It feels great to know that there are zero additives like fragrance or colour.
I would love to give a rating of 4.5 out of 5 for this choosing the simple and safe ingredients.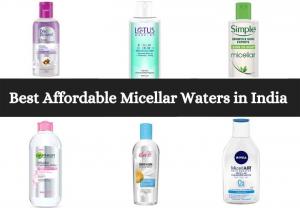 This list is all about the best affordable micellar water in India suitable for all skin types i.e. dry, oily, and sensitive skin.
Read More
5 Things that I Observed While Using the Plum Micellar Cleansing Water
Usually, I sub-categorize product reviews into several categories. But, sometimes, there is no harm in deviating from the path that was once curved by ourselves.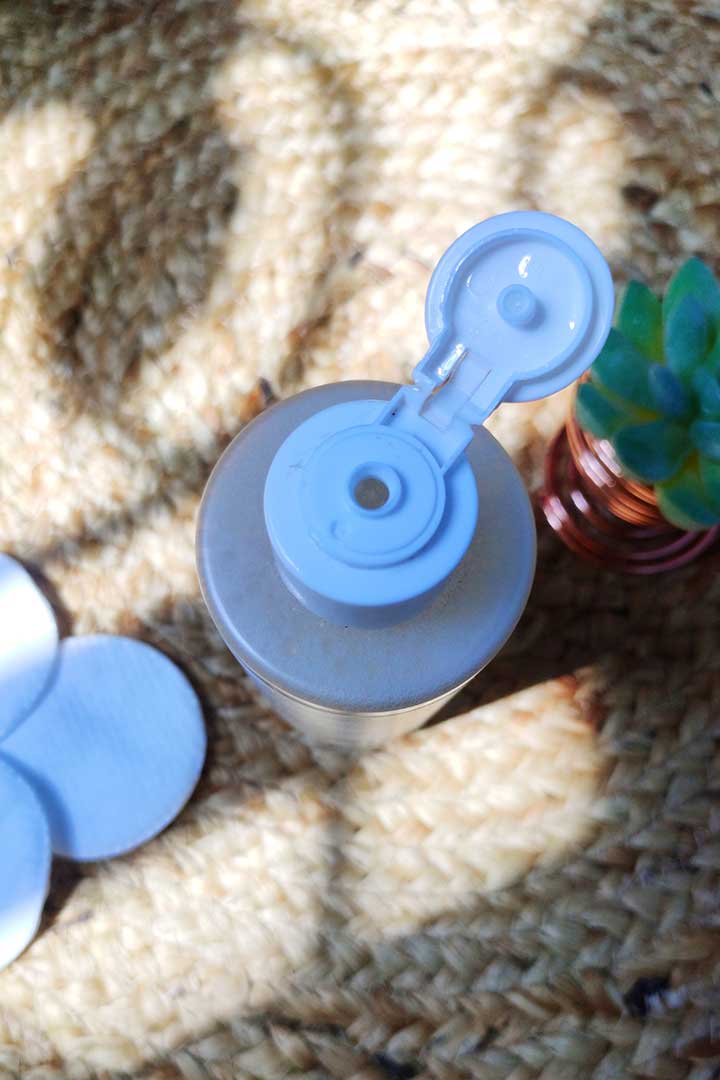 And thus, in the following section, I am going to share my experience in the form of a few important points. The following things are all part of my experience in brief. I believe, this new format would make the review more interesting and helpful at the same time.
1. Wastage of Product
We always talk about travel-friendly packaging. Indeed, it is always expected! Unfortunately, the bottle Plum has used here is not much travel-friendly.
It becomes quite hard to control the flow of the micellar water. The bottle is so hard that one cannot squeeze it even. As a result, every time, more than the required amount of the product comes out. It leads to wastage.
The brand could have easily avoided the situation with a pump up nozzle or a with a smaller hole size.
2. A Bit Sticky Formulation
The formulation feels a bit sticky post-application. Usually, it is not required to wash the face after using micellar waters (unless the micellar water is an oil-based one). But, washing off the face is not a choice here but a must to do.
3. Quite a Mild Formulation
Well! The brand has clearly mentioned that this micellar water is formulated to remove water-based makeup. That's why the formulation is quite light and mild.
Just for testing purposes, I have rubbed this micellar water quite a lot of time on my SUGAR Smudge Me Not Lipstick. Even after rubbing, 10 times, the lipstick could not be budged.
But, any gentle and effective cleanser can remove water-based makeup. Then, the real question is, why do we need such expensive micellar water when we have loads of options available in the market?
4. It Stings the Eye Area 
The first time when I felt the sting around my eye area, I could not believe it.
Trust me, the sting was not mild, it was strong enough to wash off my eye area immediately.
But, don't worry as the product is approved by ophthalmologists.
Since the first incident, I have used this micellar water at least 10 times, but I have never ever used it on my waterline or nor even on my upper line.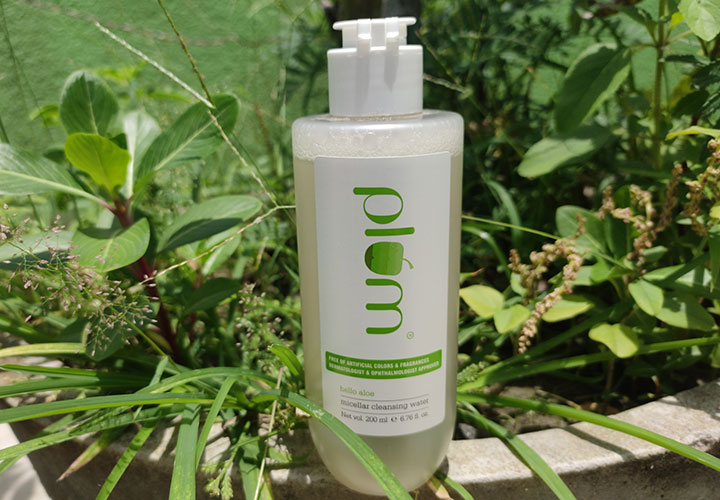 5. Perfect for ALL Skin Types
Well! Indeed, this is the best thing about Plum micellar cleansing water. It is mild enough for ALL skin types including the sensitive and acne-prone ones.
All of these points clearly indicate the product in its entirety.
It is true that I cannot continue using this miecallar water as a makeup remover as 90% of my makeup is made of water-resistant products.

But, I have already started using this as a cleansing water. Micellar waters provides deep-cleansing. So, I am happy to include this mild formulation  to my double cleansing regime.
And now, it's time to take a final look at whether I would recommend this micellar water or not.