Active Topicals Retinol Body Lotion: Review with Ingredient Analysis
Although I have pretty dry skin, I avoid applying body lotion during summer. Well! It goes without saying how bad this practice is. But, I can't help it. I feel that body lotions during summer make my skin greasier and sweatier than ever.
So, it's been more than a year now that I am not into summer body lotions anymore. But recently, when I came to know about Active Topicals Retinol Body Lotion, I decided to give it a try. Two reasons are there behind this decision.
The lotion comes with a rich ingredient list and second of all, I am all into Retinol these days. It's been more than 7 days now that I am applying this body lotion all over my body religiously every day. Is it worth every rupee? Let's find out.

Basic Details about Active Topicals Retinol Body Lotion
Price: INR 1199 for 200ml
Shelf Life: 15 months from the date of manufacture
Buy From: Official Website
What does the Brand Claim about Active Topicals Retinol Body Lotion?
Here's your secret to prove age is just a number! Get brighter, tighter and healthier skin with Retinol (0.2%) Body Lotion. Made of active ingredients like Retinol, Hyaluronic Acid, AHA, and Trehalose, this lotion fights against the signs of ageing such as dullness, wrinkles and fine lines while giving you healthy, younger-looking skin.
This lotion is fragrant-free and lightweight making it easy to absorbable. It provides deep treatments like reducing stretch marks, skin tightening, and even skin texture.
Ingredient Analysis of Active Topicals Retinol Body Lotion
Are the ingredients of Active Topicals Body Lotion safe? Well! In this section. let's analyze the efficacy & safety of the ingredients of Active Topicals Retinol Body Lotion.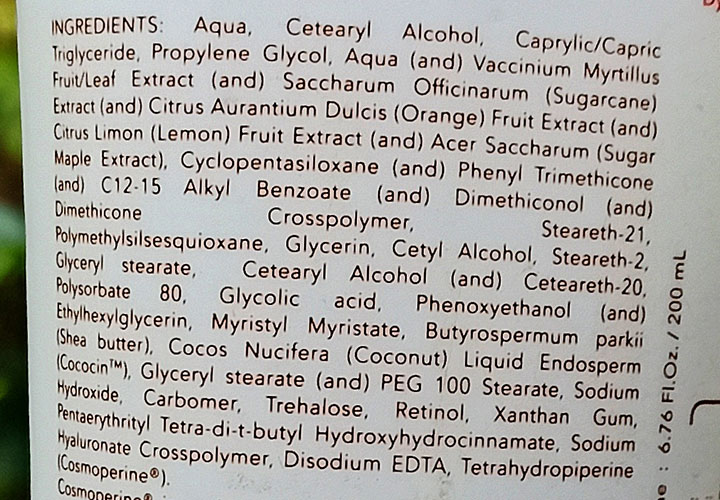 There are more than 25 ingredients, as you can see. So, grab a bowl of snacks as the analysis is going to be pretty long.
Actives: Retinol(0.2%), AHA(3%)
Fortified with: Shea Butter, Coconut water extract, Sugarcane extract
Water is the base of this body lotion.
A safe skin conditioner that also acts as a thickener.
It is a safe binder that is widely used in lipsticks, body lotions, creams, etc.
A moderately safe humectant that helps to retain moisture in skin & hair.
This herbal concoction is full of antioxidants. It helps to hydrate and nourish the skin from inside & outside.
This non-greasy fluid has a texture similar to Silicones. It is colourless and imparts a smooth, silk-like feel to the skin.
A waxy component that functions as both surfactant and emulsifier.
Another component with a texture similar to that of Silicone. It gives a velvet-like feel to the skin.
A natural humectant that retains moisture.
A skin softener that also acts as a cosmetic formulation thickener.
As you can see, there are a number of skin conditioning emulsifiers have been used in this formulation and this is one of those. Steareth-2 is basically a waxy component that acts as an emulsifier.
A safe skin conditioning and emollient agent.
Just like the previous component, this compound is used as an emollient and surfactant.
Another emulsifying agent that helps to improve the texture of the product.
A naturally derived active ingredient that has immense anti-ageing properties. This component also helps to hydrate and exfoliate the skin.
It is a cosmetic preservative that ensures the longevity of the product.
This is a widely used solid emollient which is non-greasy in texture.
An amazing naturally produced butter which is full of antioxidants. Shea butter is an excellent anti-ageing ingredient too.
Coconut endosperm is nothing but coconut water. The content of coconut water is more in young green coconuts. It is full of nutrients that are beneficial for both skin and hair.
This compound increases the absorption power (essential oils and other additives) of a formulation.
The body lotion has a balanced pH (between 5.0-5.5). Sodium Hydroxide basically works as a pH balancer in this product.
It helps to control the viscosity of the body lotion.
This is actually a plant sugar that acts as a thickening agent sometimes.
The body lotion contains 0.2% Retinol. A miracle ingredient, Retinol, helps to increase collagen production. Regular application of Retinol-based products ensures even skin tone, skin brightening, and reduction of dark spots & wrinkles.
A safe and natural thickener that also functions as a binder in cosmetic formulations.
This hard-to-utter component is actually an antioxidant. If it is used at concentrations up to 0.8%, then it does not get penetrated into the skin.
A modified form of Hyaluronic Acid that enhances utmost hydration.
One of the most widely used chelating agents that help to reduce the reactivity of metal ions if any present in the formulation.
Tetrahydropiperine is prepared from Piperine (which is found in peppers). It is widely used in personal care products in order to improve the penetration of actives into the layers of the skin.
And, that's all! I must say that the ingredients are pretty beneficial and promising. This Retinol-based body lotion is perfect for all types of climates. It is free from fragrance and colourants, which is indeed worth appraisal. As a whole, I would like to rate the ingredients of Active Topicals Retinol Body Lotion 4.8 out of 5.
Packaging, Aroma, Colour, and Texture of Active Topicals Body Lotion with Retinol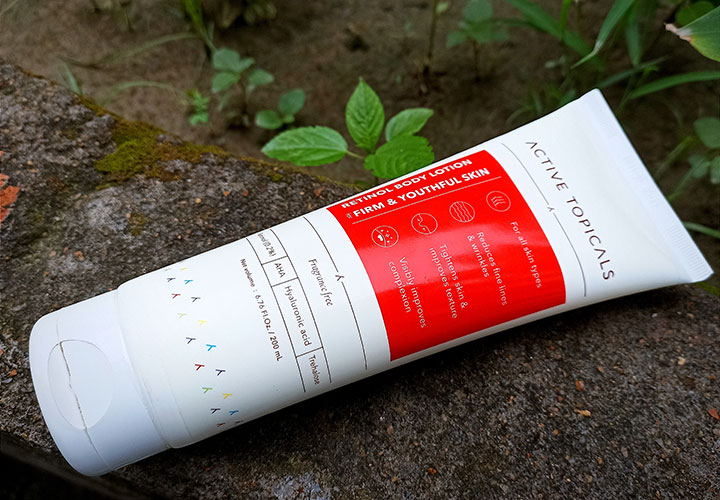 Usually, body lotions come in a flip-flop bottle. This one is a bit different. The tube packaging is not quite convenient especially considering the ultra-creamy texture of the lotion.
Due to the packaging, the lotion oozes out itself if the tube is held upside down. So, it is better to squeeze out the lotion while holding the bottle horizontally.
The texture, as I said, is very creamy. Indeed very soft, smooth, and easy to apply.
There is no distinct aroma; in one word it is an aroma-free body lotion.
The lotion is white in colour with a subtle yellowish hint. All those waxy, white, solid skin conditioning agents are the reasons behind this colour for sure.
Steps to Application
My Experience with Active Topicals Retinol Body Lotion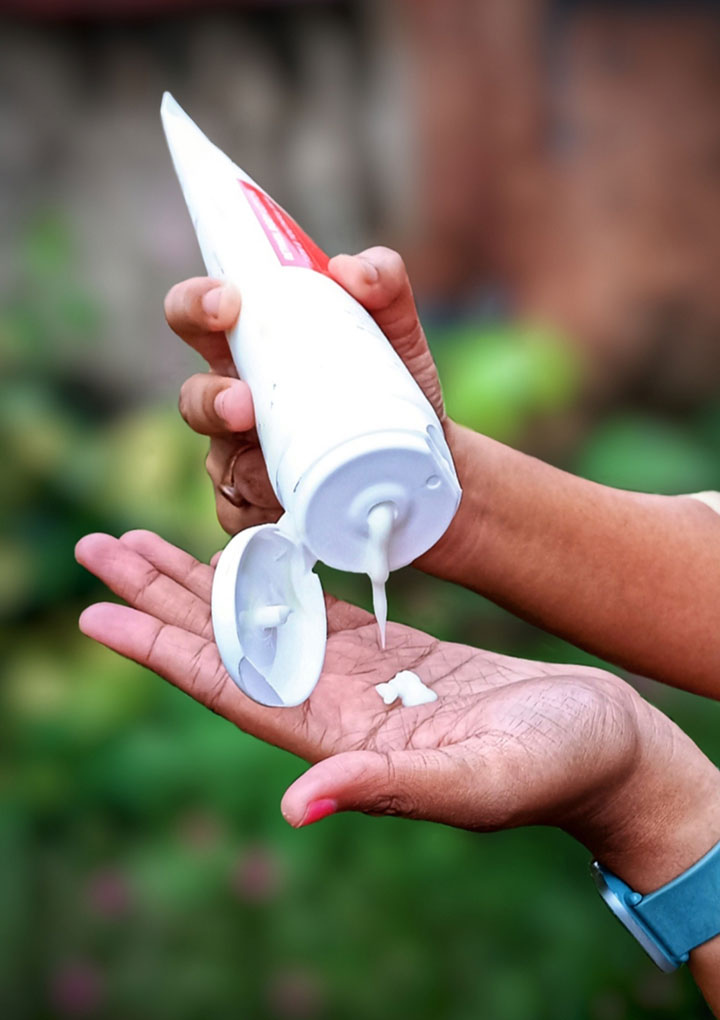 I usually leave the house around 10 am for the office. For this entire week, I have applied this body lotion every day religiously right after bathing.
It spreads the best when applied on a wet body surface. Well! Don't worry; it can be applied on dry skin too. I have observed a few things post-application. Here goes the list.
Skin feels hydrated and moisturized.
It can keep your skin moisturized for a good 5 hours.
The skin looks a bit brightened up for sure.  But, it would be bluffing if I say that this Retinol body lotion has removed all those signs of ageing or my body is scar-free right now. But, I believe that if applied consistently and regularly, this can give you the desired result.
Apparently, the price might seem on the high side. But considering the fact that a very small amount is required for each application, the product is worth the investment.
Moreover, just a coin size amount is enough to cover both hands.
Is Active Topicals Retinol Body Lotion Perfect for All Skin Types?
Guess what! The ingredients and the formulation are perfect for all skin types. I have pretty sensitive skin and it has suited me well. So, no matter what your skin type is, just go for it.