Many of you might know that I am a sucker of micellar water. Since the time when I was introduced with Garnier Micellar Water, there has been no stopping. I keep using one or other micellar waters.
As of now, I have used a number of micellar water from various brands. But, never did I purchase the original and the most popular one from the house of Naos Laboratories i.e. Bioderma.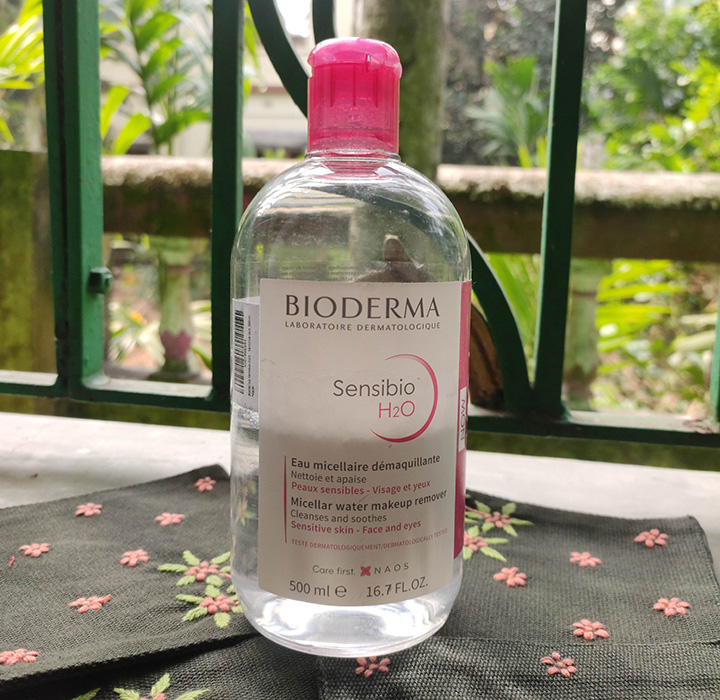 Well! It is definitely one of the most trusted micellar waters of all time and is popular worldwide.
Around 3 weeks back, when I ran out of my regular micellar water, I started looking for something new and on discount.
Voila!!! The 500ml bottle of Bioderma Sensible H2O Micellar Water Makeup Remover was on sale on Amazon and I could not waste a single second on my double thought.
In these few weeks, I have used this micellar water every day religiously to remove my daily makeup.
So, how is the experience so far!? What are the ingredients of Bioderma Micellar Water? How does the skin react in contact with this makeup remover? Well! To explore all the answers, keep on reading.
Table of Contents
What does the Brand Claim about the Bioderma Micellar Water?
Bioderma Sensibio H2O has been specially developed for the ultra sensitive skin with gentle micelles that have excellent cleansing and make-up removing properties. Use twice a day to deeply cleanse your face and neck area.
The micellar technology developed by Laboratoire BIODERMA is inspired by the cellular lipids found in the skin. It helps to maintain and keep the natural pH balance of the skin around 5.5. Skin looks healthy and stays protected inside & outside.
Bioderma Micellar Water Price and Other Details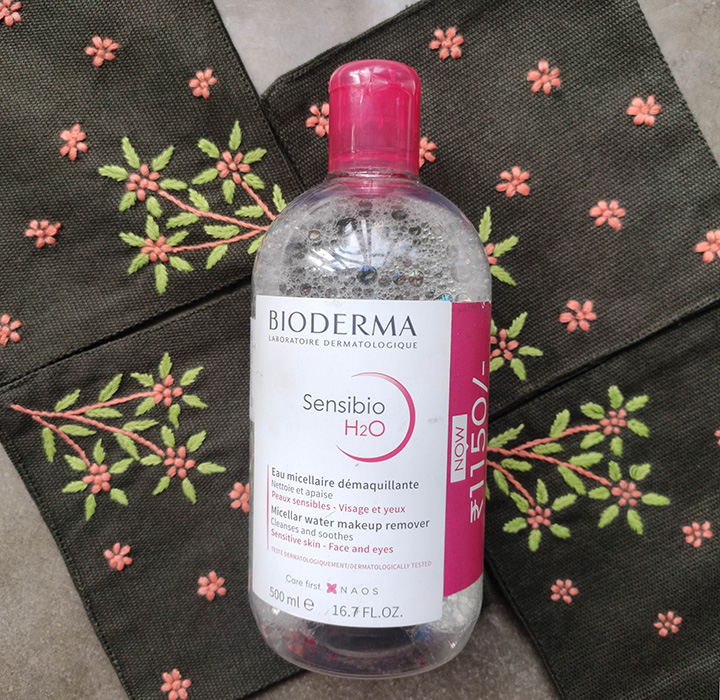 Shop Now!
Price: INR 349/INR 599/ INR 1460 for 100ml/250ml/500ml
Shelf Life: 3 years
Bioderma Micellar Water Ingredients Analysis
Often it happens that micellar water comes with many  ingredients. But, I was surprised to find that this micellar water is made of just a few number of ingredients. Just 10 ingredients and that is all. Let's find out how safe the ingredients are.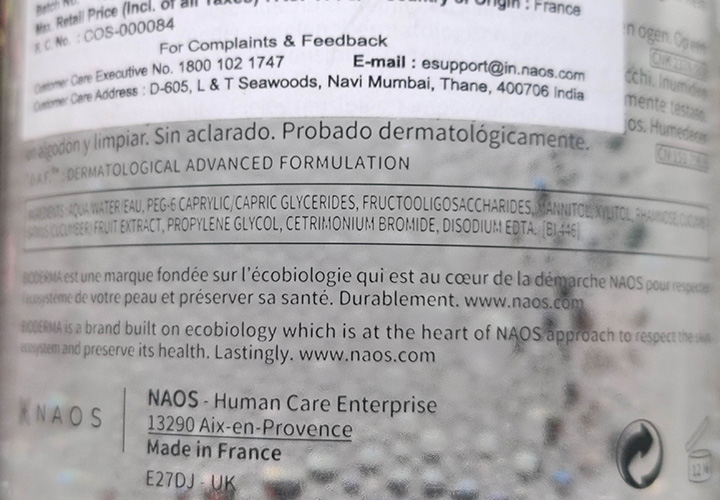 1. Aqua/water/eau
It is a water based micellar water; hence, the base is water.
2. Peg-6 Caprylic/capric Glycerides
This component works as an emulsifier/emollient in cosmetics.
3. Fructooligosaccharides
It is often called oligofructose or oligofructan. This component is made up of powdering foods such as bananas or blue agave; also known as a common alternative to sugar.
It helps to clean the skin and makes it healthy by keeping the necessary microbes alive.
4. Mannitol
A lab-made sugar that helps to keep the skin nourished and moisturized.
5. Xylitol
It combines with Fructooligo saccharides and Mannitol, to maintain a healthy balance between the good and bad bacteria on the skin.
6. Rhamnose
An excellent anti-ageing element that helps to improve elastin and collagen production on the skin.
7. Cucumis Sativus (cucumber) Fruit Extract
Quite effective anti-oxidant ingredient; it can also induce a natural scent to the product.
8. Propylene Glycol
A safe and synthetic humectant that retains moisture onto the skin.
9. Cetrimonium Bromide
It is an antimicrobial and antistatic agent that is used in a variety of personal care products.
10. Disodium EDTA
It is quite popular as a chelating agent in cosmetics. It protects the ingredients in a product from getting oxidized.
As a whole, the ingredients of Bioderma Sensible H2O Micellar Water Makeup Remover are not only minimal in number but are also quite safe for the skin. The brand has done quite an impressive job here and it totally explains the global craze of this micellar water.
The brand surely deserve a 5 out 5 rating for keeping its ingredients safe and effective yet minimal.
Packaging, Texture, Aroma, and Colour
The micellar water comes in a sturdy plastic container that looks cute and is quite spill-proof. The 100ml bottle is definitely travel-friendly.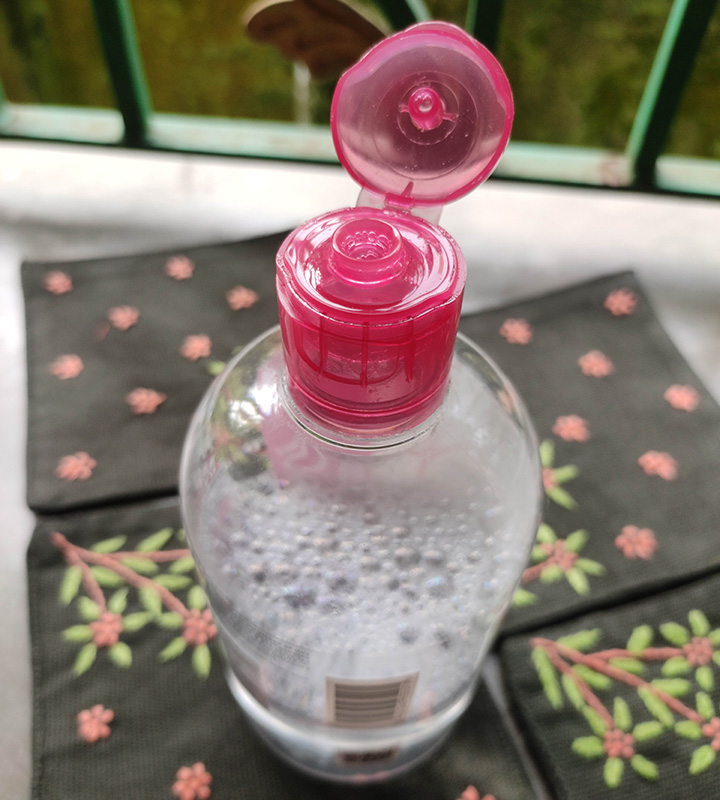 The texture of the product looks and feels just like water. As the makeup remover has no distinct aroma, hence it does not bother my sensitive nose. Although, for people who love fragrant products, it might not be go-to makeup remover.
As you can see in the pictures, Bioderma Sensible H2O Micellar Water Makeup Remover  has no added colour. It resembles water and that is all.
Three Weeks with Bioderma Sensible H2O Micellar Water Makeup Remover
What is My Skin Type?
I have naturally dry skin that has become sensitive over the years due to the exposure to topical steroid. During winter, if I do not apply moisturizer, my whole face looks dull with all those flaky dead skin cells that peel off just like an onion.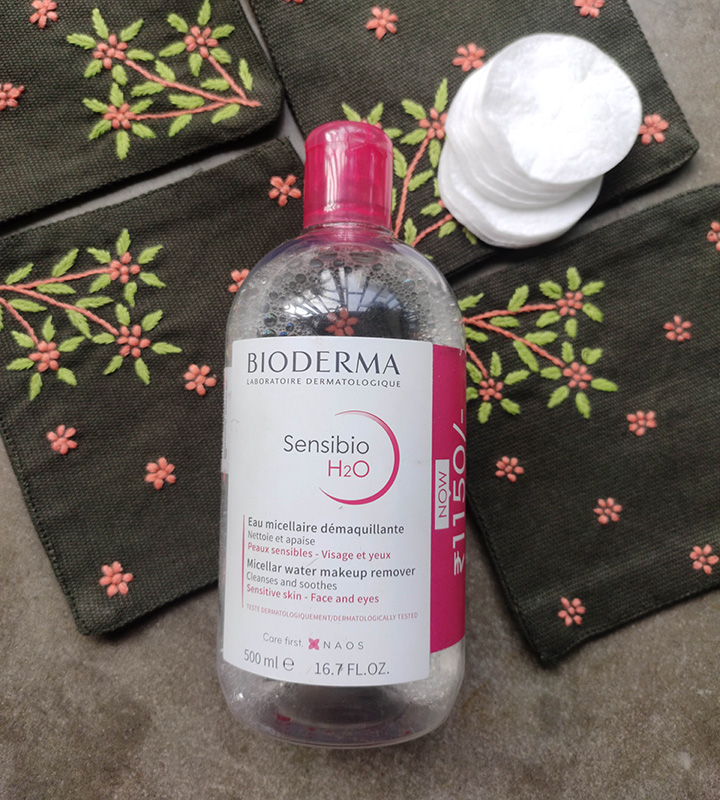 How does Bioderma Sensible H2O Micellar Water Work: Results
I prefer micellar water over the old-school makeup removers since I was introduced to these beauties. Plum Natur Kohl and Sugar Crayon Lipstick are my current favorite when it comes to daily makeup.
Hence, as I said, in the past 3 weeks, there is not a single day when I missed applying this makeup remover. Post-application, I have observed the following things…
All it needs is 5 drops of the micellar water on a cotton pad to swipe away all the dirt & makeup from the face and neck area.
It does not sting or irritate the application area. Within 30 seconds, the face looks healthy & fresh. The process of so hassle-free that even a beginner to micellar water can easily apply it.
No matter how heavy coverage the makeup item provides, this micellar water can take off anything. But, with a twist. For eye makeup, the cotton has to swiped several times to take off the makeup completely.
It can swipe off dirt from the deepest layers of the skin.
Skin feels quite fresh and hydrated once the dirt & makeup come off.
Is There Any Similar Product that has sort of Same Formulation: Dupes
1. Avene Micellar Lotion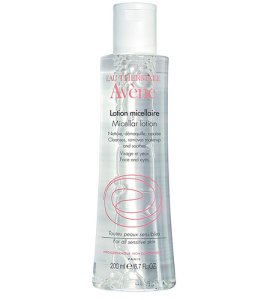 Shop Now!
Quite a popular makeup remover that has gentle formulation. It is free from harsh chemicals, added colors, and fragrance.
This micellar based makeup remover comes in a light lotion form which is quite effective for waterproof makeup and daily dirt & grime. Sixty three percent ingredients of Avene Micellar Lotion match the ones of Bioderma Micellar Water.
2. Yves Rocher Pure Chamomille The Soothing Makeup Removing Micellar Water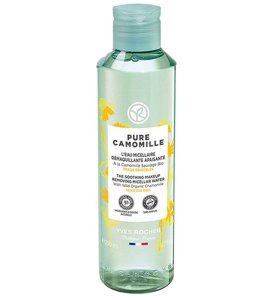 Shop Now!
Another popular makeup remover that has gentle yet effective formulation. It is also free from harsh chemicals, added colors, and fragrance. Just like the one from the house of Avene, Yves Rocher Micellar Water has 63% match to the ingredients of Bioderma Micellar Water.
Apart from these two, both Dermacol Micellar Water and Nuxe Very Rose 3-in-1 Soothing Micellar Water are the closest dupes to Bioderma. 
Q1. Is Bioderma Sensible H2O Makeup Remover Safe for the Sensitive Skin?
Ans. Then ingredients are minimal and none of the ingredients is unnecessarily added. Moreover, it has no added colour, fragrance, or harsh chemicals. Overall, it is quite safe for All Types of Skin.
Q2. Does Bioderma Micellar Water Remove Waterproof Makeup?
Ans. This micellar water has the power to remove all types of makeup no matter how heavy coverage your foundation or lipstick or eye shadow provides.
Q3. Does Bioderma Makeup Remover Cause Skin Irritation?
Ans. I have quite dry and sensitive skin. But, this micellar water is surely a gem. It does not cause any trouble to my skin.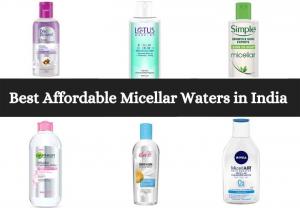 This list is all about the best affordable micellar water in India suitable for all skin types i.e. dry, oily, and sensitive skin.
Read More