Juicy Chemistry Neem Butter, Pumpkin, and Ginger Hair Mask Review with Ingredient Analysis
Due to a busy schedule, I rarely get some time to take care of my hair. And thus, I usually do not prefer applying hair masks or hair butter until recently.
Like millions of people worldwide, COVID-19 made my life confined to the four walls too. During this time, I started taking good care of my hair. The market is filled with a number of options. But, I preferred Juicy Chemistry over all of those.
Well! If you are a regular reader of Cosmetics Arena, then you might know that I am an age-old relationship with this brand. It was the first-ever organic brand that my skin completely fell in love with.
It all started in the year 2016-17 with their Rosehip Oil. And to date, whenever I get a chance, I simply go for their products.
Around 4 months back when I bought Juicy Chemistry Neem Butter, Pumpkin, and Ginger Hair Mask for the first time ever, I was pretty excited. Since then, I have religiously applied this mask twice a month. Recently, the product got over.
It would be wrong if I say that all the JC products are excellent. I have used both good and bad Juicy Chemistry products. So, how is this mask? Is the formulation is a hit or a mess? Is it worth investing such a huge amount of money? Well! It's time to unlock the answers below.
Basic Information about Juicy Chemistry Neem Butter, Pumpkin, and Ginger Hair Mask
Price: INR 900 for 75g
Shelf Life: 6 months
Hair Type: Dry and Frizzy Hair with Dandruff prone itchy scalp
Buy From: Amazon
What does the Brand Claim about Juicy Chemistry Neem Butter Organic Hair Mask?
This deep conditioning hair mask has been formulated with pumpkin seed oil, neem butter, Argan Oil, Baobab and Ginger extracts, Castor Oil, etc. many other ingredients. Let your dry & frizzy hair restores and your hair grows like never before.
If you are fighting against scalp inflammation and stubborn dandruff, then this the hair mask you need in your closet.
Ingredient Analysis of Juicy Chemistry Neem Butter, Pumpkin, and Ginger Hair Mask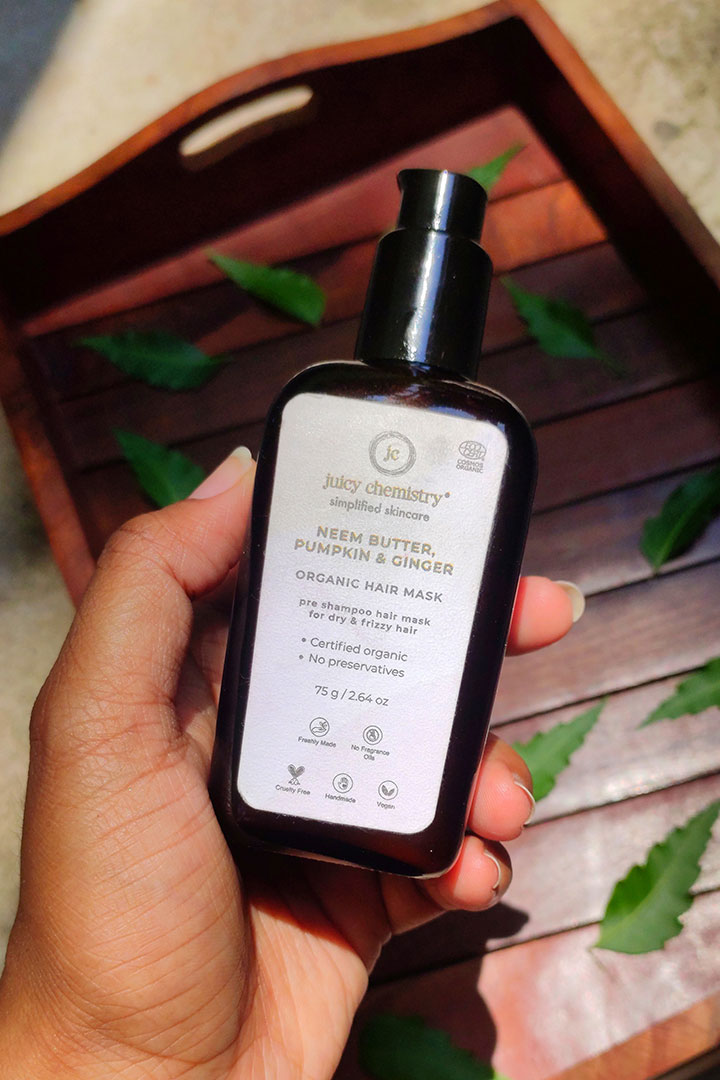 Not all Juicy Chemistry products are amazing for sure, but one thing is commendable. The brand is pretty particular about the ingredients they put in a product. Every formulation surprises me.
JC mentions the functionalities of every ingredient clearly on their official website. And, I love such brands that talk about ingredients in-depth. This Neem Butter Organic Hair Mask is no different too.
Enough of the intro, let's analyze the ingredients of this mask in-depth.
1. Coconut Oil, Neem Oil, Baobab Oil, Argan Oil, Olive Oil, Pumpkin Seed Oil, and Castor Seed Oils
So, all of these cold-pressed oils are the foremost ingredients in this mask. These oils are full of fatty acid and antioxidants that are quite nourishing for both the scalp and also for the length of the mane. All of these oils are quite amazing for hair growth, scalp inflammation, and nourishment.
2. Coconut Butter, Shea Butter, and Mango Seed Butters
It goes without saying that these butter contain a huge amount of vitamin E. These are naturally produced butter that not only nourishes the scalp but also hydrates it.
3. Ylang Ylang and Ginger Essential Oils
This pair of essential oils are excellent antioxidants. These EO duos help to promote hair regrowth by healthy blood circulation all over the scalp.
4. Lemon Essential Oil
Just like the previous two EOs, this EO is rich in Flavonoids too that function as an antioxidant and also as an antimicrobial agent.
5. Lavender Essential Oil
Commonly known for its heavenly aroma this EO is rich in terpenes that soothe out severe scalp inflammation.
6. Tea Tree Essential Oil
Unlike the Lavender EO, this essential oil is rich in monoterpenes that also help to soothe scalp inflammations.
7. Rosemary Essential Oil
If you are looking for an essential oil that not only protects your scalp from dandruff but also helps with hair regrowth, then nothing can beat this one.
And, that's all! Simple the list was, wasn't it? It goes without saying how beneficial all the ingredients are. As the brand bottles up products with a shelf life of 6 months only, so none of the products comes with preservatives. overall, I would love to rate the ingredients 5 out of 5.
Packaging, Aroma, and Texture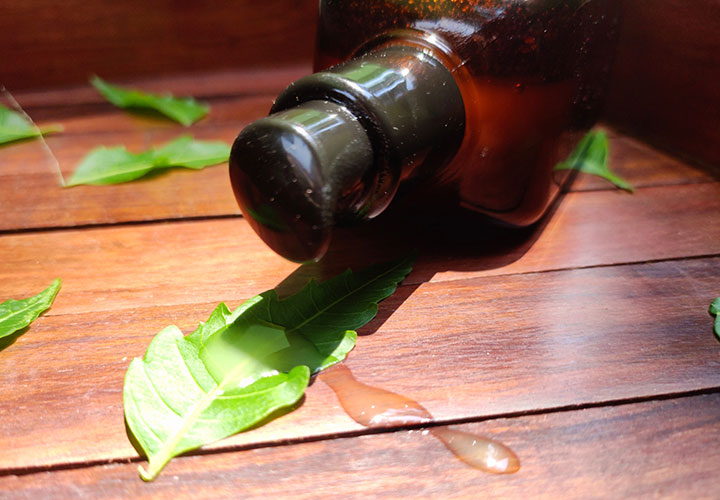 The hair mask comes in a signature JC packaging i.e. dark glass bottle. The pump works pretty well to nozzle out just the right amount of product.
I loved the natural aroma. It has no specific hint but altogether, a brilliant concoction of amazing essential oils.
The texture would surely remind you of Ghee or clarified butter. It is thick but melts easily if you rub it between your palms.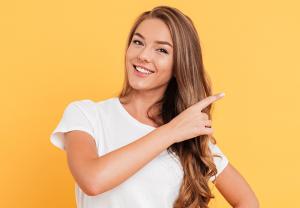 Which ingredients are used in mild shampoo? What are the features? Which brands have been included in the compilation? Well! Time for all the answers.
Read More
My Experience with Juicy Chemistry Neem Butter, Pumpkin, and Ginger Hair Mask
In these 4 months, I have applied this mask twice a month. A hair mask is only effective when applied on a clean scalp. So, here is how I used to apply the mask.
The day before masking, I used to clean my scalp with a sulfate-free mild shampoo.
I have medium length of hair. So, 10 drops of the pre-shampoo mask is all I used to pump out for every application
I do not like my hair feel sticky. So, I made sure that I do not end up pouring more mask than I require
Hair definitely felt softer not only after every application but for a day even
After that, the hair used to feel dry again.
Amid everything, what I loved the most is that the mask is not stubborn at all. You can easily wash it off with even a mild shampoo.
Does it Cause Hair Fall?
Nope; not at all. I have quite a problematic scalp for sure. But, it did not trigger any extra hair fall. Just remember to be gentle while massaging the mask before you shampoo.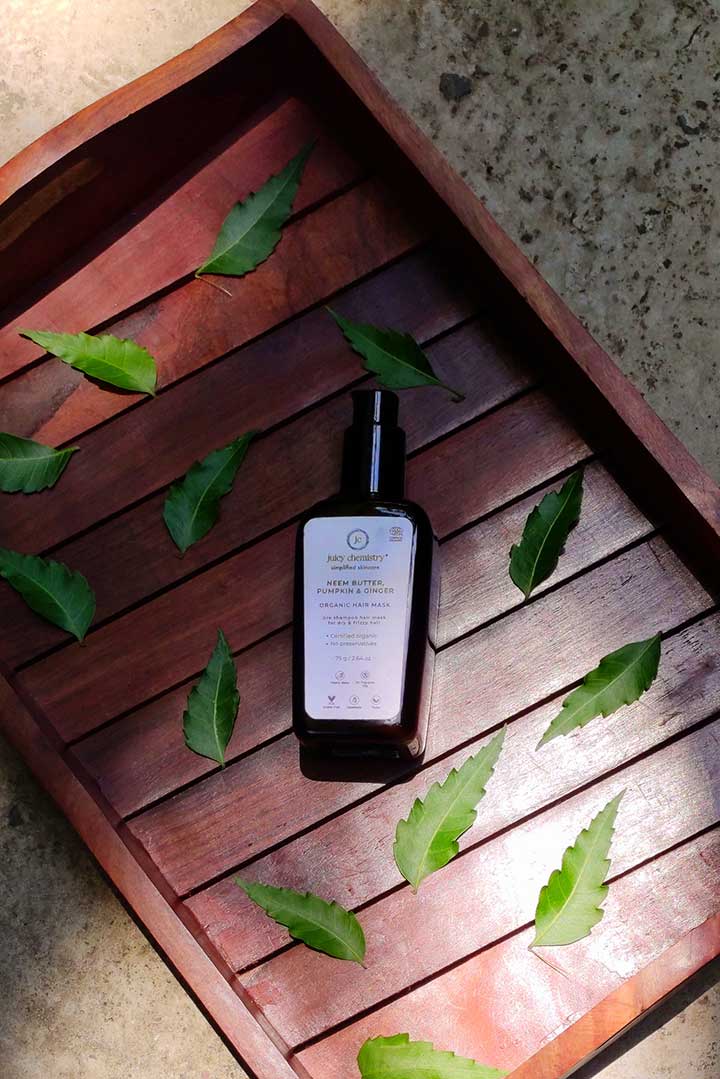 Does it Help with Dandruff?
To some extent, but not much. In spite of containing such a brilliant concoction, this hair mask does not help much with my stubborn dandruff. My dandruff neither triggered nor healed.
Pros of Juicy Chemistry Neem Butter Hair Mask
Made with natural oils, butter, and essential oils
Easy to wash off formulation
Makes hair soft and smooth
Comes with a beautiful texture that is easy to apply
Soothing aroma
Scalp feels soothing and cool
Cons of Juicy Chemistry Neem Butter Hair Mask
The effect is not long-lasting. After a day, hair becomes dry again.
Quite pricey
That's all for today! Make sure you share this article with your friends and family. Let us know in the comment section below about your favourite mask. Take care; celebrate life.