Every week, it seems, a new miracle oil unveils. The list of oils includes argan, rosehip, squalane, coconut, olive, and many more. However, we'd like to inform you about the newest oil craze that's incredibly good for you: sea buckthorn oil. If you're looking for a hydrating oil that is also high in antioxidants, this one might be it.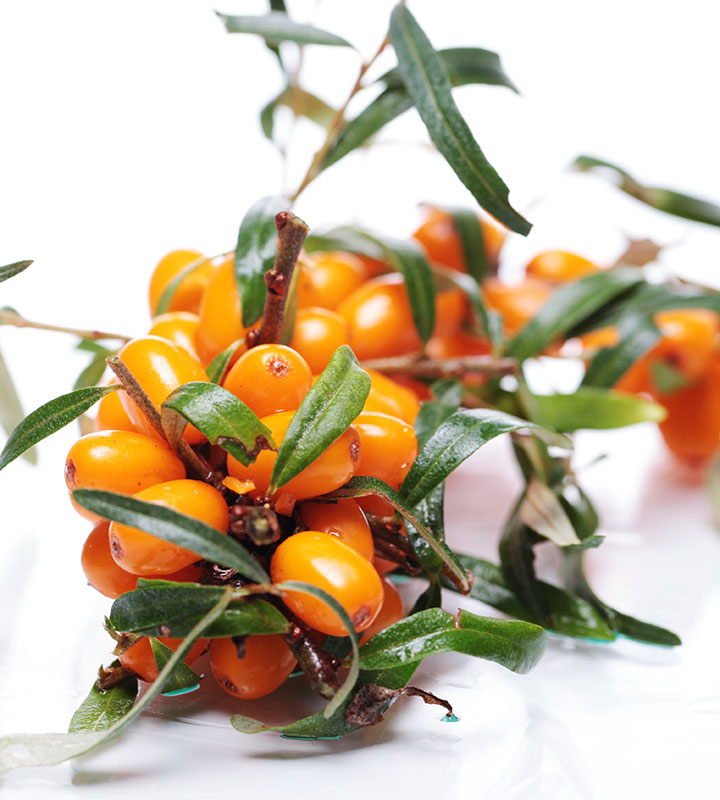 Since ancient times, people have turned to Sea Buckthorn Oil, a type of carrier oil, to treat a wide range of medical issues. The sea buckthorn shrub, whose seeds are used to make this product, grows in Asia, Europe, Russia, and China. Although many of these plants are cultivated, Hippophae rhamnoides are the most widely used species in the cosmetics industry. It is native only to cooler regions of Europe and Central Asia.
Sea buckthorn oil might be the missing component in your skincare routine. This may seem like a strong statement, but we're confident you'll agree after reading about the miracle properties of this unique ingredient.
Continue scrolling down to learn more about sea buckthorn oil for skin benefits.
Powerful Antioxidant Content
Sea buckthorn oil is an effective tool in the fight against free radicals. Vitamin C, vitamin A (both alpha- and beta-carotene), vitamins B1, B2, and B6, vitamin E, fatty acids as well as flavonoids, Omega 3, 6, 9, and the rarest Omega 7, and about 190 bioactive compounds are all found in abundance in it.
Soothing Protection
Because of its high vitamin content, sea buckthorn oil effectively hydrates and plumps the skin, helping it retain its ideal moisture level. If your skin is dry or aging, this is your product. Vitamin C in this oil has antibacterial properties that create soothing sensations, and the abundance of vitamins and carotenoids in sea buckthorn oil makes it a protective and preventative element.
Breaks Up Glycation
The skin can show signs of glycation if there is an oversupply of glucose in the blood. Glycogen protein binds to elastin and collagen in our bodies when we consume too much sugar, accelerating the aging process. Sea buckthorn can break down the bonds between these proteins and restore the collagen and elastin in our bodies cells. The user's skin tone will lighten, and the oil will reverse the effects of glycation and aging with this treatment.
Improves the Skin's Barrier Function
As a rich source of vitamin C, sea buckthorn is excellent for boosting collagen production. Skin tone can be improved and made brighter by increasing collagen production, which serves as the skin's structural backbone. Sea buckthorn's gamma-linolenic acid and vitamin E also help strengthen the skin's barrier, which reduces the visibility of fine lines and wrinkles and promotes a more uniform skin tone.
Deeply Moisturizing
Additionally, sea buckthorn oil helps maintain skin moisture. Linoleic acid is a component of sebum, so its inclusion may help regulate sebum production and maintain an optimal moisture balance for the skin. In general, this improves the skin's tone and texture.
Balance is Restored
Sea buckthorn oil does a great job of restoring balance and raising moisture by flooding the skin with nutrients that are good for the skin. It's packed with skin-loving nutrients like omega acids, anti-inflammatory carotenoids, and vitamins A, C, and E. Skin lightening results from different factors, including softening the skin, healing and correcting UV exposure, and reducing the appearance of scars.
Lightens the Skin
The anti-inflammatory and skin-lightening properties of sea buckthorn oil are a double bonus. The elasticity and tone of your skin can both benefit from the regular use of sea buckthorn oil.
Hydrates And Controls Oil
Sea buckthorn oil can also aid in keeping your skin supple and soft. Because it contains linoleic acid, an acid found naturally in sebum; it may help regulate moisture levels and provide general assistance with hydration.
Minimizes The Look Of Aging Skin
Sea buckthorn oil's anti-aging benefits are due partly to its high levels of antioxidants, fatty acids, and vitamins. Because it's an antioxidant, it also has some anti-aging benefits.
Other Benefits Of Sea Buckthorn
Control Oily Hair
Sea buckthorn oil has additional utility for reducing excess oil production in the hair and scalp. You can use it in the hair to reduce oil production without damaging the strands.
Skin Treatment
People have relied on sea buckthorn oil for its skin-healing properties for centuries. Sea buckthorn oil has been shown to speed up the recovery time for skin burns and other injuries.
Sun Protection
It is crucial to shield one's skin from the sun, but sometimes you need a little extra help from even the best sunscreen, and that's where sea buckthorn comes in. Its antioxidant properties can lessen sunburn.
The Downsides Of Sea Buckthorn Oil
The use of sea buckthorn oil is generally well-tolerated and considered safe for most skin types. However, those with acne-prone skin should conduct a patch test before fully committing. While many oils have the potential to irritate the skin, there is no evidence to suggest that this one causes contact dermatitis or irritant dermatitis.
However, oil-based products that contain fatty acids like linoleic acid may not be ideal for acne-prone skin. Although there is no evidence that sea buckthorn oil causes acne, choosing a non-comedogenic product formulation is essential to ensure that your pores do not become clogged.
If you're planning surgery or cosmetic work on your face, it's best to wait a few weeks before getting laser hair removal. Due to the potential for increased bleeding and bruising, you must avoid sea buckthorn oil for at least two weeks before any invasive procedures.
A Guide To Applying Sea Buckthorn Oil To The Face
You can use sea buckthorn oil on its own or combine it with other oils, moisturizers, or eye creams to achieve a wide range of benefits. It can also be used alone by putting a few drops into your palms and rubbing them together before applying sunscreen in the morning or after cleansing your face at night. You can use it once daily without risk. It may be used as an oil, applied after just a moisturizer to seal in moisture, or included in a cleanser, which would be used as the first step in a skincare routine. When using a serum, it is recommended to do so after cleansing but before moisturizing.
Key Takeaways
Oil extracted from sea buckthorn berries and seeds. It's loaded with nutrients like healthy fats, antioxidants, and vitamins.
Oil extracted from sea buckthorn berries is used in many OTC beauty products for its beneficial effects on the skin and hair.
It's always a good choice to consult your physician before incorporating it into your daily life.
And that wraps it up! Here are some of the many benefits you can expect from using a sea buckthorn oil-based skincare product.