||MCaffeine Naked and Raw Coffee Body Scrub Review||
Hey, lovely bees! Well! Winter and coffee is an epic combination; just inseparable. How about if we use coffee as body care? Coffee may leave you with a glossy skin. This winter I wanted to try something aromatic and caffeine. So, recently I bought a caffeine body scrub. We all know how winter brings loads of dead cells. This is the sole reason behind buying a body scrub. Without wasting a single word, let's begin with the review of MCaffeine Naked and Raw Coffee Body Scrub.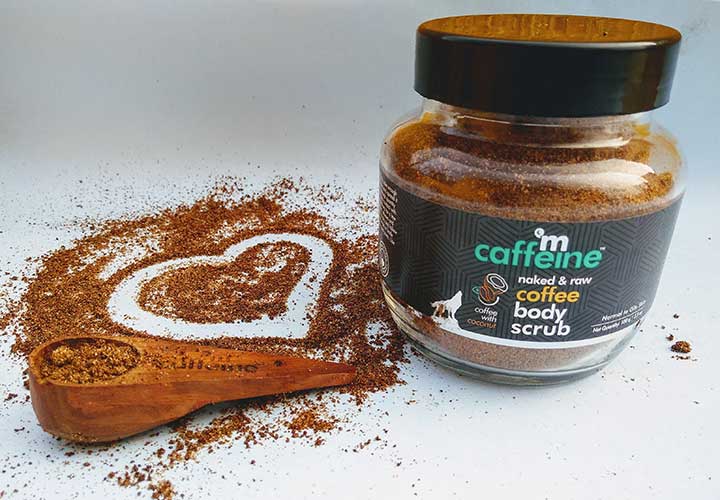 About the brand:
MCaffeine is India's first caffeinated personal care brand. Their items are intended to present to you the best in skin and hair care. The brand promotes products free from paraben, synthetic and chemical fragrances, Alcohol, synthetic, and artificial colours from SLS, SLE. All the products are dermatologically tested. As per the brand, only the purest natural ingredients go in making their products. They are also not tested on animals, and cruelty-free! Thus it is 100% ethical.
What Does the Brand Claim about MCaffeine Naked and Raw Coffee Body Scrub?
MCaffeine Naked & Raw Coffee Body Scrub is made from Pure Arabica Coffee and Cold Pressed Coconut Oil. Everyday anxiety and workload can make our skin dull, all the pollution and dirt inhibits the skin breathing. Coffee exfoliates dead cells and gently removes the dead skin, and tenderly expels the dead skin, leaving a rejuvenated skin. Also, coffee reduces puffiness and improves blood circulation; thus, promotes collagen production. Overall, there is hardly anything that can replace Coffee as a great scrubber.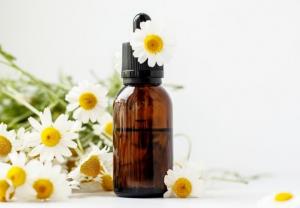 Know about the best organic skincare brands in India that everyone must give a try at least once. Have a look!
Read More
Basic Information about MCaffeine Naked and Raw Coffee Body Scrub
Price: Rs. 449.00 for 100 g | 3.5 oz.
Shelf Life: 24 months from the date of manufacturing
Buy from: Amazon
Skin Type: All Skin Type
Ingredient Analysis of MCaffeine Naked and Raw Coffee Body Scrub
Well! The basic ingredient is indeed Coffee. But, what are the other components? Let's take a detailed look at all the components.
Pure Arabica Coffee: It peels off dead cells, smoothens skin, and lessens cellulite.
Sorbitol: It is a great humectant that retains moisture and also safe.
Glucose: Glucose or sugar is a natural source of glycolic acid. It has small particles which are excellent topical exfoliants and it helps to retain the glowing, healthy-looking skin.
Cocos Nucifera Oil (Coconut Oil): Rich in Vitamin E and A. It's naturally anti-bacterial, anti-fungal and moisturizing; reduces stretch marks and softens skin.
Sodium Lauroyl Glutamate: This is a gentle cleanser and a surfactant agent. This component is not hazardous.
Potassium Sorbate: It helps to extend the product shelf life and inhibits the development of microorganisms.
Sodium Benzoate: This is a salt of Benzoic Acid. It is anticorrosive and enhances the scent of products.
Caffeine: It reduces puffiness and fights free radicals.
Well! The components seem pretty harmless and thus, the scrub has gentle formulation. So, this body scrub is fit for everyone.
Packaging
It comes in a transparent and bulky glass container; the screw cap is dark in colour. The product is boxed inside a square sparkling black cardboard box. The scrub additionally comes with a little wooden spoon which is convenient enough as I don't need to dig my fingers to scoop out the scrub. All the necessary information are labelled on it. Overall, I love the luxurious packaging.
Aroma, Colour, and Texture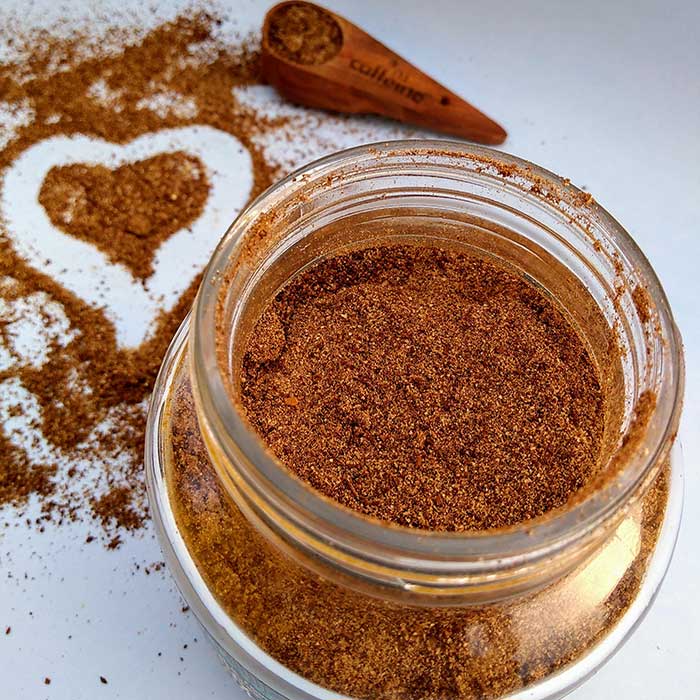 The scrub is powdery and full of small fine particles. The colour is brown as coffee is the base here. It just smells like a refreshing cup of coffee. Ah… heavenly! A strong coffee aroma! If you are coffee lover like me then this scrub can be your winter bestie. On a strange note, though the key ingredients are coffee and coconut oil yet it has no definite coconut smell. But, overall it will win your heart.
How to Use MCaffeine Naked and Raw Coffee Body Scrub?
Just think how fun it would be to use such an amazing fragrant product! Generally, I take an ample amount of product and start scrubbing gently in a circular motion on my damp exposed areas especially on shoulders, back of neck, knees, and elbows. Usually, I do it for approximately a minute. After that, I just leave it for a few minutes and wash it off. Well! Scrubbing should be done twice a week. It is a must to use body lotion for hydration after scrubbing.
My Experience with MCaffeine Naked and Raw Coffee Body Scrub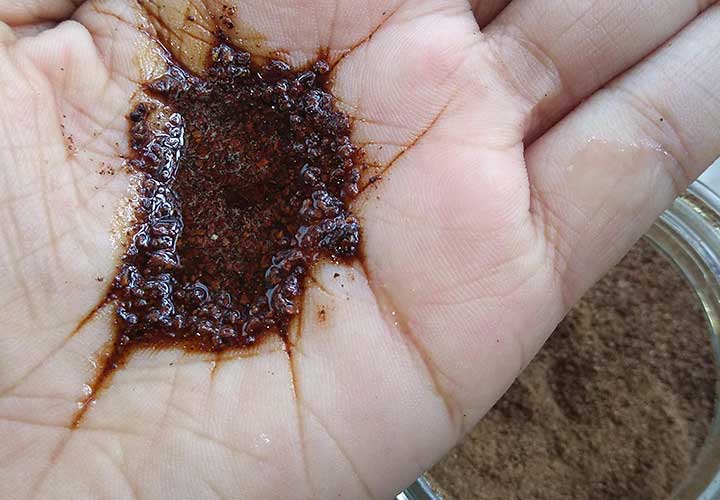 Oh My God! How refreshing it feels! After each wash, I feel a positive charm everywhere. These natural ingredients plump my skin making it less wrinkled, rejuvenated, and smooth. It is a deep cleanser as it exfoliates gently and gets rid of all the dead skin cells and toxins; healthy and glowing skin is all I get after every wash. The caffeine present in the formulation provides even tone to the skin and diminishes puffiness. I have felt a cool feeling to the body which is due to the sorbitol present in the product. The quantity is huge and thus, it is a long runner scrub. Though it claims to be suitable for normal to oily skin types, yet I recommend it for ALL skin types. Dry skin beauties must use a moisturizer after application to impart a perfect glow.
Pros of MCaffeine Naked and Raw Coffee Body Scrub
Made of powerful natural ingredients. Coffee is found in ample amount.
Paraben-Free.
Not tested on animals.
The packaging is luxurious and well-built.
It comes with a wooden spoon which is easy to use.
Exfoliates pretty well.
Removes dead skin cells.
Provides a cooling sensation on the skin.
Provides you with a soft and moisturized skin.
Suitable for ALL skin type.
Cons of MCaffeine Naked and Raw Coffee Body Scrub
The packaging is bulky and thus, not travel-friendly at all.
Available only on online store.
If exposed to direct air, the scrub powder becomes moist.
Can Body Scrub be Used as a Facial Scrub?
The skin on our face is sensitive than the other parts of the body and it requires extra care. Thus, I do not recommend ever to use a body scrubber as a facial scrubber.
What Do You Do if the Water gets in the Jar?
No need to worry! If it happens, just scoop out the damp portion of the container and use it. Make sure to avoid leaving the damp part in the jar to protect the product. After every application, close the jar lid tightly to avoid any direct contact with the air.
Would I Recommend/Repurchase MCaffeine Naked and Raw Coffee Body Scrub?
Yes, I highly recommend this body scrub and I am also going to repurchase it. So, power girls, get ready to bid adieu to your dull and damaged skin.
And lastly, if you like this review, make sure to subscribe to the Cosmetics Arena for more reviews like this.