How are you my beautiful friends. Today I would like to review Ecotique Ylang Ylang and Patchouli Indulgence Soap. It is a handmade bathing bar.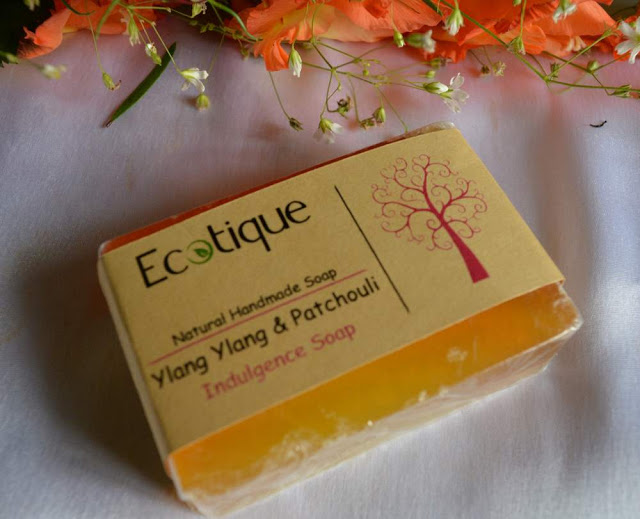 I truly love natural and handmade cosmetics. At least I can assure my skin that I am taking good care of it :)). Let us move on to know this beautiful hand crafted product in detail. 
Price: INR 349 for 100g
Shelf Life: 24 months
ALSO READ:
Product Description and Ingredients: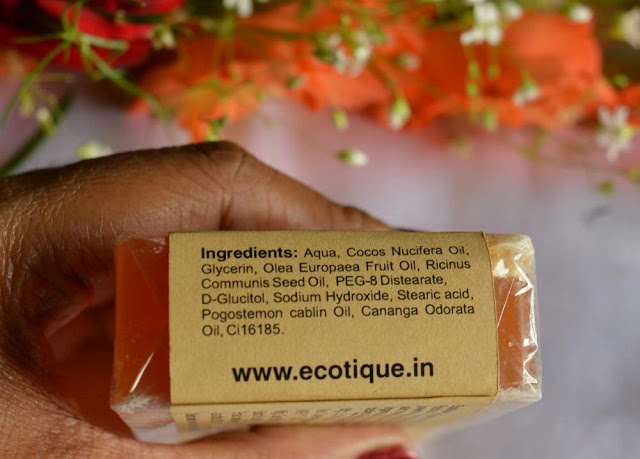 This soap is enriched with Glycerin, Coconut Oil, Rice oil, Ylang Ylang (pronunced as Ee-lang Ee-lang) essential oil and Patchouli Essential oil. The ingredients look really promising and divine, specialy the Ylang Ylang Oil. In fact I became so excited about this oil that I immediately ordered one from Juicy Chemistry :P.
My Experience with Ecotique Ylang Ylang and Patchouli Indulgence Soap 
I have used this soap quite a few times. But my father has used it more.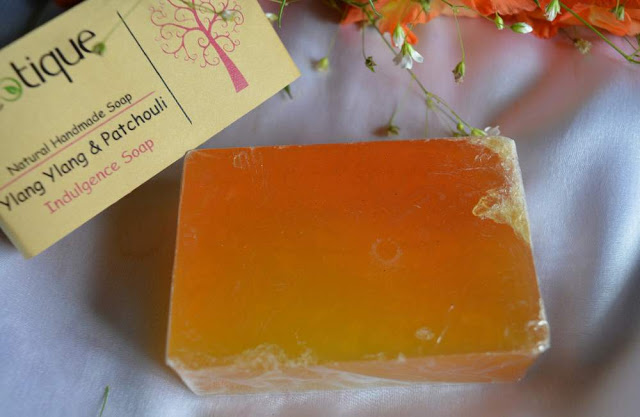 For both us, the Fragrance played an important role, it is very very charming. After bathing, my washroom become floral. It can immediately lift your mood. Though the fragrance does not stay for long.
The soap is amber colored and quite hard. Unlike other handmade soaps, it melts very slowly. In this way, a 100g bar will go for 1.5 months easily.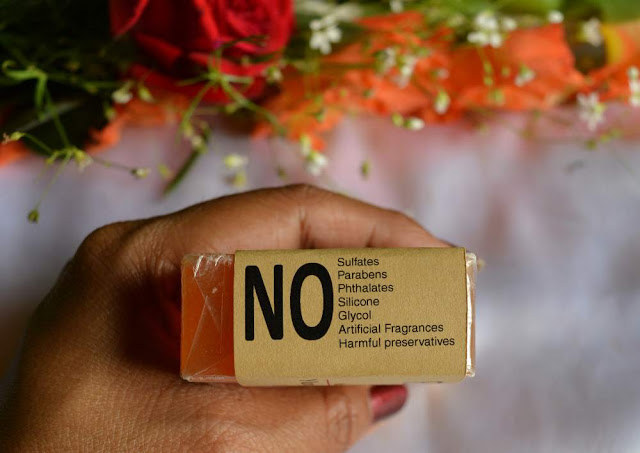 This indulgence soap gives me a relaxed feeling. It lathers properly and my sensitive skin does not feel stretchy. It hydrates skin but not for a long time. A good moisturiser is needed right after bathing. 
Now, here goes the brief review.
LIKES:
Enriched with essential oils.

It has saponified coconut oil. 

Awesome fragrance.

Mind becomes relaxed afterwards.

Goes a long time.

Melts slowly.

NO preservatives, harmful chemicals, sulphates or additives.
DISLIKES:
Price is on the higher side.
***CA IMPRESSION: 4.8/5***
Overall, this soap can be used regularly for a refreshed bathing experience. The fragrance is just amazing. I difinitely recommend this soap to everyone who loves natural and handmade soaps. 


Love you my sweethearts. I hope you like this review. Take care and celebrate womanhood. 
Thank you for reading. Have you used this product? Please share your experiences here. Love you all.