Rustic Art Juniper Berry Face Wash Concentrate
Gone are the days when people used to be happy with conventional products. With time, things have changed.
These days, people love to use unique and unconventional products. They love to try new products. And, this craze has driven many brands to come up with a unique range of products.
The harsh chemical free concentrated face wash is one such kind. So, when I heard of Rustic Art Juniper Berry Face Wash Concentrate for the first time, it sounded pretty unique to me. And, I was on my feet to try it out.
It's been 2 weeks already that I am using this face wash. Now, I am ready to share my experience with all of you. So, let's talk about it in depth.
Basic Details about Rustic Art Juniper Berry Face Wash Concentrate
Price: INR 200 for 50g
Buy From: Amazon, Rustic Art
What Does the Brand Claim about Rustic Art Juniper Berry Face Wash Concentrate?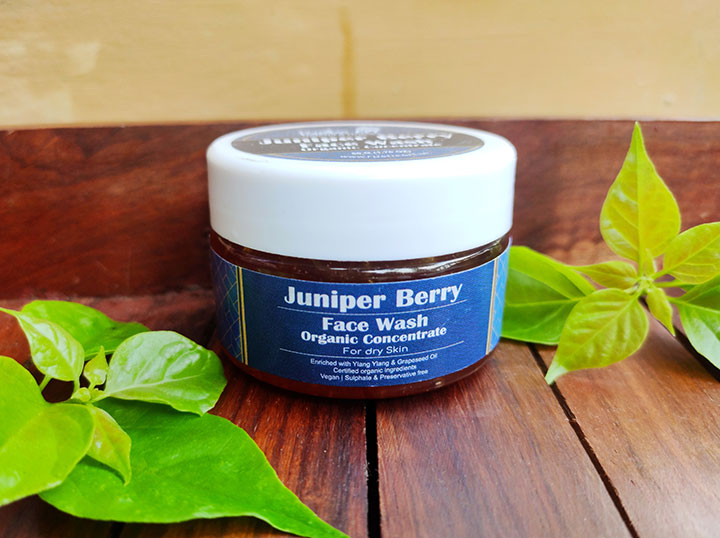 Get ready for a burst of fruits. This concentrated face wash is enriched with Juniper Berry, Grapeseed, Olive, Lime, Orange, etc.
This mild soap paste is specially formulated for dry to normal skin types. The formula not only cleanses the skin deeply but also makes it hydrated.
Rustic Art Juniper Berry Face Wash Concentrate is free from Sulphates, Parabens, Phosphates, Colours, and Fragrance. It also does not contain water.
This face wash is water efficient at the same time as it does not require much water to rinse it off. Give your skin the best splash of nature.
Ingredient Analysis of Rustic Art Juniper Berry Concentrated Face Wash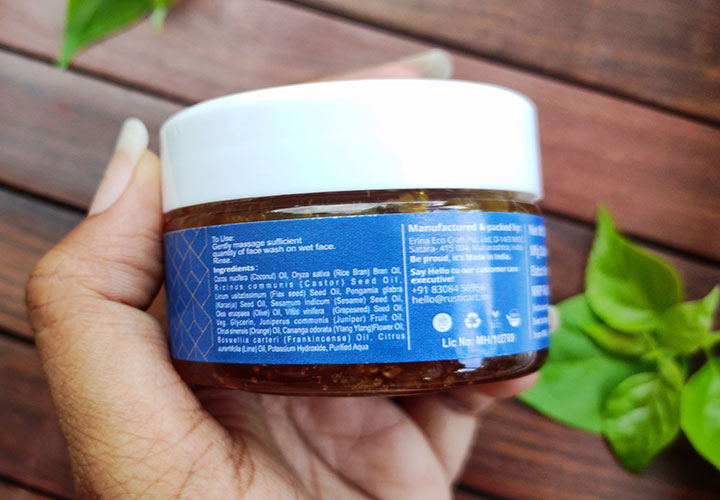 The formula is what makes a product hit or flop. I always believe that it is not the brand that makes a product popular, but actually the formula decides fate.
Rustic Art took significant time to formulate this face wash before launching it. This concentrated face wash contains a number of mild surfactants.
It is also enriched with the goodness of a number of oils. Let's talk about everything in details.
1. Potassium Cocoate
A safe surfactant which is mild yet effective; derived from Coconut Oil. It also works as an emulsifying agent.
2. Potassium Ricate
Derived from Rice Bran, it works as both surfactant and emulsifying agent.
3. Potassium Ricinoleate, Potassium Linumate, Potassium Pangamate, Potassium Sesamate, Potassium Olivate, Potassium Grapeseedate
All of these are pretty mild yet strong surfactants that are derived from Respectively Castor Oil, Flaxseed Oil, Karanja Oil, Sesame Oil, Olive Oil, and Grapeseed Oil. I love how Rustic Art has used all these naturally derived surfactants in the formula.
4. Veg. Glycerin
A natural humectant that retains moisture
5. Juniperus Communis (Juniper Berry) Fruit Oil
It is known as a natural healer. This fruit oil is full of antioxidants that detoxify skin deeply.
6. Citrus Sinensis (Orange) Oil
This amazing oil makes skin smooth and radiant. It rejuvenates the skin from inside.
7. Cananga Odorata (Ylang Ylang) Flower Oil
Ylang Ylang has an amazing ability to calm down our nerves. It helps to moisturize and nourish skin from inside. This flower oil is also a stress buster; and thus, it is widely used aromatherapy.
8. Boswellia Carteri (Frankincense) Oil
It has a strong anti-inflammatory property. This oil is also known as a powerful anti-ageing oil.
9. Citrus Aurantifolia (Lime) Oil
Lime Oil is one of the most versatile oils ever. It comes with a number of features like quick absorbent, skin conditioning, anti-bacterial, astringent, etc.
10. Potassium Hydroxide
This alkaline ingredient is generally used to modulate the pH in a formula. It also acts as a cleansing agent on soaps or face wash.
11. Purified Aqua
Water is placed here at the last position that means a pretty low amount of water is used in making the face wash. It not only makes the face wash water-efficient but also increases the longevity of the product.
And, that's all! I love how precisely the brand has formulated this product. No harmful ingredient at such an affordable price tag is really something commendable. I would generously rate the ingredients of Rustic Art Juniper Berry Face Wash Concentrate 5 out of 5.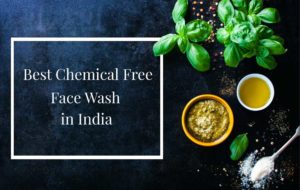 Check out the list of top 11 sulfate free, chemical free, artificial fragrance free, and Paraben free face wash in India.
Read More
Packaging, Texture, Colour, and Aroma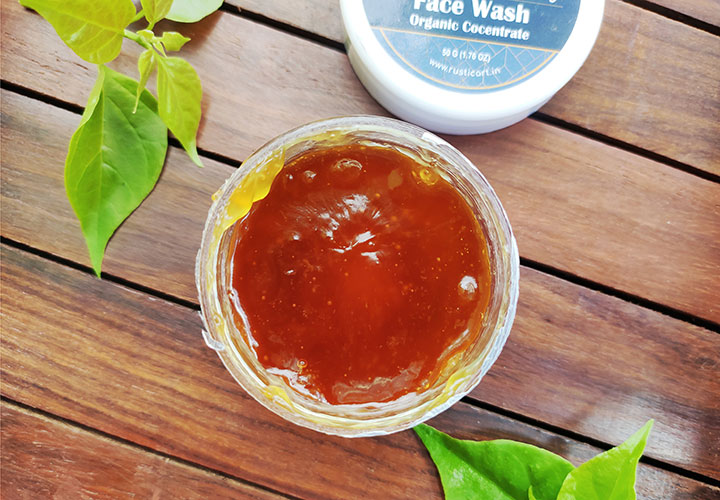 The face wash comes in a simple plastic tub. It is easy to scoop out the product. Tub packaging is a bit problematic especially when we travel. It would be best if Rustic Art comes with tube packaging instead.
The gel-like texture is easy to spread. It is not sticky at all.
It has a dark amber colour which makes it pretty attractive. The colour would remind you how pure the formula is.
Whoa! The aroma is something out of the world. After an exhausting day or just right after you have left your bed, a pinch of this face wash has the ability to make you feel energetic instantly.
My Experience with Rustic Art Juniper Berry Face Wash Concentrate
Usually, I apply this face wash twice a day. All I need is one pea-size of this gel.
I take a sufficient amount of this gel on my palm and mix it with water. After that, I massage it on my face and neck lightly.
Once I am done with the massage, I simply wash it off with water. Not much water is required to wash it off.
Although a number of mild surfactants are used in the formula, yet it has strong cleaning power. It squeezes away every bit of dirt, grime, and oil from the face. I simply love this thing.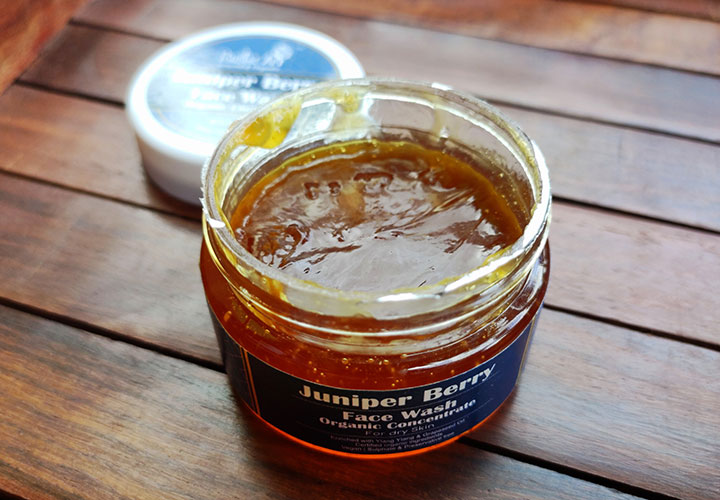 Trust me! This face wash makes my skin soft and smooth. I have seen that harsh chemical free products often make my skin more stretchy, but that is not an issue with this face wash.
The formula is hydrating enough. But still, I always follow up with a serum or facial oil to lock the moisture.
This concentrated face wash is perfect for people with sensitive skin too as it does not contain any harmful chemicals. I must say that my dry and sensitive skin has responded pretty well for this face wash.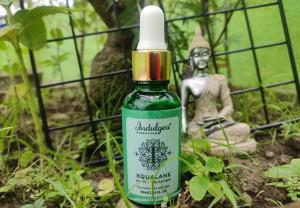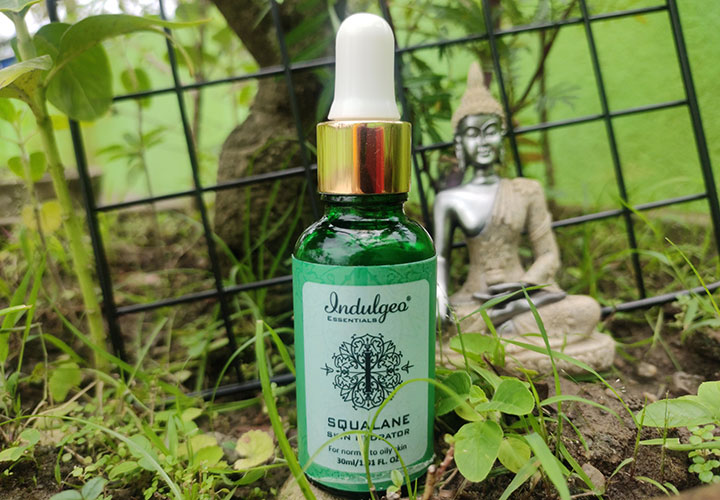 How amazing my experience was with this Oil? Is it really the purest and lightest of all? Let's find out the answer.
Read More
Pros of Rustic Art Juniper Berry Concentrated Face Wash
Pretty affordable in comparison to the chemical free products available in the market at this point in time
Perfect for normal to dry skin type
Excellent formula
Mild surfactants are used
Less amount of water is required
No added preservative or colour
Makes skin soft
It does not make skin stretchy; in fact, the formula is pretty hydrating
People with sensitive skin can use it too without any double thought
Cons of Rustic Art Juniper Berry Concentrated Face Wash
Tub packaging is not preferable to preserve the purity of the product for a long