Niacinamide is an important ingredient that makes skincare products work more effectively on every skin type. There are several products that have niacinamide in them, which include toners and moisturisers.
However, the most popular niacinamide-based product used is the serum. Using a niacinamide serum is highly effective, and there are visible results if used regularly. These serums provide the Vitamin B quotient to the skin and keep it hydrated.
Besides, there are several other benefits of using a serum with niacinamide. These are effective for every skin type but work wonders for oily skin. It works for the reduction of acne, provides an even skin tone, helps treat dry skin and a lot more.
The application of the serum is easy and it does not have any side effects. Moreover, it comes for a pocket-friendly price making it affordable for every skin care enthusiast.
What is Niacinamide Serum? 
Niacinamide serum provides Vitamin B3 to the skin. It keeps the skin hydrated by locking moisture. Besides, it also helps to get rid of dark spots and acne.
Regular use improves skin health, adds brightness, and smoothens the skin's texture. In addition, using them regularly can provide long-term benefits like anti-ageing.
Besides, it treats several other issues concerning the skin. It is also highly effective when used with products that include ingredients like hyaluronic acid.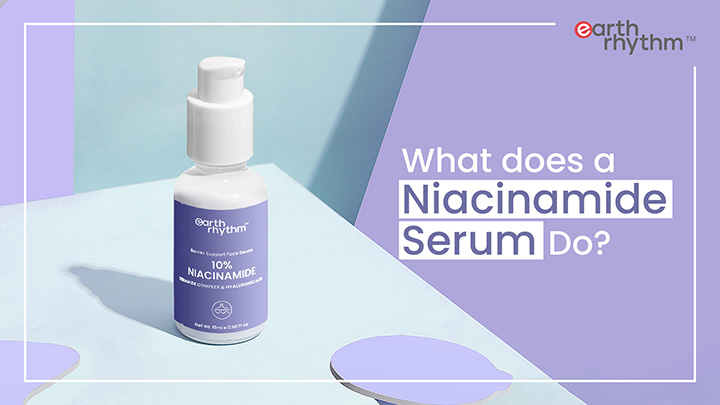 What are the Benefits of Using Niacinamide Serum?
Using a niacinamide serum is highly beneficial for the skin. Adding niacinamide to your skincare routine will give you more hydrated skin and work for several other areas. The several benefits of niacinamide serum are listed below:
Reduces Acne
Niacinamide contains anti-inflammatory properties, which help to soothe breakouts and reduces redness. It also works towards calming the effect of harsh exfoliants.
In addition, it cleanses pores and gets rid of any bacterial infection that is present in the skin. Oily and combination skin types can highly benefit from using a niacinamide serum.
Helps Produce Natural Oils
It regulates a balance in the sebum production, one of the key elements responsible for moisturising the skin. It helps in preventing the skin from becoming too oily.
Further, it also prevents the formation of blackheads and whiteheads.
Provides Even Skin Tone
It is scientifically proven that ingredients that provide Vitamin B3 help in the reduction of hyperpigmentation.
This serum helps restrict the production of melanin, which is the cause of skin pigmentation. The skin becomes brighter, clearer and free of blemishes.
Helps to Get Rid of Dry Skin
One of the prime benefits of a niacinamide serum is keeping the skin hydrated. It prevents loss of moisture and protects the skin from becoming dry.
Niacinamide helps build natural fats or ceramides, improving the skin's ability to prevent irritants from entering it. Moreover, it reduces the chances of flaky skin and prevents it from becoming overly sensitive.
Works as an Anti-Ageing Element
Exposure to pollution produces free radicals that highly damage the skin. Niacinamide serum boosts the production of collagen, which helps in preventing damage and premature ageing.
In addition, it increases the production of nicotinamide adenine dinucleotide (NADP+), which works in repairing and renewing skill cells. It is also an active ingredient that acts towards the prevention of wrinkles and fine lines.
Helps in the Reduction of Enlarged Pores
Niacinamide helps in clearing all the pores present in the skin. It makes them shrink in size while making them less visible. Using a niacinamide serum is an effective way of treating clogged pores. Further, it is highly beneficial in increasing the skin's elasticity and provides a better texture.
Act as a Protectant
Using a niacinamide serum for acne can ensure positive results. Niacinamide is an important ingredient that strengthens the lipid barrier and pushes the skin to produce elastin and ceramides. It produces new and healthier skin cells.
Strengthening the skin's moisture barrier is one of the most important properties of niacinamide that keeps the moisture intact.
Helps to Boost the Skin's Immunity
It boosts the production of keratin, a protein that helps keep the skin plump and healthy.
Works as a Brightening Agent
Filled with all the properties, including hydration, protection, restoration and ease from irritation, niacinamide helps obtain healthier skin. Healthy skin glows from within, making the outside brighter, which lasts for a long time.
How to Use Niacinamide Serum on Face?
Serums must always be applied on a cleansed face. However, a proper routine must be followed before and after applying the serum to get the most effective results.
Step 1: The steps to use a niacinamide serum are to first cleanse your face with a gentle cleanser.
Step 2: Then apply a toner. Let the toner set in for a few seconds, and then proceed with using the niacinamide serum. 
Step 3: Ensure to use only a few drops. Massage gently and let it set.
Step 4: Finally, apply a moisturiser to lock the serum in the skin.
Applying the serum twice every day will give the most effective results. You can see the results between 8 to 12 weeks of application.
What Makes Earth Rhythm the Best Niacinamide Serum?
This serum consists of niacinamide and hyaluronic acid, as well as a ceramide complex. It suits every skin type and deeply penetrates into the skin to provide moisture from the inside. It is lightweight, translucent and does not feel heavy on the skin's surface.

This product is 100% pure, has no fragrance and has a pH value of 5.5 to 6.5 maintaining the normal pH value of the skin.
It is clinically effective and dermatologically tested. In addition, products by Earth Rhythm are organic, plant-based products made using harvested herbs.
Reasons to Choose Earth Rhythm Niacinamide Serum
Acts as a barrier to protect the skin
Provides texture
Provides absolute nourishment
Works as a natural moisturiser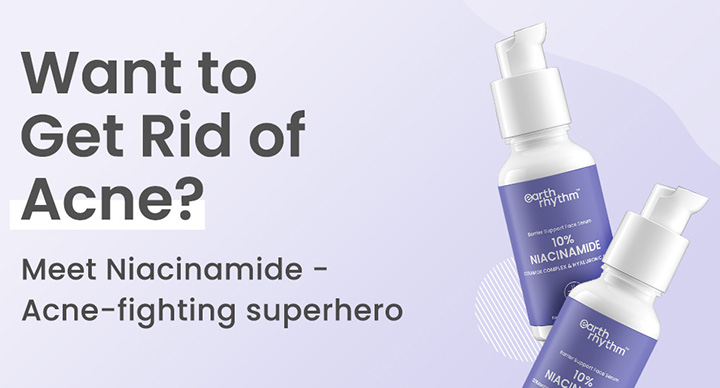 Ingredients:
Niacinamide
Hyaluronic acid
Ceramide complex
Dimethicone
Glycerin
Phenoxyethanol
Ethylhexylglycerin, etc.
Niacinamide serum is one of the most effective choices for dealing with issues like acne, pigmentation or hydration. It is suitable for every skin type and has no adverse effects.
Most people are switching from their regular oil-based serums to one that consists of niacinamide. These serums are an assured way to get healthy, glowing skin and must be included in one's skincare routine.