Ponds Super Light Gel Review with Ingredient Analysis
Whenever it comes to a personal care brand that is popular in every household, Ponds is one of the favourite brands in India. I rarely use commercially popular personal care brands as I cannot trust the ingredients totally.
In most cases, the brands use ingredients that are neither for the skin nor for the environment. But, exceptionals are there too. One such exception is Ponds Super Light Gel Moisturizer.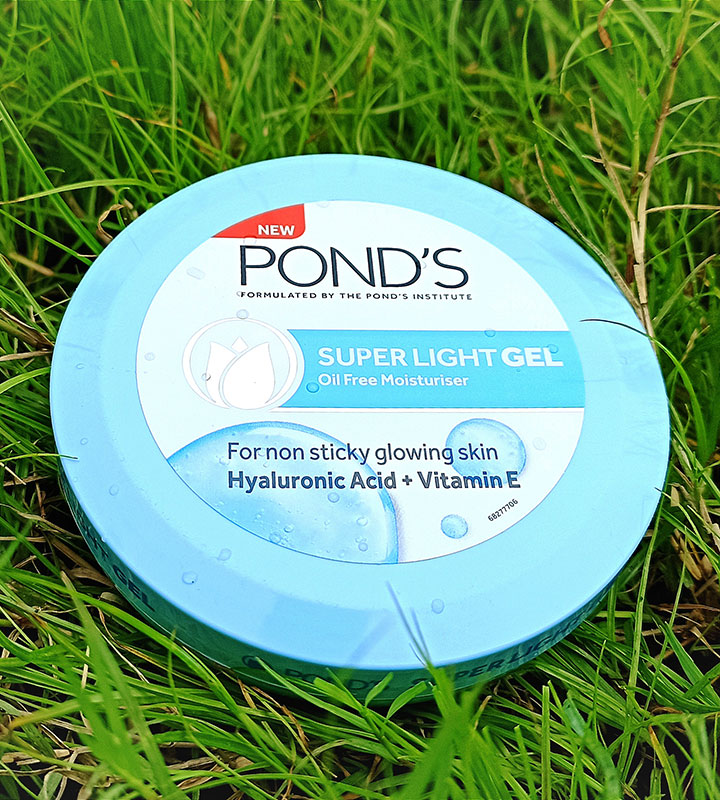 Around 2 years ago, Ponds came up with this super light gel that became an instant hit. Initially, I thought this craze would go down like many other products. But, even today, people love it.
So finally, I have decided to find out why Ponds Super Light Gel is popular. Are the ingredients safe? How effective is the formulation? Does it have any side effects? Let's find out the answers in this Ponds Super Light Gel review.
Table of Contents
Ponds Super Light Gel Price and Other Details
Price: INR 309 for 147gm
Shelf Life: 3 years
Buy From: Amazon
What does the Brand Claim about Ponds Super Light Gel Moisturizer?
A lightweight and non-oily formula with a gel-like texture. This moisturizer locks the moisture for 24 hours. It is ideal for any season whatsoever. A quick-absorbing formula enriched with the goodness of Hyaluronic Acid and Vitamin E.
Ponds Super Light Gel Ingredients Analysis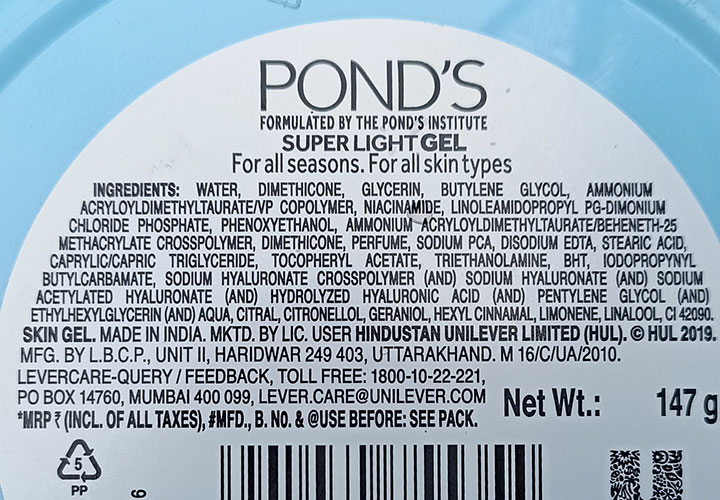 There are more than 25 ingredients used in this moisturizer. Some of the ingredients are popular whereas some are quite new even to me. So, let's check out how effective the ingredients are and why these have been used here.
1. Water
Water is used here to dissolve the ingredients that do not dissolve in oil
2. Dimethicone
A Silicone-based skin conditioning agent that creates a smooth effect on the skin surface. The moisturizing effect is only from the outside.
3. Glycerine
A natural skin-identical humectant that helps to retain moisture.
4. Butylene Glycol
It is a slightly comedogenic humectant that also acts as a solvent.
5. Ammonium Acryloyldimethyltaurate/​VP Copolymer
A polymer that creates a gel-like consistency. This viscosity controller helps to create a non-sticky formulation.
6. Niacinamide
An anti-acne ingredient that is known for its skin brightening property. It is actually Vitamin B3 which is quite popular as a skin-loving component.
7. Linoleamidopropyl Pg-Dimonium Chloride Phosphate
This is a safe skin and hair conditioning agent that helps to deposit fatty acids onto the skin.
8. Phenoxyethanol
It is a preservative that is widely used in personal care products.
9. Ammonium Acryloyldimethyltaurate/​Beheneth-25 Methacrylate Crosspolymer
A viscosity controller also acts as an emulsifying agent.
10. Dimethicone
The functionality is just the same as mentioned in point no. 2. Well! I just feel that it was not necessary to add this emollient twice into the formulation.
11. Perfume
Umm. Well! Perfume is definitely one such component that I do not want in any of my skincare products.
Usually, perfume is made of 40-50 ingredients. But, sometimes, it is made of 200 ingredients as well. I just wish the brand has avoided this particular component.
12. Sodium PCA
Another skin-identical natural humectant just like Glycerin.
13. Disodium EDTA
A famous chelating agent that reacts with metal ions if any present in the formulation.
14. Stearic Acid
It is a slightly comedogenic emollient that also acts as a viscosity controller.
15. Caprylic/​Capric Triglyceride
This is a safe skin conditioning agent or emollient.
16. Tocopheryl Acetate
A popular variant of Vitamin E. It is used as an antioxidant agent in a formula.
17. Triethanolamine
This is a buffering agent that helps to maintain the pH of the product.
18. BHT
Also known as Butylated Hydroxy Toluene. It is basically used as a preservative but is pretty controversial at the same time. There have been a lot of studies that suggest that BHT is a Formaldehyde releaser (which is a Carcinogen). But, no such study is constructive enough to declare it
19. Iodopropynyl Butylcarbamate
This non-comedogenic component helps to fight against yeasts and moulds.
20. Sodium Hyaluronate Crosspolymer
Four forms of Hyaluronic Acid have been used here. This type of cross-linked Hyaluronic Acid has 5 times more water-binding capacity than the regular one.
21. Sodium Hyaluronate
It is just the Sodium form of the popular Hyaluronic Acid. The chemical texture is almost identical. can hold 1000 times the weight of water than its own weight.
22. Sodium Acetylated Hyaluronate
Another variant of Hyaluronic Acid with more holding capacity.
23. Hydrolyzed Hyaluronic Acid (and) Pentylene Glycol (and) Ethylhexylglycerin (and) Water
These 4 types of HA along with 3 inactive components form a 3D network that targets the skin layers. This compound helps to hold the water from inside as well. Thus, the skin stays hydrated and moisturized from within.
24. Citral
A fragrance ingredient that smells like lemon. People with sensitive skin should never apply this ingredient directly onto the skin.
25. Citronellol
An ingredient that smells like rose and is often found in skincare products.
26. Geraniol
Just like Citronellol, Geraniol is also a perfuming agent.
27. Hexyl Cinnamal
It is a perfuming agent that smells like Jasmine.
28. Limonene
A deodorant agent that is quite popular and inexpensive.
29. Linalool
Just like Limonene, it is also a very popular perfuming agent.
All these perfuming agents especially Limonene, Linalool, and Geraniol oxidise on air exposure and become allergenic. Thus, people with sensitive skin should avoid products with these components.
30. CI 42090
A blue colourant that is similar to that of Smurfs.
And, that's all. Well! I have a mixed feeling about the Ponds Super Light Gel Ingredients after analyzing them all. Some of the ingredients are definitely brilliant like the addition of Actives, But, on the other hand, the usage of Silicone and the perfuming agents is a turn-off.
In fact, some of the ingredients are slightly comedogenic (pore-clogging) as well. This is one such reason why I have not added this moisturizer to the list of the Best Moisturizer for Oily Skin in India in spite of the brand claiming it is non-oily.
Altogether, I would like to rate the ingredients of Ponds Super Light Gel Moisturizer 3 out of 5.
Packaging, Colour, Aroma, and Texture of Ponds Moisturizer
The moisturizer comes in the usual plastic-made tub packaging. I do not prefer tub packaging much considering the hygiene value. The colour of the tub and the label graphics make this product quite attractive.
The gel is light blue in colour due to the presence of the colourant.
Well! The aroma is a bit synthetic. And, I am sure that people with sensitive noses (like me) would not like the smell.
The texture is like a gel which spreads like dream. It gets absorbed within 10-15 seconds depending upon the quantity you have taken out.
Ponds Super Light Gel Review: My Experience
It's been more than a week now that I am using this moisturizer. I have used it both as a day moisturizer and as a night moisturizer for these 12 days.
I prepared my skin with a gentle face wash and followed up with a harsh chemical-free toner. Afterwards, I applied Ponds Super Light Gel. Sometimes, I also applied Rosehip Oil/Squalane Oil along with this moisturizer. Here goes everything that I have observed all these days.
As a Day-Moisturizer
During the day time, I apply this gel along with the sunscreen.
The hydrating feeling stays intact for 5-6 hours easily (considering, it is rainy season and I do not sweat much during this time of the year)

The aroma was already a problem for my nose. But, applying this gel along with another product e.g. sunscreen or serum solves the problem to some extent.

But, if you apply this moisturizer solely onto the skin, then it stays there even after 2 hours. Well! That's annoying for me.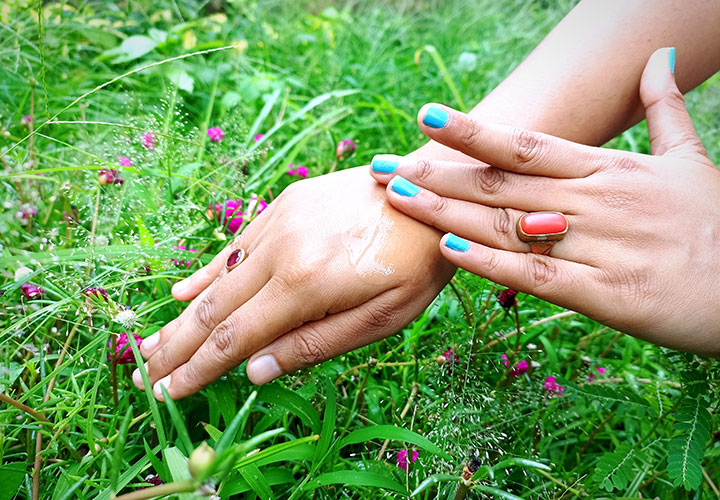 As a Night-Moisturizer
At night, I have used this gel once only. Actually, the night is the time when our skin heals and replenishes the most. Hence, I always prefer products with nourishing ingredients.
This gel is definitely hydrating but the presence of Silicone and perfuming agents is a big turn-off. I want my nighttime skincare regime clean, minimal, and effective.
But, if you are someone who has no issues with these, then I would suggest applying Ponds Super Light Gel along with a serum or facial oil to lock the hydration and nourishment. 
Ponds Super Light Gel Benefits
Super light
Spreads quickly
A very little amount is required
Gets absorbed within a few 10s of seconds
Skin feels smooth and soft to touch
Skin stays hydrated for 5 hours at a stretch
Is Ponds Super Light Gel for Acne-Prone Skin?
Well! The gel contains Niacinamide which is an anti-acne for sure. But, there are some comedogenic components (e.g. Silicone) as you saw in the analysis. Hence, I would not suggest using Ponds Super Light Gel on severe or cystic Acne-Prone Skin.
Is Ponds Super Light Gel Non-Comedogenic? 
Well! Definitely not. The presence of some pore-clogging components makes this moisturizer slightly comedogenic.
Ponds Super Light Gel Side Effects
I have super dry and sensitive skin. Even after religiously applying for 12 days and nights, I have not seen any side effects. So, it seems safe to declare that Ponds Super Light Gel Non-Oily Moisturizer has no side effects.