Welcome to CA my dear ladies. Today I would review Aster Luxury Turmeric Soap. I am using this soap for a while.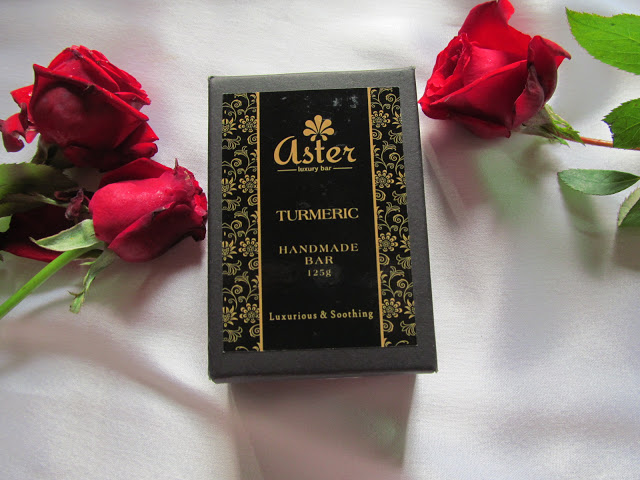 Aster has launched this particular soap very recently. Aster Luxury is a brand that offers a range of luxurious soaps. They make 100% handmade soaps. Their products are famous worldwide. Aster has more than 100 varities of soaps in its kitty. Let us find out more about this amazing bathing bar.
Price: INR 200 for 125g or 4.4Oz
Shell Life: 24 months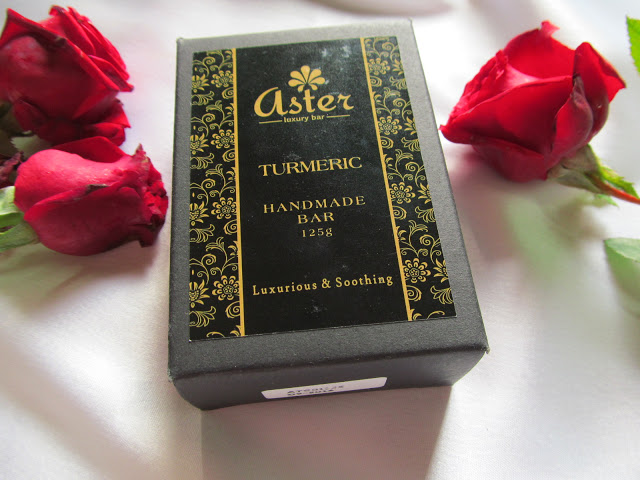 Availability: It is available on the official website Aster,  Amazon, Snapdeals, Zotezo.
Product Description ( Found on website):
Aster Bathing bar has impressive qualities and antioxidants of turmeric to keep the skin looking fresh and young. Its antibacterial properties keep acne away. Turmeric can help lighten the dark spots and eliminates blemishes and skin pigmentation
.
Ingredients: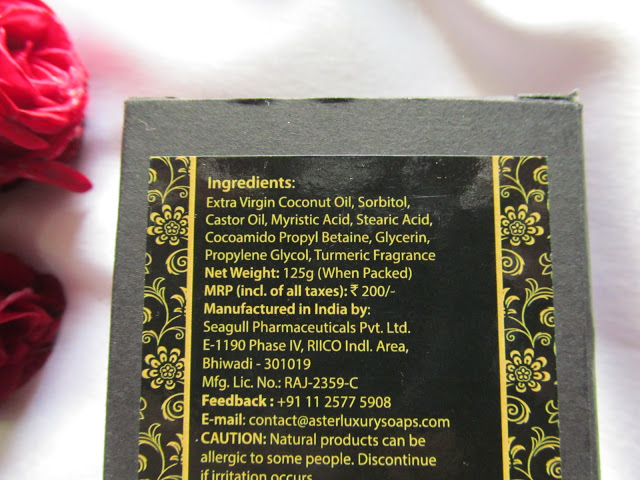 This soap is enriched with Coconut Oil, Castor oil and also Glycerin. All of these are extremely moisturising components. Myristic acid is a natural cleansing component. Stearic acid is a naturally found thickener or hardener. So, the components are quite safe and natural too.
My IMPRESSION about Aster Luxury Turmeric Soap
When the packet arrived, the first thing I loved about the soaps is the fragrance. I am honestly saying that the fragrance is really amazing and unique. It feels divine and works like a mood uplifter. Now, I would talk about the packaging, texture and color seperately.
Aster Luxury has designed the packaging to be very unique and also the graphics they have used looks rich. I love the black color and golden inscriptions. The soap is wrapped with a waterproof paper inside the box. 
Texture and color: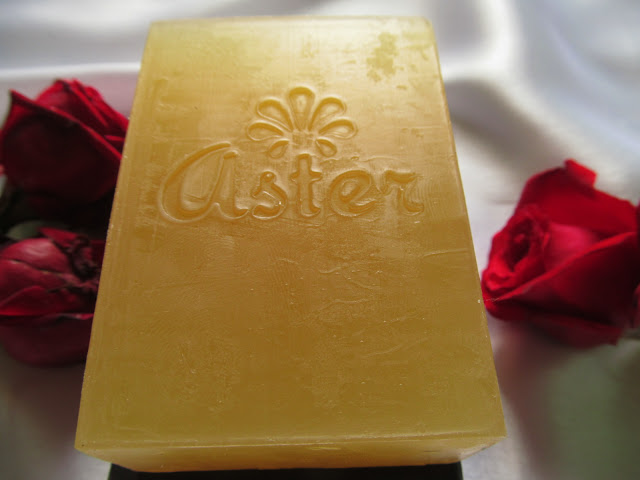 The soap is an opaque handmade bathing bar. Its yellow color symbilises Turmeric. The brand name is imprinted on the soap. Overall, I love its texture.
I have replaced this bathing bar with my Dove Soap. Earlier I had used Khadi Handmade Bar. It melted so fast that I stopped using handmade soaps afterwards. But I am happy to say that Aster Luxury Handmade soaps do not melt fast. It retains its square shape for a very long time.
My mom and dad are also using them. And one thing we have concluded that it is very very moisturising. It does not dry out skin at all. You will fall in love with your luxurious bathing time.
So, here goes the good and bad things.
100% handmade soap.

Vegan product.

Cruelty free.

No parabens or pthalates.

Very moisturing and does not dry out.

Heavenly fragrance.

Does not melt fast like other handmade soaps.

No animal products are used.
Just one thing that turmeric in real could have been used instead of adding only the fragrance. Though it is my personal opinion and should not be considered as a serious con.
***CA IMPRESSION 4.7/5***
Overall, I really love this luxurious bathing bar. It feels moisturising. Most importantly, it does not melt easily. The price is totally justifiable. I absolutely recommend this soap to everyone. Enjoy your bathing.
Love you all, take care my sweethearts.Celebrate womanhood with pride and joy.
Thank you for reading. Have you used this product? Please share your experiences here. Love you all.

**PR sample sent by Aster Luxury team. I am thankful to them. Though the review presented here is honest and self-opined.