Coco Soul Revitalizing Shower Gel Review
Revitalizing, this word caught my heart. Usually, I believe in revitalizing my face more than my body. And thus, I keep trying new brands. So last year, I got to know about Coco Soul. And, I bought their Hair and Scalp Cleanser without a double thought. The brand has formulated a number of vegan and sulphate free products.
Recently, I discovered Coco Soul had a shower gel too. After using their shampoo, my trust for this brand has enhanced a lot. So, I bought Coco Soul Revitalizing Shower Gel.
Was the experience purifying and rejuvenating enough? Was it really worth every penny? Did this gel shower beat the expectation? Let's tangle-free all these doubts.
Basic Information about Coco Soul Revitalizing Shower Gel
Price: INR 799 for 300ml (Got in a sale at just INR 499!)
Shelf Life: 2 Years from the manufacture date
Buy From: Amazon, Coco Soul
What does the brand claim about Coco Soul Revitalizing Shower Gel claim?
The best thing about the Revitalizing Shower Gel is they have steered clear of adding anything that we don't want to. Moreover, it is totally Vegan.
This Coco Soul Revitalizing Shower Gel is an ayurvedic formula. It is free from Sulphates' Parabens' Mineral Oils' Silicones, Petrolatum, DEA, and Sodium Chloride. The brand claims that the formula helps to make your skin look gorgeous, hydrated, deeply cleaned and rejuvenated.
Gotu kola is the organic winner here. It helps to fight sagging skin by promoting collagen. Turmeric provides the glow. And, also it has sandalwood that helps the skin to reduce oxidative stress, deeply moisturize. Get ready for a luxuriant foam for an exotic shower experience!
Ingredient Analysis of Coco Soul Revitalizing Shower Gel

The ingredient plays the main role and source of information on any product. From ingredient lists, we can get ideas on whether the product is safe or not! Check out the detailed analysis of the ingredients.
1. Aqua
The base of any liquid-based product.
2. Sodium Cocoamphoacetate
It is a safe cleansing agent and a surfactant.
3. Cocamidopropyl Betaine
It's a surfactant that also works as a skin-conditioning agent. This component is widely used in cosmetics.
4. Sodium Methyl Cocoyl Taurate
It acts as a gentle but effective foaming agent. Basically, it allows mixing of oil and water.
5. Caprylyl/Capryl Glucoside
An ideal surfactant which is mild and natural. Moreover, it is safe to use in any cosmetics.
6. Glycerine
It is a popular and safe humectant that retains moisture in our skin.
7. PEG-150 Pentaerythrityl Tetrastearate
It is a high-performance thickener agent. According to EWG, this ingredient is moderately safe.
8. Cocos Nucifera Oil
Popularly, it is known as the virgin king coconut oil. It contains vitamins, fatty acids and natural antioxidants. No question there! This oil is indeed one of the best.
9. Parfum
Well! This is not something that I generally do not appreciate in cosmetics. The more fragrance-free a cosmetic is, the safer it is. I just hope Phthalates has not been used here.
10. Phenoxyethanol
This ingredient is a perfume stabilizer that also works as an anti-bacterial agent.
11. PEG-40 Hydrogenated Castor Oil
One of the most popular surfactant emulsifying agent that is derived from natural castor oil. Moderately Safe ingredient!
11. BHT
This is the abbreviation of Butylated Hydroxytoluene is another name and an antioxidant component. It works as a moderately safe preservative.
12. Centella Asiatica Extract
Known as Indian pennywort or Gotukula in folk medicine. Gotu kola extract is beneficial for improving the elasticity of sagging skin and for increasing blood circulation activity.
13. Coscinium Fenestratum Stem Extract
A medicinal herb that boosts metabolism effect and antioxidant quotient of skin.
14. Curcuma Longa Rhizome Extract
Commonly known as turmeric which is a potent source of the anticandidal agent. In one word, it is remarkable and unmatchable! This botanical extract helps to improve the texture of uneven skin.
15. Disodium EDTA
It's a safe and chelating agent which able to remove heavy metal.
16. Ethylhexylglycerine
Safety, vegan-friendly and non-irritant component acts as a mild humectant and emollient.
17. Mentha Piperita Oil
Better to call it 'Peppermint Oil'. This oil is one of the best antiseptic and antibacterial oils ever. It has cooling effects that naturally cleanse our skin.
18. Santalum Album Wood Extract
This is actually the Latin name for Sandalwood. One of the most potent ingredients in Ayurveda that works as an antioxidant and an antibacterial agent that cures skin problems. This heavenly scented extract treats pimples, acne, large pores, and removes dark spots, etc.
19. Symplocos Racemosa Bark Extract
It is a traditional Ayurvedic herb useful to protect and nourish skin cells. It also helps to get rid of wrinkles, removes blemishes, and effectively cures itching or burning problems. The ingredient has an excellent antioxidant benefit.
20. CI 16035
A red synthetic cosmetic colourant that is widely used in personal care products.
And, that's all! Overall, the formula is pretty safe both for the environment and also for the human organs. It is free from Parabens and Sodium Chloride. Moreover, it contains some amazing botanical extracts. Except for the fragrance, I have no issues with any of the components. I would love to give the ingredients of Coco Soul Shower Gel 4.5 out of 5.
Packaging
At first sight, I was impressed with the Coco Soul Shower Gel. It comes in a crystal clear, mild orange in colour, and sturdy plastic bottle.
Clearly you can notice the amount of the product left. It has a pump dispenser with a clipping cap that makes it easy to lock after usage. This is the reason, I can take this shower gel while travelling.
The brand has also made sure that all the details are printed on the bottle.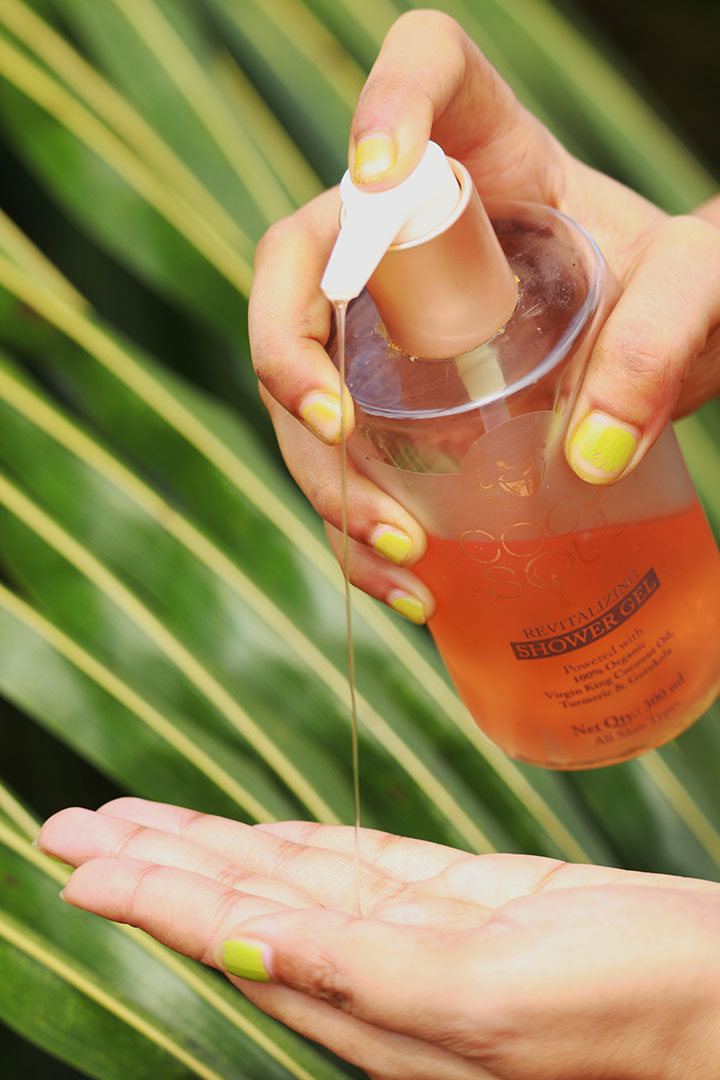 Texture and Color
This Revitalizing Shower Gel is neither too thick nor sticky. It produces a gentle foaming effect which creates enough lather to cleanse.
The colour looks like light orangish from the outer side of the packaging but actually it is a colourless gel.
Aroma
Aah!! The aroma is a blend of coconut and some exotic ingredients. I found the aroma charming enough!
My Experience with Coco Soul Revitalizing Shower Gel
As someone who has severe oily skin, I prefer gel-based products more than anything else. So, I had to go with this shower gel. Here are the two things I have observed after using it for a couple of weeks.
All you need is a few drops on your loofah. And that's well-to-do!
You have to massage it well to get sufficient lather.
Generally, shower gel makes your skin drying. But, Coco Soul Shower Gel never made me felt that. It makes my skin smooth, clean and well exfoliated.
I have not seen any types of irritation while using it. In fact, the formula is so mild that my family loves it too. Huge quantity makes it perfect for an entire family.
Did I mention that it has an enigmatic fragrance? Washroom smells aromatic with every usage. Trust me, you will feel it!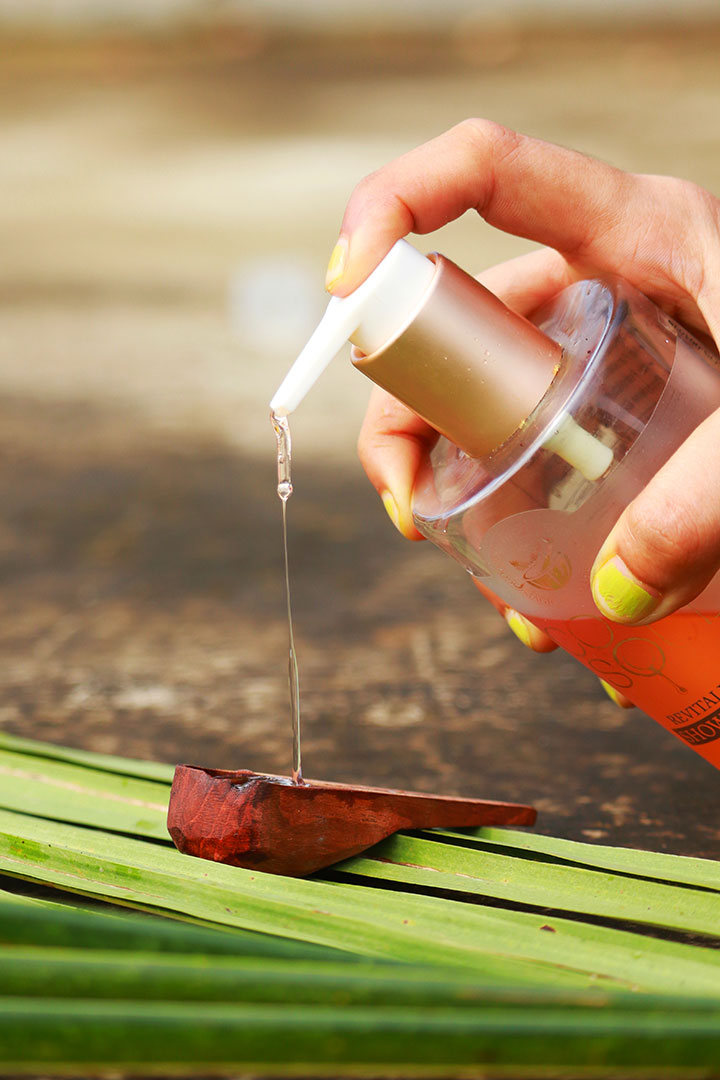 Is it Necessary to Use Moisturizer afterwards?
I usually recommend using any body lotion you prefer after applying a shower gel or body wash. It locks the moisture for longer than usual. Very few shower gels are moisturizing. And thus, it is always recommended to use a moisturizer afterwards.
Pros of Coco Soul Revitalizing Shower Gel
Free from Parabens, Silicones, Sulphates, Petrolatum, and Mineral Oil
Free from harsh chemicals; organic ingredients are used
A brilliant blend of coconut oil and other powerful herbs
No animal testing; 100% vegan formulation
Strong cleaning power
Mild fragrance
Suitable for ALL skin types
Pretty good quantity
Cons of Coco Soul Revitalizing Shower Gel
Quite pricey for 300ml
Available only online
Follow up with a moisturizer is a must after every wash
Would I Repurchase/Recommend Coco Soul Shower Gel?
All right! If the question on Repurchasing comes, definitely not! I prefer to experiment with different variants of shower gels.
But, I would absolutely recommend this shower gel as I'm a happy camper! If you are fine with the price tag and looking for such a formulation that is harsh chemical-free, then Coco soul Shower Gel is calling you.