The Body Shop Fuji Green Tea Shower Gel: Review with Ingredient Analysis
It's been quite sometime now that I have dropped using body soaps; shower gels are what I prefer the most these days.
Well! Honestly, there is no specific reason except I enjoy the experience. I find applying shower gels quite a luxurious experience. I just take a few drops of the slimy liquid on my loofah and that's enough to scrub my whole body.
There is no such specific shower gel that I always use. I keep on switching from one to another. So recently, I went to buy The Body Shop Fuji Green Tea Shower Gel. This is something I was eyeing upon for a long time.
I have not used many TBS products. So, this was a perfect purchase from all aspects. I have already emptied half of the bottle. And, here is my detailed experience.
Basic Details about The Body Shop Fuji Green Tea Shower Gel
Price: INR 345 for 250ml
Shelf Life: 3 years
Buy From: Amazon
What Does the Brand Claim about The Body Shop Fuji Green Tea Shower Gel?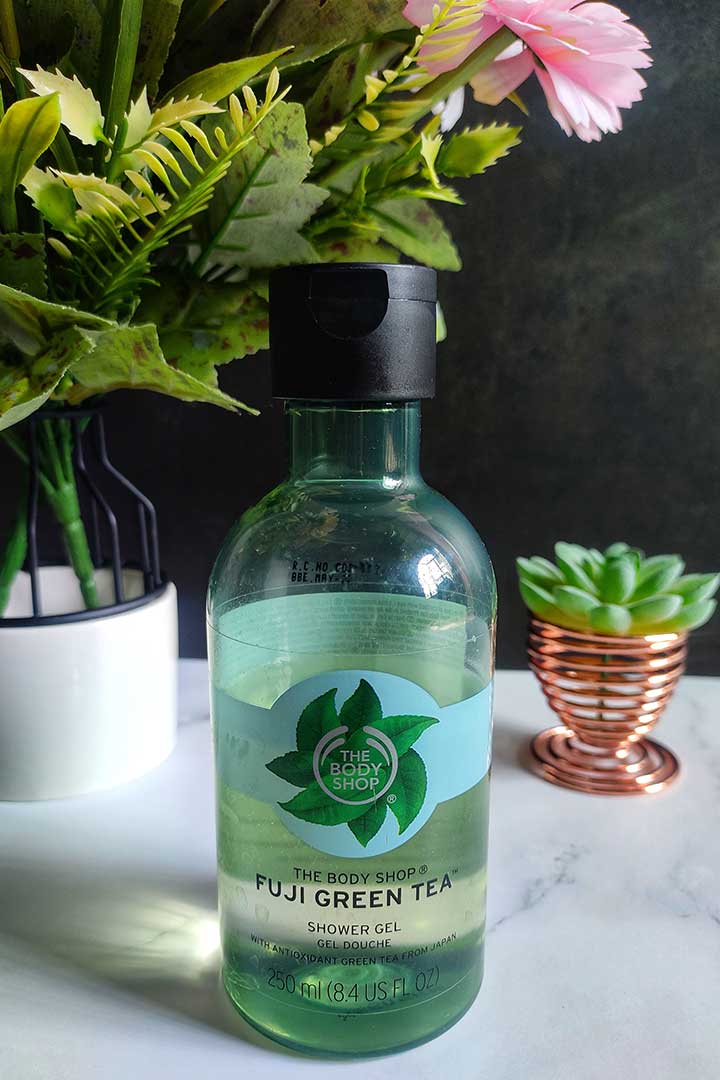 Give your skin the boost of revitalizing green tea extracts. This shower gel is formulated to give you that ultra-clean experience. The pleasure is no less than brewing a cup of green tea.
Its invigorating fragrance would kick start your day. The refreshment is worth every penny. It would not only take away all the dirt but also would sway your mind & soul with an enchanting fragrance.
So, get ready for the ultra-rich cleaning experience!!
Ingredient Analysis of The Body Shop Fuji Green Tea Shower Gel
Well! Before using TBS products, I had always believed that TBS products are Sulfate-free. Phew! It is not. This shower gel is of no exception too. It contains SLS and Parfum. But, what about the other ingredients? Are those safe? Is the formulation worth giving a shot? Let's take a look.
1. Aqua
The base for any liquid-based product.
2. Sodium Laureth Sulfate
One of the most widely used surfactants that are not pretty safe for both the environment and also for the human skin system. It is often associated with skin irritations.
3. Cocamidopropyl Betaine
Another not so safe ingredient that has miscellaneous functionalities. It works as an antistatic agent, skin conditioning agent, and also as a cleansing agent.
4. Glycerin
A naturally found humectant that retains moisture to the skin.
5. Sodium Chloride
The main function of this safe component is to increase the viscosity of an aqueous solution.
6. PEG-40 Hydrogenated Castor Oil
It is actually a multi-utility component that functions as surfactant, fragrance agent, and also as an emulsifying agent.
7. Parfum
Umm, it is hard to tell about this component as TBS has not specified anything about it. Most of their products contain parfum or fragrance.
8. Polyglyceryl-2 Caprate
Another multi-utility component that can function as a skin conditioner, emollient, and also as a surfactant. Don't worry! It is absolutely safe according to EWG.
9. Sodium Benzoate
A widely used preservative which is entirely safe.
10. Citric Acid
This is basically an AHA which is widely used in skincare products. Citric Acid is popularly used as a chelating agent and also as pH adjuster.
11. Mel
Guess what!! This is actually extracted from our good old honey. This is usually used as a humectant and moisturizing agent.
12. Linalool
It is a moderately safe terpene that functions as a fragrance ingredient.
13. Limonene
Just like Linalool, it is another moderately safe ingredient that works as a perfuming agent.
14. Disodium EDTA
A fairly popular chelating agent that is absolutely safe.
15. Camellia Sinensis Leaf Extract (Green Tea)
An abundant amount of antioxidant is found in Green tea. It could have been much better if the tea extract were used in high concentration in the formula.
16. Geraniol
A moderately safe ingredient that is popularly used as a scent ingredient.
17. Polysorbate 20
This is another moderately safe surfactant and emulsifier that is pretty popular in personal care products.
18. Sodium Hydroxide
This component is popularly used as a pH adjuster and also as a buffering agent.
19. Denatonium Benzoate
Guess what! This is another fragrance and masking agent.
20. Potassium Sorbate
It is a safe preservative that is quite popular just like Sodium Benzoate.
Honestly, I expected a better formulation. Not only SLS, but the brand has also put in a number of fragrance ingredients which were totally unnecessary.
In fact, the ingredients are pretty average. Most of these are not quite safe and are widely used in commercial personal care products. The good points were the absence of Paraben and colour. Overall, I feel TBS definitely could have done a much better job.
Packaging, Colour, Texture, and Aroma
It comes in a simple pet bottle with a flip flop cap. The graphics on the label is indeed pretty striking. The black cap encloses the bottle quite tightly and the matte finish looks lavish. Indeed, the packaging is quite attractive.
The colour of The Body Shop Fuji Green Tea shower gel is crystal clear like water. And, the texture is not runny at all; rather a bit thick. Instead, the shower gel spreads pretty smoothly.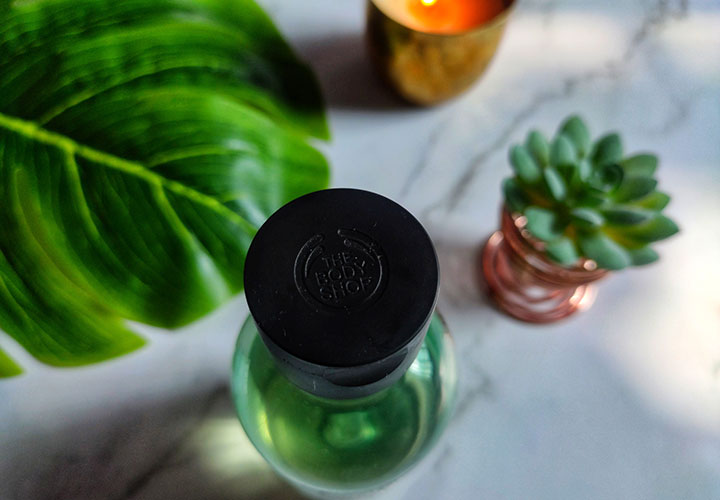 Talking about the aroma, I honestly have seen many people go 'gaga' over the fragrance. Many reviewers have found the aroma quite enchanting just the way the brand claimed.
But, I want to be absolutely honest here. I did not find the aroma striking at all. It feels quite boring and overpowering most of the time.
It does not resemble the refreshing synthetic aroma of green tea at all; rather, it is something unique which I did not like at all. In fact, the scent lingers on the skin even after two hours of bathing.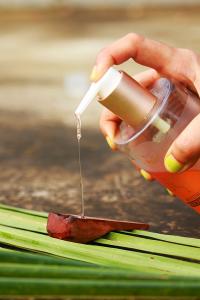 How effective the formula is? Is it worth every buck? Well! Find out the answer of all your doubts here.
Read More
My Experience with The Body Shop Fuji Green Tea Shower Gel
So, it's been more than a month that I have been using the shower gel. All I need is two dollop size of the gel to clean my entire body. The lather is rich indeed but not much creamy.
The gel not only cleans well but also makes my skin quite hydrating. In fact, the hydrating feel lasts quite long (keeping in mind that I have severely dry and sensitive skin).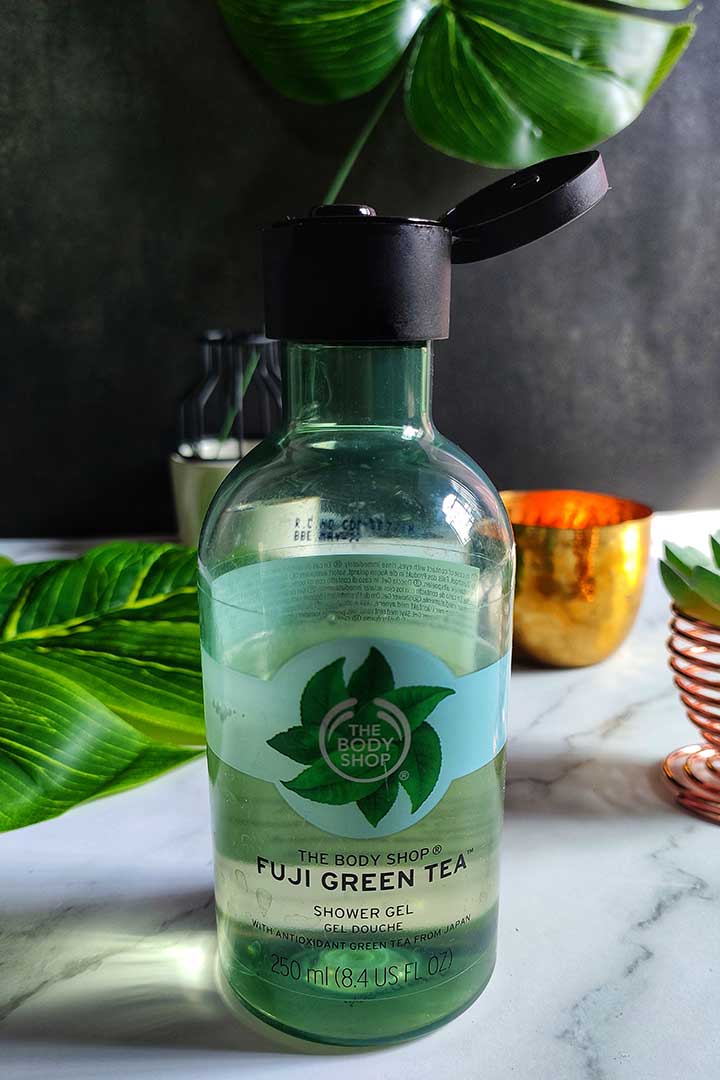 So, if I consider it as a shower gel solely (keeping aside the brand value, ingredients, etc.), the performance was satisfactory indeed.
But, If I consider the brand 'TBS', the ingredient list which is full of not so safe scent agents and the surfactants, then The Body Shop Fuji Green Tea Shower Gel could not give me much happiness.
Pros of The Body Shop Shower Gel
Contains the extract of green tea
Free from Paraben and colour
Attractive packaging
Affordable in comparison to the other TBS products
Lathers and cleans well
Makes skin hydrated for long
Sensitive skin can apply it too
Cons of The Body Shop Shower Gel
Average formula with ingredients that are found quite often in commercial personal care products.
Overpriced considering ingredients like SLS and scent agents.
That's all for today! Don't forget to share the article with your friends and family if you find it helpful. Subscribe us for more such interesting stuff.