Plum Choco-Latte Nourishing Souffle Face Mask Review with Ingredient Analysis
So, I have a beautiful relationship with the brand Plum Goodness. So far, I have tried to purchase all their products just when those are launched.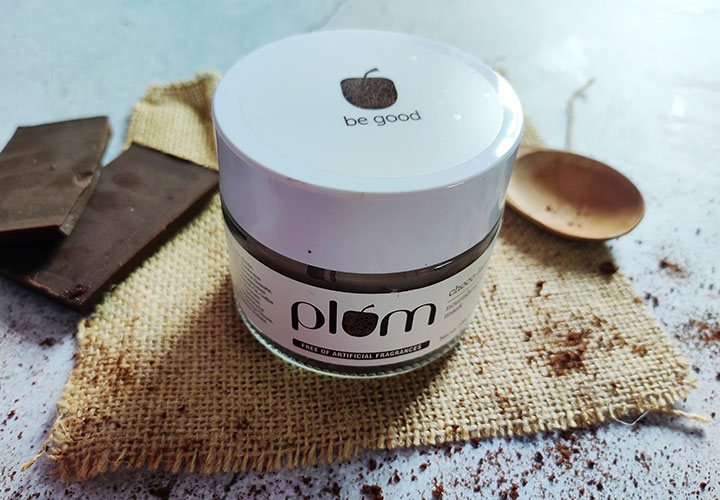 Recently, when Plum came up with 7 new face masks, I could not resist myself. Upon checking the site for the ingredient lists, the mask formulations seemed quite interesting.
As of now, the brand has launched variants like Charcoal Scrub Face Mask, E-Luminence Face Mask, Choco-Latte Face Mask, Sleeping Face Mask, Green Tea Mask, Grape Seed & Sea Buckthorn Face Mask, and last but not the least Chamomile & White Tea Face Mask.
Every mask targets a specific skin type and concern. I decided to choose the Choco-Latte one as it is formulated for sensitive skin. Usually, I try to pick up something for my dry skin keeping aside the sensitivity issue. This time, I tried to choose a bit responsibly.
So, it's been more than days now that I am using Plum Choco-Latte Nourishing Souffle Face Mask. So, how is the experience so far? Is it worth investing such a high amount? Well! It's time to draw a conclusion.
Basic Details about Plum Choco-Latte Nourishing Souffle Face Mask
Price: INR 675 for 100g
Shelf Life: 2 years
Buy From: Amazon 
What does the Brand Claim about Plum Choco-Latte Nourishing Souffle Face Mask?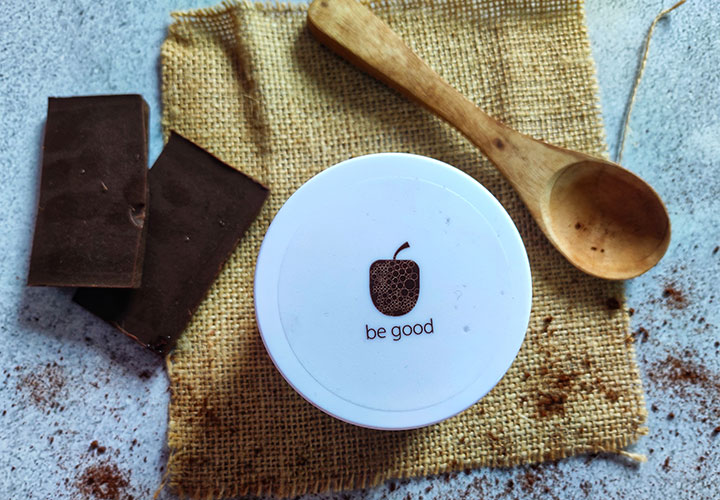 Presenting a face mask that is enriched with real cocoa bean powder, hazelnut, and coffee oils. It is formulated to brighten up your skin and gives a healthy glow. It's time to bid goodbye to dull skin with this choco fix. Trust us! You have all the reasons to love this tiny tub.
Ingredient Analysis of Plum Choco-Latte Nourishing Souffle Face Mask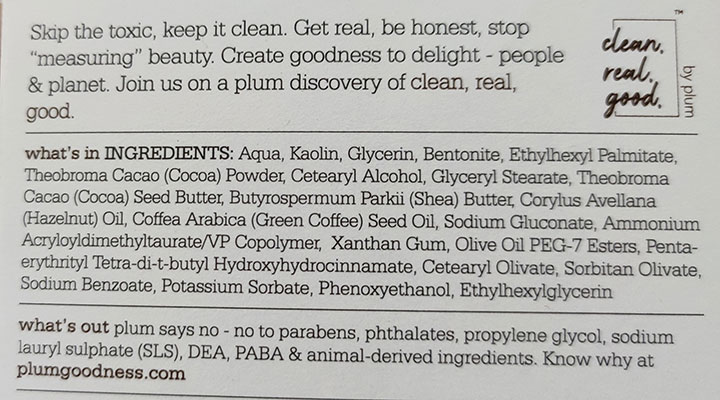 As I always say, without ingredient analysis, a review is never a complete one. So, here goes an in-depth analysis of the ingredients of Plum Choco-Latte Nourishing Souffle Face Mask. How unique the formulation is? Are the ingredients safe? It's time to explore the answers.
1. Aqua
The base for any liquid-based product e.g. shampoo, cream, face mask, etc.
2. Kaolin
One of the most amazing natural clays ever. It can pull out all types of dirt, grime, pollutants, bacteria from the layers of skin. It is non-comedogenic as it does not clog pores nor it causes any breakouts.
3. Glycerin
It is the best natural humectants ever that retain moisture.
4. Bentonite
A clay that feels like a sponge on our skin. Just like the Kaolin clay, it has strong cleaning power. Bentonite can control excessive sebum. As a whole, it can heal the skin.
5. Ethylhexyl Palmitate
A safe skin conditioning agent that also works as a fragrance ingredient.
6. Theobroma Cacao (Cocoa) Powder
It is quite rich in antioxidants. Cocoa powder also helps to calm the skin down. This natural component takes care of the overall health of the skin.
7. Cetearyl Alcohol
It is another safe component that works as an emulsion stabilizer.
8. Glyceryl Stearate
This component is also a safe emulsifying agent.
9. Theobroma Cacao (Cocoa) Seed Butter
The high numbers of fatty acids in Cocoa butter help to hydrate and moisturize the skin quite well. All the fat in the butter also forms a protective layer to retain the moisture.
10. Butyrospermum Parkii (Shea) Butter
Indeed, this butter is a treat for dry skin. Not only it moisturizes the skin, but also helps to treat acne and inflammation. The non-comedogenic nature of Shea Butter makes it one of the best natural butter out there.
11. Corylus Avellana (Hazelnut) Oil
This oil is high in fatty acid and Vitamin E; thus, it helps to hydrate the skin. It also ensures that the skin elasticity remains untouched.
12. Coffea Arabica (Green Coffee) Seed Oil
Another powerful antioxidant that is rich in Vitamin E. It fights against the formation of free radicals and eliminates the signs of ageing.
13. Sodium Gluconate
A safe alternative to EDTA that functions as a chelating agent in cosmetics. It helps to stop the reactivity of the metal ions present in a cosmetic.
14. Ammonium Acryloyldimethyl Taurate/VP Copolymer
It is a safe viscosity increasing agent.
15. Xanthan Gum
This is actually a sugar-based polymer that is derived from bacteria. It works as a binding agent in any cosmetic formulation. Don't worry! It is absolutely safe.
16. Olive Oil PEG-7 Esters
A moderately safe skin conditioning agent.
17. Penta-erythrityl Tetra-di-t-butyl Hydroxyhydrocinnamate
Well! Guess what; it is actually a safe antioxidant.
18. Cetearyl Olivate
A component that is derived from Olive Oil, functions as a skin conditioning agent.
19. Sorbitan Olivate
A safe surfactant derived from Olive Oil and Sorbitol.
20. Sodium Benzoate and Potassium Sorbate
Both of these components are actually food-grade preservatives.
22. Phenoxyethanol
Moderately safe and popular preservatives used in both personal care and cosmetic products.
23. Ethylhexylglycerin
A safe and weak preservative that functions both as a skin conditioning agent and also as a preservative.
Overall, the ingredients are a combination of safe and moderately safe comp0nenets. Well! As an individual, I do not have any complaint regarding the components.
But, as someone who has analyzed a number of Plum products, I feel they could have done a bit better job this time. I would like to give this product a rating of 4 out of 5 for choosing these ingredients.
Packaging, Texture, and Aroma
The face mask comes in a usual bulky glass tub. It is definitely not travel-friendly. But, you can always scoop out the required amount in a separate container while packing your luggage.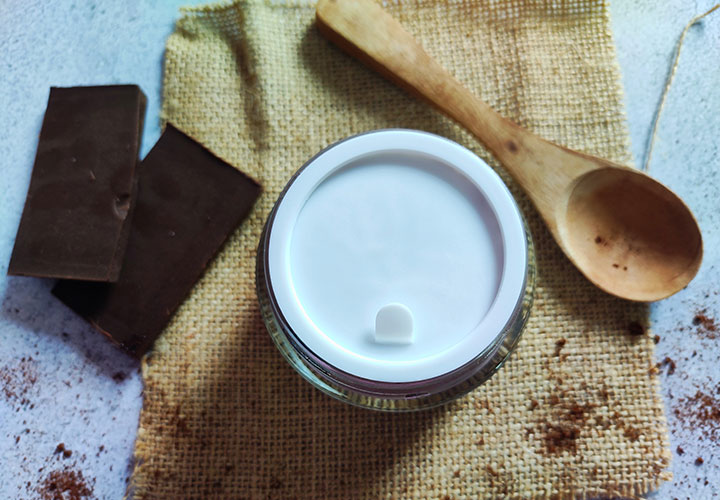 The texture is heavy and thick. But, it is buttery smooth at the same time. So, it becomes quite easy to apply the mask.
Well! Talking about the aroma, there is no name to define it properly. Although the name screams chocolate all over, the aroma has just a faint hint of chocolate. It is a combination of 90% synthetic aroma and 10% cocoa powder.
My Experience with Plum Face Mask
It's been more than 7 days now that I am using this face mask. In this span, I have applied this mask thrice. As I said already that it spreads out pretty well. So, an even layer can be formed pretty quickly.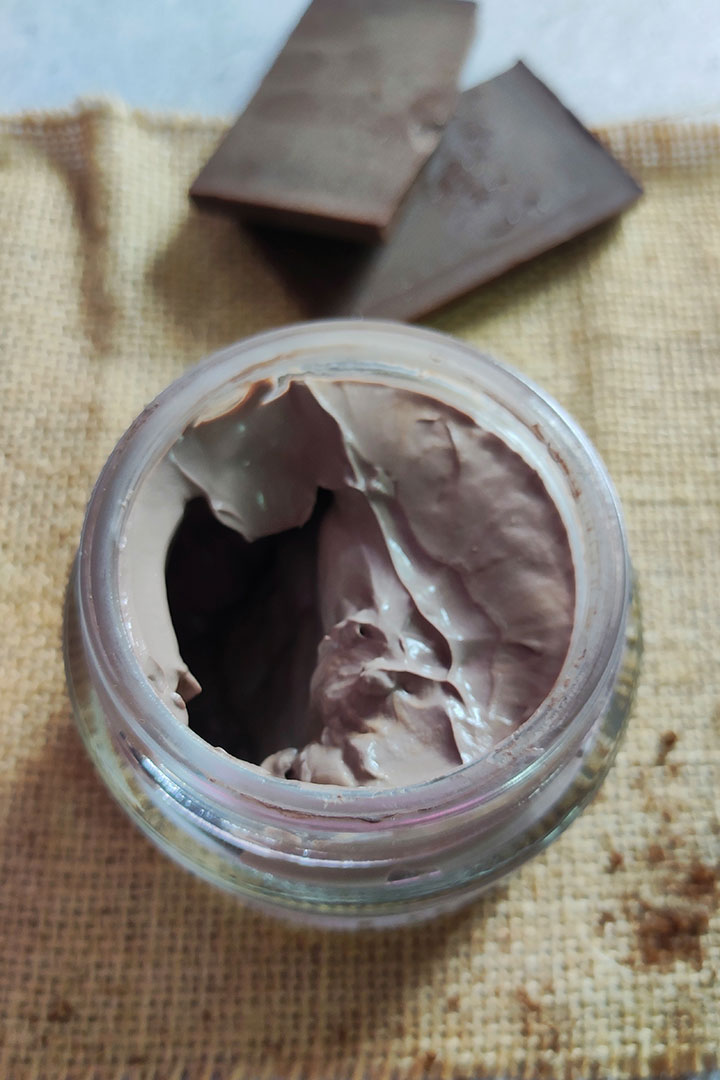 As per the direction, I usually keep this mask on for 30 minutes. I have observed that it takes quite a while to get dried completely.
Once it dries off completely, I wash it off with cold water. Here are the things I felt after every wash off.
Skin feels soft
Skin appears a bit smoother
I felt a mild tingling sensation during the 30 minutes. But, the intensity was never too hard.
People with sensitive skin just like mine can definitely use it without any second thought
Pros of Plum Choco-Latte Face Mask
Rich in natural butter and oils
Most of the ingredients are safe for applications
Easy to apply
Makes skin feel smoother and softer
Perfect for people with sensitive skin
No pimples or acne popped up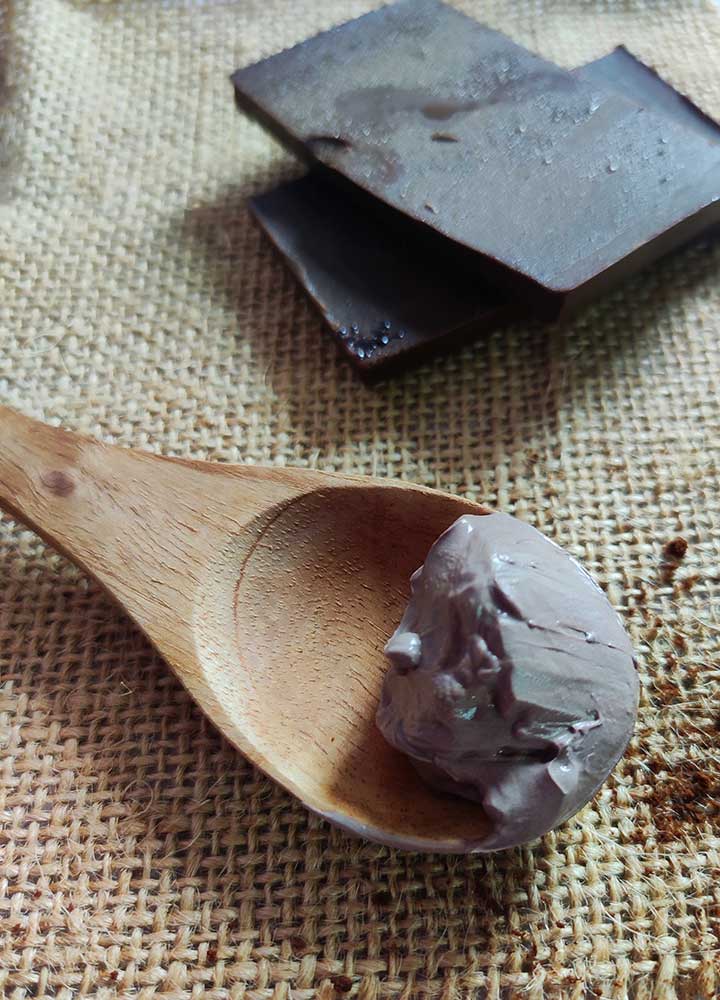 Cons of Plum Choco-Latte Face Mask
A bit pricey
Bulky glass tub; not safe for travel
skin does not look much bright afterwards
That's all for today! If you like this article, share it with your friends and family. Check out our official Instagram handle for more interesting stuff. Take care; celebrate life.