Hello sweethearts, welcome to CA. Today I am gonna review Patanjali Aloe Vera Gel. I think almost every blogger has reviewed this at least once on their blog/vlog. Patanjali Aloe Vera Gel is Patanjali's cult product and highest seller too. 
I prefer Aloe Vera gel of my own plant. But my mom bought this recently. And I could not control myself from reviewing it. So, allow me to take you inside of this experience.
Price: INR 80 for 150ml.
Product Description and Ingredients:
As you can see that it has 90% w/v Aloe Vera gel. Earlier I used to think that it is 90% Aloe Vera gel. But actually it is something else. 90% w/v or weight/volume means, 90g Aloe vera is mixed with 100ml solution. It is confusing and misleading too. And most importantly this data does not throw any light on the actual proportions.
Aloe vera is semi runny in nature, so to give it a thick texture a base material is used. And again the name is not disclosed. They have added two food colours which are permitted. It also has Vitamin E which is a great emollient and acts as a preservative to some extent.
And lastly it has an added fragrance and preservative, but the name of the components are not mentioned. Overall as per the ingredients are concerned, I am having a mixed feeling about this insanely famous and over hyped Aloe Vera gel.
My Experience with Patanjali Aloe Vera Gel
I have been using this for the last one month. The packaging is a simple transparent tube with an orange flip flop cap. It is very travel friendly and easy to use packaging. That is why it has become very famous.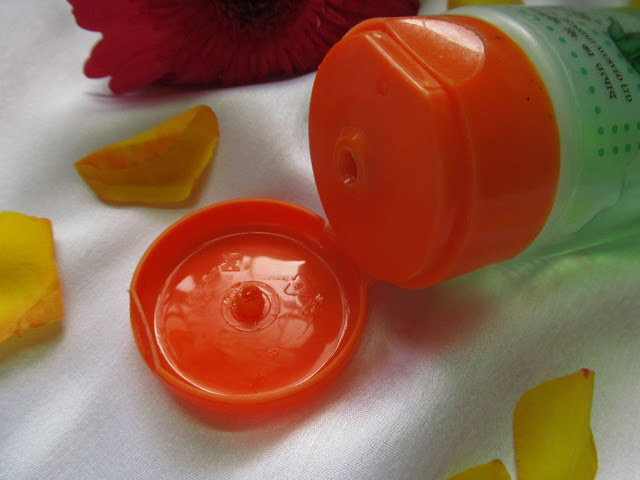 The gel is mild green in color and quite thick. But it is easy to spread and blends well with skin. 
Now, if I talk about its effectiveness, it helps to lock the moisture for a long time when I use it with my regular moisturiser. 
It also acts as a great makeup primer. This is definitely a good thing :). I consider it to be the cheapest makeup primer!!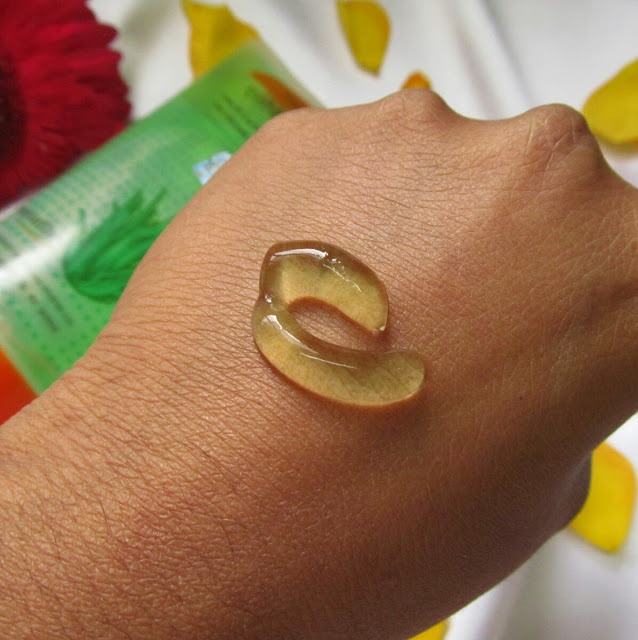 I am a big fan of Aloe Vera and I have nearly 4 to 5 Aloe plants at my home. So, getting aloe vera gel whenever needed is not a big deal for me. Whenever I spot zits over my face, I immediately apply Aloe Vera gel on those. And it gives me a result within 2 to 3 days. In fact Aloe vera gel has helped me a lot to remove moles!!. 
But this one does not act like a real one. It did not help me to get rid of zits. 
So, here goes my overall reaction.
Super affordable.

Travel friendly packaging.

A great makeup primer.

Helps to lock moisture for a long time.

It has goodness of Vitamin E.
Confusing ingredient list.

All the components are not disclosed.

Not effective as the real Aloe Vera Juice is.

Added color.
***CA IMPRESSION: 3.5/5***
Overall, I am not pretty satisfied with the product or its results. I know many will kill me after reading this :P. But I am a blogger and I need to be honest no matter what/who it is. So, you can definitely use it as long as you like. I like it for being a great makeup primer. But it can not replace the natural one and that is for sure.
That is all for today, take care my dearies. Love you all. Celebrate womanhood.
Thank you for reading. Have you used this product? Please share your experiences here. Love you all.