Ace an Impeccable Look with the Best Primer for Dry Skin
Makeup is never the same without a primer. This miraculous product waves its magic wand and transforms your skin into a poreless, wrinkle-free, and clear canvas on which you can brush up your makeup skills.
Though primers add an extra layer to your makeup, you won't mind adding one if you know the endless benefits these offers.
This smart tool protects your skin by creating a barrier between your skin and all those chemicals. And, keeps your makeup in place yet does not interfere with your makeup.
Now when makeup is meeting skincare, primers have reached another level where it does not just act as a barrier for makeup to penetrate, it provides deep hydration to your skin too.
These qualities make it a quintessential to your beauty staple. A good primer complements your foundation provided you are choosing the one as per your skin type and complexion.
If your skin is on the drier side, it becomes quite a challenge to choose facial products as dry skin is more prone to fine lines and crow feet. So an obvious question is how to hide those nasty lined?
Well! You need to pick a hydrating skin-friendly primer.
In the following section, we have run down 10 such best primer for dry skin across the globe. We have made sure that all of these primers are free from Parabens and other common harmful ingredients. Take a look!
1. Makeup Revolution Glass Skin Primer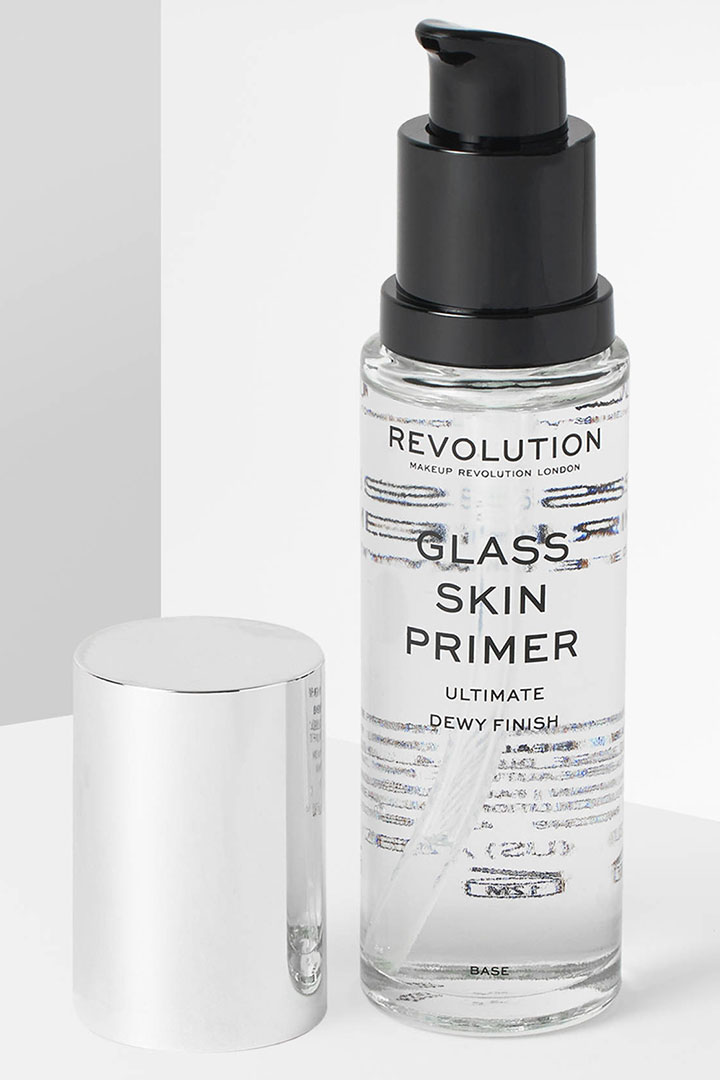 Courtesy of Brand
Buy Now!
If you have been through many foundations with no luck, this is the time you add this primer to your beauty stash.
This game-changer has taken inspiration from the Korean glass skin trend. It melts away into the skin to diffuse pores and imperfections virtually and creates a prepped base to put on the rest of your makeup.
And, guess what! It is enriched with Rosehip Seed Oil and Cranberry Seed Oil.
Having this primer on, you can always get that glossy dewy finish.
Pros

Adds subtle sheen to the dry skin
Keeps base intact for long hours
Gel consistency gives a dewy finish
Helps to achieve that iconic korean glass skin look
Hygienic pump packaging

Cons

Slippery texture
Consistency is too oily
So it does exactly what it says that it recreates the glass skin effect. It provides an even slate to work on with your makeup.
Though it has a bit greasy and silicone texture, you can escape it using the product sparingly. Just go for it!
[cosmetic-ad]
2. Atopalm Daytime Undermakeup Moisture Cream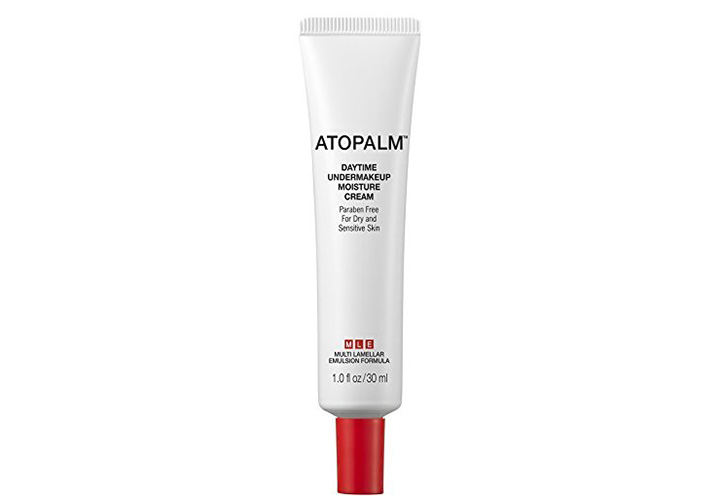 Courtesy of Brand
Buy Now!
This primer moisturizer hybrid is a godsend for chronically dry and sensitive skin.
Formulated with Atopalm patented MLE technology, this is a special edition made with plant-derived ingredients.
This technology imitates the structure of natural lipids of your skin to lock moisture and protects over evaporation.
This everyday primer protects your skin from environmental stress while making you feel comfortable throughout the day.
Pros

Formulated with unique MLE technology
Paraben free formula
Suitable for sensitive and dry skin
Gives a radiant glow
Enriched with plant derived Cholesterol, Fatty Acids, and Ceramides
Replenishes skin protective moisture barrier
Easy to use tube packaging

Cons
This product is one of its kind with its remarkable MLE technology. MLE stands for Multi-Lamellar Emulsion that resembles the skin's natural lamellar lipid.
It bridges the gap between makeup and skincare. This primer holds the makeup in place nicely and works great as a moisturizer simultaneously.
It definitely deserves some space in the list of best primers for dry skin.
3. Huda Beauty Complexion Perfection Pre-makeup Base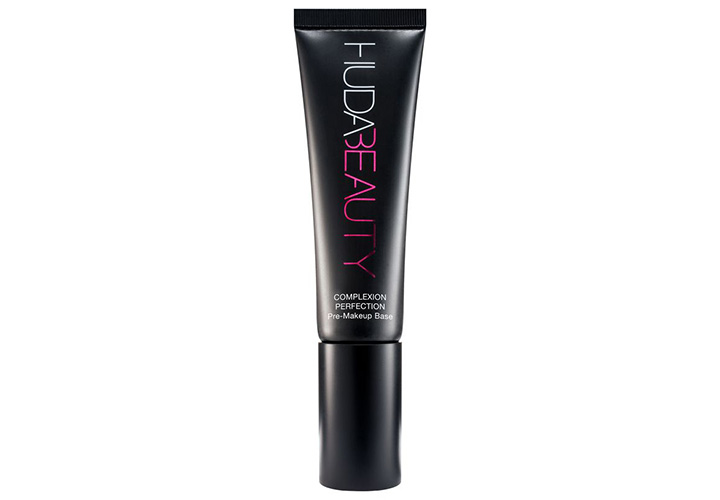 Courtesy of Brand
Buy Now!
The satin-smooth formula of this incredible primer hydrates your skin and provides a sublimely smooth surface to grip your makeup while moisturizing your skin underneath.
This pre-makeup base harnesses the decency of time-tested ingredients like rosehip oil.
Gentle and non-comedogenic, dimethicone is an inevitable component of this primer.
Having high content of antioxidants, rosehip oil has valuable healing properties.
Together the duo makes a nourishing creamy formula that boosts the staying power of whatever you apply after it.
Well! The list of amazing ingredients does not end here. This impeccable primer is also made with Bees Wax, Bayberry fruit Wax, and Shea Butter.
Pros

Enriched with skin-nourishing ingredients like Rosehip Oil and Shea Butter

Super hydrating formula
Improves wearability of makeup
Imparts an even, airbrushed look
Blurs out pores, fine lines.
Comes in handy tube packaging

Cons

Might feel slightly heavy on the face because of the high quantity of Shea Butter and other two wax
Join hands with this dry skin primer to achieve a polished look. A little goes a long way. So use in small quantities to avoid heaviness and it will surely live up to the expectations. And thus, considering every aspect, it is indeed the best primer for dry skin.
4. Milk Makeup Hydro Grip Primer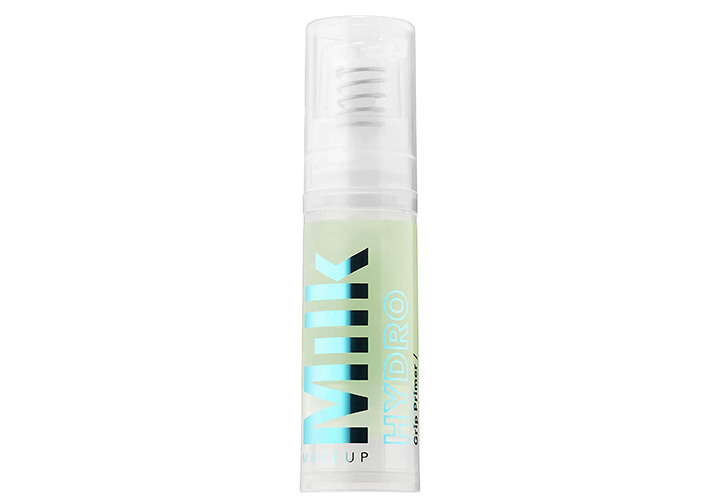 Courtesy of Brand
Buy Now!
This green-tinted liquid is boosted with Hemp derived from Cannabis Seeds, Cherry Blossom, Aloe water, Hyaluronic Acid, and B Vitamins. All these ingredients effortlessly leverage deep hydration and pamper your skin with a soothing effect.
The blue agave extract is a plus too that forms an invisible velcro Esque film to hold your makeup and gives a blissed-out finish that lasts as long as 12 hours.
Pros

Keeps makeup in place all day long
Active ingredients nourish the skin and give a healthy sleek
Creates an even base for foundation
Vegan, cruelty free, and gluten free
Free from Sulfates, Parabens, Formaldehydes, and Synthetic fragrances
Travel friendly pump packaging

Cons

Slightly tacky and makes patches on skin
Here is a quick tip to prevent skin patches while using this primer:
Apply a thin layer and wait for a minute till it activates its turbo grip mode. Now, layer up a matching foundation or leave it alone on your face to enjoy a fresh radiant look.
5. The Ordinary High Spreadability Fluid Primer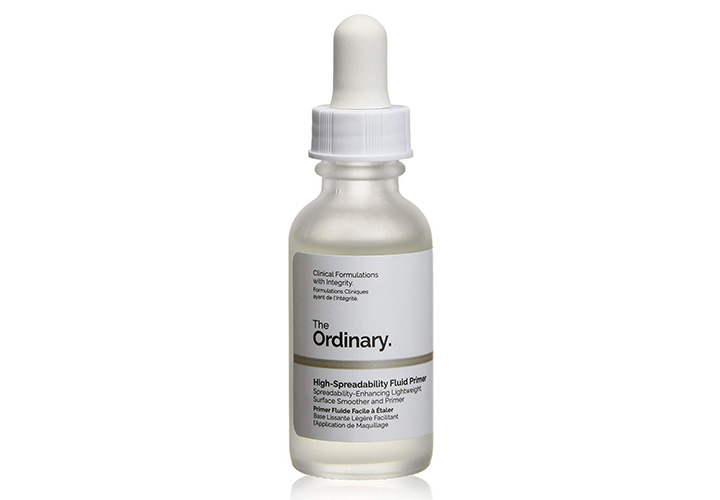 Courtesy of Brand
Buy Now!
The name really sums it up! This hydrating fluid enhances the spreadability and grips firmly when worn under makeup.
Its carefully crafted serum-like formula is non-greasy and lightweight.
Instead of layering a chalky, pore-clogging layer, it delivers a dewy, silicone effect that tackles all your skin flaws. It is just as good as worn alone as it is under makeup.
Pros

Spreads evenly and delivers a luminous sheen
Minimizes the appearance of large pores and wrinkles
Gives a neat base for makeup
The texture is as light as air

Cons

Dropper applicator is not user friendly
Foundation doesn't cling well to it for a long time
This primer is a perfect recipe to light up the dull face. It locks in the foundation, prevents product buildup around nose & eye areas, and makes your face look its best.
Consistency is a bit runny, but some midday touch-ups will keep your makeup on point. Wear this one for a drop-dead gorgeous look.
6. Bare With Me Cannabis Sativa Seeds Oil SPF 30 Daily Moisturizing Primer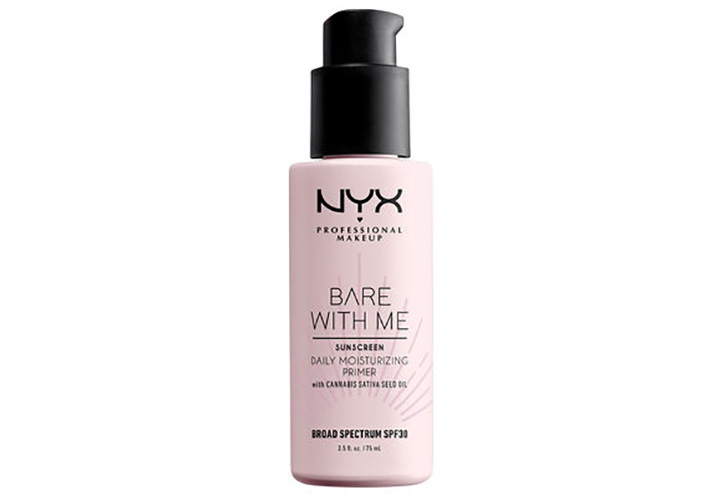 Courtesy of Brand
Buy Now!
An outstanding product of NYX cosmetics, this multipurpose lotion is great as a primer, moisturizer, and also as a sunscreen.
The unique blend of Cannabis Sativa Seed Oil and Nymphaea Alba Flower extract delivers upto 24 hours of soothing hydration. SPF 30 further protects the skin from harmful UVA and UVB rays.
It also contains Hyaluronic Acid that further makes it one of the best primers for dry and ageing skin.
Pros

Acts as a first defence to shield harmful sun rays
Prolonged Makeup wear
Features Cannabis Sativa Seed Oil and Nymphaea Alba flower extracts
Non-comedogenic soothing hydration
Dries transparent; no white cast
24-hour hydration and broad-spectrum SPF 30 is all you need to complete the day look

Cons

Might not work well on sensitive skin
The non-transparent bottle does not allow to see through
Peels off when makeup is applied on top of it immediately
Heavy-duty moisturization and sunscreen benefits make it the best primer for dry skin.
Here, Cannabis Sativa seed oil and Nymphaea alba flower extracts are the hero ingredients that work as your skin's best friend.
Give it five minutes of time to get absorbed in your skin to have foundation work to your advantage without peeling off. So prep, protect, and plump while pulling off a professional look with this skin soother!
7. Bobby Brown Vitamin Enriched Face Base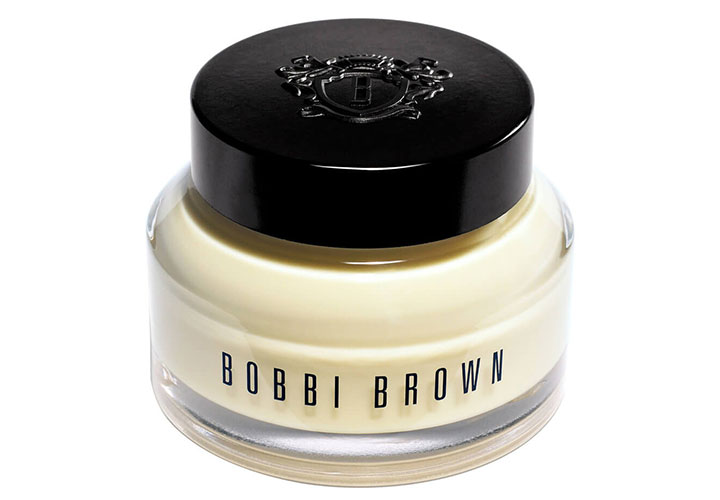 Courtesy of Brand
Buy Now!
This face base is a primer plus moisturizer enriched with Shea Butter, Vitamin B, C, and E.
The advanced formula seeps into your skin within seconds. And, softens, hydrates, and cushions skin from within.
This dry skin primer is also enriched with Squalane and Hyaluronic Acid that makes it one of the best out there.
It sets a perfect porcelain base and makes skin ready for makeup application. Nice Grapefruit and Geranium fragrances make it even more tempting.
Pros

Rich in feel, but never greasy
Foundation glides in smoothly on top of it
Harnesses the goodness of shea butter, Vitamins, Squalane, and Hyaluronic Acid
Replenish lost moisture.

Cons

Thick formula can clog pores
Moisture content is less and dries down quickly
Tub packaging can be messy
This spectacular primer is indeed a treat for your dry skin. The thick consistency is specifically designed for dehydrated skin.
With its advanced formula, you will be primed for extra long hours. Apply this primer moisturizer combo to make your face and enviously glow throughout the day.
8. Smashbox Photo Finish Primerizer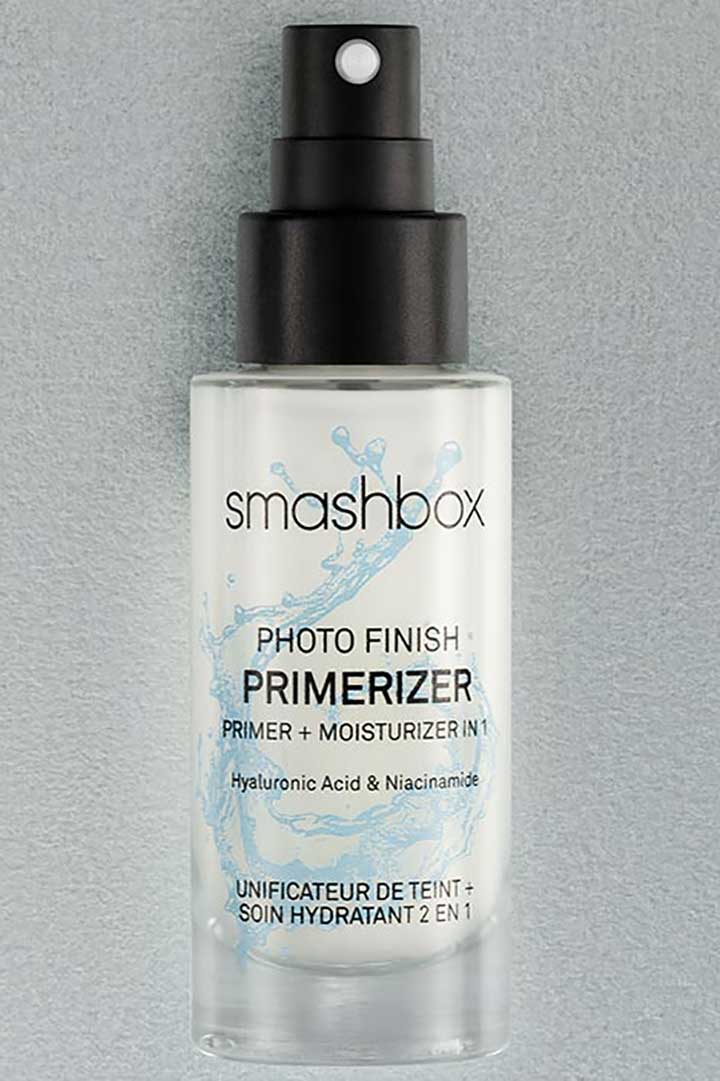 Courtesy of Brand
Buy Now!
Prep your skin for makeup in just one step. This powerful priming moisturizer comes with a non-greasy, quick-dry formula.
It acts as a makeup magnet by smoothing out the skin, blurring pores, and filling up the skin furrows.
Hyaluronic acid and Niacinamide plumps and revives dull skin and provides 24 hours of hydration.
Foundation sits heavenly on its lightest possible structure without drying out the skin and staying put for long hours.
Pros

The ultralight silky texture makes skin comfortable all day long
Quick-dry formula expedites the makeup application
Prevents foundation from settling into pores
24-hour hydration
No Parabens, Sulfates, Phthalates, Gluten, and artificial fragrance are used in the formula
Cruelty-free

Cons

The opaque bottle makes it difficult to measure the quantity left out
More of a moisturizer than a primer
Boasting a blend of skincare benefits, this dry skin primer helps you to skip an additional layer of moisturizer. And, gives an instant boost to dull and lifeless skin.
This wonderful primer sets up the makeup within seconds. It is indeed a go-to primer for all your needs!
9. Revolution Skincare Conceal & Define Oil Priming Serum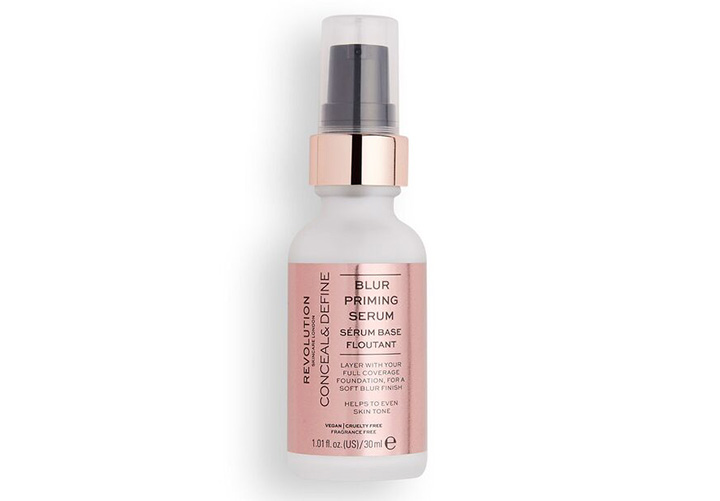 Courtesy of Brand
Buy Now!
This oil-based priming serum is a revolutionary blend of Rosehip oil, Peach Kernel Oil, and Jojoba oil.
Using this serum primer duo, you can accomplish a nice silky base for makeup while calming the skin underneath.
A bliss for extremely dry skin, it balances the moisture level on your skin yet does not leave an oily sticky finish.
Pros

Gives an airbrushed look
Makeup layers well on top of it
Lengthens the amount of time the makeup lays on the face
Optimum hydration and lasting foundation performance
Convenient pump packaging

Cons
This oil-infused primer is simply amazing under makeup. Apply a dime-size quantity before you work in your foundation and it will immediately give a boost of glow to your face. If your skin is screaming for some lubrication, this primer always has your back.
10. Laura Mercier Hydrating Foundation Primer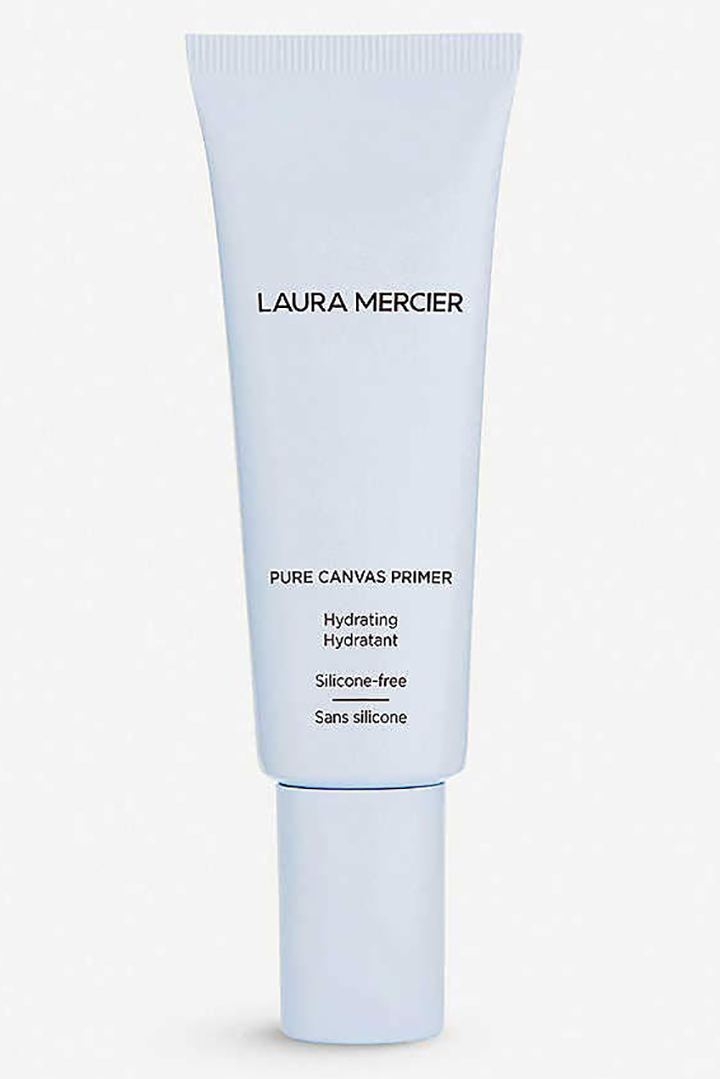 Courtesy of Brand
Buy Now!
The last thing you want from a primer is a chalky and white cast finish. This primer definitely meets your expectations by providing a cushion to allow enhanced wear.
While the transparent layer keeps your makeup stay put. On the other side, Vitamin A, C, and E work to rejuvenate your skin cells.
Apart from that, Glycerine and Olive extracts are some highlighting ingredients of this dry skin primer. Apply this product to create a canvas prior to foundation and it will keep your makeup fresh with stay-true colours.
Pros

Nurture the skin with vitamin A, C, E, glycerine and olive extracts
A lightweight and creamy gel texture
The colourless texture stays true to makeup colours
Promotes long term moisture recovery
Creates a protective shield that extends the longevity of makeup
Squeezy tube packaging

Cons
The lightweight and breathable formula with skin-loving ingredients makes this primer an absolute bargain. It's free from harmful chemicals like sulfates SLS, SLES, and Paraben.
So if you are looking for a silky pillow base for your foundation to rest upon, look no further and shop this primer right away.
Final Thoughts
Primers have set a gold standard and have become an inseparable part of modern makeup. Thus, beauty brands have taken the opportunity to launch different types of primers that claim to not only conceal fine lines & blur large pores but also provide that much-needed nourishment to your skin.
So picking up a primer that caters to your skin's needs can be a real challenge. After all, it's about your face and you ought not to settle for less than what you need.
The above-listed primers are specifically crafted for dry skin that can be doubled up as makeup boosters and skincare staples.
Primer is not just an additional layer. It is as important as your foundation to create a nice base. I believe that this compilation will encourage you more to use primer and you can challenge all your skin woes with these dry skin primers.
And, that's all for today! If you find this article helpful, do not forget to share it with your friends and family. Subscribe to Cosmetics Arena for more such articles.