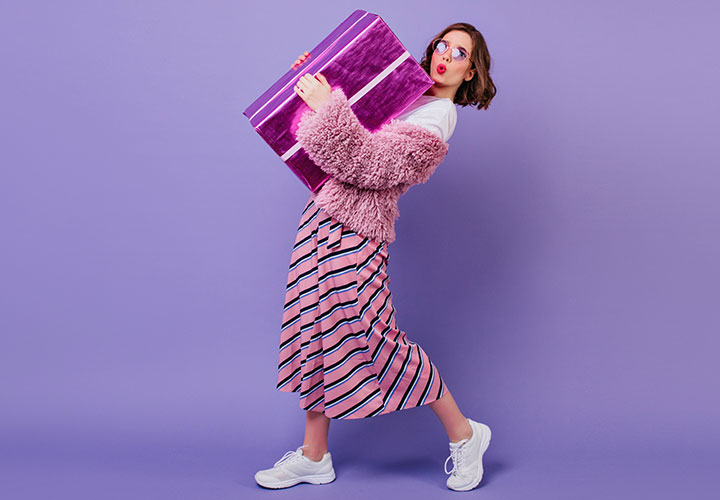 25 Best and the Most Popular Nykaa Products 
The season of cheer is finally here. All the towns and cities have worn the festive vibes. So make the most of it and look your best.
It's just the beginning of 2023 and like everything else, it's time to refresh your beauty arsenal.
Now the beauty world has also become tech-savvy and online shopping has become a new norm. Consumers are prioritising products that not only perform well but also free from harmful components. Brands touting less carbon imprint and no animal testing are preferred.
With the inception of Nykaa, online shopping has become a cakewalk. Here we have compiled some of the best beauty products that are launched by Nykaa that you must definitely tick in your shopping checklist. Glam up your holiday looks this year!
So let's ring in the new year with following Nykaa products that adhere to today's beauty standards.
Editor's Note
All the Nykaa products listed here are quite popular; these are literally adored by many. But, as a skincare enthusiast, I would always suggest to read the labels and also to check out the ingredients.
If you are allergic to a certain ingredient, better avoid it.
In case you have bought a product and you are confused about the potency, the safest way is to always go for a patch test. If rashes do not appear within 24 hours, then it can be said roughly that the product is suitable for your skin type. Take care; happy shopping.
1. Nykaa SKINgenius Sculpting & Hydrating Foundation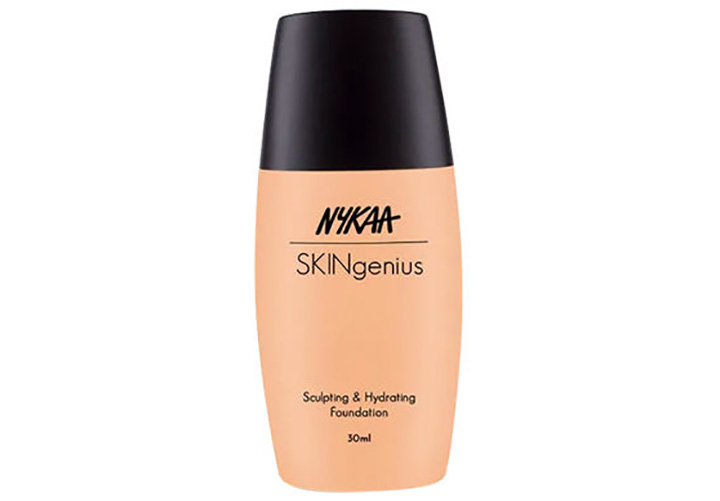 Courtesy of Brand
Shop Now!
This masterpiece is one of their best sellers. Generously designed with the cutting edge polylift technology, it firms up the skin and colour adapting pigments just blend into the skin to perfectly match your skin tone upto two shades.
The texture is extremely lightweight that blends swiftly and doesn't feel like a layer and gives you a semi-matte, semi dewy finish leaving a sculpted look. The incredible formula also allows other products to sit comfortably on top of it.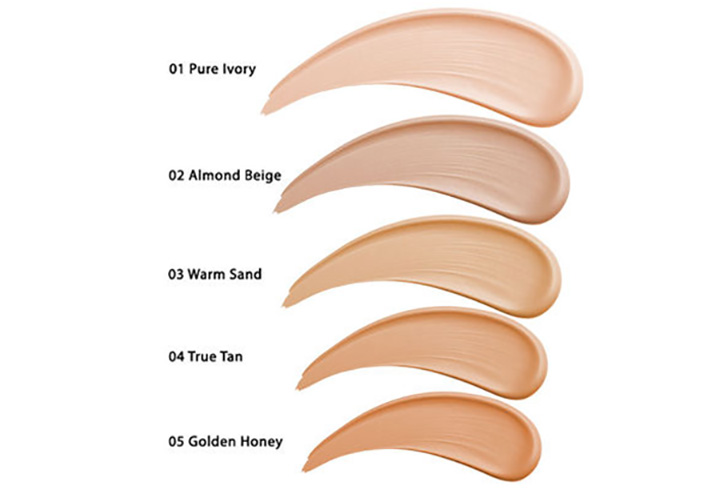 This foundation also takes care of your skin with hyaluronic acid that guards your skin against harsh freezing winds and sun filters that shield your skin from UV rays. The shade range is specifically crafted for Indian skin tone.
 Pros

Extremely light texture allows homogeneous application.
Polylift technology allows perceptible decrease of aging signs.
Color adapting formula adjusts as per your skin complexion.
Equipped with hyaluronic acid and sunscreen.
Fragrance, paraben and mineral oil free.
Looks camera friendly

Cons

Medium coverage
Nozzle packaging is not very user friendly
Still not sure? Try the half-face application to get your answer.
2. Nykaa Matte To Last! Liquid Mini Lipstick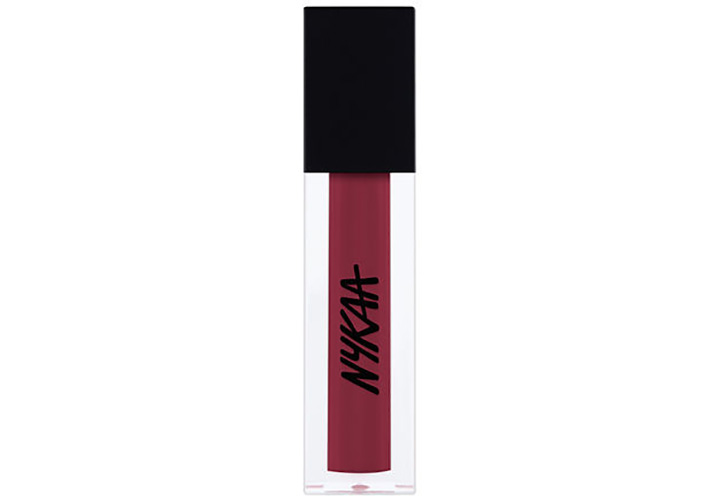 Courtesy of Brand
Shop Now!
In this mask constrained lifestyle, the last thing you want is frequent touch-ups. Presenting Nykaa Matte To Last! Liquid Mini Lipstick, a teeny tiny version of the original Nykaa lipstick.
The versatile shades suit every skin tone. Whether you want to make a bold statement from sensuous bold lips or entice someone from your demure nude pout, this range has everything for you.
The formulation contains a plush, pigment-rich texture that delivers perfectly sculpted lips in a single swipe. The nude shades intensify your natural lip colour and compliment almost every skin tone.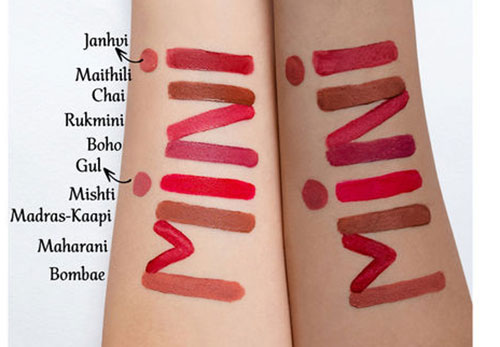 Where less is more, you should definitely try this out. Breath-taking shade range will compel you to shop on and on. And, the best part is that you can own so many colours without cluttering your bag.
Pros

Lightweight formula with high pigmentation.
Keeps your lips moisturized with vitamin E extracts.
Super affordable.
Versatile hues.
Tiny packaging is travel friendly.
Transfer proof, kiss proof.

Cons
So up your glamour quotient with these miniature fine lipsticks.  Don't think anymore! Coat your lips with it and get the most kissable lips ever.
3. Nykaa Wanderlust Body Butter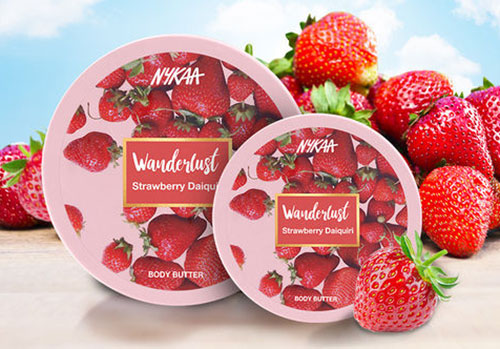 Courtesy of Brand
Shop Now!
Let your skin dive into the ocean of hydration with this super luxurious skin nourisher crafted with ingredients that your skin will love to consume.
Also contains sun filters for a perfect beach holiday. Whipped with love and loads of skin-loving ingredients like Shea and Cocoa Butter, Vitamin E, and Jojoba extracts.
Available in seven exotic variants, Japanese Cherry blossom is a must-try. Just apply after stepping out of the shower and the enchanting result is waiting for you.
Pros

Vegan, paraben free, SLS free and cruelty free.
Replete with shea butter, cocoa butter, vitamin E and jojoba extracts.
Soothing and refreshing aroma.
Keeps skin well hydrated for long hours.
Contains sun filters.

Cons

Not suitable for hot and humid climates
This unique body butter is not just curated for the skin but the fragrances used in it works to revive your soul too.
The calming and soothing aroma is reminiscent of your tropical islands vacations. Enveloped in moisture, the fragrance will linger on you all day long. Make it an everyday staple in your vanity kit right away!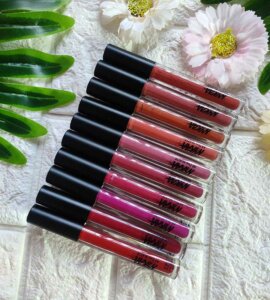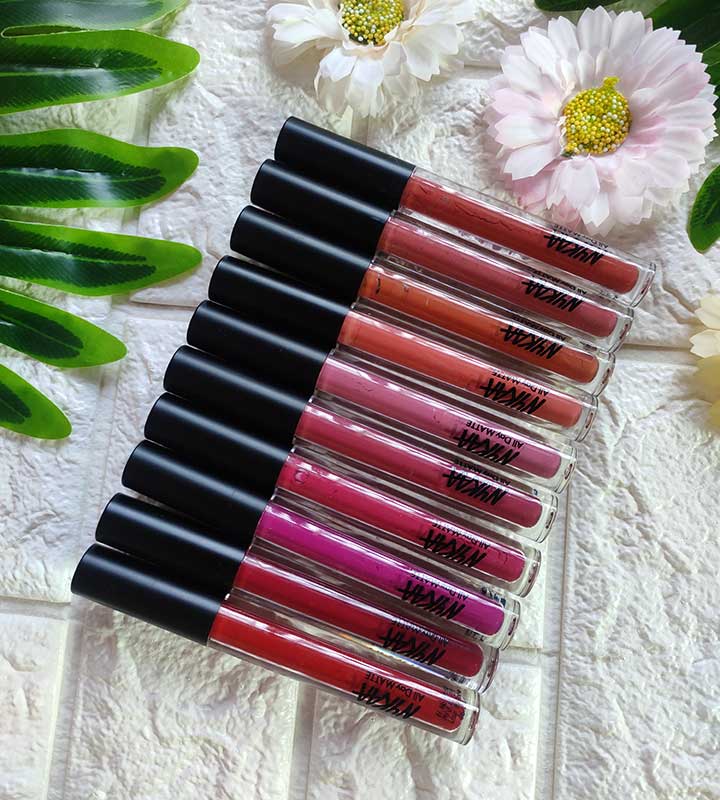 Get ready to swipe, stay, and slay your lockdown days with the 10 shades of Nykaa All Day Matte Liquid Lipstick. Discover the swatches, my experience, and many more.
Read More
4. Nykaa Salon Shine Gel Nail Lacquer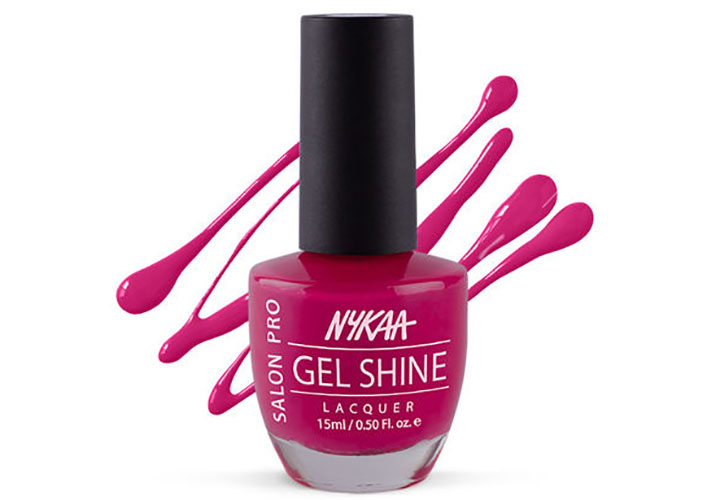 Courtesy of Brand
Shop Now!
Another gem from Nykaa house. A gel nail paint that gives a statement worthy salon like gel finish and yet doesn't require gel paint maintenance.
The long-lasting formula gives sophisticated rich hue in just one stroke. It's truly a delight for nude shades lovers.
This nail lacquer can give a series of competition to a professional manicure. Could you ask for more? Go for it!
 Pros

Smartly incorporated nudes and bold shades range compliment every skin tone.
Sophisticated color payoff.
Professional gel finish.
Low maintenance.
Dries in a jiffy.
UV filter formulation.

Cons

Gel shine fades away in a few days.
This nail lacquer surely gives your tips a stunning makeover, just how you like it.
5. Nykaa Skin Secrets Sheet Mask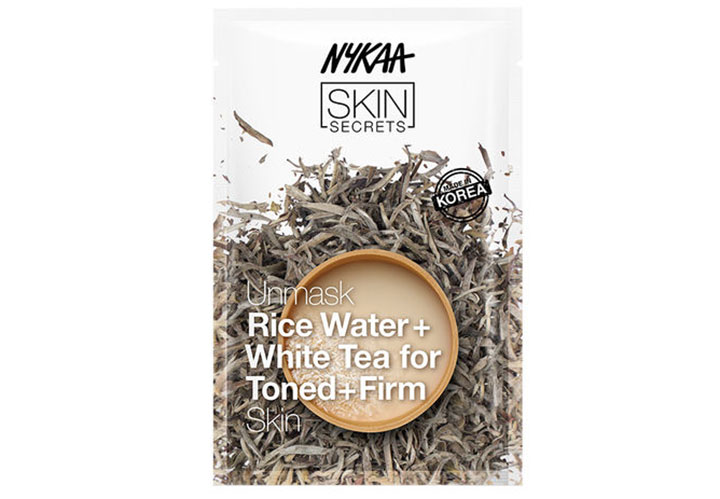 Courtesy of Brand
Shop Now!
Want to know the secret of happy bouncy skin? Meet the sheet, that allows the product to stay longer on your skin without evaporation.
Its benefits definitely going to make it another big thing in skincare. So how come our edgy Nykaa can lay behind?
Here it has launched a vast range of nourishing serum soaked sheet masks that maintain skin elasticity and fight with all skin abnormalities.
 Pros

Nourishes the skin deeply and lend it a scintillating skin.
Allows the serum to penetrate deeply without drying out.
Active dual ingredients outperform the traditional creams and lotions.
Maintains pH level of skin.
21 variants address all kinds of skin woes.

Cons
So keep your old school beauty regime aside and give your skin the cottony soft comfort with these sheet masks. This is truly one of the best beauty products on Nykaa.
6. Nykaa Naturals Saffron & Honey Face Wash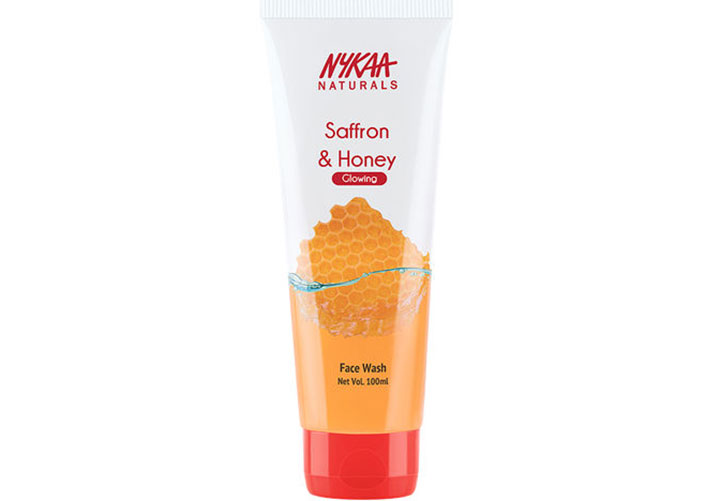 Courtesy of Brand
Shop Now!
Get ready to turn heads with dewy bouncy skin. This facewash has taken its goodness from saffron, a time honoured spice for nurturing the skin.
The benefits are further enhanced with honey, which is known for its antioxidants and antibacterial properties.
This perfect recipe unveils the warm, pearlescent complexion of your skin. The flowy gel texture is vegan and paraben-free. Its non-drying formula makes a rich lather to dissolve makeup, grease and deeply cleanses the pores.
 Pros

Refreshing fragrance.
Brings a peachy glow to the skin.
Enriched with saffron and honey.
Deeply cleanses the pores.

Cons

Not for dry skin beauties.
Treat your skin with the proper care and well being it deserves with this face wash that has taken its goodness from revered Ayurveda.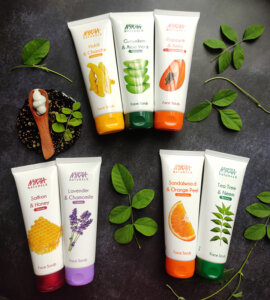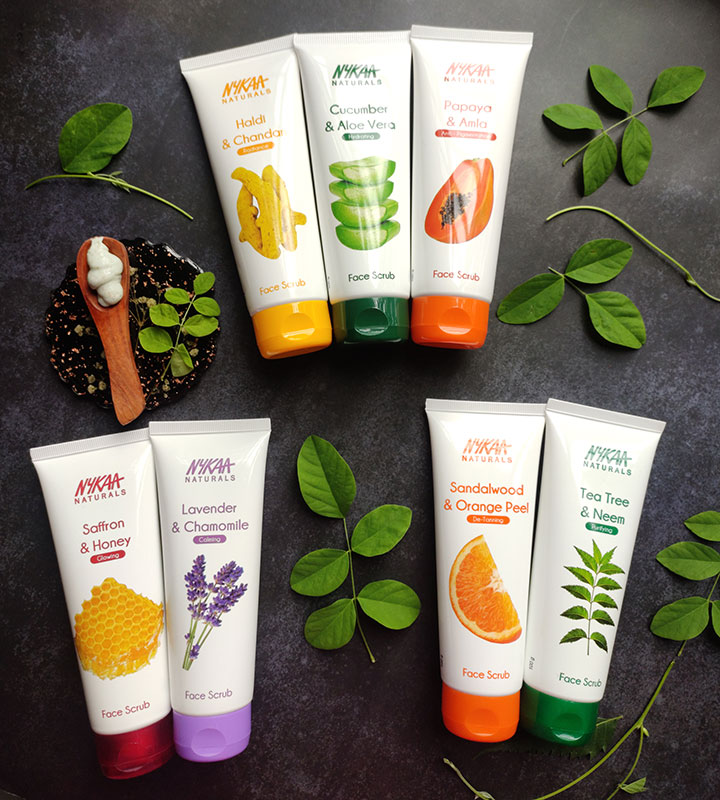 Are these truly effective? How well-put the ingredients are? Are these worth paying for or easy to skip? I have answered everything down here.
Read More
7. Nykaa Hand & Nail Creme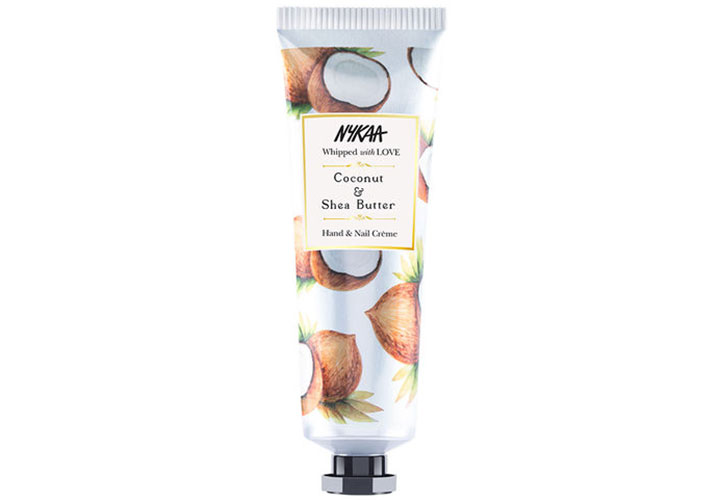 Courtesy of Brand
Shop Now!
Your hands are the least cared and the first to show ageing signs. Come winters and the situation gets worse. But Nykaa, do care about your hard-working hands?
This hand creme is crafted from the wisdom of nature. When the goodness of avocado, almond, jojoba, and olive oil is combined with a rich dose of hyaluronic acid, your hands get fully protected against daily wear and tear.
Your hands are always busy no matter what, so the consistency is kept just right that hydrates your hands by quick absorption without being extra greasy.
Pros

Keeps your palms soft and strengthen the nails.
Paraben, SLS and cruelty free.
Organic composition delivers luminescent hands minus harmful side effects.
Quick absorbed texture never comes in the way to do daily chores.
Amazing fragrance uplifts the mood in no time.
Available in 16 variants.

Cons

Quantity is less as compared to price
Stock up on this creme and apply as often as you please to relish the softer palms by each day passing.
It definitely deserves some space in your beauty closet. You must add this creme in your cart for your online shopping this winter.
8. Nykaa Wanderlust Deodorant Spray
Courtesy of Brand
Shop Now!
Most of our memories are associated with fragrance. So let's create some good memories once again with Nykaa Wanderlust Deodorant Spray.
Nykaa has bottled up some great fragrances found across the globe. These fragrances will brush up your vacation memories and sit mildly on your skin without any harsh effect.
The classy fragrance stays fresh and lingers on you for the entire day.
 Pros

Vegan, paraben and cruelty free.
Long staying power.
Smells heavenly.
Feels soft on skin.
Curbs body odour.

Cons
These are the reasons enough to make it yours. Spritz it on your pulse points and keep him hovering around all day long. The Mediterranean Sea Salt Deodorant is worth making your signature scent.
9. Nykaa Naturals Essential Oils
Courtesy of Brand
Shop Now!
Nykaa has bottled up luxurious essential oils just for you. These magical elixirs have their own way to eradicate your skin and hair woes and improve the emotional and spiritual well being.
Essential oils are widely used in aromatherapy for holistic healing and have the divine capability to instantly uplift your mood.
 Pros

Nourishes skin and hair.
Works wonders on uplifting the mood.
100% natural botanical extracts.
Dropper format is convenient to use.
19 variants available for different skin types.

Cons

Might cause skin irritation if used in high concentration.
Since they are on higher concentration, mix them with a carrier oil and massage your way to mellow down with its soothing aroma.
10. Nykaa Skin Potion Facial Oil
Courtesy of Brand
Shop Now!
Gone are the days when any kind of oil was considered bad for the face? Facial oils are the best thing that ever happened in the beauty world and are gaining quite a hype these days.
The small molecules of facial oils are close to skin's natural oil production, hence they maintain a balance. So look no further!
Nykaa has got you covered with a complete range of facial oils made from 100% natural botanical extracts addressing every skin concern.
They have a whole guide to elaborate on which oil is suitable for which skin type.
Pros

Instant glow booster as compared to other creams and products.
Fortifies skin's natural barrier.
No added perfumes, parabens or SLS.
Loaded with antioxidants.
Balances skin's natural oil production without being greasy.
Available in 10 variants.

Cons

Might cause breakouts if not chosen as per skin type.
In this harsh winter when even heavy-duty creams don't work, give your skin a splash of lubrication and keep dry patches at bay.
Apply a generous amount every night before dozing off to sleep and induce a glassier appearance of skin with undisturbed care.
However, you have to keep in mind that you always need to choose the face oil as per your skin type to avoid any kind of side effects.
11. Nykaa Glamoreyes Colour Eye Pencil Kajal
Courtesy of Brand
Shop Now!
Make your eyes pop! If you are one of those who never shy away from experimenting with looks, Nykaa Glamoreyes Color Eye Pencil is just for you.
Give a break to plain black peepers and add more drama with 11 bewitching colours that never look over the top.
 Pros

Big array of versatile colors gives you a mesmer-eyes-ing look..
Free from paraffin, preservatives and animal derived ingredients.
Dermatologically and ophthalmologically tested.
Smudge proof, waterproof and fade proof formula lasts upto 14 hours.
Silky texture glides smoothly on the waterline.

Cons

Staying power is less in watery eyes
Unlike other colour pencils, these colours don't look overdramatic. With this pencil by your side, raise the temperature with your smoking hot eyes.
12. Nykaa Eyes On Me! 10 in 1 Eyeshadow Palette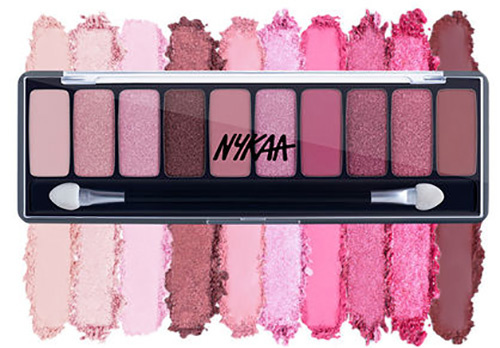 Courtesy of Brand
Shop Now!
Accent the beauty of your shy eyes with Nykaa eyeshadow palette. This palette gives you the liberty to play with colours that complement each other to achieve versatile looks.
Available in five palettes, Tinsel Twilight in this collection has every shade you can think from nude to smokey.
Pros

Stunning shades are highly pigmented.
Blends like butter.
Long wear.
Available in five palettes
Each palette contains 10 shades that compliment each other.

Cons
They say that your persona reflects through your eyes. Blend and play with the sassy colours and dare everyone to take their eyes off of you.
13. Nykaa Prep Me Up Primer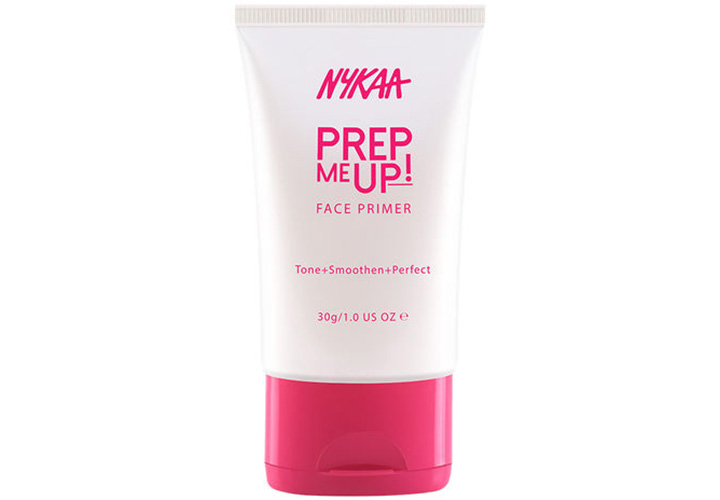 Courtesy of Brand
Shop Now!
This product has my heart. This vitamin E infused primer is a key pillar to prepare a silky velvety base by filling up the pores and fine lines like they were never there.
It creates a barrier so that your foundation does not get oxidised and other products to sit beautifully on it without feeling greasy or tacky.
Pros

Makeup doesn't get oxidised and stays true to its colours.
Lightweight formula doesn't feel layered up.
Fills in pores to give a satin smooth and toned skin.
Free from cruelty and paraben.
Dermatologically tested.
Vitamin E promotes neutralization of free radicals.

Cons

Less quantity as compared to price
This primer is truly a one-step wonder. It works as a great adherent for your foundation and polishes off a look that captures every glance.
14. Nykaa Clay It Cool Clay Mask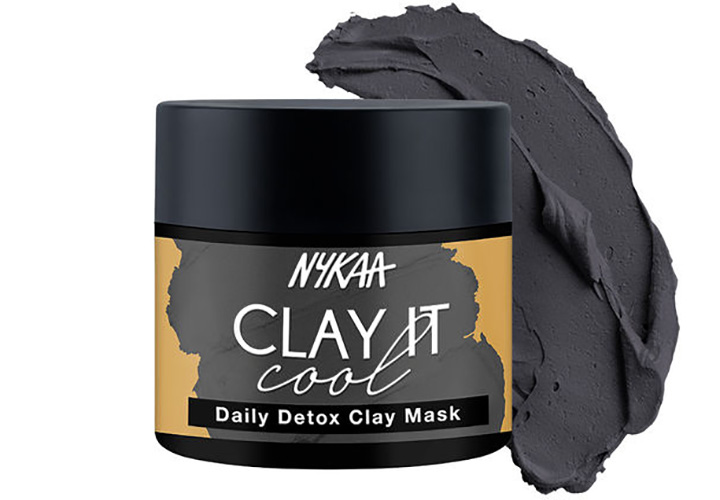 Courtesy of Brand
Shop Now!
Bring the lit from within glow with Nykaa clay mask. Here also Nykaa has done a great job by providing seven variants targeting specific skin concerns.
As per beauty aficionados, organic products are going to have a great moment in this year and nothing can beat an all-natural clay mask when it comes to providing an ultimate TLC to the skin.
Add it to your cart right away. While the soothing ingredients work to keep your skin's vital nutrients locked in, the cooling sensation of clay takes away all your fatigue and stress marks from the face.
Pros

Get an instant boost of water fresh glow on skin.
Controls oil secretion.
Specifically targets skin concerns.
Soothes and nourishes the skin.
Purely vegan.
SLS, cruelty and paraben free.

Cons

Ideal for summers only.
Texture is thick
This clay mask sucks out the skin impurities like a vacuum and keeps your skin squeaky clean. So keep masking every other day and be the glow queen.
15. Nykaa Lip Crush Macaron Lip balm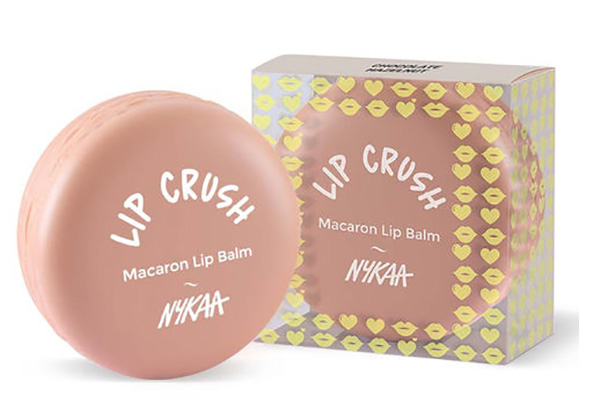 Courtesy of Brand
Shop Now!
Get deliciously soft lips with this cute refreshing lip balm. Tender like a sweet strawberry and nourishing like a green apple, it forms a sheer tint on lips and shea butter, jojoba oil, and almond oil douse dry thirsty lips in rich moisture for a long period.
SPF further protects from sun damage. Lip-smacking flavours make it worth a shot.
Pros

SPF shields from sun damage.
Infused with shea butter, jojoba oil and almond oil.
Moisture coated lips for a long time.
Mild fragrance.
Macaron shaped packaging is cute as a button.
Available in seven variants.

Cons

Quantity is less as compared to price.
Nykaa understands that your lips are three times delicate than your skin. So give your lips a kiss of nourishment and a soft veil of colour to pucker and pout for endless insta-worthy selfies.
16. Nykaa Face Massage Rollers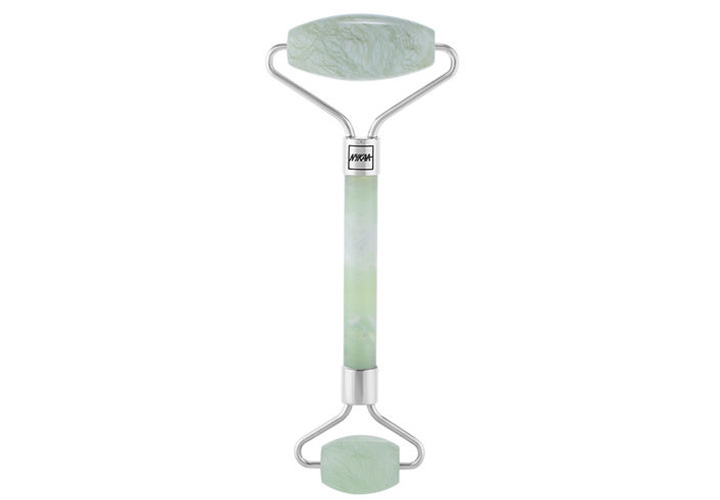 Courtesy of Brand
Shop Now!
Face rollers are definitely going to push back the heavy contouring with cosmetics. Now sculpt and lift your face all-natural using Nykaa face rollers.
A revived version of ancient face rolling technique, these face rollers depuff your eye area and give a chiselled face. An added advantage is that your skin can borrow the minerals from these stones.
Pros

Soothes and de-stresses your face.
Reduce puffiness.
Firms up skin and amplifies the glow.

Allows skin care products to penetrate deeper.
Small stone can snugly roll under the eyes.
Available in two variants.

Cons
Invest in a face roller, make your favourite emollient a partner in crime and glide on this magic stick to witness the overwhelming results.
17. Nykaa Black Magic Liquid Eyeliner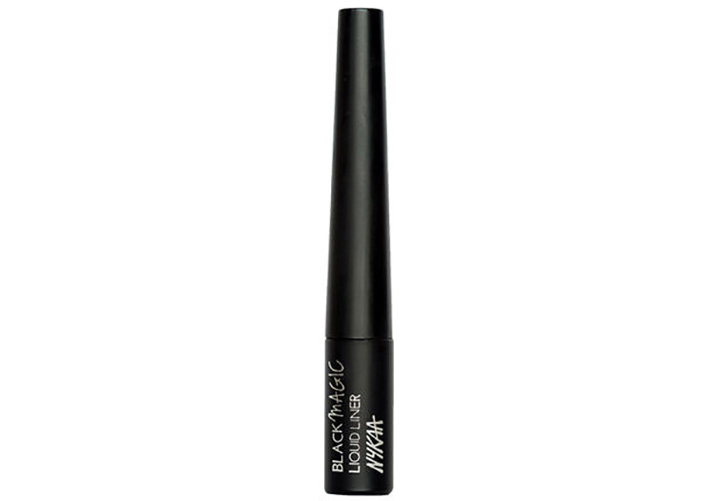 Courtesy of Brand
Shop Now!
Get the sultriest of eyes with this trusted friend. I am really floored by its super comfy wand that gives a tight line across the lash line and a little flick here and there with its fluid application can completely change your look.
So don't hold back! Create wings, graphic arrow, fishtail, and even the thinnest of the eyeliner looks you are in the mood for.
Pros

Formulated with crack, smudge, melt resistance properties.
Fine tip brush for extra precision.
Dries out quickly.
Satiny glossy finish.
Dermatologically tested.
Paraben and cruelty free.

Cons
So glide it across your lash line and own eyes that are sharp and expressive. This eyeliner will leave everyone spellbound for sure.
18. Nykaa Get Cheeky! Blush Duo Palette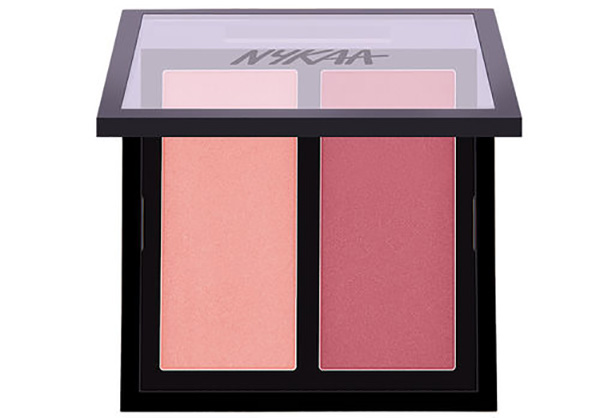 Courtesy of Brand
Shop Now!
Get a natural flush of blush on cheeks with this duo palette. A dominant and a subtle colour has the perfect balance of pigments and radiance-boosting minerals that define the apples of your cheeks without leaving any chalky finish.
The ultra-light micronized pigments blend like a dream on cheeks and give you the prettiest look.
Pros

Infused with radiance boosting minerals.
Blends effortlessly.
Dual color technique to define and contour the cheeks.
Long lasting satin finish.
Paraben, SLS and cruelty free.
Clinically proven.
Available in three flattering shades.

Cons

The subtle shade is less pigmented
The best part of this blush is that they have the shades that pop on every skin tone. You can always build up the intensity without looking patchy.
So swirl the brush on cheeks and sweep him away with your charm.
19. Nykaa SKINRX 2% Ceramide Serum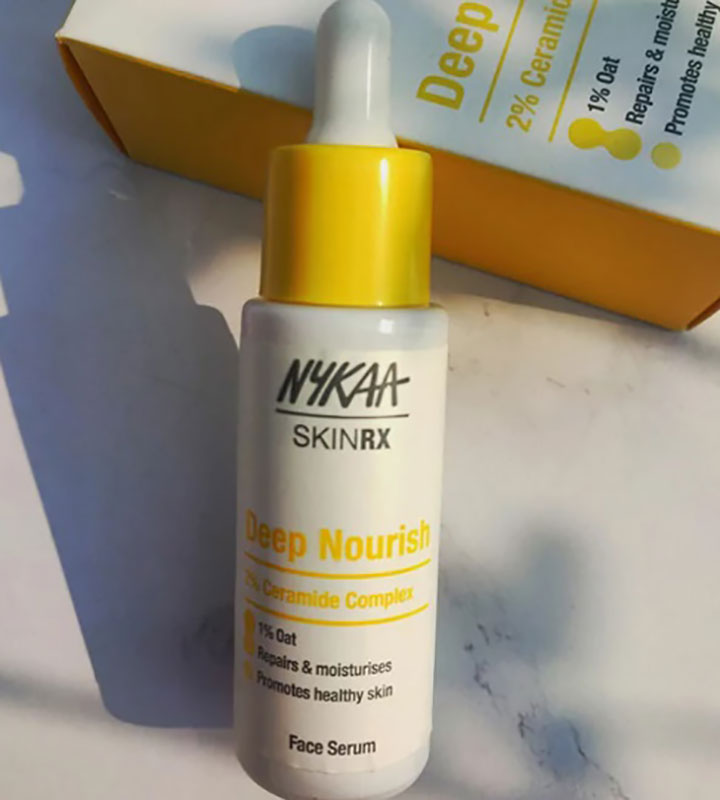 Shop Now!
Nykaa sent me this product prior to its launch to feel the experience. Well! I found this serum quite effectiive. In fact, this entire SKINRX range of products are all about actives which is a great launch from Nykaa indeed.
I even found the ingredients quite well-researched. All the ingredients have been explained in detail in my review blog. Here is the link in case you are interested to know.
 Pros

Dermatologically Tested, Fragrance-Free, Alcohol-Free, SLS Free, Cruelty-Free, Paraben Free, and Silicone Free serum
Skin feels nourished and hydrated
The serum does not sink on the surface; rather, it gets absorbed within seconds and does not leave any trail even.
The texture is perfect for All skin types
People with sensitive and acne-prone skin can easily use it.
Perfect for Day and Night
Skin stays hydrated for at least 4 hours without making it look oily or matte

Cons
So, if you are looking for a serum which is light weight and would not make your skin patchy, then this is definitely one of the best Nykaa skincare products.
20. Nykaa Strobe & Glow Liquid Highlighter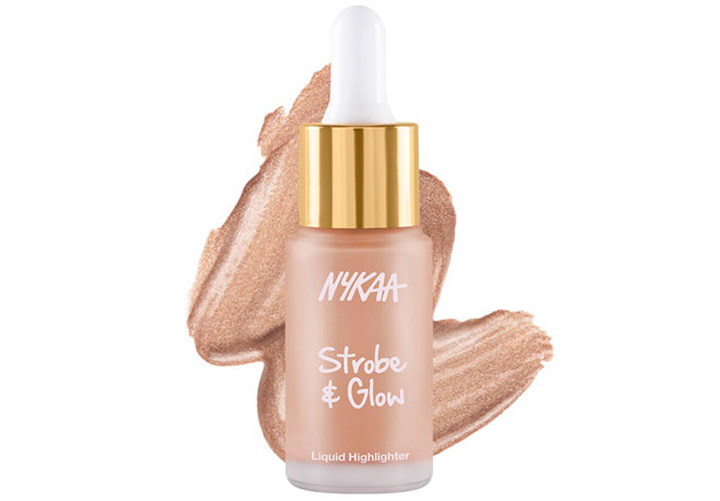 Courtesy of Brand
Shop Now!
It's all about strobing. For every style maven who wants to fake a natural glow, Nykaa has come up with this highlighter infused with gilded pearls to create a luminescence that looks purely natural.
Give a break to the heavy contouring and upgrade to the strobing technique for a more natural chiselled face.
This formulation does not have any hard shimmer or chunky glitter. So highlight your features and be the recipient of a subtle sheen.
Pros

Light diffusing pigments give a strobing effect.
Non gritty, creamy formula.
Highlights specific spots of face strategically to give a chiseled look.
Pure vegan and dermatologically tested.
Paraben, cruelty, preservatives and SLS free.
Dropper format for controlled usage.
Available in three variants.

Cons

Thick consistency.
Not suitable for oily skin.
The strobing is the hot technique that is going to become a cult favourite. Dab some magic drops of this glow creator and be the ever-coveted glow queen.
21. Nykaa Insta Blur Color Corrector Stick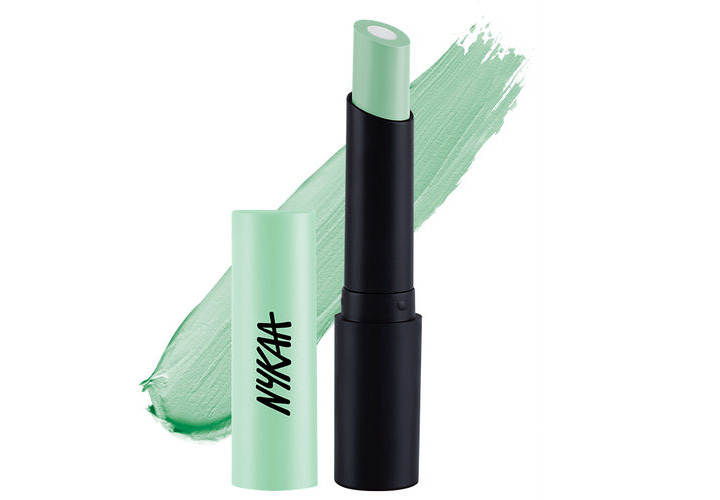 Courtesy of Brand
Shop Now!
With this colour corrector stick, let's get back to the basics of the colour wheel and cancel out all those skin discolourations while giving an intense dose of nourishment with camellia flower and pomegranate seed extracts.
A tiny amount on problem areas camouflages each and every skin imperfection. The rich creamy texture gels really well with foundation and concealer and other products settle well on top of it.
Pros

Blurrs acne, pigmentation, and dark spots.
Pomegranate seed oil is replete with vitamin C and works on dryness.
Camellia flowers extract hydrate skin and reduce fine lines.
Five shades fix all sorts of discoloration.
Aptly pigmented.
Creamy formula stays crease proof.
Vegan product.
Paraben, SLS, cruelty free.

Cons
Let's face it. A flawless base is unachievable without a corrector stick. So set your base right with this corrector stick and get a professionally done look.
22. Nykaa Naturals Hair Oil Range: Nykaa Naturals Amla and Curry Leaves Hair Oil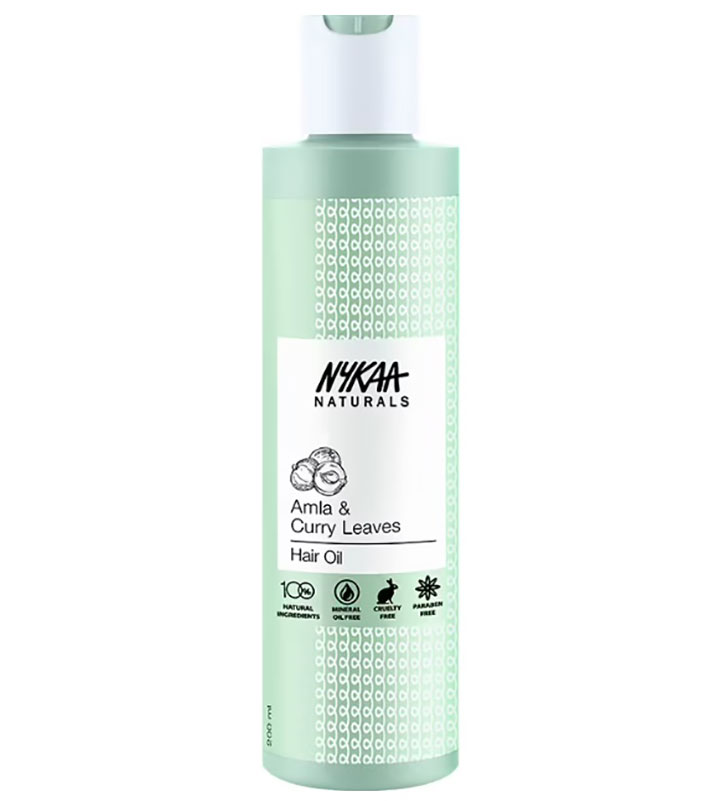 Courtesy of Brand
Shop Now!
I never believed that Nykaa can launch an all natural haircare product ever. But, the brand has shaken my belief system entirely. The brand has launched an all natural harsh chemical free range of hair oils.
As of now, there are are three hair oils i.e. Nykaa Naturals Onion & Fenugreek Hair Growth Hair Oil, Nykaa Naturals Apple Cider Vinegar & Ginger Anti-Dandruff Hair Oil, and Nykaa Naturals Amla and Curry Leaves Hair Oil.
I have used all the three. But, this particular variant with Amla and Curry leaves has grabbed my attention the most.
This oil is not only rich in Amla (source of Vitamin C) and Curry leaves (prevents hair thinning), but is also rich in  Castor Oil, Black Tea Extract (promotes hair growth), Coconut Oil, Jojoba Oil, Amla Oil, Curry Leaves, Herbal Oil Extracts of Brahmi Oil (promotes hair growth), Gudhal/Hibiscus Oil (promotes strong and dandruff free fair), Bhringraj Oil (promotes hair growth), Carrot Seed Oil (conditions deeply and repairs split ends), Lemongrass Oil (prevents scalp infection), Peach Extract Oil (protects hair shaft from the harsh environment and also controls frizz), Aloe Vera (conditions hair), Fenugreek Extract (conditions hair and helps in hair regrowth), Flaxseed Oil (stimulates new hair), Vitamin E, Preservative Oil Blend of Clary Sage and Grapeseed Oil, etc.
Pros

No additive like colour or fragrance has been added
Blend of beneficial oils and herb extracts.
Easy to apply texture
Control hair fall with prolonged application
Blend of carrier oils and essential oils act as the preservative; no harmful synthetic preservatives have been used as per the brand label

Cons

The brand says that the shelf life is 3 years. But, keeing in mind that there is no synthetic preservative used (as per the brand) , it would be best to use it within 6 months of opening the packaging.
As a whole, the entire range is beneficial. In case, you want to check out the full review, here is the link.
23. Nykaa Wanderlust Body Scrub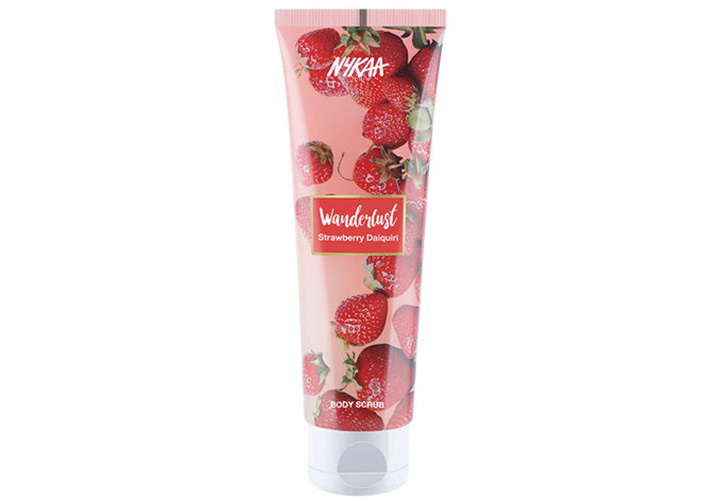 Courtesy of Brand
Shop Now!
Ever wished for a product that rejuvenates your skin and rev up your mood simultaneously? Well, you are in luck because Nykaa has launched the exotic range of body scrub in seven scintillating variants.
So kiss dead skin and uneven skin tone goodbye with this mildly perfumed body scrub range.  A scrub which is gentle and loving, it buffs away all the dirt and dead cells and dials up the ethereal glow.
Now, mesmerizing fragrances are the cherry on the cake.
Pros

Slough off all the dead skin and reveal fresh softer skin.
Hypnotizing fragrance.
Purely vegan.
SLS, paraben and cruelty free.
Aloe Vera and jojoba seed oil deeply penetrate and nourish the skin.
Seven exotic variants.

Cons
The next wave of hydration is here. Nykaa has tried to replicate the vibes of exotic places in the fragrances to bring back the sweet memories of your vacation while providing ultimate hydration.
Just slough off all the deep-seated grime and be the best version of yourself.
24. Nykaa Love Struck Perfume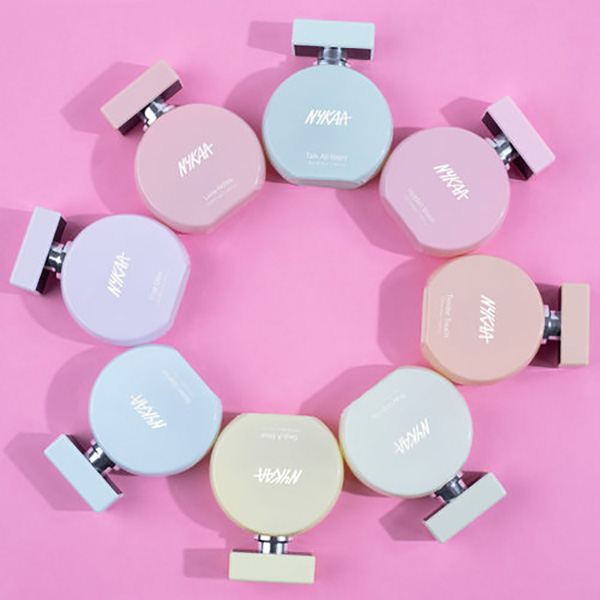 Courtesy of Brand
Shop Now!
Get ready for a surreal experience. Obtaining a fragrance that suits you is like a thousand wishes come true. These Nykaa fragrances are as good as the first-ever love.
All the notes of this fragrance emit the opulence that will remind you of every delicate feeling of those magical moments. So wear your fave black gown, spritz this fragrance, smell like a meadow and leave the rest on the ambience.
Pros

The divine fragrance is to die for
Fragrance swirl around for a long time.
Enticing packaging.
Enchanting collection of eight fragrances.

Cons
Wear this accessory when love is in the air. There is nothing more uplifting than a fragrance for the senses and soul.
A single whiff will take you on a sensorial journey. Wear this fragrance every time you want to be remembered.
25. Nykaa Brow On Point! Micro Fine Eyebrow Pencil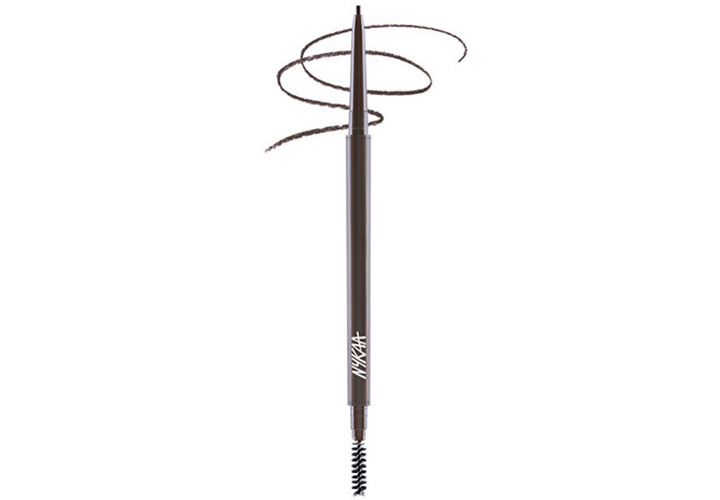 Courtesy of Brand
Shop Now!
Thinking about eyebrows? Think about this pencil. It boasts a precision tip for extra refined twin sister eyebrows.
The amazingly pigmented texture hugs your eyebrow hair and exudes a natural brow shape while nurturing them with argan oil and vitamin E.
Built-in spoolie tame even the bushiest brows and blends the colour to give you a natural finish.
Pros

Precision tip to carve pristine perfect arches.
Enriched with vitamin E and argan oil.
Built in spoolie to enhance the natural shape of brows.
Paraben and cruelty free.
Dermatologically tested.

Cons
Does it get any better than this? Try your hands on it and keep your brows on point.
Need some confidence? Go for makeup.
Wanna perk up your mood? Go for makeup. Feeling low? Go for makeup. Does any festive look ever complete without makeup? No for me at least.
Whether you want to make a bold statement or keep the tone down, a versatile range of beauty products on Nykaa is always there for you to amp up any and every look.
Nykaa has become synonymous with online shopping of cosmetics and has surpassed many big brands in the beauty vertical. The best thing about beauty products on Nykaa is that they have something for every skin type and skin tone in all categories.
So break up with those synthetic cosmetics brands and sign up for the beauty products on Nykaa that care for you. Celebrate every day.
And, that's all for today! If you like reading this article, make sure to share it with your friends and family. Also, follow us on Instagram for more such interesting stuff. Take care; celebrate life.