The Best Rose Water in India Your Skin Needs to Soak In
Around 5 years back, I was introduced to the potent benefits of rose water. And since then, I have never stopped using it.
No matter how we use it, rose water never disappoints me. I have heard experts talking that all the skin benefits of rose water are yet to be explored.
In fact, this ancient tonic is not only beneficial to our skin, but it is also equally beneficial for our hair. It is one of the best Ayurvedic remedies that has only evolved with time.
These days, almost every other brand is penetrating the market with rose water. But, is every brand is trustable?
To make things easier, in this compilation, I have jotted down only those brands that bottle up the purest form of rose water.
Let's take a look at the best rose water in India that even people with sensitive skin can use.
4 Amazing Benefits of Rose Water for the Ultimate Glowing Skin
Before we proceed further, it is important to take a glimpse at some of the most amazing benefits you can extract from pure rosewater.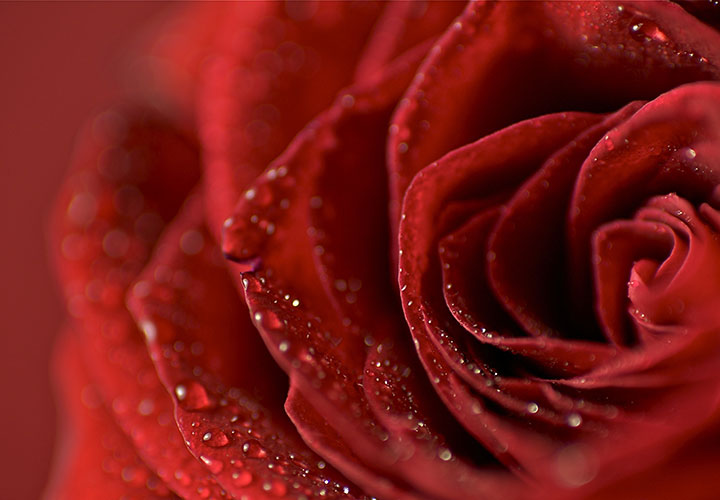 1. A Great Remedy for Skin Irritation
Rose water is pretty popular for its anti-inflammatory properties. This feature helps to treat different skin conditions. It also helps with skin irritations caused due to Eczema or rosacea.
2. Helps a Lot with Skin Redness
This ancient remedy also helps a lot to reduce skin redness. The antibacterial property in rose water is the best part.
3. An Amazing Skin Protectant
This floral water is a den of powerful antioxidants that help to protect skin cells.
4. Reverses Signs of Ageing
You have read it right! Rose water has immense anti-ageing properties. If applied for a long time, it helps to reduce signs of ageing like fine lines, wrinkles, etc.
Honestly, these features and properties are just glimpses of the picture. This floral water holds a treasure of benefits. Over time, more and more people have started knowing using rose water.
Not only it is beneficial for your skin, but also beneficial for your hair. In fact, rose water has found a place in foods too. So, are you excited enough to know the best brands that bottle up the purest rose water of all?
Is it Necessary to Buy Rose Water? Can't I Prepare at Home?
This is probably one of the most asked questions. Many people love to try out DIYs. And, making rose water at home is something often people try out.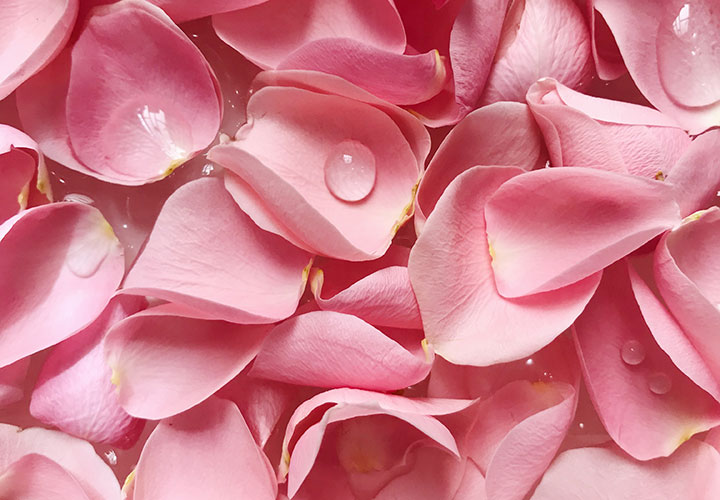 What they do is pretty simple! Take 30-40 rose petals in a bowl filled with hot water. Let the water soak in everything. And, strain the water. Voila! There goes your rose water.
But, wait a minute!!! Is it truly the right way to extract Pure Rose Water? Unfortunately, NO!!
Pure rose water can only be extracted using the steam distillation method. This method holds all the properties of rose. And, it ensures all the purity stays just right there.
So, the answer to your question is, if you know how to do steam distillation, you can definitely prepare rose water at home. Just make sure, the roses you use are organically produced and no harmful colours have been used.
But if you are not sure how to do it, simply buy one pure rose water for yourself. And, here is the ultimate compilation you need. 
9 Best Rose Water in India You Need to Try This Year
Well! In this compilation, I have tried to showcase such brands only that do not put any harmful chemicals like colours or fragrance in their rose water. And, also I have made sure that the rose waters are all 100% steam distilled.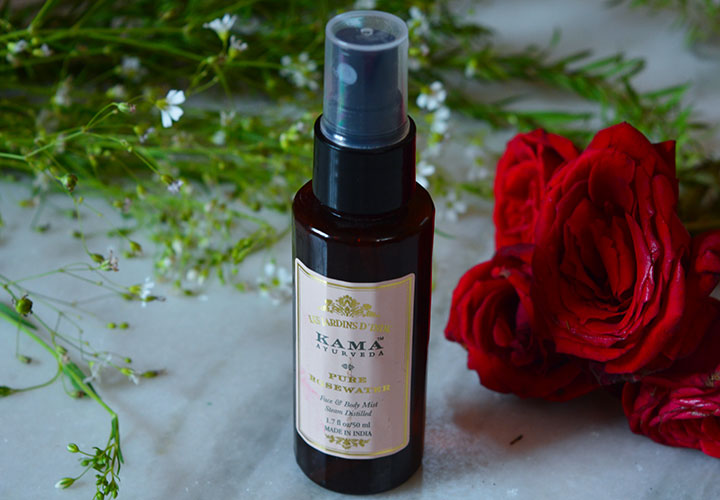 Shop Now!
I believe it would be a crime if I do not talk about Kama Ayurveda Pure Rose Water while listing the best rose water in India. This is one such product that I have used countless times. And every time, I have fallen for it afresh.
The pure soothing natural aroma is absolutely divine. This rose water is free from colour or synthetic fragrance or preservative.
The rose water makes my dry and sensitive skin rejuvenated and keeps it healthy. Honestly, except for the exorbitant price tag, I do not find any con in this product.
Interesting Fact

It takes around 5 kg roses to extract 1 liter of organic rose water
2. Juicy Chemistry Organic Bulgarian Rose Water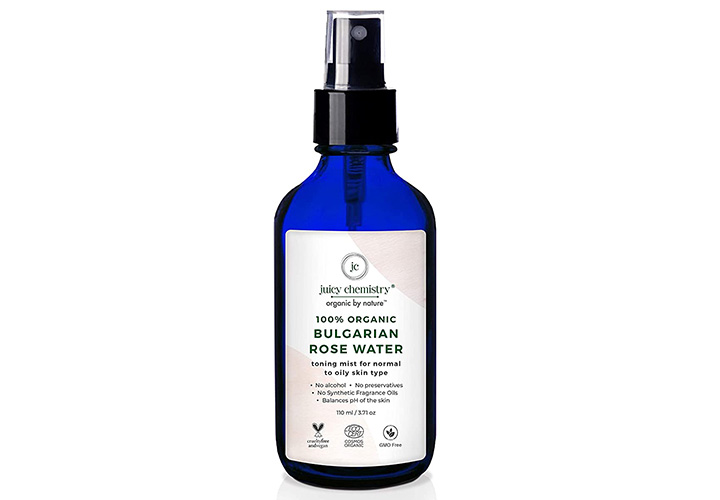 Courtesy of Brand
Shop Now!
This Damask rose water is one of the most amazing skin elixirs. Its pH balancing power and oil-controlling power are just mind-blowing.
The best part about this rose water is that people with any skin type can use it. It is enticingly hydrating and has immense revitalization ability.
There is hardly any con that I can point out.
If you are looking for such rose water that is not only pure in quality but also affordable, then Juicy Chemistry Bulgarian Rose Water is surely the best rose water in India.
3. Zofla Natural and Pure Rose Water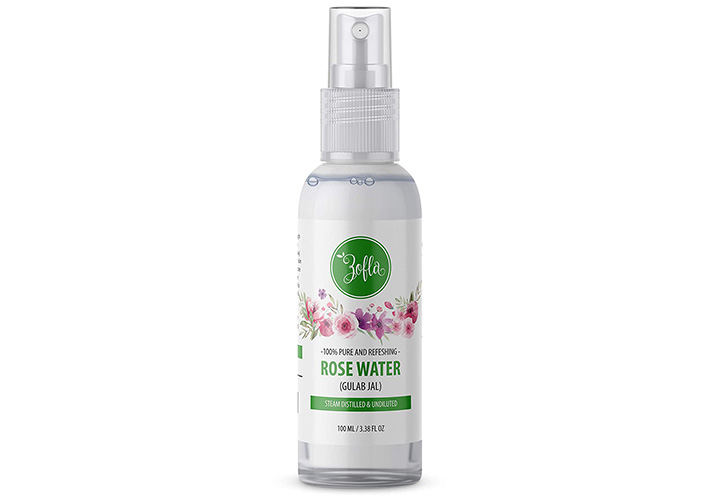 Courtesy of Brand
Shop Now!
Honestly, when I first discovered the product, I was quite taken aback. The price tag is indeed one of the top-notch factors of this product.
Well! At first, I was sceptical about the quality of the rose water as the price is quite low. But, after using this product, all my doubts got cleared.
This rose water not only refreshes my skin but also rejuvenates it. It is made with high-quality Kannauj roses with the help of an ancient steam distillation process.
Overall, every bit of this harsh chemical-free rose water deserves to be in the curation of the best rose water in India.
4. Deyga Rose Water Toner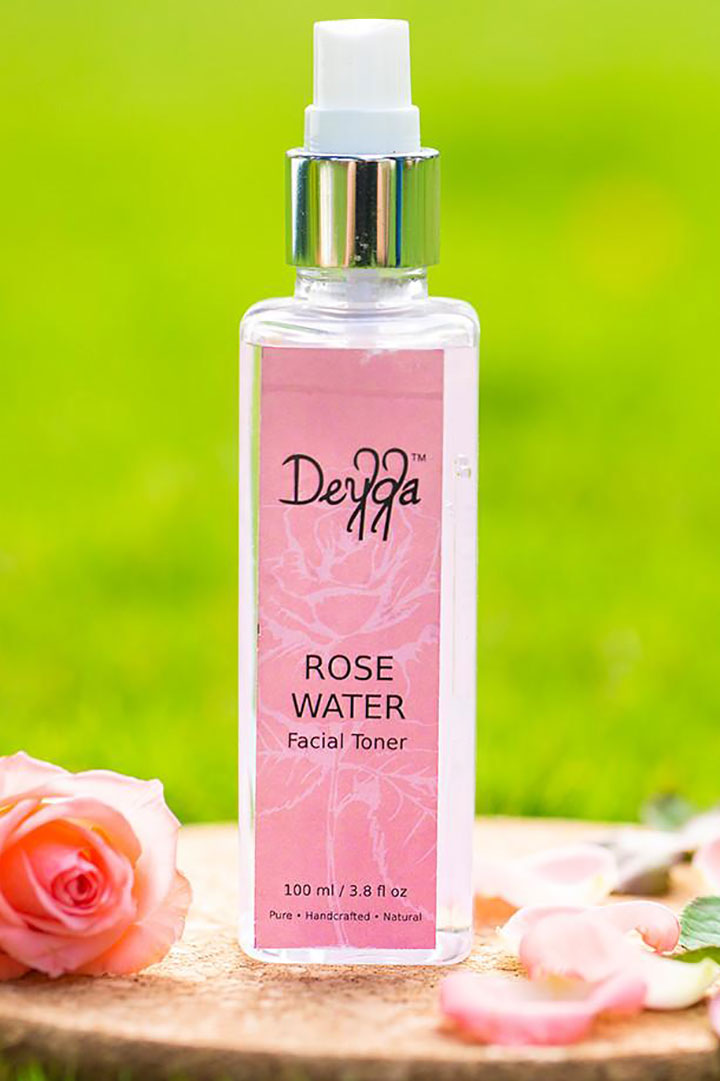 Courtesy of Brand
Shop Now!
Deyga is a new age brand that caters to handmade natural products minus the harsh chemicals. And, this rose water is no exception.
It is steam distilled that helps to rejuvenate and nourish the skin. The brand claims that regular application, it helps to tighten skin pores.
The nourishment this rose water provides is quite beautiful. Let your skin soak all the goodness from this best rose water in India.
5. Forest Essentials Facial Tonic Mist Pure Rosewater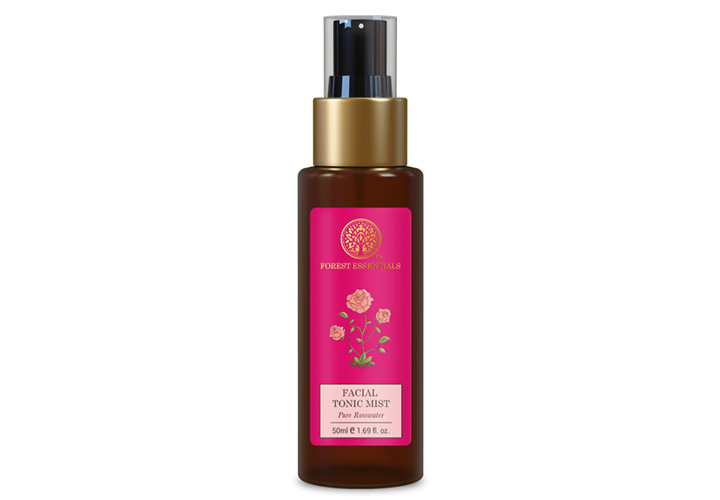 Courtesy of Brand
Shop Now!
Just like Kama Ayurveda, Forest Essentials is another luxury Ayurveda brand. And thus, the product price might seem a bit exorbitant but trust me, the quality is top-notch.
This elegant rose water gives a gentle boost to the skin by toning and rehydrating. Soft petals of Desi Gulab have been used in formulating this product.
This fragrant water is naturally aromatic and is devoid of any harmful chemicals
High-quality Kannauj roses have been used here that make the rose water more potent. Let your skin sip in all the goodness of the beautiful flower.
Altogether undoubtedly, this is one of the best rose water in India.
Forest Essentials has other variants of rose water too. Here is one such floral water I totally adored.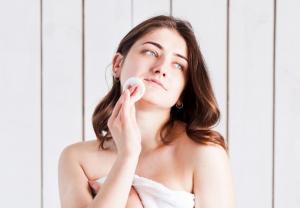 A proper CTM routine is enough to improve the skin. Check out a compilation of the best toner for face, oily skin, dry skin, acne prone, and sensitive skin in India for the ultimate glowing skin.
Read More
6. Vilvah Pure Rosewater Face Toner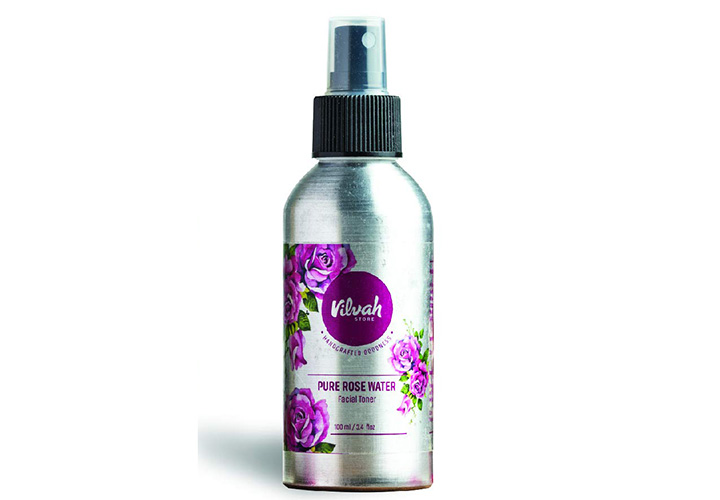 Courtesy of Brand
Shop Now!
In recent times, I am pretty absorbed into one brand and that is 'Vilvah' for sure. Their Rosehip Oil is one of the purest out there. They have tried to maintain the same level of purity in the rose water too.
This organic rose water is actually edible grade and extracted from the fresh rose petals.
It is free from additives and preservatives which make it more potent.
Overall, if you are looking for a calming solution for your skin problems, then nothing can beat Vilvah Rose Water.
7. Earth Rhythm 100% Certified Organic Damask Rose Water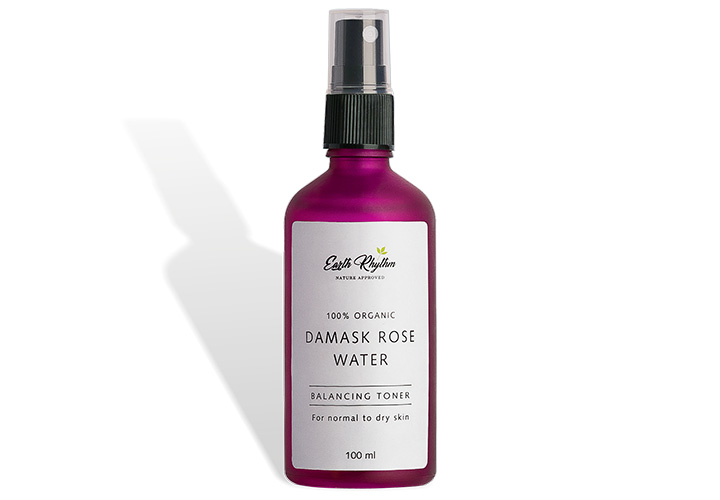 Courtesy of Brand
Shop Now!
Trust me! Just a spritz of this rose water is enough to make your day. Earth Rhythm is one such brand that has created quite an uproar in the cosmetics market with its all-natural organic products.
Their products are formulated with high-quality ingredients and do not contain harmful ingredients like colour or synthetic aroma.
This rose water is another name of purity too. It is 100% steam distilled and has a beautiful earthy aroma.
This pH-balanced formula helps to revitalise and rejuvenate skin like never before.
If you are ready to bear the price, then it is definitely one of the best rose water in India.
8. Nature's Tattva Pure Natural Rose Water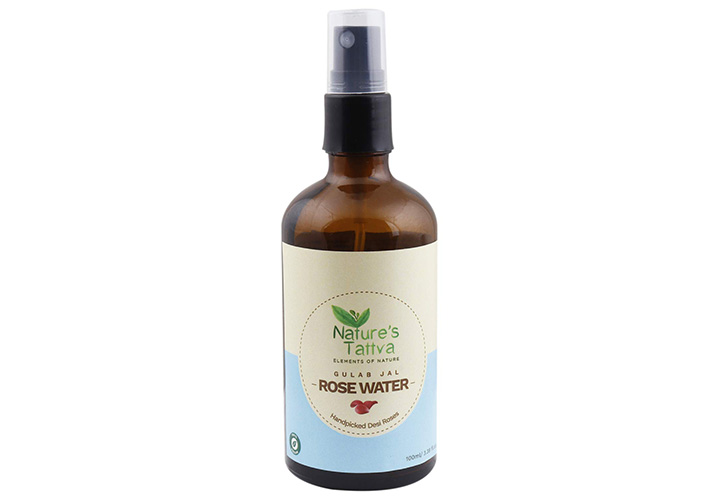 Courtesy of Brand
Shop Now!
Nature's Tattva might sound new but it is quite an old player in the Indian market.
The brand has catered a significant number of effective products and this rose water is indeed among those.
It is extracted from handpicked high-quality roses. The rose water is free from fragrance and other harmful additives.
If you are looking for affordable rose water, then this is indeed the best in the market.
9. Blend It Raw Rose Hydrosol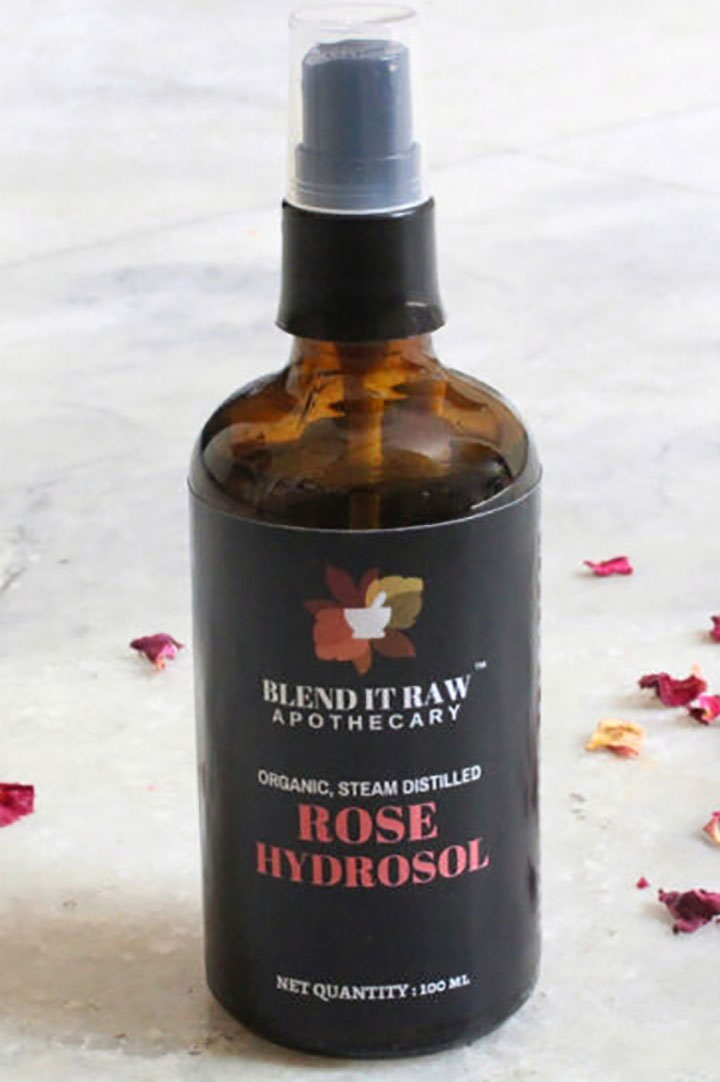 Courtesy of Brand
Shop Now!
I came across the brand while looking for some herbs. Blend It Raw Apothecary is one of the best homegrown brands where you can find out all types of fresh DIY materials (carrier oils, herbs, essential oils, clays, etc.)
The brand also sells 100% pure rose hydrosols. This elixir is extracted from thousands of Pahadi Desi Gulab (Indian Mountain Roses).
No matter what the season is, you can always apply this amazing floral water. Soothe your sensitive skin with this nourishing spritz of water.
And last but not the least, this rose hydrosol can also work amazingly as an eye mist. The cool touch of the water can keep your tiring eye area hydrated and rejuvenated.
Recent Update
Yesterday I received an email from Plum Goodness that the brand has launched a Rose Water Toner. And, right you are! I immediately flew towards their website to check the ingredients.
Well! The ingredient is a blend of herbs and preservatives. The ingredients seem pretty basic. I, somehow felt that Plum has formulated something unique. Overall, the product seemed doable as a toner but definitely not as rose water.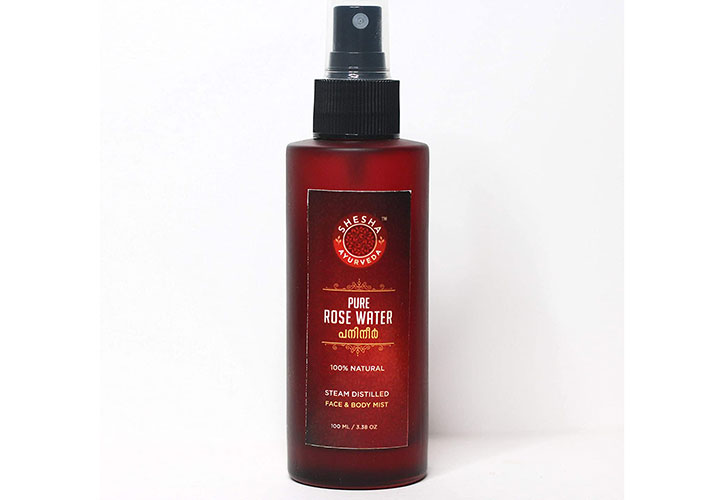 On the other hand, I came across a brand named Shesha Ayurveda. The brand formulates pure 100% steam-distilled rose water. Shesha Ayurveda Pure Rose Water is one of their most popular products.
I would love to call it one of the best and pure rose water in India.
Tips to Buy the Purest Rose Water aka Gulab Jal
Make sure the rose water does not look pink or reddish

. In fact, it would look exactly like water i.e. colourless.
Always try to

purchase the steam-distilled

rose water. Make sure the label says it clearly. The best rose waters are manufactured and processed in this way.
Often, you would find that rose oil is mixed with rose hydrosol. But, it is better to buy pure rose water without any additives. Rose Oil is quite expensive and thus, the quality of the rose oil you would find in regular rosewater sounds dubious.
Pure rose water does not have any distinct strong rosey fragrance. The fragrance is always pretty mild.
Make sure, no preservative is added to the rose water. And also, it has a short shelf life.
Last but not the least, carefully read the label of the product. Do not go for brands that mention only Key Ingredients.
And, that's all for today! I hope you find this article helpful. Don't forget to share it with your friends and family. Also, follow us on Instagram for more interesting stuff. Take care; see you soon.