The Earthen Charm Peethi Ubtan Powder: Bridal Skin Treatment
Since ancient times, ubtan powder has been used as the best skin care treatment. It is not only the ultimate component for glowing skin but also aids in achieving a healthy skin profile.
My association with Ubtan powder is pretty old. Usually, I prepare a basic ubtan powder with Gram flour or Besan, Orange peel, and Turmeric. And, I must say that these beauty ingredients never disappoint me.
But, it is pretty time consuming to prepare the ubtan especially by someone who is a busy bee. We need a readymade solution.
Very recently, I have come across a brand name The Earthen Charm. They have some amazing organic skincare products. So, I decided to give their Peethi Ubtan Powder a try.
After trying it out for over a month now, I am totally ready to share my genuine experience. Let's hop inside!
Basic Details about The Earthen Charm Peethi Ubtan Powder
Price: INR 399 for 50g
Shelf Life: 6 months
Buy From: Official Website
About the Brand 'The Earthen Charm'
The brand started its journey with Pariddhi from her home. This home-grown brand is all about traditional Indian ingredients.
The brand believes in purity. And thus, all of their skincare and haircare products are made with active ingredients sourced directly from the lap of nature.
The products are all nature-friendly, vegan, cruelty-free, chemical-free, and preservative-free. No additives are there. All the formulations are plant-based and the simplest ever.
What does the Brand Claim about The Earthen Charm Peethi Ubtan Powder?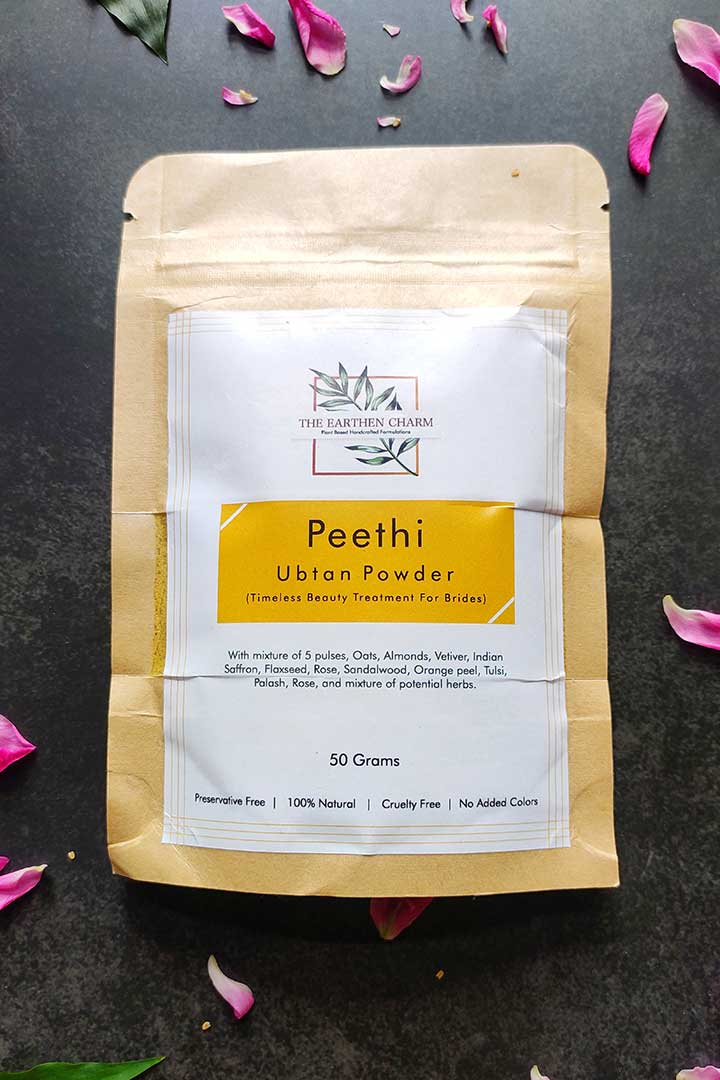 According to Ayurveda, ubtan is a timeless bridal skincare treatment for both face and body. It helps to detoxify both of our skin and the body. The fine granules in the ubtan powder help to exfoliate the dead skin cells and promotes healthy & glowing skin forever.
It is also an amazing way to treat suntan and blemishes. Regular application of this ubtan also aids in the reduction of unwanted hair growth. So, get ready to say 'goodbye' to your fine ageing lines with an ancient Ayurvedic formula.
Ingredients of The Earthen Charm Peethi Ubtan Powder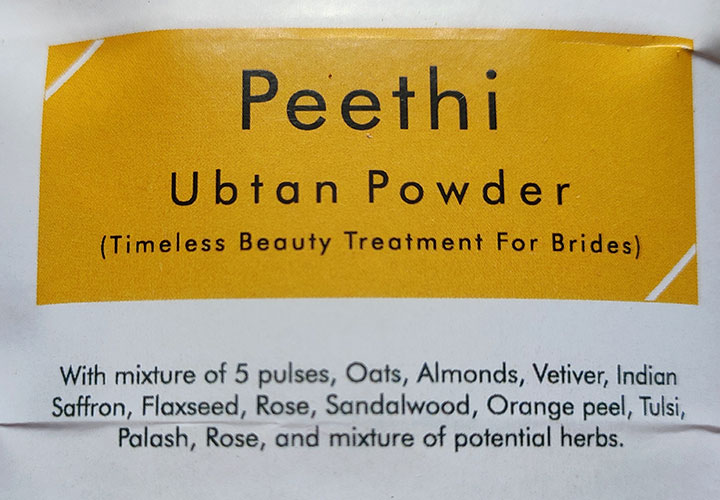 Well! Ingredients are the secret key that makes the ubtan powder unmatchable. I must say that the brand has done an amazing job in formulating this ubtan powder.
As you can see, it contains not only the base ingredients like Gram Flour, Lentil, or Beans but also ingredients like Oats, Vetiver, Saffron, Rose, Sandalwood, Orange Peel, Tulsi or Indian Basil, etc.
All these ingredients provide a subtle glow to the skin. Skin looks soft and healthy.
I must say that all of these herbs, pulses, and the other ingredients make this ubtan powder one of the best out there. But, is it equally effective? Well! It's time to talk about my experience and a few other details.
Packaging
It comes in a pretty basic pouch packaging. So, you can pour it in a container or keep it safe in the pouch too as it is air-tight. All the details including the application method have been mentioned on the label. Overall, the packaging is indeed pretty simple yet effective.
Colour, Aroma, and Texture
The powder is yellow in colour and resembled turmeric. The rose petals and buds make the ubtan more attractive.
The aroma reminds me of a unique blend of turmeric and rose. Simply, it is beautiful and calm! I love how refreshing the aroma is. It instantly makes me feel calm and purified.
My Experience with The Earthen Charm Peethi Ubtan Powder
Ubtan is not something that you would like to apply every other day. Rather, I would recommend it to apply always a few weeks before a special occasion or festival for the ultimate glow.
Usually, I mix my ubtan with pure rose water or curd.  This ubtan works amazingly with various floral waters as well. According to the brand, here are the mediums that make the powder more effective.
For ALL Skin types, mix the ubtan with plain curd, floral waters, and green tea or other floral teas

People with oily skin, blend the ubtan with Apple Cider Vinegar or with Lemon Water concoction in 1:4 ratio.

For skin that are ageing and require extra moisture, mix this powder with pure honey.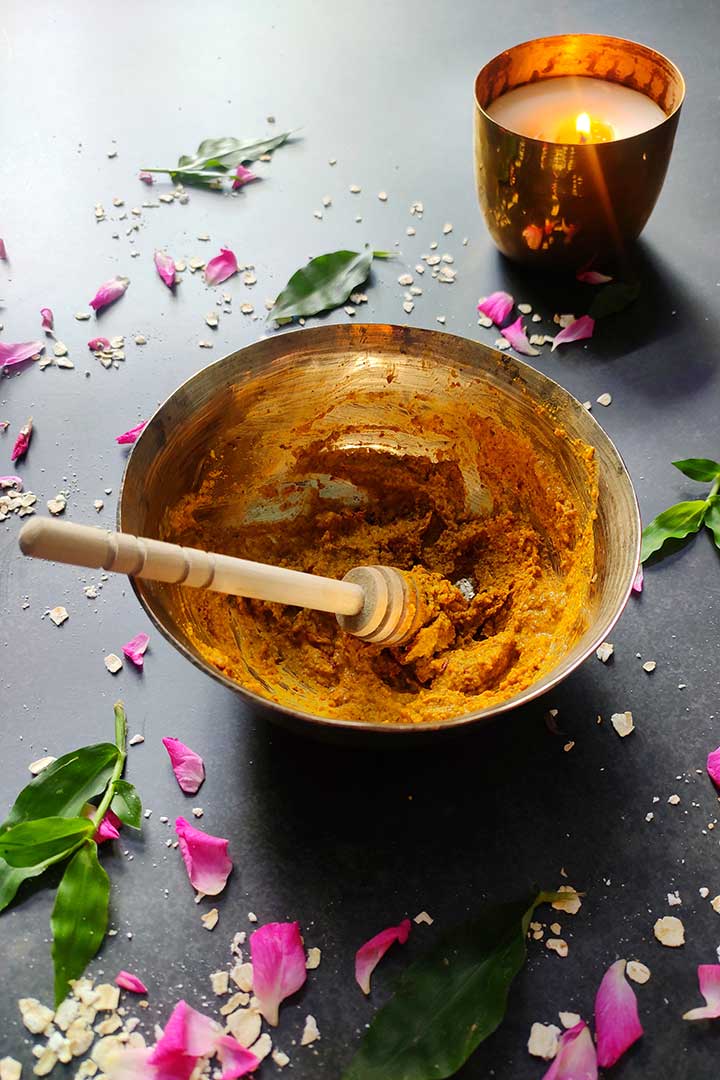 How to Apply The Earthen Charm Ubtan Powder?
There are various ways to apply ubtan. Here are the steps I follow for the optimum result.
First of all, wash your face with a chemical free face wash.
Pat it dry
Apply the paste as a face mask on your face and also on your body
Let it dry for at least 20 minutes
But, make sure to not let the mask completely dry
Wash off with lukewarm or normal water
Am I Happy with The Earthen Charm Peethi Ubtan Powder? 
After applying this powder mixture for the past couple of weeks, here are the things I have observed. I must say that I am pretty happy with the results.
Easy to apply
Beautiful aroma
Blend of potent herbs, pulses, and other ingredients
Suitable for All skin types
Makes skin soft and glowing instantly
Does not sting or irritate even in case of the most sensitive skin
Hydrating formula
Travel-friendly packaging
What are the Cons of The Earthen Charm Peethi Ubtan Powder?
Well! Honestly, I fell in love with each and every part of this ubtan powder. There is hardly anything that I can complain about.
As someone who is an ardent reader of the ingredients of cosmetics, it would be more amazing if the brand mentions the names of all the 5 pulses and the herbs in all their pouches.
And, that's all for today! I hope you like reading this review article. Do not forget to share it with your friends and family if you like it. Also, do not forget to follow us on Instagram for exciting update and posts.