One Week With Earth Rhythm Hibiscus Rose Cleansing Buff
To date, I have used a couple of Earth Rhythm products. Among all those, I liked the Bar Conditioner the most. Well! The best thing is that the brand is all about equality. And, there is no specific beauty standard that they follow.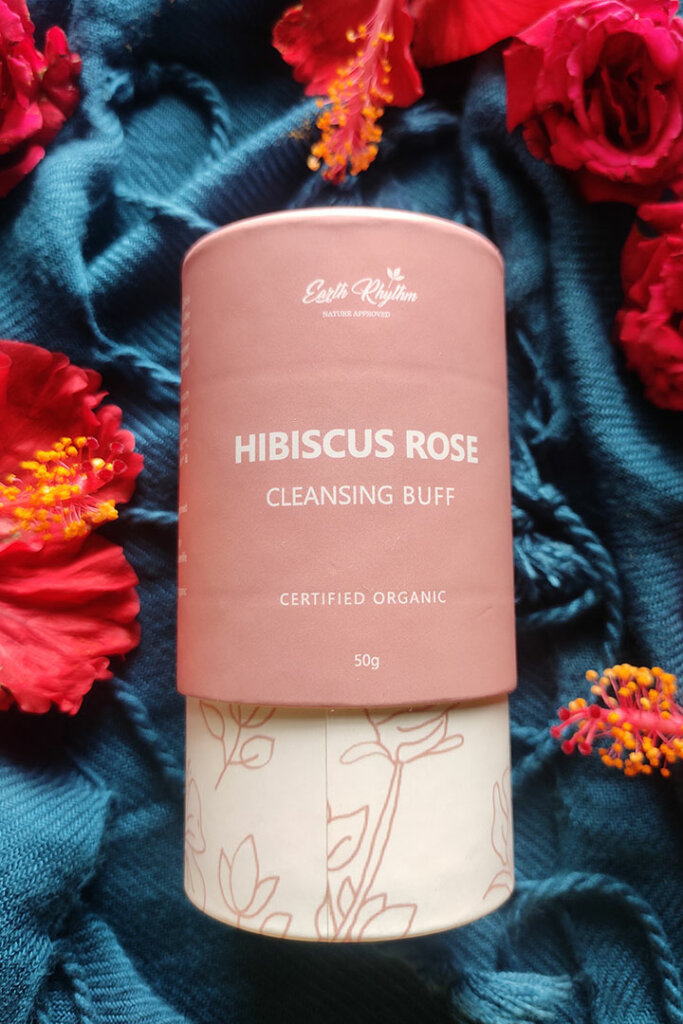 Two weeks back while looking for some interesting product, I came across this face cleanser. It's been a long since I stopped buying products on the basis of packaging. But, I won't lie to you; the packaging got me. I found it amazing.
In fact, I did not check out the details any further. I naively thought that the product is a stick cleanser. Now, whenever I think of that, it gives me a good gag. Long story short, I ordered it immediately.
The product arrived on time. It's basically a powder cleanser with no preservative. It's been more than a week now that I am using Earth Rhythm Hibiscus Rose Cleansing Buff. Is it something unique? Is it worth giving a try? Well! Let's talk about it in detail.
Basic Details about Earth Rhythm Hibiscus Rose Cleansing Buff
Price: INR 549 for 50g
Shelf Life: 12 months
Buy From: Amazon
Ingredient Analysis of Earth Rhythm Hibiscus Rose Cleansing Buff
Most of the Earth Rhythm products come up with simple ingredients and simple formulations. This cleanser is not an exception too. As you can see, it has only 7 ingredients. And, none of the components is hard to recognize.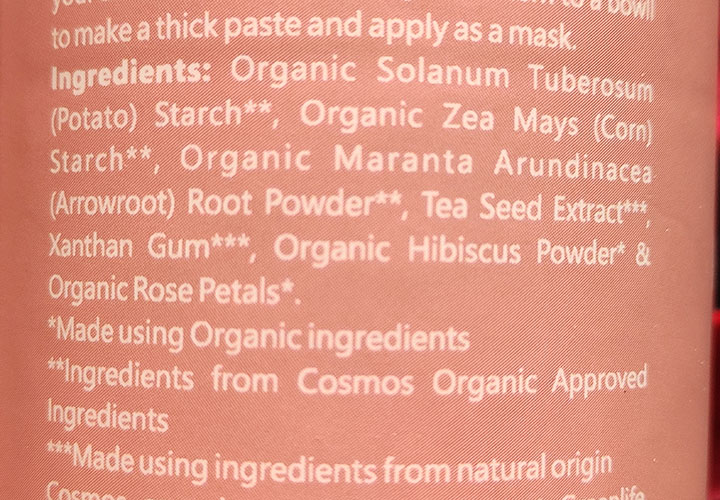 I believe that most of you already know the benefits of the ingredients. Just for a recap, let me analyze the components at first. And, then I would explain what I felt.
1. Organic Solanum Tuberosum (Potato) Starch**
Potato starch helps to lighten the sunburn and other pigmentation marks. It is great for healing dry skin.
2. Organic Zea Mays (Corn) Starch**
An amazing ingredient for acne-prone skin. It helps to clear clogged pores and works as an absorbent.
3. Organic Maranta Arundinacea (Arrowroot) Root Powder**
Enriched with vitamins and minerals, arrowroot powder is pretty beneficial for skin irritations.
4. Tea Seed Extract***
Tea seed extract helps to smooth out skin and also helps to reduce redness & inflammations.
5. Xanthan Gum***
It is a safe thickener that also functions as a stabilizer. Xanthan gum is a widely used component in cosmetics and food items.
6. Organic Hibiscus Powder*
Hibiscus is an all-rounder when it comes to healing ageing and irritated skin. It helps to purify skin and also helps to control acne.
7. Organic Rose Petals*
It would be a crime to tell the benefits of rose powder in brief. For now, it would be right to state that rose petals are natural exfoliants and also work as a natural cleanser.
What did I feel about the Ingredients?
Honestly, the ingredients could not surprise me at all. It's like meeting the regular ingredients of any DIY cleanser. At such a steep price tag, any customer would definitely expect something amazing.
The ingredients are clean and sourced organically, which are absolutely amazing. But as a whole, I cannot give the ingredients of Earth Rhythm Hibiscus Rose Cleansing Buff a rating of more than 3 out of 5.
*Made using Organic ingredients 
**Ingredients from Cosmos Organic Approved Ingredients
***Made using ingredients from natural origin
Cosmos organic certified by Ecocert Greenlife according to COSMOS standard.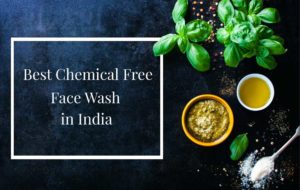 Check out the list of top 11 sulfate free, chemical free, artificial fragrance free, and Paraben free face wash in India.
Read More
Packaging, Aroma, and Texture
It comes in hard paper packaging that is 100% recyclable and reusable. The brand has provided a tin lid in the inner section as well to protect the powder from pollutants. Indeed, a brilliant job is done by the brand in terms of packaging.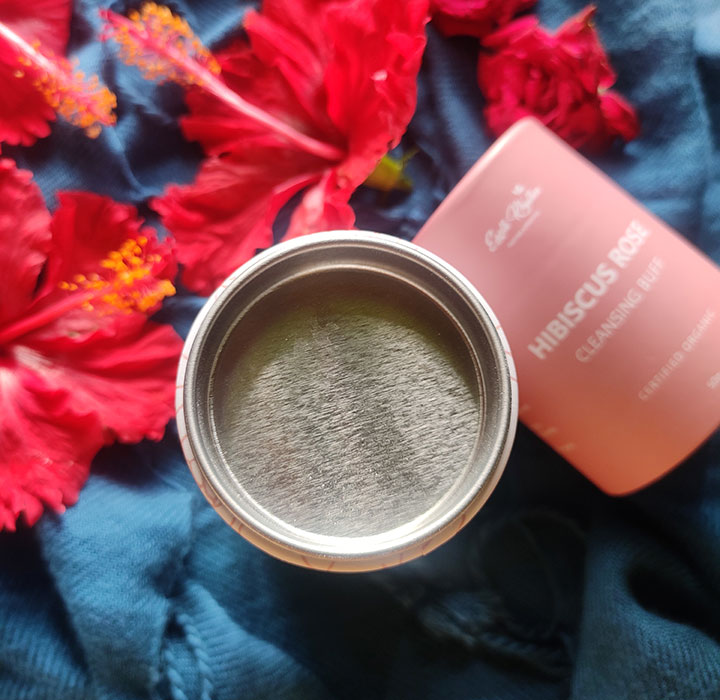 It has no significant aroma at all. Sometimes, I feel it seems a bit starchy. I wish I could smell the fresh aroma of the organic rose petals used here. But, it has got nothing.
The cleanser is a fine powder that gets easily dissolved within water or hydrosol. It has a red tint due to the hibiscus and rose petals.
How to Use Earth Rhythm Cleansing Buff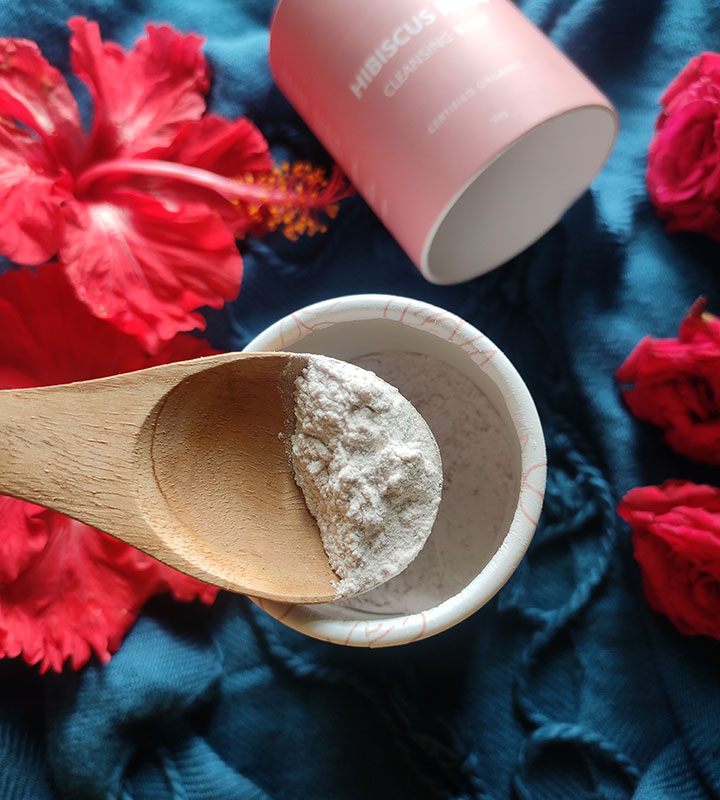 Take a sufficient amount of the cleansing buff on your palm.
You can water/ Hydrosol/Pure Aloe Vera Gel/Curd.
If you are using anything other than water or hydrosol, then it can easily work as an exfoliator or a face mask.
My Experience with Earth Rhythm Hibiscus Cleansing Buff
In this one week, I have used this cleansing at least 8 times. I have mainly used it as a cleanser/exfoliant; not as a face mask. Here are a few things that I have observed during all these times.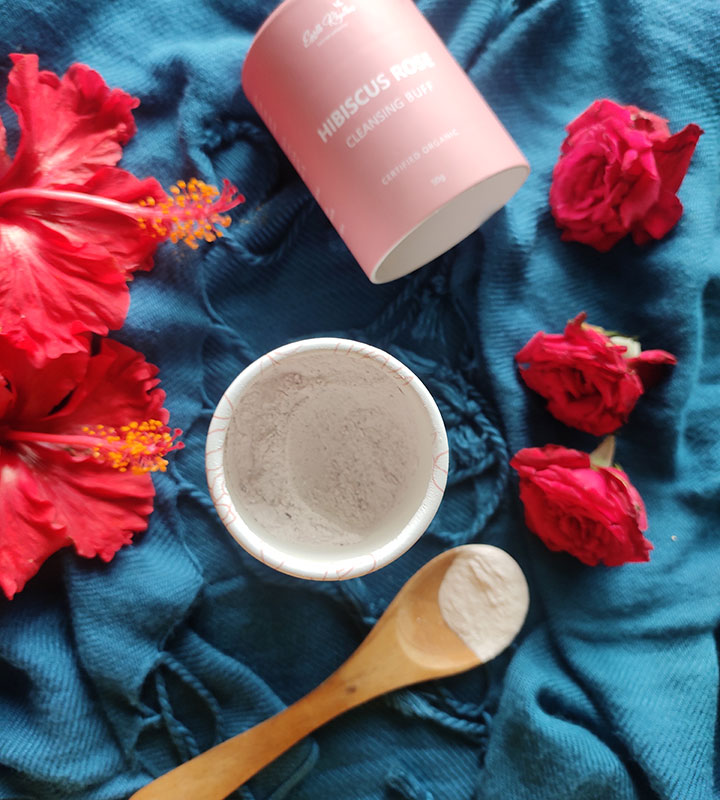 The cleanser does not lather. It just looks like a creamy paste that one can easily apply.
As an exfoliant, it is not satisfactory at all. I have severely dry skin, but this cleansing buff could not help me much to get rid of the dead skin cells problem.
It cleanses well. I would say the feeling is quite squeaky.
Skin feels quite dry post-cleanup. The formula is not hydrating at all. The brand claims that it is a moisturizing formulation. But, I could not feel any such thing.
The brand also claims that it makes your skin bright and glowy. Well! After a long and tiring day, forget about a special face wash, even just a splash of water makes any skin brighter. So, I cannot comment specifically regarding that claim.