Hello my beautiful ladies! Welcome to Cosmetics Arena. So, today it is time to review a sheet mask and that is Mond'Sub Anti-Wrinkle and Moisturizing Collagen Facial Mask.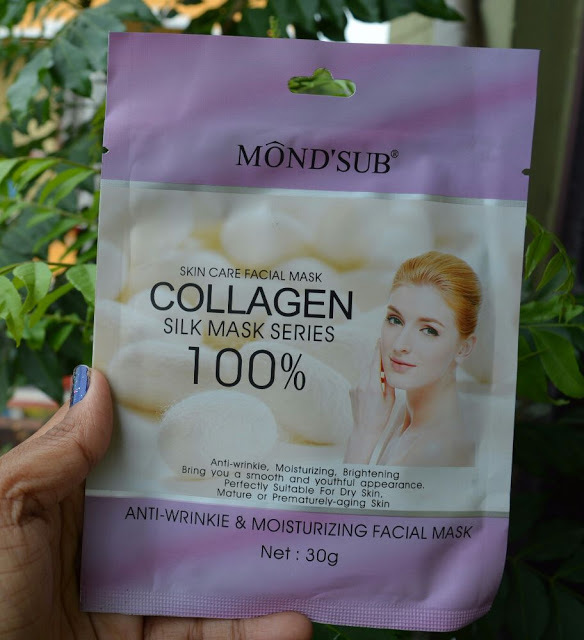 Sheet masks have become very popular lately. But honestly, I have not tried them yet. So, this is the first time I would be trying a mask. And I am very excited just like you. Without wasting any time further, let me just start the review instead :)).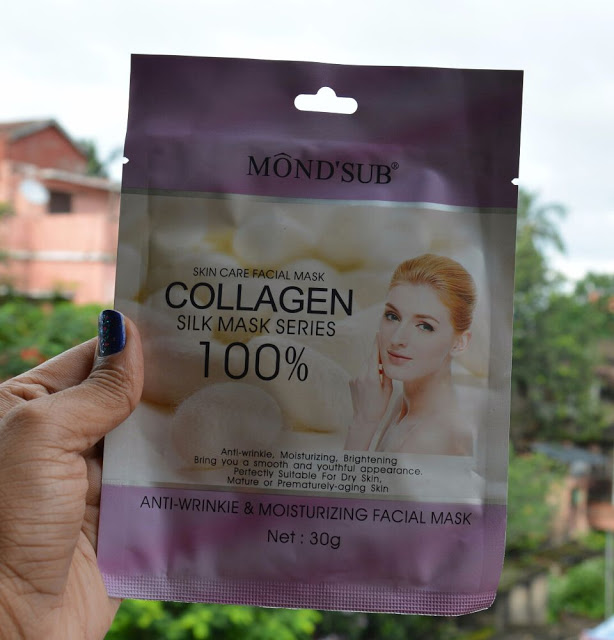 Price: INR 250 per 30g sheet mask.

Shelf Life: 2 years.
Product Description and Ingredients: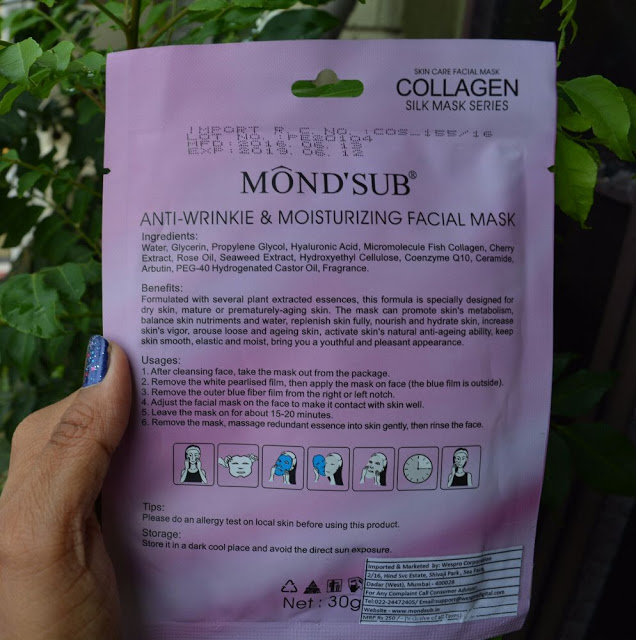 The first two ingredients are water and Glycerine. Glycerine is an excellent humectant that attracts moisture and also is a natural emollient. 
Propylene Glycol is an organic alcohol that is used as skin conditioning agent. 
Hyaluronic acid: I felt extremely happy to see this one in the ingredient list. This component has a stunning capacity to hold ample amount of moisture for a long time. If used for longer duration, it can replenish damaged skin. 
Micromolecule Fish Collagen: This was completely a new component for me. Fish collagen is the best of its type in skin supplement. It consists of small peptide molecules which is easily absorbed. Collagen is responsible for skin elasticity and strength. 
Next three ingredients are Cherry extract, Rose oil and Seaweed extract. Rose oil is something rare to be used in a sheet mask. It is an excellent remedy for acne. Seaweed extracts is said to be an anti-aging component which also provides hydration to the skin.
Hydroxyethyle Cellulose: It is a modified cellulose which acts as a binder or thickening agent. 
Coenzyme Q10: An amazing antioxidant.
Ceramide: Believed to be an excellent anti-aging ingredient.
Arbutin: Great anti-oxidant.
PEG-40 Hydrogenated Castor oil and Fragrance both are used as fragrance ingredient. 
So as you saw, overall the ingredient list is quite impressive. A separate 4.5/5 rating for this.
My Experience with Mond'Sub Anti-Wrinkle and Moisturizing Collagen Facial Mask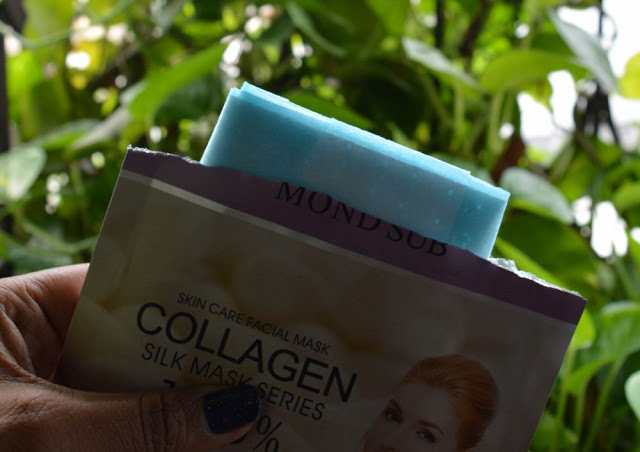 The mask comes between a white film and a blue film. I noticed that all the instructions were written clearly. So, a novice like me also would not face any trouble while applying. 

The mask is very thin. And now allow me to present the ghost from Friday the 13th :P.
It has a very strong fragrance which did not impress me much. 

This mask is specially meant for dry and matured skin. Mine is dry and sensitive skin. So, that made me quite happy. The sheet is loaded with a lot of serum. Skin feels extremely hydrated afterward. I did not just throw away the mask, instead happily applied it on my neck.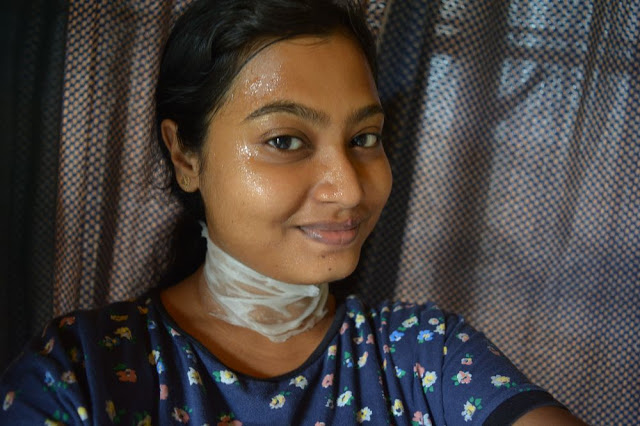 After wash off, I saw an instant glow which is lovely. 
Overall, I thoroughly enjoyed the session. I would be happy to buy more such sheet masks. 
***CA IMPRESSION:4.8/5***
Mond'Sub Anti-Wrinkle and Moisturizing Collagen Facial Mask is definitely a must try. This unisex sheet mask is filled with Fish Collagen and definitely nourishes our skin. Try this out my angels. You would surely love this one.
This is all for today's review. I hope it helps you. Love you all. Take care. Join me on my Instagram account. I frequently upload reviews and pics there as well. Let us celebrate womanhood together.
Thank you for reading. Have you used any collagen-based product? Please share your experiences here. Love you all.
**PR product sent by Test n Review in association with Mond'Sub India. I am thankful to them. But all the opinions are unbiased.