Just Herbs Silksplash Rehydrant Face Wash Review with Ingredient Analysis
A few weeks back, after returning from the office in the evening, I felt an apathy to use the regular face wash. My tired mind was looking for something fresh.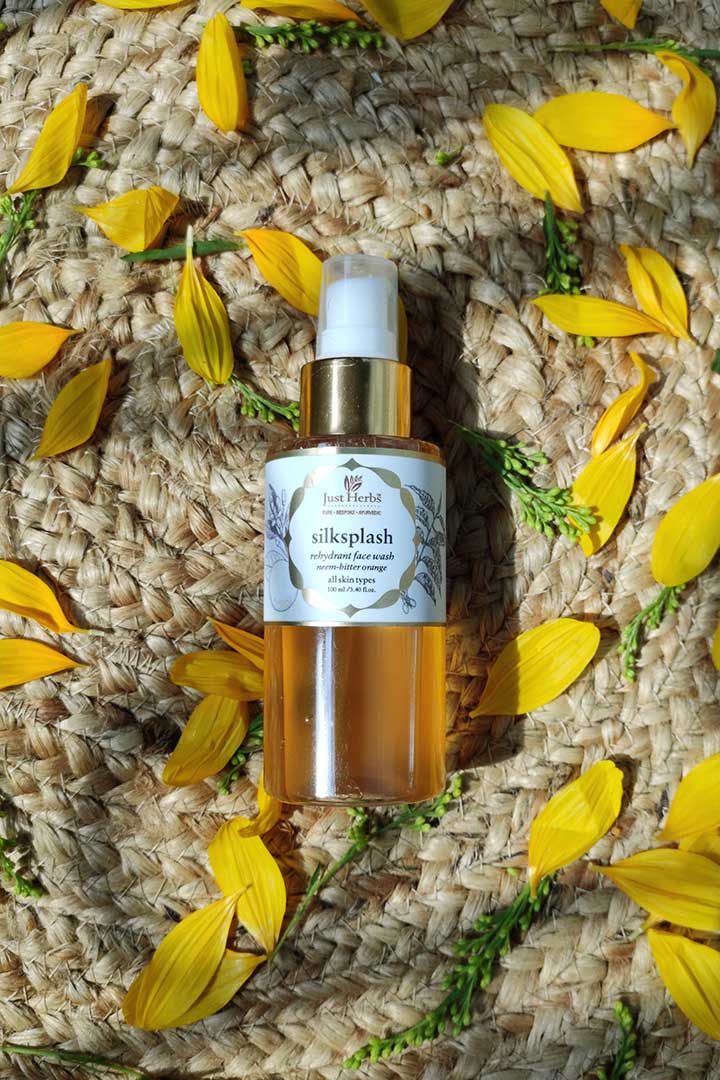 If you had been reading my articles for a time now, then you might know that I have always listed Just Herbs Silksplash Rehydrant Face Wash as one of the best face wash for all skin types. Well! Undoubtedly, the formulation is quite good.
So, I bought it without a second thought. It's been already more than two weeks now that I am using it twice a day. How is it? Is the formula truly relaxing for scorching hot days? Well! It's time to explore the answers.
Basic Details about Just Herbs Silksplash Rehydrant Face Wash 
Price: INR 495/825 for 100/200ml
Shelf Life: 3 years
Buy From: Amazon
What Does the Brand Claim about Just Herbs Silksplash Neem-Orange Rehydrant Face Wash?
Get ready to dive into the goodness of neem and orange. Along with those herbs, this ayurvedic cleanser is also enriched with the goodness of Sandalwood, Aloe Vera, Calendula, and Honey. All the surfactants used in the formulation are mild yet effective.
It can easily take away all the dirt, grime, pollutants, and dullness making the skin look hydrated and bright naturally. Get a velvety smooth and soft skin like never before.
Ingredient Analysis of Just Herbs Silksplash Rehydrant Face Wash 
Honestly, the face wash neither has a luxurious packaging nor an amazing fragrance, all it has the brilliant ingredients.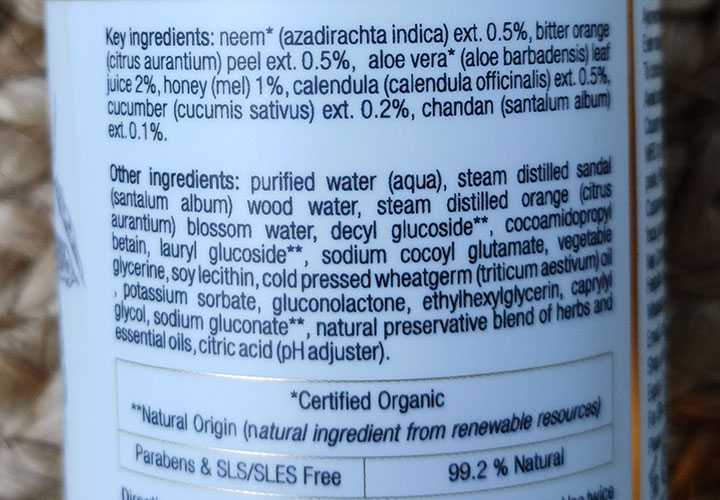 If you are someone who keeps using SLS/SLES and Paraben free products every now and then, you would definitely find out how easy to read the ingredients are.
Let's talk about how the actives and the inactive combinedly has made the formulation quite excellent.
1. Purified Water (Aqua)
The base for any liquid-based cosmetic like face wash, shampoo, conditioner, etc.
2. Steam Distilled Sandal (Santalum Album) Wood Water
It has amazing astringent property. This water also helps to brighten skin tone and improves the overall skin profile.
3. Steam Distilled Orange (Citrus Aurantium) Blossom Water
This water makes skin hydrated, improves collagen production, and also control excess oil secretion.
4. Decyl Glucoside
A mild, safe, and effective surfactant that cleanses quite well.
5. Cocamidopropyl Betaine
It is a moderately safe surfactant.
6. Lauryl Glucoside
Just like the Decyl Glucoside, it is another mild yet effective surfactant.
7. Sodium Cocoyl Glutamate
Sodium Cocoyl Glutamate is a safe surfactant with strong cleaning power.
8. Vegetable Glycerine
An excellent naturally found humectant that retains moisture.
9. Soy Lecithin
A natural solution to dry, dehydrated, and damaged skin. It functions like an emollient to keep skin smooth, hydrated, and soft.
10. Cold-Pressed Wheat Germ (Triticum Aestivum) Oil
Packed with a bundle of antioxidants, it helps to treat acne, itchiness, and scars.
11. Potassium Sorbate
A safe alternative to the widely used preservative Paraben.
12. Gluconolactone
It functions as a fragrance ingredient and also as a humectant.
13. Ethylhexylglycerin
A safe and weak preservative that also works as a skin conditioning agent.
14. Caprylyl Glycol
Another safe skin conditioning agent.
15. Sodium Gluconate
This component functions as a safe chelating agent that prevents the reactivity of the metal ions if any present in a formula.
16. Natural Preservative Blend Of Herbs And Essential Oils
It can be anything e.g. blend of Neem, Neem Oil, and Tea Tree Oil or a blend of Clove extracts and Lavender Oil.
17. Citric Acid
Basically, it works as a pH buffer.
Except for Cocamidopropyl Betaine, I could not find a single ingredient unwanted. All the components are perfectly placed in the formulation. The active ingredients are quite balanced and beneficial.
Altogether, it goes without saying that the ingredient list deserves a 4.9 out of 5 ratings entirely for the ingredient selection and formulation.
Packaging, Texture, and Aroma
The face wash comes in a usual bottle made of plastic. With every press, just the right amount of face wash comes out. All the details are written on the label. Indeed, the brand has done quite a great job.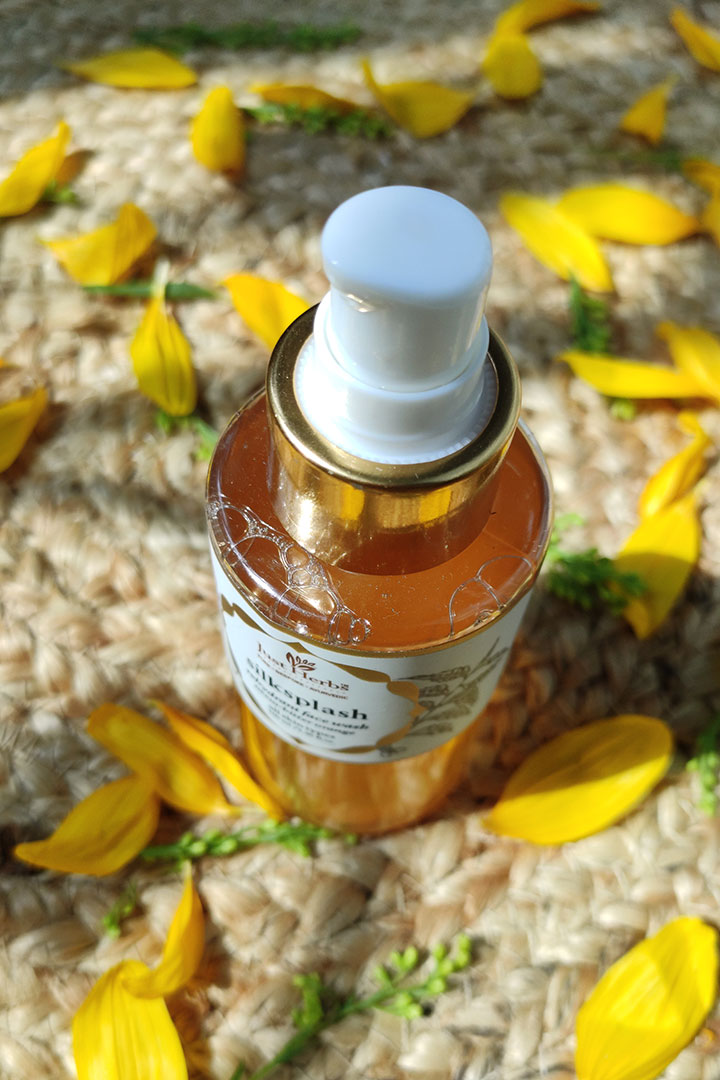 The texture of the product is neither too thick nor runny. It is somewhere between. Such texture always makes the application a bit easier.
And, last but not the least, the aroma is quite enchanting. Every time I splash it on my face, I can sense a hint of Sandalwood and Orange. Overall, the aroma is quite refreshing for summer, I must say.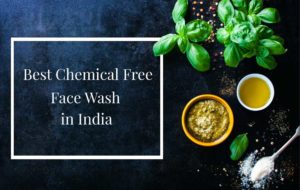 Check out the list of top 11 sulfate free, chemical free, artificial fragrance free, and Paraben free face wash in India.
Read More
Two Weeks with Just Herbs Silksplash Rehydrant Face Wash: My Experience
Well! It's been more than 2 weeks now that I am using this harmful chemical free face wash. I, usually, clean up my face twice a day. Here are the things I have observed during these two weeks.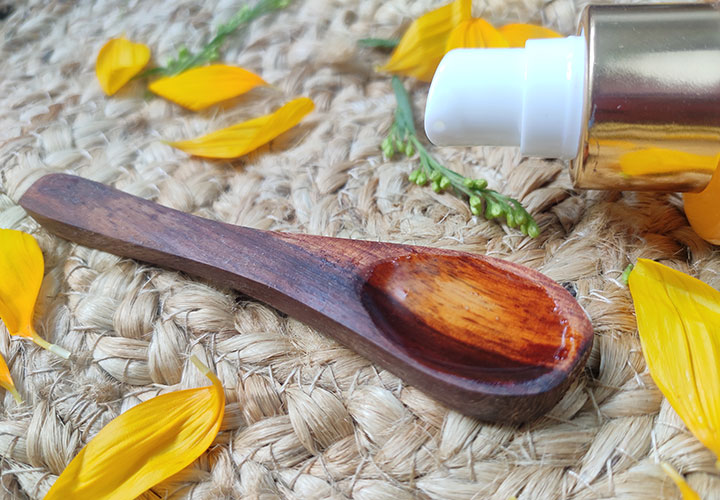 Skin feels squeaky clean but not stretchy after wash-off
The aroma is pleasant enough to take away all the tiredness
I have always felt my skin hydrated afterwards
In fact, the skin also looks a bit bright
My skin is super-sensitive; but, the face wash has never irritated my skin
One thing I must say, as the brand claims, this face wash is indeed perfect for all skin types even for the one with the most sensitive skin type.
Let's take a brief look at the pros and cons of this face wash.
Pros of Just Herbs Silksplash Rehydrant Face Wash
Enriched with the goodness of orange, sandalwood, neem, aloe vera, etc.
Mild, safe, and effective surfactants are used in the formulation
Strong cleaning power
Makes skin squeaky clean without making it stretchy
Does not irritate even the sensitive skin
Suitable for ALL Skin types
Skin looks a bit bright, soft, and smooth afterwards
A refreshing aroma that is perfect for summer
Cons of Just Herbs Silksplash Rehydrant Face Wash
And, thats' all! If you find this article helpful, make sure to share it with your friends and family. Take care; celebrate life.