Bhu Botanicals Face Scrub with Saffron, French Rose Clay, and Activated Charcoal
Recently when my face scrub went over, I started looking for such a face scrub that is clay based and also affordable. Honestly, it took me quite a of time to find out Bhu Botanicals French Rose Clay based Face Scrub. I won't lie that the ingredients played a major role behind me purchasing this scrub.
This is definitely the first product that I have been using from this brand Bhu Botanicals. Well! How worthy this face scrub was? I have gathered enough input to share my experience. Let's take a look.
Basic Information about Bhu Botanicals Face Scrub
Price: INR 445 for 50g
Shelf Life:
Buy From: Amazon, Bhu Botanicals Official Website
What Does the Brand Claim about Bhu Botanicals Skin Brightening Face Scrub with Saffron, French Rose Clay, and Activated Charcoal?
Who doesn't want glowing and bright skin? This face scrub is entirely natural and helps to remove dead cells effectively.
It is enriched with ingredients like French Rose Clay, Saffron, Activated Charcoal, Ginseng, Walnut, Liquorice, Vetiver, almond, etc. All of these ingredients are pretty effective in rejuvenating the skin.
French Rose Clay is sourced from France; it forms a beautiful base for the scrub. This brightening scrub treatment is enough to make your skin feel alive.Get ready for the ultimate glow!
Ingredient Analysis of Bhu Botanicals Face Scrub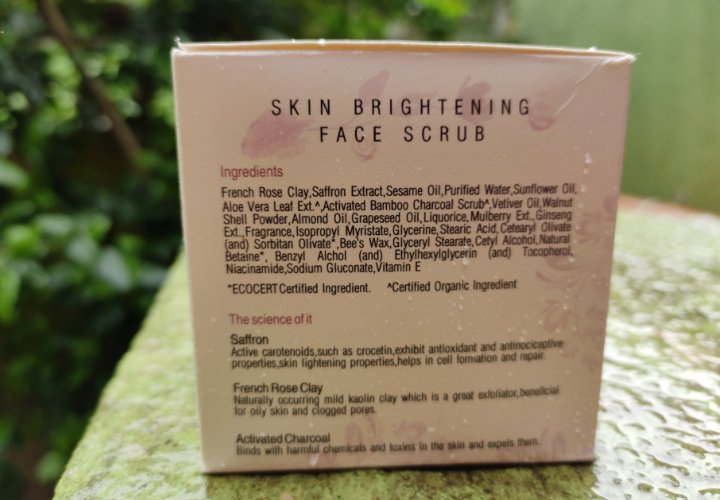 The ingredients are what make a cosmetic effective or waste. Not all formulation is made for everyone. On the other hand, some formulations are harmful for every skin type. But, without analysis, it is impossible to understand the nature of the product. 
When I found this product online, ingredients are what stroke the chord in my mind. And, I ordered it. There are loads of active goodness in this tiny tub. But, what else is there?
Just like every other review article on Cosmetics Arena, I have analyzed all the ingredients of Bhu Botanicals Skin Brightening Face Scrub here. Let's talk about those. 
1. French Rose Clay
Honestly, I was pretty happy to find the clay to be the first ingredient in the formula. This clay is an excellent exfoliator for all types of skin. 
French Rose Clay contains Kaolin Clay and Kaolinite. It is the perfect product for people with sensitive skin. 
2. Saffron Extract
Saffron is known to be the power house of antioxidants like Crocetin. It has strong anti inflammatory and skin lightening properties. 
The Potassium in Saffron helps to regenerate cells and repair damaged skin. 
3. Sesame Oil
This potent oil helps to reduce the skin's oxidative stress. It has high anti-inflammatory properties.
4. Purified Water
Forms the base for this liquid based scrub.
5. Sunflower
This oil is rich in Vitamin E and other fatty acids. It helps to tighten and moisturize skin.
6. Aloe Vera Extract
Aloe vera gel is a top choice for many cosmetic brands. There are countless products with Aloe vera. It has high anti inflammatory properties that help to treat acne.
7. Activated Bamboo Charcoal
It is the best naturally found cleanser of all. Activated charcoal helps to trap all types of toxins to the pores. It also prevents skin from premature ageing.
8. Vetiver Oil
An extremely aromatic oil that has strong anti inflammatory properties. Basically, it is a boon for dry and mature skin.
9. Walnut Shell Powder
There is no doubt that Walnut shell is one of the best naturally found exfoliators. It is rich in Omega 3 fatty acids, Metlatonin, antioxidants, etc. It protects the skin from dryness.
10. Almond Oil
One of the best Vitamin E enriched oils. It protects the skin from oxidative damage and also moisturizes the skin.
11. Grapeseed Oil
Phenolic components, Fatty Acids, etc. make this oil one of the best anti oxidants.
12. Liquorice
The active element in Liquorice helps to treat dark circles. In fact, it also helps to treat pigmentation.
13. Mulberry Extract
Mulberry is enriched with Vitamins, Minerals, Antioxidants, Flavonoids, etc. It helps to rejuvenate skin and fights the signs of ageing.
14. Ginseng Extract
One of the strongest anti ageing elements. It helps to balance the oil secretion and also treats wrinkles.
15. Fragrance
The only component that is not only unnecessary but can be harmful too. Especially, as the nature of the fragrance is not disclosed here.
16. Isopropyl Myristate
A safe skin conditioning agent that also works as a fragrance ingredient.
17. Glycerine
Natural humectant that retains moisture.
18. Stearic Acid
An ingredient that is used as both a fragrance agent and also as a cleansing agent.
19. Cetaryl Olivate and Sorbitan Olivate
Natural emulsifier derived from Olive Oil. This concoction has an excellent moisturizing effect.
20. Bee's Wax
Natural thickener and has excellent emulsifying properties.
21. Glyceryl Stearate
A safe emollient and akin conditioning agent.
22. Cetyl Alcohol
Widely used in cosmetics as an emollient. It softens the skin.
23. Natural Betaine
This naturally derived Betaine that helps to sty skin hydrated.
24. Benzyl alcohol (and) Ethylhexylglycerin (and) Tocopherol
It is a brilliant liquid cosmetic preservative. This preservative is broad spectrum and works against all types of bacteria, yeasts, and moulds.
25. Niacinamide
Anti-inflammatory properties of Niacinamide help to make skin acne and eczema free. It also makes the appearance of the pore size smaller.
26. Sodium Gluconate
An excellent alternative to the widely used Disodium EDTA. This chelating agent protects formulation from becoming colourless. And also, preserves the properties of the oils.
27. Vitamin E
Naturally found anti oxidant which soothes and moisturizes the skin.
And, that's all! Overall, the ingredients of this face scrub are perfectly placed. Moreover, all the active ingredients are used in an ample amount in the formula. Indeed, a good job has been done by the brand. At this price, this formula is incredible. And thus, I would rate the ingredients of this scrub 4.8 out of 5.
Packaging, Texture, and Aroma
Indeed the packaging looks luxurious. It is made of biodegradable glass. The plastic made cap has a beautiful wooden pattern printed on it. Surprisingly, the cap is biodegradable too. Brilliant job is done by the brand!
The texture is quite gritty. There are ample amount of walnut shells. And, all the shells are mixed with the clay perfectly. 
Honestly, the aroma is refreshing. But, that's all I can describe. It is not a perfumed product, so it would be wrong to expect an overwhelming aroma. Overall, it is soothing and relaxing.

My Experience with Bhu Botanicals Skin Brightening Face Scrub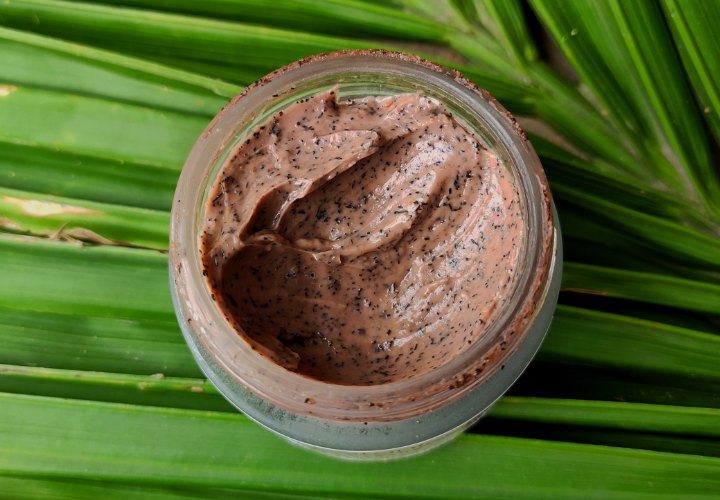 Usually, I exfoliate twice a week. And, this time there was no exception too. This face scrub is so gritty that a very small quantity is required.
I just take a pea-size product and massage lightly all over my wet face. After 30-45 seconds of massage, I wash off my face with cold water.
The most interesting part is, because of the clay texture, it can easily be used as an exfoliating face mask too.
Indeed my skin felt supple and smooth. Moreover, I did not feel stretchy or dehydrated.
Is this scrub brightening?
There is no doubt that exfoliation takes away all the dirt and dead cells. And thus, skin looks naturally bright.
But, I did not notice any extra brightening effect due to saffron. Well! If it is used for quite some time along with other skincare products. Then, extra brightness can be felt for sure.
Does Bhu Botanicals Face Scrub Irritate Skin?
Although, there are ample amounts of walnut shells, yet those particles do not irritate the skin. In fact, the formula is pretty soothing too. My dry and sensitive skin did not experience any rash or irritation.
Pros of Bhu Botanicals Face Scrub
Great formulation
Excellent choice of botanicals and inactive ingredients
Enough walnut shells to exfoliate
Small quantity is required for each wash
Cleans all the dead cells
Skin feels supple and smooth
Does not dry out the skin
No irritation or rashes experienced
Cons of Bhu Botanicals Face Scrub
Glass packaging is not much travel-safe
Unnecessary fragrance is added; moreover, the nature of the fragrance is not known too