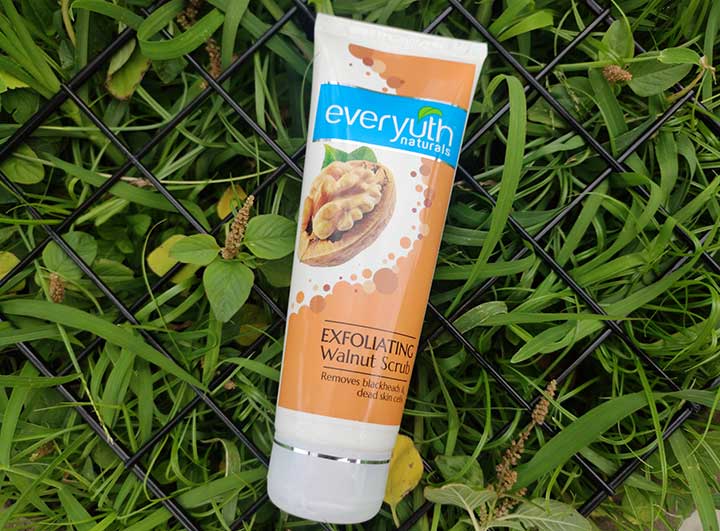 Everyuth Naturals Exfoliating Walnut Scrub
Walnut shell is pretty popular as a physical exfoliator. The coarse nature of the walnut particle does not feel harsh at all; in fact, it has strong exfoliating properties.
And by utilizing this impressive benefit, there are a number of cosmetic brands that have formulated walnut scrubs. But, Everyuth Naturals Exfoliating Walnut Scrub is the most popular among all those brands.
Everyuth Naturals is one of the most popular skincare brands in India. The brand has formulated a number of products to date. This Walnut Scrub is the most popular among all.
Well! This is not the first time that I am using this scrub. But somehow, I have missed reviewing it.
So, in this article, I am going to share my experience with Everyuth Naturals Exfoliating Walnut Scrub. Let's dive in.
Basic Information about Everyuth Naturals Exfoliating Walnut Scrub
Price: INR 70/130 for 50g/100g
Buy From: Amazon
What Does the Brand Claim about Everyuth Naturals Exfoliating Walnut Scrub?
Smooth skin is not a myth anymore. Get ready to scrub away all the dead skin cells, blackheads. This scrub is enriched with the goodness of Walnut shell and Vitamin E.
Glowing and velvety smooth skin is waiting for you.
Ingredient Analysis of Everyuth Naturals Scrub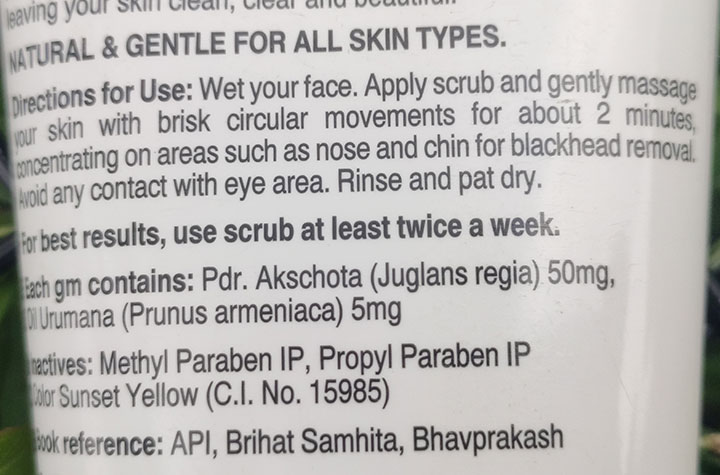 The ingredient plays a pretty important role in any review. We, at Cosmetics Arena, make sure that each review comes with a genuine ingredient analysis.
So, while analyzing the components of this scrub, I was taken aback. As you can see only a few ingredients are mentioned on the label.
Well! Sometimes, brands disclose the ingredients on their official website. But, I was disappointed once again. The brand has not revealed the full ingredient list anywhere. Umm, it was indeed a breach of trust.
Alas! In this case, we have to analyze the five ingredients only that are mentioned here. Let's talk about the feature components.
1. Pdr. Akschota or Walnut
Walnuts are full of Omega -3 Fatty Acids that help to lock the moisture onto the skin layers. It also helps to make the skin cells healthy and plumpy. Skin looks glowing.
2. Oil Urumana or Oil of Apricot
Apricot Oil is an amazing oil. It helps to soften skin and also improves the skin tone. The oil also helps to nourish the skin This fruit oil is enriched with Vitamin C and E.
This oil combo helps to reduce the fine ageing lines.
These two ingredients are the active ingredients in this walnut scrub. The rest of the three ingredients act as inactive in the formula.
3. Methyl Paraben and Propyl Paraben
Well! Indeed these two are quite infamous as preservatives. But, the positive factor is that at least the brand has not made any false claim by naming it 'Preservative Free.'
4. Colour Sunset Yellow
A moderately safe cosmetic colourant
This scrub has a specific fragrance too. I wish the brand had mentioned the name of the perfume in the list of inactive.
I believe, no matter how many harmful ingredients are used in a formula, every brand should come up with full ingredient analysis. It not only helps people to become aware of the results but also makes the brand more trustworthy.
Overall, I cannot rate the ingredients of this Paraben filled Walnut Scrub more than 2.5 out of 5.
Packaging, Texture, Colour, and Aroma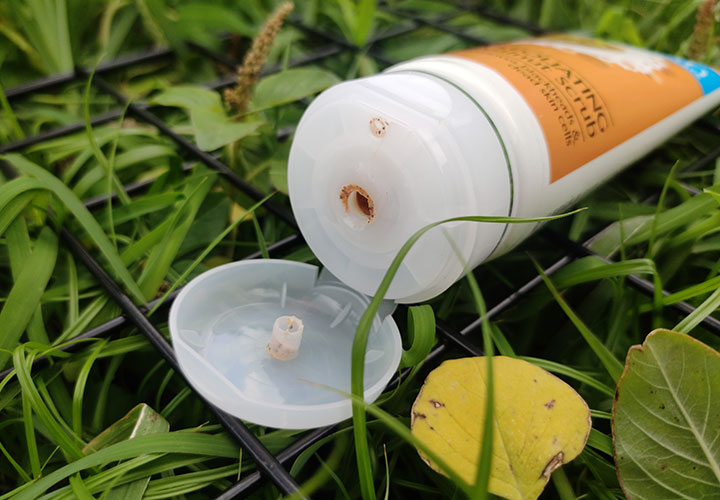 The scrub comes in a basic plastic tube with a flip flop cap. It is available in different sizes and thus, it is always travel-friendly.
The texture of this Walnut scrub is pretty creamy. Thus, it becomes easy to spread the scrub onto the skin.
Moreover, you would find plenty of walnut shells in the scrub which makes every dollop enough to exfoliate dead cells.
The colour lies in between off white and pale yellow.
It has a pretty decent aroma. This type of fragrance makes you feel good around the year. If you are someone who prefers fragrance in cosmetics, then this is just made for you.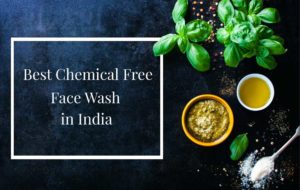 Check out the list of top 11 sulfate free, chemical free, artificial fragrance free, and Paraben free face wash in India.
Read More
My Experience with Everyuth Naturals Exfoliating Walnut Scrub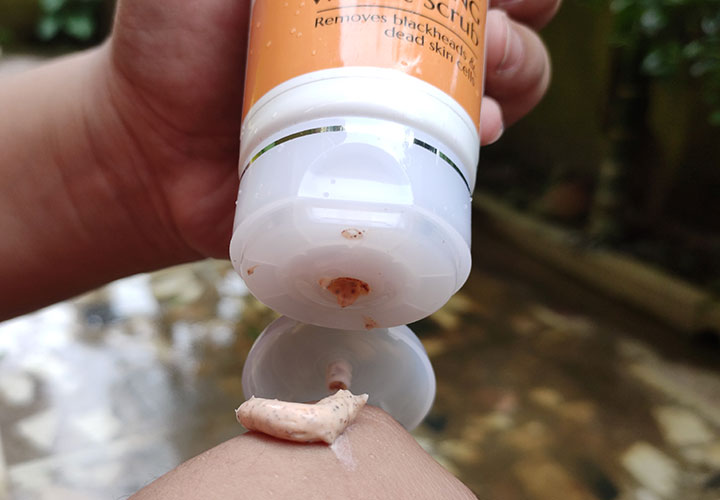 Not many scrubs are as affordable as Everyuth scrub is. And thus, it was my first choice during my student years. I always used to prefer creamy products for my dry and sensitive skin. So, it was a perfect product for me.
The best part about this walnut scrub is that it spreads pretty quickly. Just a pea-size amount of product is all you need to cover your entire face and neck. Everything is fine till this point.
The main problem occurs when I am about to wash off this product. The creamy lather is not easy to remove. A few more splash of water is required to entirely clean up properly.
Well! Everyuth Walnut Scrub definitely sheds off all the dead cells. But, it is not effective on blackheads. This is the interesting thing about blackheads. Just a good physical exfoliator is not enough to pull off all those nasty things. If you have blackheads, go for an effective chemical exfoliator.
Does Everyuth Naturals Exfoliating Walnut Scrub Irritate Skin?
I have quite sensitive skin. So usually, I do not prefer products with added-fragrance.
Fortunately, this walnut scrub did not cause me any breakouts or rashes.
Is it Suitable for All Skin Types as Per the Claim?
Skin feels quite hydrated when I wash off this scrub. No stretchy feeling at all.
Thus, I think it would suit more for people with Normal, Dry, and Combination skin types. Beauties with oily and acne-prone skin cannot rip benefits from this scrub.
Moreover, the scrub has ingredients that are not disclosed. So, I would not recommend it to people with skin disorders.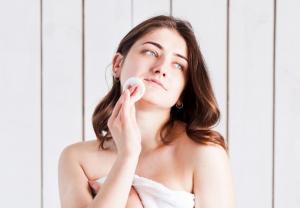 A proper CTM routine is enough to improve the skin. Check out a compilation of the best toner for face, oily skin, dry skin, acne prone, and sensitive skin in India for the ultimate glowing skin.
Read More
Pros of Everyuth Naturals Exfoliating Walnut Scrub
Affordable
Travel-friendly flip-flop packaging
Suitable for Normal, Dry, and Combination skin types
Filled with plenty of walnut shells
Creamy texture
Skin feels hydrated; does not feel stretchy at all
Works well on dead cells
Cons of Everyuth Naturals Exfoliating Walnut Scrub
Not easy to wash off
Not suitable for people with oily and acne-prone skin
Incomplete ingredient list
Would I Repurchase Everyuth Naturals Exfoliating Walnut Scrub?
Nope! As a blogger, I keep looking for new products. Moreover, have found a number of scrubs with better formulations. So, I would not repurchase this.