Re'equil Ultra Matte Dry Touch Sunscreen Gel SPF 50 Review with Ingredient Analysis
No matter how busy I am, no matter what the season is, I never step out of my home without applying sunscreen. For a long time, I have been using Neutrogena Ultra Sheer Dry Touch Sun Block with SPF 50 until recently.
Two months back, while decluttering my stash of cosmetics, I thought that it's been really long now and I must try something else. So, I started looking for a good brand.
Re'equil is a relatively new name in the market and I have never used any of their products. Re'equil products have become pretty popular within just a few years. And, requil sunscreen is one such popular product for sure.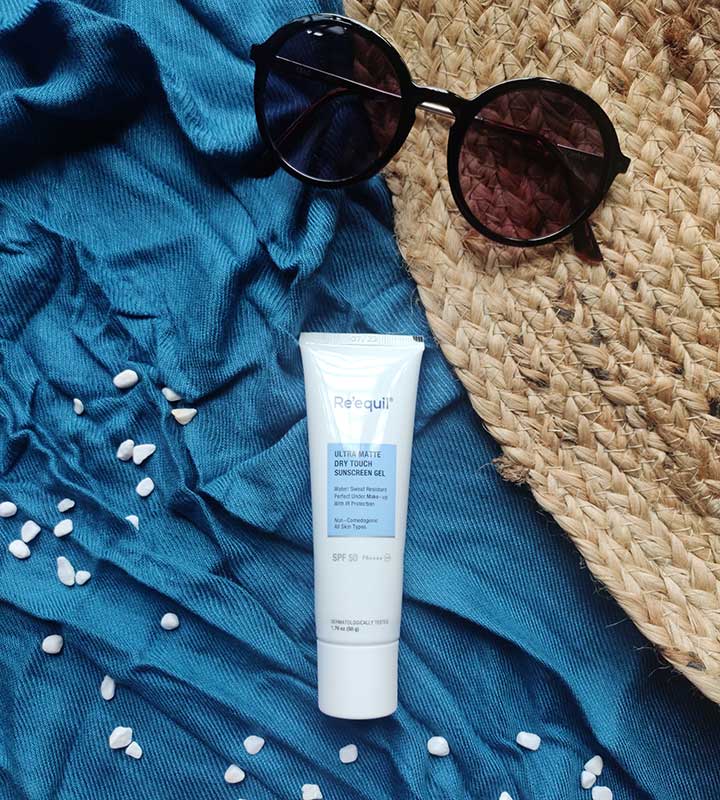 I ordered two products back to back; the sunscreen and hair conditioner. Well! It's been more than 30 days now that I am using both products.
So, how is the formulation of the gel-based sunscreen? What about the safety of the ingredients? Is it a value for money product? Well! It's time to answer all such questions.
Price and Other Details of Re'equil Ultra Matte Dry Touch Sunscreen Gel
Price: INR 695 for 50g
Shelf Life: 2 years
Buy From: Amazon
What does the Brand Claim about Re'equil Ultra Matte Dry Touch Sunscreen Gel SPF 50?
The sunscreen gel is formulated with the highest UVA protection and helps to protect from IR. There is no white cast and the skin feels velvety.
Low penetration and the protection of Oxybenzone along with Zinc Oxide (and Titanium Dioxide) are the main attributes of the product. It is formulated for all skin types including sensitive ones.
Water/ sweat resistant formulation that helps the sunscreen to stick to the skin even in the harshest and humid conditions. And, guess what! It is non-comedogenic too. What else do you need?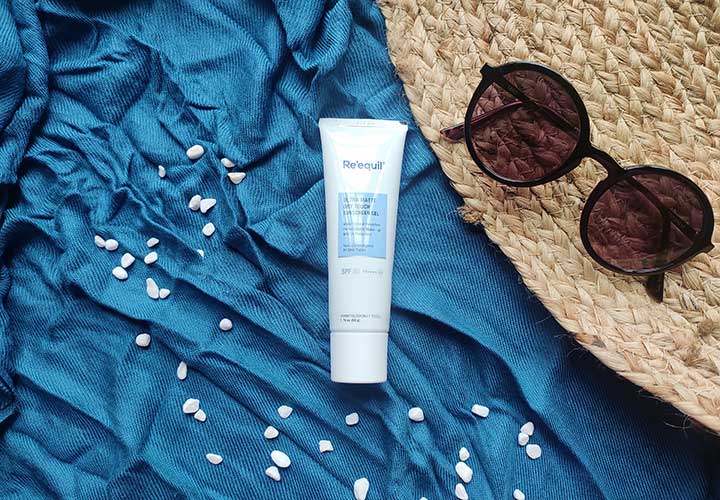 Ingredient Analysis of Re'equil Ultra Matte Dry Touch Sunscreen Gel SPF 50
As I keep saying that without ingredient analysis, reviews are incomplete.
Requil Sunscreen Gel has been formulated with some selected ingredients only.
Are the ingredients safe? Here is a brief analysis of the components to answer the question.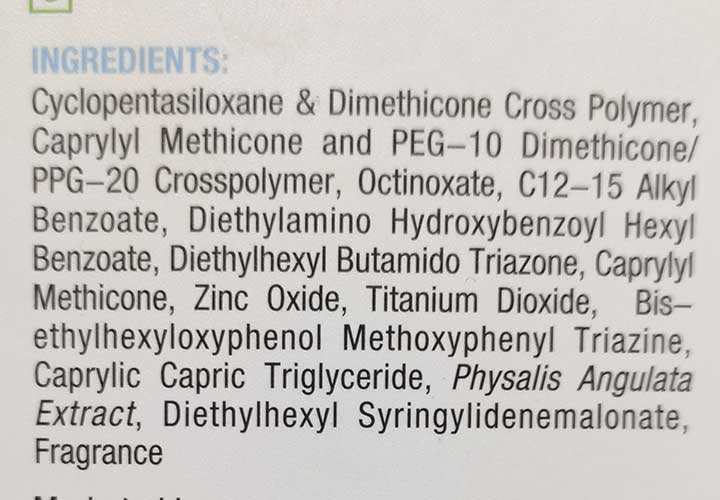 1. Cyclopentasiloxane and Dimethicone Crosspolymer
As the name suggests, it is a Silicone-based component that helps to give the formulation a gel-like texture.
The texture makes the product easy to formulate and blend with other components.
As per the Environmental Working Group aka EWG, it is a safe component.
2. Caprylyl Methicone and PEG-10 Dimethicone/ PPG-20 Crosspolymer
Just like the previous component, it is another elastomer that forms a gel-like texture. This component is widely used in sunscreens.
3. Octinoxate
A moderately safe sunscreen agent that is widely used in sunscreens. Well! As per EWG, it has a tendency to mimic hormones.
4. C12-15 Alkyl Benzoate
It is a safe component that works as a skin conditioning agent.
5. Diethylamino Hydroxybenzoyl Hexyl Benzoate
Wow, that's a world-class chemical sunscreen agent with high protection and high photostability factors.
It is pretty effective and can be used upto 10% on sunscreens.
6. Diethylhexyl Butamido Triazone
It is a safe UV ray absorber.
7. Caprylyl Methicone
A safe polymer that works as a skin conditioning agent.
8. Zinc Oxide
Well! Undoubtedly, Zinc Oxide is a popular sunscreen agent that also works like a colourant for its sheer white colour. As per EWG, it is moderately safe due to its low impact effect on non-reproductive organ.
9. Titanium Dioxide
Compared to Zinc oxide, this sunscreen agent has low skin penetration ability. It also works as a colourant.
10. Bis Ethylhexyloxyphenol Methoxyphenyl Triazine
Another organic compound that functions as a UV ray absorber.
It is an approved UV filter to be used in sunscreens.
11. Caprylic Capric Triglyceride
A safe skin conditioning agent.
12. Physalis Angulata Extract
It is pretty impressive to find Indian Gooseberry extract in the ingredient analysis.
Its calming effect is pretty beneficial for the skin. Also, it is loaded with antioxidants which are great for ageing skin.
13. Diethylhexyl Syringylidenemalonate
As per EWG, it is a safe skin protecting agent.
14. Fragrance
Umm, I think that Re'equil could have easily formulated the sunscreen without this component too.
It is a skin irritant if used in high quantities.
As a whole, there is one potentially risky ingredient. But, the risky ingredient is used in very low quantity here. So, it would be considered safe in this formulation particularly.
Overall, I would love to rate the ingredients of Re'equil Ultra Matte Dry Touch Sunscreen Gel 4.5 out of 5 for formulating a safe sunscreen formulation.
Texture and Aroma
The texture of Requil Sunscreen is quite unusual and remarkable at the same time. It spreads well within 10 seconds.
It is more like a thick creamy gel rather than a watery gel.
The aroma is synthetic but not overpowering at all.
My Experience with Re'equil Ultra Matte Dry Touch Sunscreen Gel with SPF 50
As I said, I never forget my sunscreen. So, in the past month, I have religiously applied this sunscreen every time while stepping out of the house.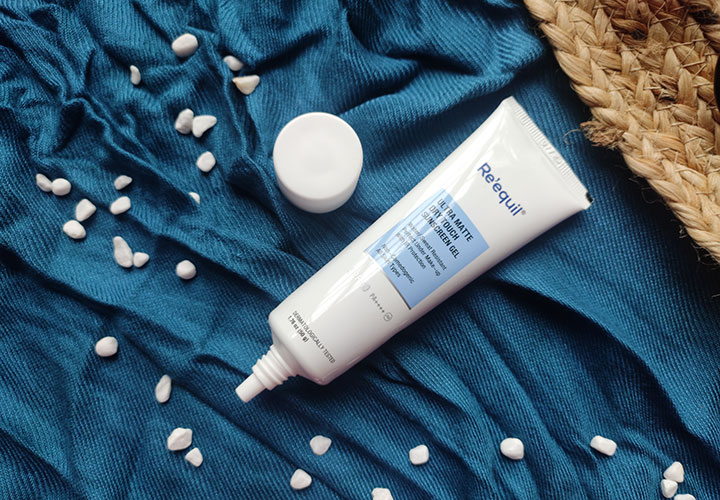 My daily schedule is a bit tight and I rarely get some time to reapply sunscreen. So, it would be fair to assume that I have applied the sunscreen once daily during the entire testing period.
As the experts say, I make sure to apply the sunscreen 20 minutes prior to stepping out. This practice helps the sunscreen to sit well on the top of the skin surface for ultimate protection.
And now when I am done with the backstory, I am going to share everything my skin has experienced as a whole.
Undoubtedly, reequil sunscreen is made of Silicone components primarily, but my sensitive skin does not feel uncomfortable at all. I stay at least 10 hours outside on all the working days. But, this sunscreen never made me feel uncomfortable.
The thick gel texture might feel heavy at a glance. But, it feels amazing on the skin. This is the reason why Requil Sunscreen is suitable for all skin types.
It feels pretty moisturizing in spite of being ultra-matte. And, apart from protection, what else can a dry skin girl ask from sunscreen?
This sunscreen alone is enough to make your skin from dull to smooth. Nope, the picture could not prove my claim. But, I am not kidding at all!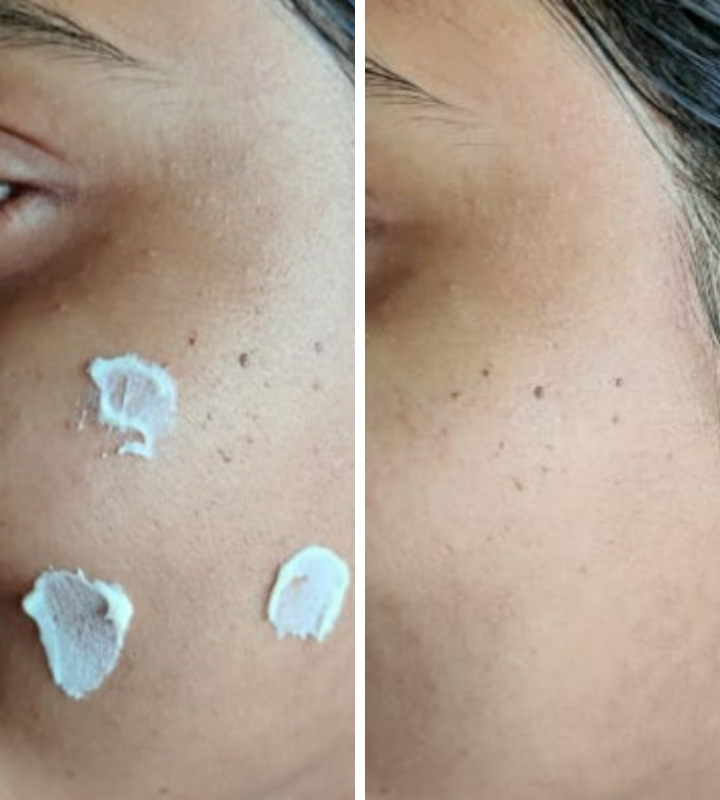 It performs beautifully as a primer. It sits amazingly on the skin surface. For a day look, all you need is a good quality BB cream right after applying the sunscreen.
Usually, people complain about sweating a lot after applying sunscreen. The brand claims the sunscreen to be sweatproof and water-resistant. And, I must admit that it is truly like that.
I am not the only one who is saying so. Since the arrival of this sunscreen into my life, I have recommended this to many of my friends and colleagues already. And, they have all told me the same thing. For up to, 4 hours, this sunscreen stays 80% sweat-proof. Even, on extremely humid days, it feels 60% sweat-proof. Indeed nice, isn't it?
Although I did not re-apply sunscreen ever, yet it gave me full protection even after 5 hours. Well! With reapplication, surely it would protect your skin for more than 10 hours.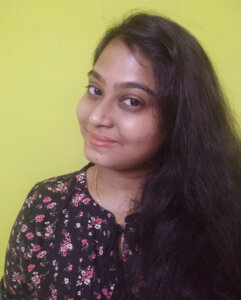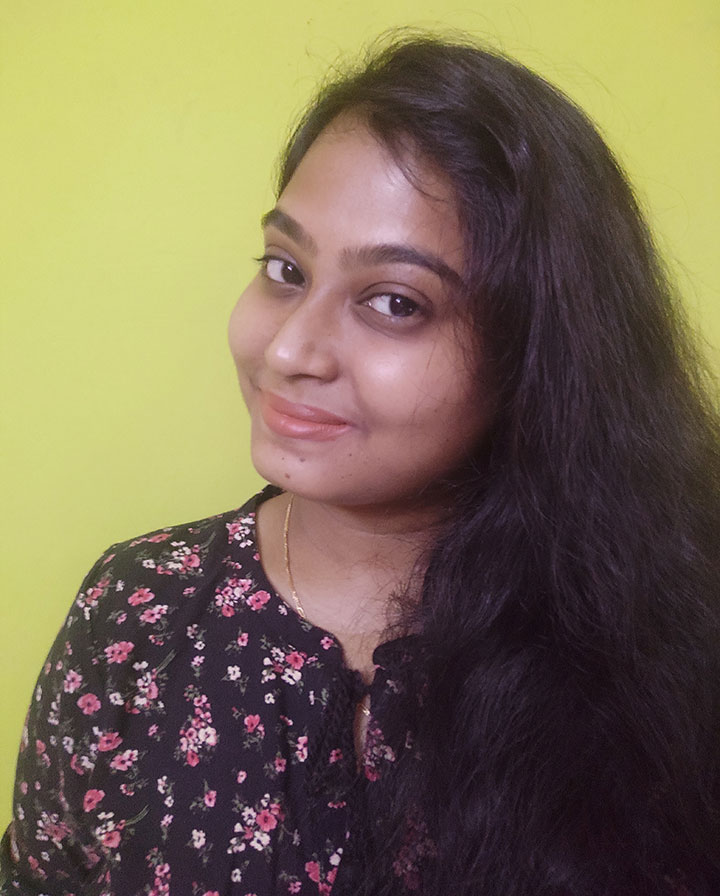 It's been more than 2 weeks now that I am using the One Thing Artemisia Capillaris Extract, And, ever since then. I can see a beautiful glow on my face. Well! It's time to know how.
Read More
Is There Anything I Did Not Like at All about Requil Sunscreen?
Well! After thorough scrutiny, I have found out two minor problems with the sunscreen.
The Super-Silicone type of slippery moisturizing feel might not get accepted equally by everyone. Some might feel this irritating as well.
For the first 20 seconds of application, a subtle white cast can be seen. But, it just disappears within half a minute!
Some might say that the price is a bit high. Well! It is high for sure. But, in comparison to the ingredients and the efficacy, the sunscreen is quite a value for money product.
And, that's all for today! Make sure to share it with your friends and family if you find the review helpful. Take care; celebrate life.