|| Juicy Chemistry Sweet Orange and Chamomile Eye Mist Review ||
Hey Angel! Today I am back with a review of Juicy Chemistry Sweet Orange and Chamomile Eye Mist. If you are following my blog for quite some time now, then you must have noticed that how much I love this brand. Juicy Chemistry is an Ecocert certified brand and it produces all natural products. So, recently JC released a number of interesting products. For eye care, they have launched three products. I bought this soothing eye mist for my tired eyes and I have been using the same for the last 2 weeks. Here, I will share my experience with Juicy Chemistry Sweet Orange and Chamomile Eye Mist. So, without dragging any more, let's jump to the main discussion.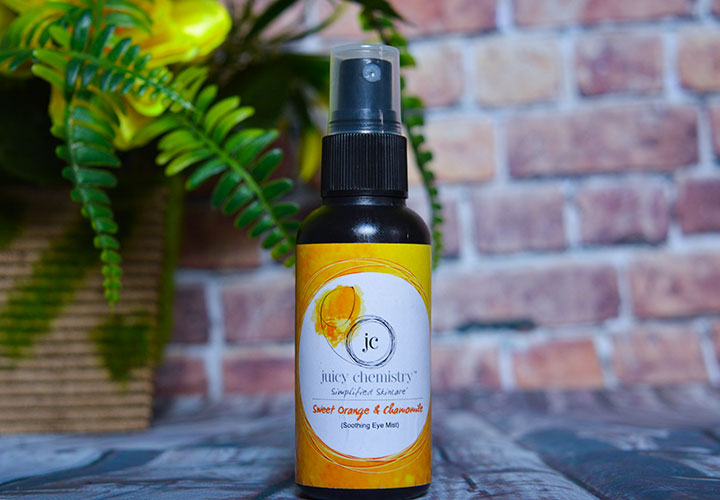 Also Read: SUGAR Kohl of Honour Intense Kajal Review
Basic Information about Juicy Chemistry Sweet Orange and Chamomile Eye Mist:
Price: INR 250 for 50ml
Shelf Life: 6 months from the date of manufacturing
Buy From:  JUICY CHEMISTRY
Few Lines about the Brand 'Juicy Chemistry':
Juicy Chemistry is a joint venture of Pritesh and Megha Asher. They started this beautiful journey in 2014. This brand is totally focused on producing products made from the purest and the most nutritious ingredients from the lap of nature. All the ingredients are hand-picked mostly, and thus the quality assurance is 100%. The duo researched a lot and formulated some stunning products. Most of their products are made using essential oils, beeswax, and natural butter. What started as a journey that became a global phenomenon. Now, they have global consumers all around the world. Very recently, Juicy Chemistry has been awarded Certified Organic by Ecocert Greenlife under COSMOS Standard. At this point in time, just within a year, they have over 100+ products in their kitty which is stunning in every sense. 
What Does the Brand Claim about Juicy Chemistry Sweet Orange and Chamomile Eye Mist?
Now, you can kiss goodbye to dark circles and puffy eyes because a brand new soothing eye mist has arrived. It is enriched with amazing Chamomile and the aroma of Sweet Orange that would together help to fade away stubborn dark circles, under-eye bags, and puffy eyes. It is also rich in Vitamin C and antioxidants; now, rejuvenate and revitalize your skin by giving the delicate area a healthy shine and radiant glow.
Also Read: Lotus Herbals Ikkai Choco Delight Face Mask Review
Ingredient Analysis of Juicy Chemistry Sweet Orange and Chamomile Eye Mist: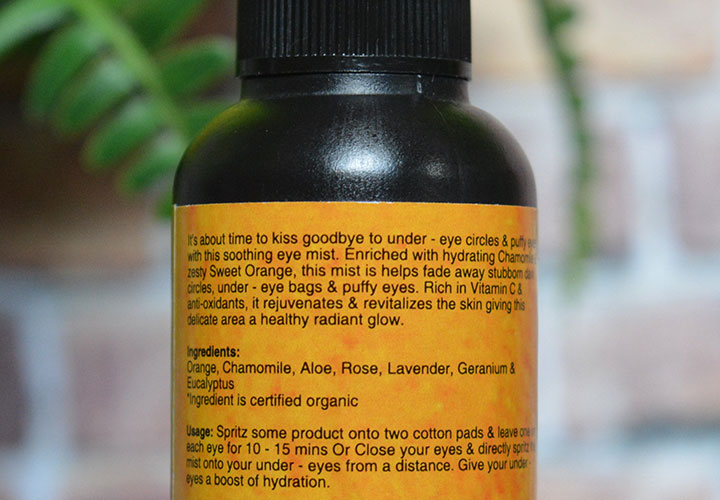 Well! Juicy Chemistry always surprises me. Literally, the brand's website has saved me. I need not go anywhere to analyze the ingredients. JC has mentioned all the ingredients of Juicy Chemistry Sweet Orange and Chamomile Eye Mist along with their individual benefits on its website, which is indeed pretty life-saving. I think this approach makes people aware of the ingredients and they also come to know why a particular component has been used in the formulation. As you all know, JC products are 100% natural and here also we would not find an exception. All total, this soothing eye mist has 7 amazing natural components. Let's talk about all of them in brief.
Orange: Orange has a lot of Vitamin C and many antioxidants; it helps to reduce the appearance of dark circles and also prevents fine lines. The oils in orange help to moisturize the under eye skin.
Chamomile: It has an intense anti-inflammatory and calming properties; It has loads of antioxidant that reduce puffiness and dark circles.
Aloe: Keep your skin calm with its anti-inflammatory properties. It helps to lock the moisture deep into the layers of skin cells. Aloe vera has astringent properties that help to refine pores.
Rose: Rosewater helps to calm down the sensitive skin. It softens the under-eye circles and keeps the puffiness at bay.
Lavender: It is pretty popular for its calming and relaxing aroma. It rejuvenates the skin and eventually, your mind. It has diuretic properties that help to reduce under-eye bags and circles.
Geranium: A red oil that revitalizes and rejuvenates your mind and the beautiful skin around your eyes. It has astringent properties that reduce the appearance of fine lines and wrinkles. And, helps to keep the puffiness at bay.
Eucalyptus: Eucalyptus oil has Chrysin, a natural anti-inflammatory component that helps in the reduction of puffiness. It effectively reduces the appearance of baggy eyes by tightening the blood vessels under the eye.
Honestly, I am pretty happy with these ingredients. JC has done a brilliant job in formulating Juicy Chemistry Sweet Orange and Chamomile Eye Mist and thus it deserves a 5 rating out of 5 separately for its beautiful choice of ingredients.
Also Read: Best Face Wash for Oily Skin in India
Packaging: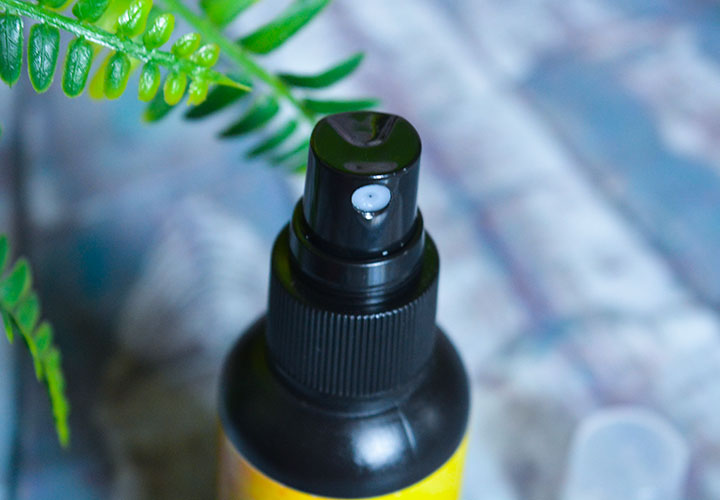 The packaging is pretty impressive. If you have ever seen The Body Shop Vitamin C Energizing Mist, then the unusual similarity would definitely catch your attention. The spray bottle is pitch dark in color which ensures that the product is being protected from sunlight.
Texture and Aroma:
The texture of Juicy Chemistry Sweet Orange and Chamomile Eye Mist is exactly like water. It is light and feels like almost nothing on the skin.
The aroma has a striking similarity with the blend of orange and lavender that would take you to a different land. It is so refreshing that you would like to apply it repeatedly.
My Experience with Juicy Chemistry Sweet Orange and Chamomile Eye Mist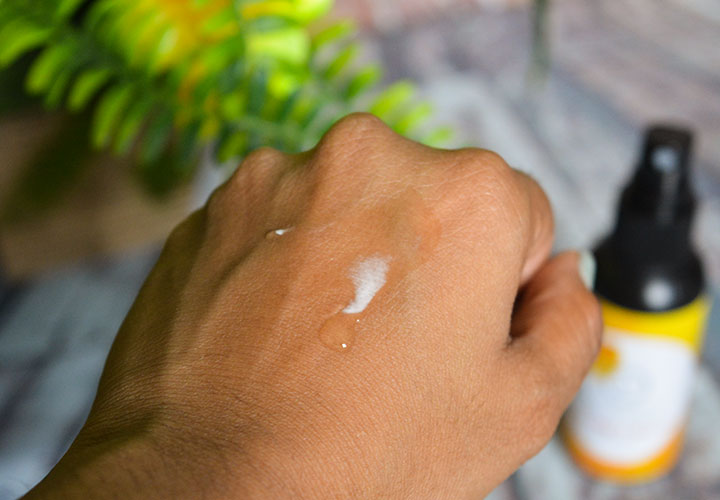 Juicy Chemistry Sweet Orange and Chamomile Eye Mist is a pretty new buy in my kitty. I have been applying this mist twice a day. In the morning, I usually follow it after a deep cleansing with a face wash. And, at night I usually follow it after applying a face mask. Honestly, I don't have a baggy eyes problem nor do I have puffy eyes. But yes! I have a huge issue with dark circles around my eyes.
Coming straight to the point, I feel it would be an exaggeration if I say that this mist has completely removed my dark circle problem just within two weeks. What would be pretty safe and sensible to say is that it has reduced the prob to a great extent. The skin around my eye area looks soft, visibly smooth, and healthy. The dark circles have just started to go away and I am pretty happy with the visible results.
Also Read: Garnier Micellar Oil Infused Cleansing Water Review
Would Juicy Chemistry Sweet Orange and Chamomile Eye Mist Irritate My Eyes?
No! Absolutely not. In fact, I have accidentally sprayed this mist into my eyes quite a few times, but to my utter surprise, it hasn't caused any trouble at all. It would be safe to say that it feels just like water. So, go ahead and have fun.
Pros of Juicy Chemistry Sweet Orange and Chamomile Eye Mist :
Affordable.
All natural ingredients.
The goodness of Vitamin C and loads of antioxidants.
Brilliant packaging; pretty travel-friendly.
Refreshing aroma.
Does not irritate the skin.
Reduces dark circles; though the result would take some time to be totally visible.
Cons of Juicy Chemistry Sweet Orange and Chamomile Eye Mist :
None as of now; if there is something, I would update here.
Final Words:
If you are keen to take care of your eyes, then Juicy Chemistry Sweet Orange and Chamomile Eye Mist must be an amazing affordable option for you. It is loaded with all natural ingredients and JC is a certified brand. You must give this thing a try.
---
***CA IMPRESSION: 4.8/5***
---
Would I Repurchase/ Recommend Juicy Chemistry Sweet Orange and Chamomile Eye Mist?
OF COURSE! I would say 'yes' to both. This product is simply awesome. I believe that Juicy Chemistry eye mist has all the potentials to become pretty famous in the market.
Also Read: Best Chemical Free Face Wash in India
So, that's all for today. I hope you like this review. If you did, then don't forget to subscribe to Cosmetics Arena. Much love from the bottom of my heart; take care. I would meet you soon with something more interesting.