Physicians Formula Coconut Milk Eye Makeup Remover: Review with Ingredient Analysis
Skin Type: Normal to Dry
As a cosmetic enthusiast, I always try to put down reviews as soon as I am done with testing products. In short, I am pretty serious as a blogger.
But, still, in 1 out of 100 cases, one product is always left out. And, this time, while decluttering my shelf, I found out that I am yet to talk about Physicians Formula Coconut Milk Eye Makeup Remover.
I bought this makeup remover a while back. The primary interest was to try out at least one Physicians Formula product. And, guess what! This is the only product that could fit my budget. 😛
I used it a lot and it is almost over. But, does it mean that I loved the product? Well! Let's find out the answer along with a detailed ingredient analysis.
Basic Information about Physicians Formula Coconut Milk Eye Makeup Remover
Price: INR 499
Shelf Life: 2 years
Buy From: Amazon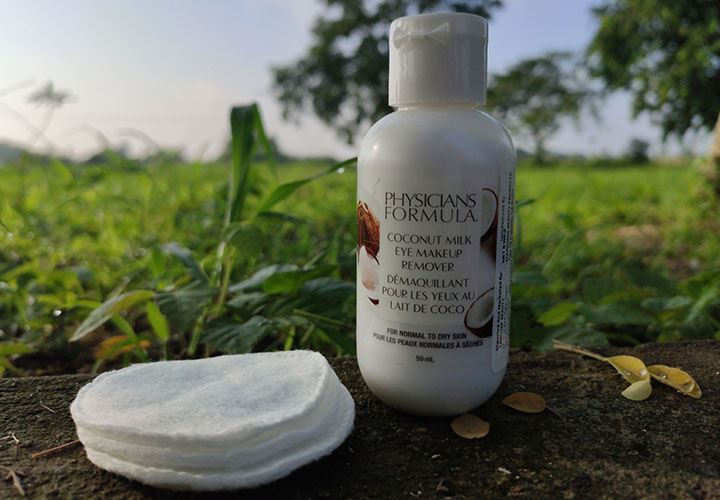 What Does the Brand Claim about Physicians Formula Coconut Milk Eye Makeup Remover?
Get ready for a nourishing and ophthalmologist tested eye makeup remover. Enriched with coconut milk, this formula is apt enough to wipe off all the traces of greasy residue form your eye area.
Give your eye area a delicate and silky-smooth touch. No more stinging or crying; removing eye makeup had never been so easy.
Ingredient Analysis of Physicians Formula Coconut Milk Eye Makeup Remover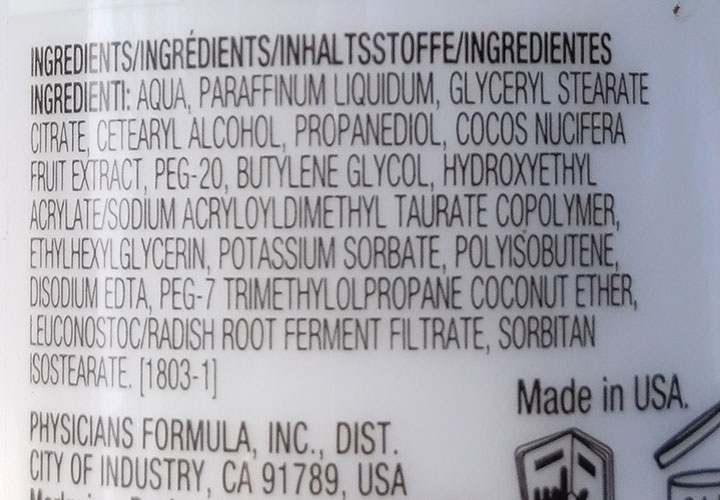 No review is complete without ingredient analysis. This is exactly what I and my team believe in Cosmetics Arena. Physicians Formula makeup remover is formulated with a bunch of ingredients. Are these ingredients safe? It's time to find out that.
1. WATER/ EAU
The base for any liquid or cream-based product
2. MINERAL OIL
It is a moderately safe skin conditioning agent.
3. GLYCERYL STEARATE CITRATE
Another safe skin conditioning agent that is widely used in personal care products.
4. CETEARYL ALCOHOL
This component helps to increase the viscosity of a cosmetic.
5. PROPANEDIOL
Just like the previous component, this chemical agent works as a viscosity controller.
6. COCOS NUCIFERA (COCONUT) FRUIT EXTRACT
Indeed, coconut milk is the best natural emollient ever.
7. PEG-20
It is a moderately safe humectant and solvent.
8. BUTYLENE GLYCOL
This organic alcohol works great as a skin conditioning agent and also as a solvent.
9. HYDROXYETHYL ACRYLATE/ SODIUM ACRYLOYLDIMETHYL TAURATE COPOLYMER
This synthetic polymer is rated as 'safe'. It functions as a stabilizer and also as a texture enhancer in cosmetics.
10. ETHYLHEXYLGLYCERIN
It is another widely used preservative that is a bit weak. This component also works as a skin conditioning agent.
11. POTASSIUM SORBATE
One of the most widely used preservatives it is.
12. POLYISOBUTENE
Well! Polyisobutene is primarily used as a film former. It also works as a viscosity controller.
13. DISODIUM EDTA
It is actually a chelating agent. Chelating agents help to decrease the metals present in a cosmetic.
14. PEG-7 TRIMETHYLOPROPANE COCONUT ETHER
Well! I agree that this emulsifying agent is not much popular. But, fortunately, it is rated as 'safe'.
15. LEUCONOSTOC/ RADISH ROOT FERMENT FILTRATE
The fermented liquid works as a natural preservative. And honestly, I loved how the brand has pushed it wisely into the formulation.
16. SORBITAN ISOSTEARATE
This emulsifying agent is rated as 'safe' by EWG. Indeed, that's great!
Overall, most of the ingredients are safe and placed appropriately in the ingredient list. If ingredients are concerned, then I am quite happy with this makeup remover.
Unnecessarily, the fragrance is not added here. And thus, this remover is safe for people with the most sensitive skin types.
So, I would like to rate the ingredients of Physicians Formula Coconut Milk Eye Makeup Remover 4.8 out of 5. But, what about the performance? Keep on reading to know the answer.
Packaging, Texture, and Aroma
The makeup remover comes in a usual plastic bottle. The cap is a flip flop one.
But, guess what! The tiny hole is not enough to squeeze out the thick cream.
So, every time, I open the cap and squeeze out the product with multiple strokes. Phew! A lot of work for sure.
Talking about the texture, it is quite creamy. In fact, the cream is pretty thick.
There is hardly any aroma as the brand claimed. The faint hint of coconut milk is all you have got here. Personally, I love this thing the most about this product.
Fragrance-free products are always my top preference.
My Experience with Physicians Formula Coconut Milk Eye Makeup Remover
Well! I bought the remover in January this year. As I said earlier, trying out the brand was the sole idea behind this purchase.
I usually draw a thick line on my eyelids or on my waterline with my favourite Plum Natur Studio Kajal.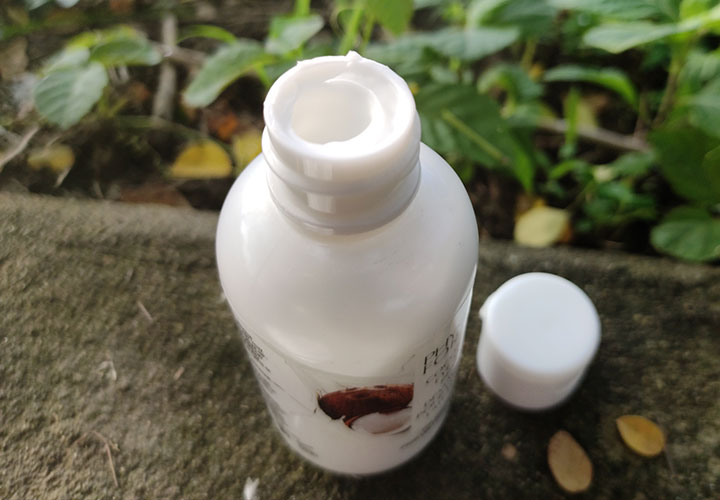 The colour payoff by Plum Kajal is absolutely brilliant. And thus, without a good remover, it is not easy to remove it.
But guess what, Physicians Formula Makeup Remover did absolute justice. It wiped off all the black traces in one swipe only!
The performance was quite satisfactory.
But, what I did not like is the 'creamy' feel afterwards. One needs a mild face wash to wash off that. Indeed, the product is meant for people with dry skin. Yet, the heaviness can be felt.
Well! This is not the case with Micellar Waters. And, probably it is one of the biggest reasons that I love Micellar Water.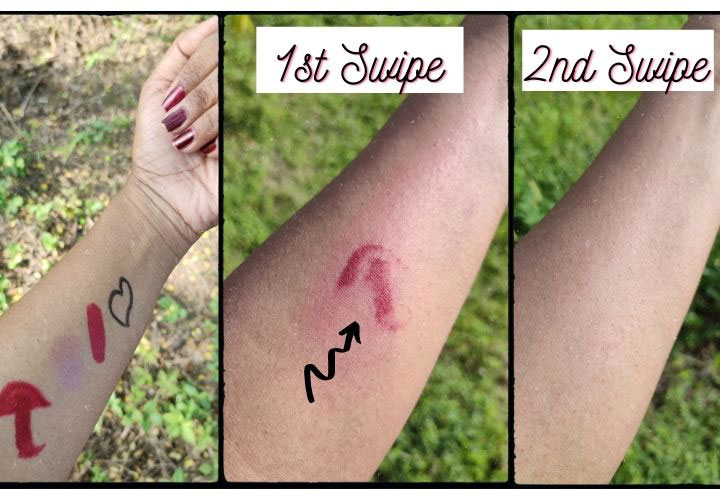 The makeup remover does not irritate my eyes which is quite an appreciable thing. Altogether the makeup remover does a pretty convincing job. In fact, I found that it can also remove lipstick stains with swiping two or three times only. Isn't it awesome?
But, a few problems are still there. Let's take a look at the pros and cons of this eye makeup remover.
Pros of Physicians Formula Coconut Milk Eye Makeup Remover
Most of the ingredients are safe
Tested by Ophthalmologist
Fragrance-free
Sturdy packaging
The creamy texture is good for normal to dry skin
It can remove all traces of eye makeup
It would be wrong to call it a coconut milk based makeup remover. As the primary component is Mineral Oil here which itself is pretty effective as a makeup remover.
Cons of Physicians Formula Coconut Milk Eye Makeup Remover
It is impossible to squeeze out the product without opening the cap; in fact, multiple strokes are needed.
The creaminess feels heavy after swiping off the makeup; face wash is necessary
Pretty pricey in comparison to the quantity; the market is filled with better products
Well! That's all for today. I hope you like this honest review. Don't forget to share this article with your friends and family. Check and follow us on Instagram too for more such interesting stuff. Take care.