||Plum Grape Seed and Sea Buckthorn Night Cream||
Hello angel, welcome! Today I am going to review Plum Grape Seed and Sea Buckthorn Night Cream. Recently my mom told me to buy a night cream for her, and I was eyeing this one for a long time. So, I took it as the right opportunity to buy the night cream. This was my first ever Plum purchase. Plum has always been very particular with its ingredients. They have a number of bestsellers in their kitty, and I know personally many people who love Plum goodness a lot. But, as always I promise that my review would be unbiased, as detailed as possible, and true to itself. So, without further ado, let's start the detailed review of troshis Plum Night Cream.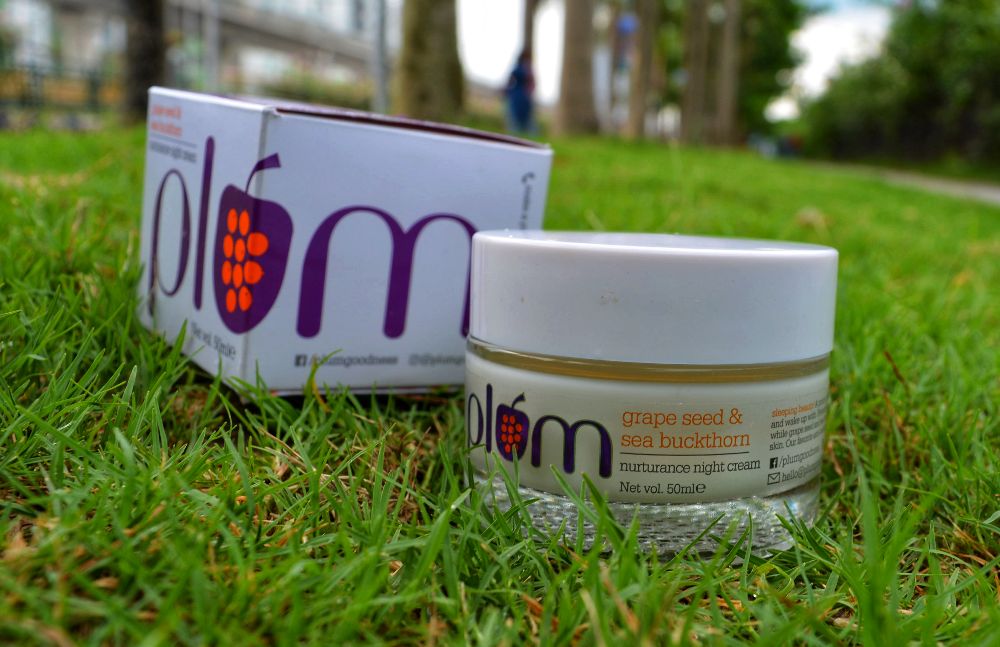 Basic Information about Plum Grape Seed and Sea Buckthorn Night Cream:
Price: INR 550
Quantity: 50ml
Shelf Life: 2 years from the date of manufacturing
Few lines about the brand Plum Goodness:

Plum believes in the science of being good. They love natural and environmental-friendly ingredients. The people at Plum love colors, so no white lab coats. Plum never uses these ingredients – parabens, phthalates, propylene glycol, sodium lauryl sulphate (SLS),  DEA, PABA and animal-derived ingredients. And, this amazing quality recently has made Plum a PETA friendly brand. So, be good and stay good.
What does the brand claim about Plum Grape Seed and Sea Buckthorn Night Cream?
This is a potent night cream that you will love to apply and wake up with. It prevents the dryness which can cause wrinkles and creases. Grape seed and Sea Buckthorn oil nourish, heal and repair your skin. This is definitely one of our best anti-oxidant recipes. It is light in texture but rich in polyphenols, Vitamins D, C, E, and Flavonoids. Grape Seed Oil helps to reduce skin inflammation and helps to replenish nutrients. This is your secret of sleeping beauty!
Ingredients of Plum Grape Seed and Sea Buckthorn Night Cream: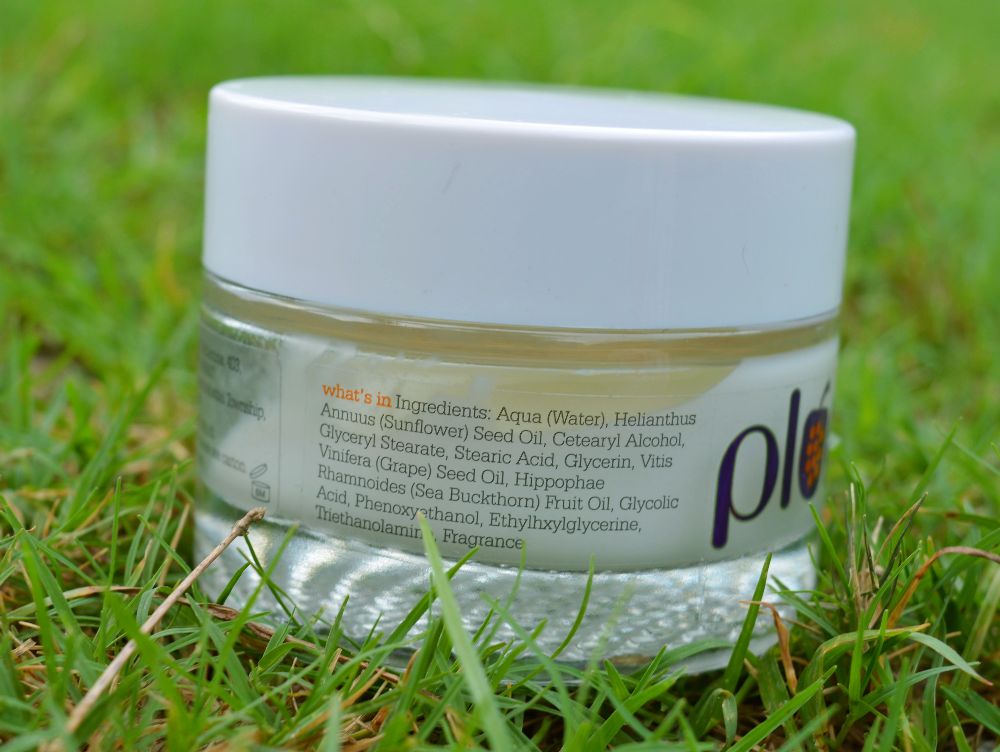 So, when Plum came to the market I was really curious. And, they came up with a line up of products. I used to check the ingredients. And honestly, I find it very stunning as most of their products have environmentally safe ingredients. This night cream was launched quite a while back, and I found the ingredients very interesting. Let's do what I love the most and that is to decode the ingredients of Plum Grape Seed and Sea Buckthorn Night Cream.
Aqua or water – this is the base of any water-based lightweight cream.
Sunflower seed oil: Apart from the moisturizing property, this oil is enriched with Vitamin A, C, and D which make it very effective in fighting with acne. It is also high in vitamin E. It is a boon for dry skin people and can heal aging skin from inside.
Ceteryl Alcohol: It is a non-hazardous component which is a white waxy solid. This is an emulsion stabilizer which prevents an emulsion or a thick moisturizer from separating into its oil and liquid components.
Glyceryl Stearate: This non-hazardous ingredient acts as a lubricant on the skin that makes the skin soft and smooth in appearence.
Stearic Acid: This component which is not hazardous at all works as a fragrance ingredient, surfactant, and emulsifier. Some claim that this component can be animal derived too. Well! As Plum is approved by PETA, we can say that this one derived from a vegetable source.
Glycerin: It is a great humectant which retains moisture.
Grape Seed Oil: This oil has a number of benefits. It is anti-inflammatory. It is also enriched with Vitamin C, D, and E that reduce wrinkles and scars.
Sea Buckthorn Oil: It has the ability to repair damaged skin, moisturizes dry skin. Because of the presence of Vitamin E, it has powerful anti-aging properties too. Overall, it is a gem ingredient.
Glycolic Acid: It is believed to be a Holy Grail component for skin exfoliation. It can penetrate the layers of skin deeply. It can make skin visibly brighter, smoother, and softer.
Phenoxyethanol: It is a preservative and a great alternative to Parabens.
Ethylhexylglycerine: It works as a weak preservative and also as a conditioning agent.
Triethanolamine: It is a moderately hazardous ingredient which is used as a surfactant and also as a pH adjuster.
Fragrance: Plum does not use Phthalates as the fragrance which is a great sigh of relief for me. But, they have not mentioned the type of fragrance, so I cannot comment upon its nature.
Plum is not just another commercial brand and they have proved that thing here. Plum Grape Seed and Sea Buckthorn Night Cream has the simplest ingredient list ever. I honestly loved that part.  And also, Plum has disclosed all the ingredients that also impressed me pretty much because many brands do not bother to do so these days. Overall, except for the presence of Triethanolamine and the fragrance, all these ingredients are absolutely safe and effective. I loved it to the core.
Texture of Plum Grape Seed and Sea Buckthorn Night Cream: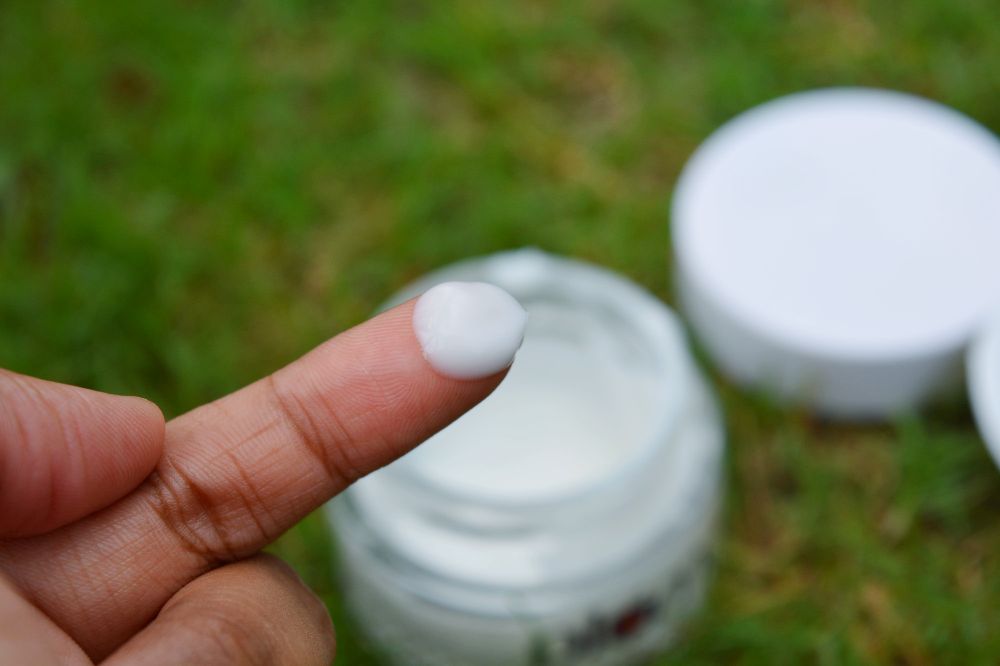 It is a moderately thick cream which is creamy white in color. The texture never reminded that it has beautiful ingredients. Honestly, I felt it could have been improved.
Fragrance of Plum Grape Seed and Sea Buckthorn Night Cream

:
This night cream has a pure artificial smell which clearly says that the fragrance has been added to the formulation. And, I am not a big fan of artificial smells.
The packaging of Plum Grape Seed and Sea Buckthorn Night Cream

: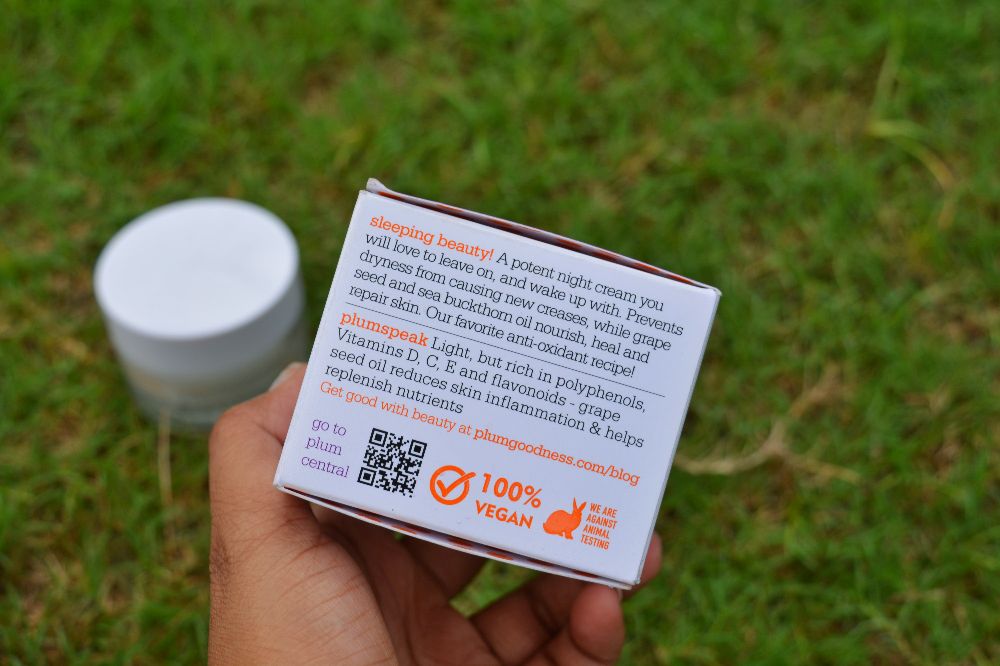 Seriously, the packaging though! It made me so happy. I loved that how much effort Plum has provided in making the packaging the cutest of all. The violet and coral color-combination makes it perfect. The cream comes in a tub which is made of glass. It has an inner lid too which is plastic-made. Well! Tub packaging is a big 'no' for many because it is unhygienic and not travel-friendly as well. The glass jar is quite heavy and I guess if it somehow slips off, it might be broken. Anyways, I have not tried it out :P. Definitely, the packaging of Plum Grape Seed and Sea Buckthorn Night Cream could have been improved!
My Experience with Plum Grape Seed and Sea Buckthorn Night Cream
So, both my mom and I have used this tiny tub. In fact, to be honest my mom has used it more than me. It has been over a month now. A very little amount is required for each application. A pea size amount is enough to cover your whole face and neck. It blends smoothly.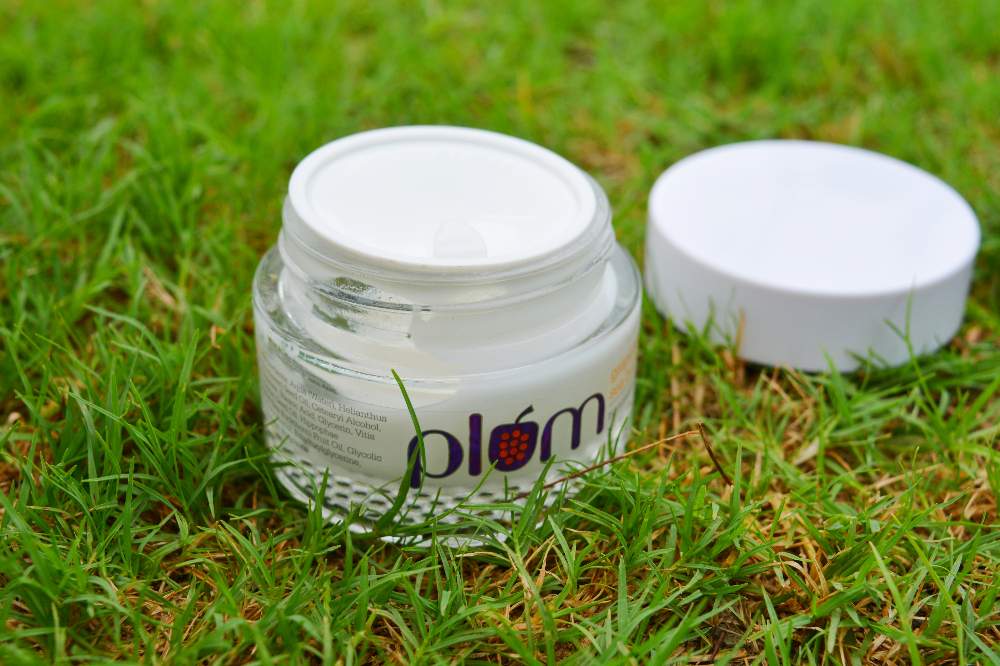 But, this night cream would not let you forget about its existence. And! I hated this thing the most about this product. It apparently gives you the feeling that your skin has absorbed it pretty much. The reality is different though. I felt as if the night cream was floating on the top of my skin surface. For a long time, I have been using the purest Rosehip oil as my night serum cum moisturizer, but I had never felt this thing. Somehow, Plum Grape Seed and Sea Buckthorn Night Cream disappointed me.
Did it cause you any irritation or rashes?    
No. Fortunately I did not experience anything like that. It does not cause any rash, acne, or irritations. The formulation is quite safe, so do not worry about that.
What is your thought after applying this night cream for a month?
According to my mom, Plum Grape Seed and Sea Buckthorn Night Cream makes skin softer and brighter in the morning. Though she too complained that it floats on top of the skin surface which is bothersome. Another thing both of us have noticed is that this cream can make you sweat like hell. I mean for the first 5 minutes, you will sweat. And, after that everything would be final. Well! It sounds ridiculous and horrible at the same time. But that is the reality.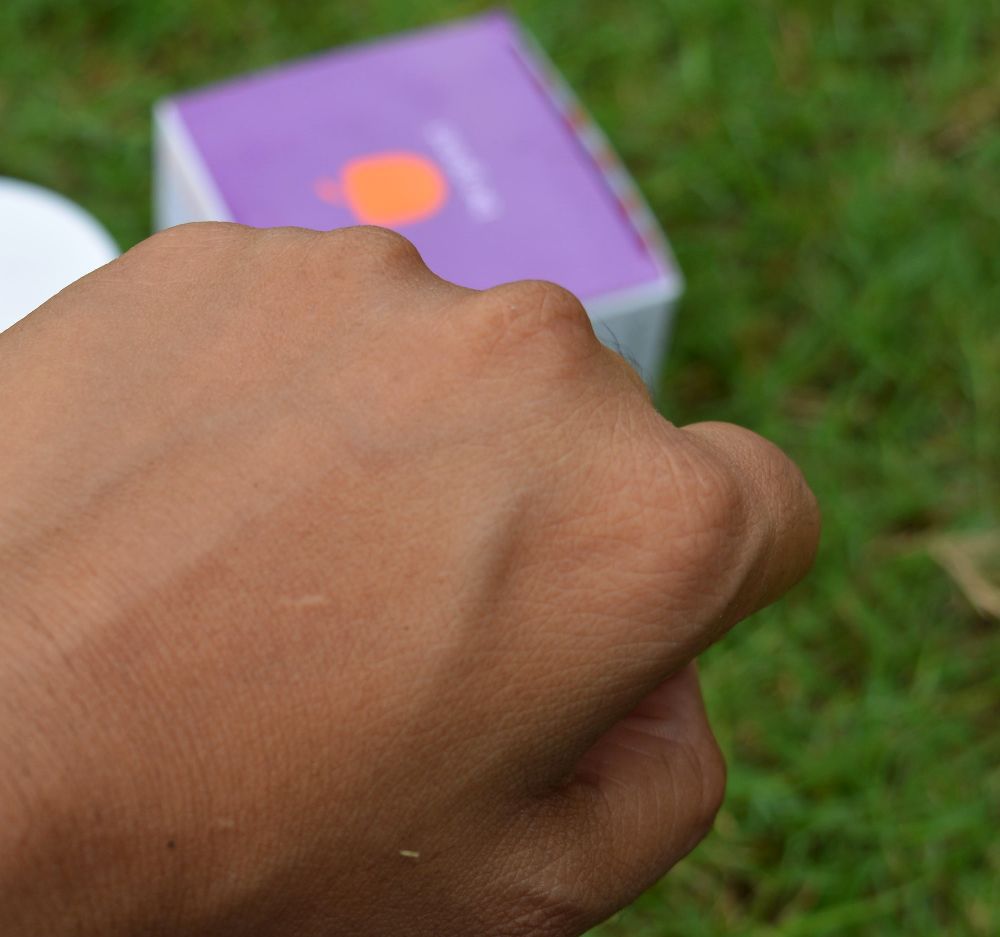 Overall, this night cream can provide you with some temporary results, but as soon as you stop applying it, everything would vanish. And, that's why I am going to stick to my old Rosehip oil. Cheers!
Pros of Plum Grape Seed and Sea Buckthorn Night Cream:
100% vegan and cruelty-free.
Rich and safe ingredient list.
Great and cute packaging.
PETA approved brand.
Moderately Affordable.
It is easy to apply.
Does not irritate skin.
Cons of Plum Grape Seed and Sea Buckthorn Night Cream:
Artificial fragrance.
Makes face sweaty for the first several minutes.
Temporary results.
Final Thoughts:
Plum Grape Seed and Sea Buckthorn Night Cream might have some amazing ingredients, but it shows temporary results. So, if you are looking for a night cream which would not cause you any irritation or the one which is vegan and has safe ingredients, then you can definitely purchase it. Otherwise, I would not recommend it.
---
***COSMETICS ARENA RATING: 3.8/5***
---
Thank you very much for reading. That was all about my today's post. If you like these type of posts, then do not forget to hit the SUBSCRIBE button. We send only one weekly mail dear!  Love you all; Take care. I will meet you soon with a new post.
Which is your favorite night cream? Let me know in the comment section.