Neutrogena
Neutrogena Ultra Sheer Dry Touch Sunblock SPF 50+ Review
(Last Updated On: July 3, 2018)
A warm welcome to CA my beautiful friends. I am back with a product review on Neutrogena Ultra Sheer Dry Touch Sunblock SPF 50+.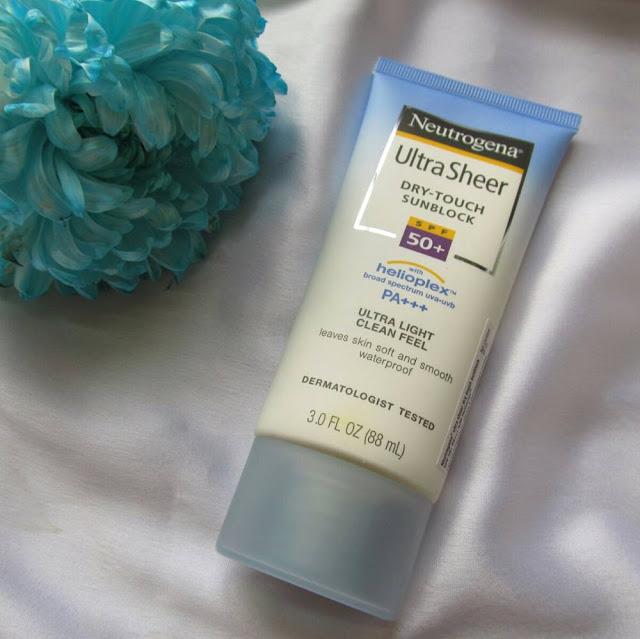 I have recently bought it for my mom. She was looking for a perfect beach sunscreen. And I felt it would be suitable for the requirement. But whether the purchase was successful or not, let us take an insight to know more.
Price: INR 499 for 88ml
Shelf Life: 24 months
Product Description and Ingredients: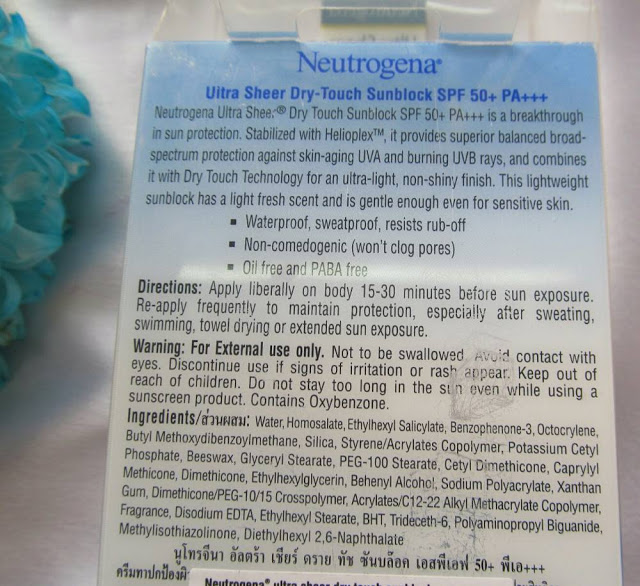 I am an avid ingredients reader. And I buy products only after a thorough look at the ingredients. But sometimes when I am buying products online, checking the lit many a times impossible. 
As you can see, this Neutrogena Ultra Sheer Sunscreen is composed of a lot of complicated ingredients. I would like to discuss only the first few components because the rest are usually found in many cosmetics.
Helioplex is a patent from the house of Neutrogena. It works as an excellent sunblock and according to FDA,it is completely safe. 
As the list is starting with water, obviously it is a water based product. The second ingredient is Homosalate. Umm…it is really suprising to see that the list starts with something that one should avoid in sunscreens.
Homosalate is used in sunscreens as sun barriers. It works exactly like Titanium or Zinc Oxide. But the latters are more safe. Homosalate absorbs sun rays and convert them into harmful byproducts. It is also infamous for being a weak hormone disruptor and acts as an endocrine disruptor. 
Ethylhexyl Salicylate, Benzophenone-3, and Octocrylene, these three work as sunscreen agents and UV filters. 
Butyl Methoxydibenzoylmethane has the ability to absorb ultraviolet light over a wide range of wavelengths and then convert it to less damaging infrared radiation (heat).
These are the main sunscreen agents used in the formula. All of these are low to moderately hazardous for skin. 
Good factor is that it is PABA free. PABA is para-aminobenzoic acid. It is carcinogen and can lead to deep skin pigmentation.
My Experience with Neutrogena Ultra Sheer Dry Touch Sunblock SPF 50+
I would rather call this joint experience of my mom and me. As I have dry and semsitive skin, I combine it with raw Kokum butter or raw Mango butter. My mom being an oily skin beauty, applies it solely. This is my first sunblock cream. Earlier I have only used sunscreens. Let me divide our experiences into several categories.
 Packaging: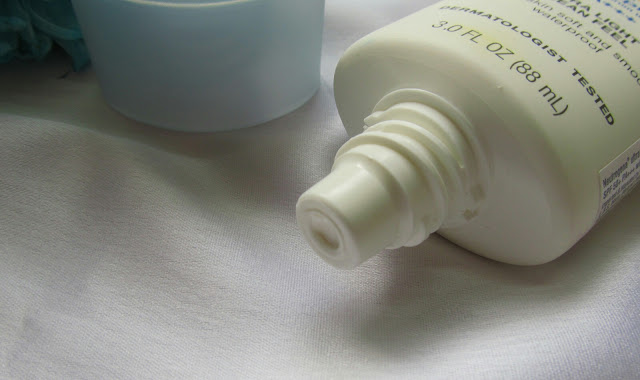 It comes in a simple tube packaging with a sky blue cap. This sunblock reminds me of medicinal creams.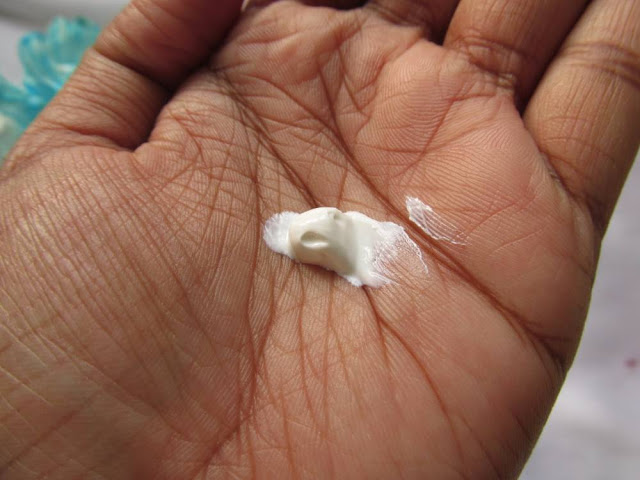 Texture and Color:
It is completely white and creamy in texture. The consistency is thick. But once applied, skin does not feel heavy or cakey.
Very very chemical and I can not compare it with anything similar. 
It gives a semi matte finish which is superb for oily skin. Skin looks fresh and smooth. I have found the formula to be water proof which is another beautiful thing. It does not irrirate my skin. And none of us has faced any break out issue :)). It gives an all day long protection. 

So, here goes the good and bad points.

PROS:
Provides a semi matte look and gives a smooth oil free look.

Does not trigger acne or other skin problems to my sensitive skin.

Simple yet attractive packaging.

All the components are mentioned in order.

Skin feels protected all day long.

Waterproof sunblock formula.
CONS:
Pricey in comparison to the quantity.

Long list and some components are harmful.
***CA IMPRESSION: 3.6/5***
Overall, I have developed a love-hate relationship with this sunblock. I love the coverage and protection it provides. But, not at the cost of my health. So, inspite of its luxurious effects and the big brand reputation, I would not like to recommend this. Instead I would stick to my low cost Zinc Oxide or Titanium Oxide based sunscreens. 
So, this is all for today. Take care, love you all :). And celebrate womanhood with courage.
Thank you for reading. Have you used this product? Please share your experiences here. Love you all.