A warm welcome to Cosmetics Arena. Today I am going to review Blue Nectar Kumkumadi Radiance Glow Night Serum.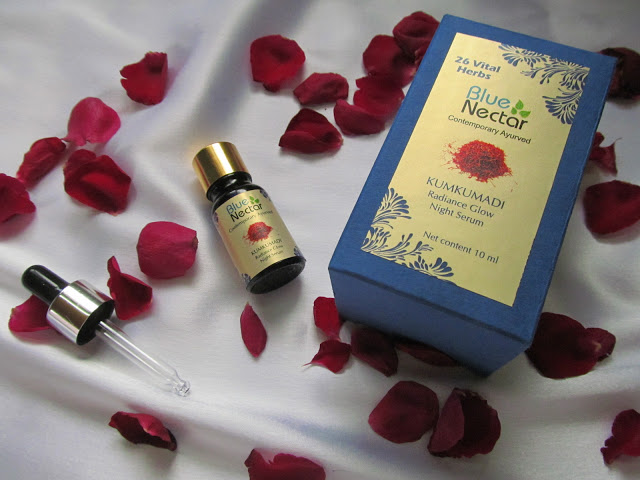 Kumkumadi serum has already set a trend. This high-quality Saffron Oil is an extremely important nutrient to retexturise skin. I have been using this serum since the last week. So, without much ado let me take you to the review portion.
About Blue Nectar Brand (Excerpts from its website):
Welcome to the contemporary Ayurved – the science of life. World where Iphone 6 and veteran ears blend, world where elderly respect is adorned by mini skirt, world where modernity is infused with traditional wisdom!
In a small world that we created with Blue Terra Wellness Spa, we divided world in two parts – those have been to Blue Terra and those are yet to experience heaven. With Blue Nectar, ambitions are somewhat similar.


Price: INR 895 for 10ml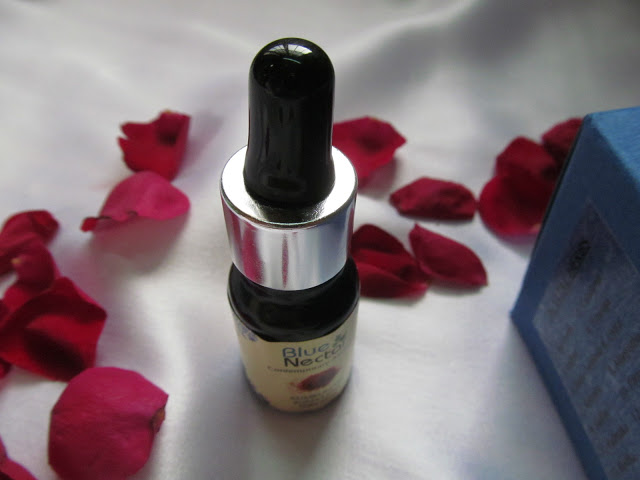 Availability:
It is available on their website. Check out this purchase link directly.  
To check out more Blue Nectar products, take a look at the Official Website. It is also available on Amazon/Flipkart/Purplle also.

Shell Life: 3 years

Product Description and Ingredients:


Kumkuma means Saffron or Kesar in Hindi. So obviously, the main ingredient is Kumkuma. It is enriched with 26 important herbs like Lodhra, Patranga, Yastimadhu, Rakta Chandan etc. The preparation of this oil involves a lot of hard work and detailing. That is why it is expensive.
Naturally, it comes with another threat that warns you why you cannot trust any XYZ company selling this oil at a low price. 


My Experience with Blue Nectar Kumkumadi Radiance Glow Night Serum
I believe that night serum is the key to great looking skin. And when the serum is Kumkumadi Oil, one can not expect more. I believe that Kumkumadi Oil is the ancient Indian Ayurvedic answer to the insanely pricey Estee Lauder Night Serum. 
Kumkumadi oil not only brings back the lustre of skin but also corrects skin pigmentation. It keeps the pimples at bay and helps to fade away the acne scars gradually. It is a magical potion indeed. 
Now, I would like to divide my experience into the following categories to depict the picture more clearly.
Oh God! what gorgeous packaging. I just love this deep blue colour. It looks super elegant and luxurious too. The blue colour is scientific also. Because these type of deep blue or deep amber colour protects the product from harmful radiation. Blue Nectar has crafted it beautifully. 
Both the dropper and the bottle are made of glass.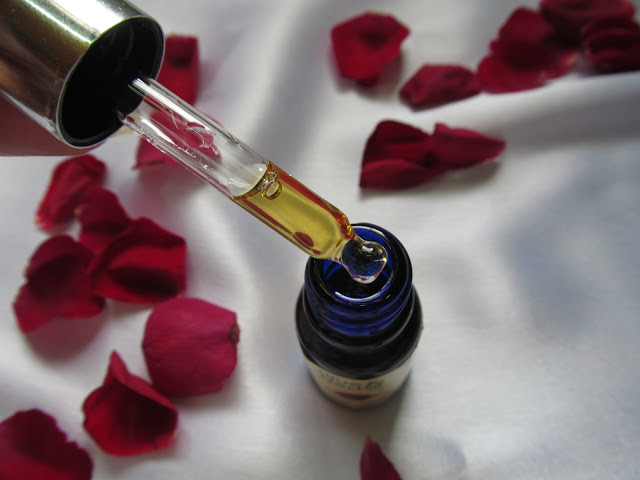 Can you see the lovely amber colour oil?  Isn't it amazing? The texture is very very light and non-sticky. It absorbs pretty fast just within 10 seconds. 

Fragrance:
Blue Nectar Kumkumadi serum is so lightweight that I can use it as a day time skin treatment also. I take one-two drop on my palm. And massage that in a circular motion. My skin feels moisturised, soft and supple. 
The texture has improved a bit. It would be fake to claim that my skin has become that of a baby in just 1 week. But, the texture is improving, and I can see that. 

It smells herbal. And the base note is similar to the mixture of Sandalwood and Saffron. I really love this.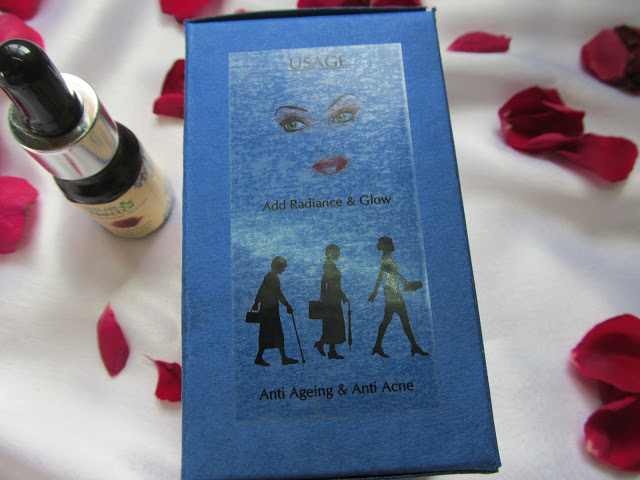 I would like to share with you another amazing thing. A few days back, I noticed tiny acne on my forehead. I sceptically applied the serum onto that. Unbelievably, it started healing. Oil could have worsened the case. But honestly, it did not! In fact, the scar is gradually fading.

It is ideal for Oily skinned people. Though I must say, a patch test is mandatory. Never ever take risks with your skin.
Now, just take a glance at the good and bad things about it.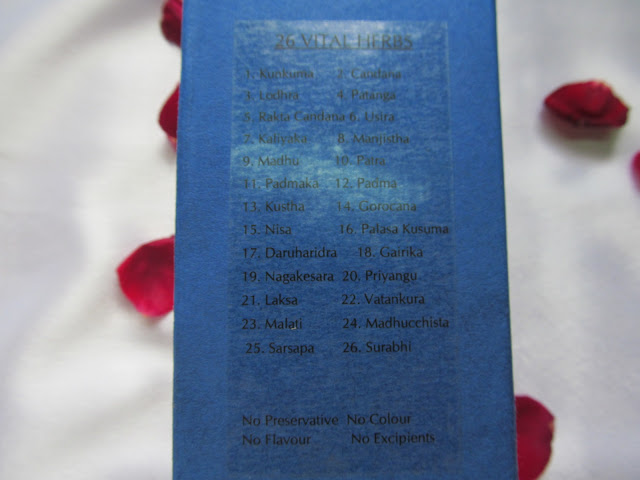 Pros
Carefully and scientifically designed bottle.
The fragrance seems real and herbal.
Ideal nighttime skincare product
Lightweight; thus, can be used as a day time facial oil also.
Would not irritate oily and sensitive skin.

No colour, no preservative, no excipient, and no flavour.
Cons
The glass bottle needs to be handled carefully.
***CA IMPRESSION: 5/5***
I obviously recommend this serum. It does what it claims. Ayurvedic formula works slowly but effectively. So, I must say that please try it out. It is an ideal facial oil. I would love to use this magical budget friendly potion forever.
Thank you for reading. Have you used this product? Please share your experiences here. Love you all.
**PR sample sent by Blue Nectar team. I am thankful to them. But the review is honest and self-opined.