A Bunch of Unscented Baby Wipes that Your Baby is Going to Adore
Babies are a bundle of joy to have, but there's absolutely no doubt about the fact that these delightful creatures can be a bit messy.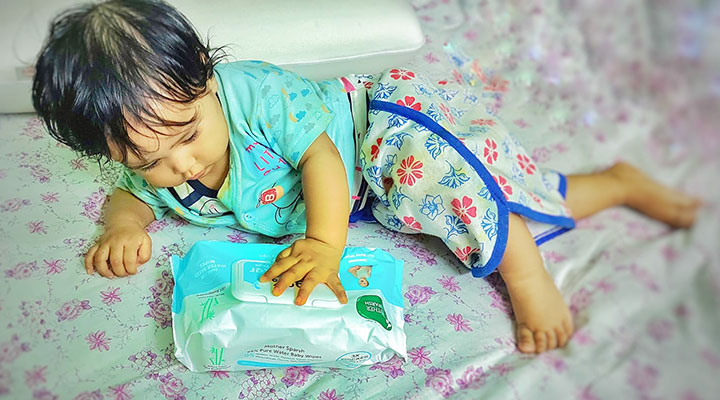 Hygiene is of utmost importance when it comes to baby care but something just as important is safety. Every mother wants only the best for the apple of her eye and it's absolutely justified because babies are extremely delicate and need extra special care.
Baby wipes are an integral part of hygiene, but how do you decide which one is the best? Fragrances, chemicals, soaps and other harsh ingredients can irritate your baby's sensitive skin and cause rashes or infections.
I know that being a mom is a tough job, so I've done the hard work for you. In this article, I will tell you about the best #unscentedbabywipes in the market so that you can take care of your little angel without worrying about safety. Let's go.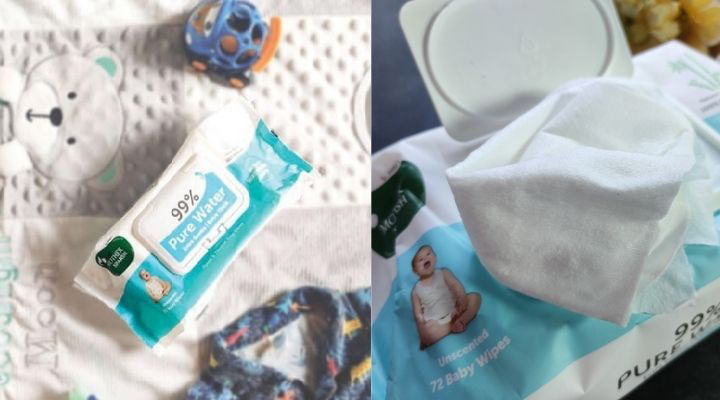 Shop Now!
Crafted especially for babies with normal to sensitive skin, these wipes from #mothersparsh are created with plant-based medical care cloth and water.
They are unscented and have a super soft fabric, which is three times thicker than regular wipes. They are dermatologically tested and clinically examined for infections and rashes, making them skin-friendly.
What's more? They are 100% biodegradable, which means that they are environment friendly.
Because the fabric is extremely soft, it won't cause any discomfort to your baby's delicate parts. These wipes are equipped with a water-based formula, which cleans your little one's hands, mouth and body with a gentle touch just like cotton and water.
The formula soothes any irritation or rashes and cleans thoroughly for utmost hygiene and health. The prolonged wetness means that they won't dry out quickly like other wipes, and the thickness of each wipe provides comfortable cleaning in one go.
Because these #babywipes contain no added scent, you can be assured that your baby's skin won't suffer from any irritation or redness. So, with these #purewaterbabywipes, you can give your baby the gift of #unscentedhappiness.
The Mother Sparsh wipes have a moisture Lock Lid packaging which ensures that they do not lose their wetness.
The biggest worry for parents while travelling is baby hygiene. It is unsafe to wash your baby's hands just anywhere or use any tissue or cosmetic wipe to clean his bottom.
Babies tend to put their hands into their mouths often, which can cause diseases and given the new normal, even a small act of carelessness can become dangerous. So, baby wipes are a must-have in your baby bag.
Mother Sparsh wipes are completely safe to use on your baby's skin right from his or her birth, and you will not have to worry about exposing your baby's skin to harmful chemicals while you use these wipes.
Pros

Plant-based medical care cloth
Contain 99% water
No added fragrance
Biodegradable
Dermatologically tested
Lock Lid packaging makes them long-lasting

Cons

Absolutely none!
So, with these #unscentedwaterbasedwipes, you can let go of your worries when it comes to your baby's hygiene.
[cosmetics_ad]
2. LuvLap Paraben Free 99% Pure Water Nourishing Baby Wipes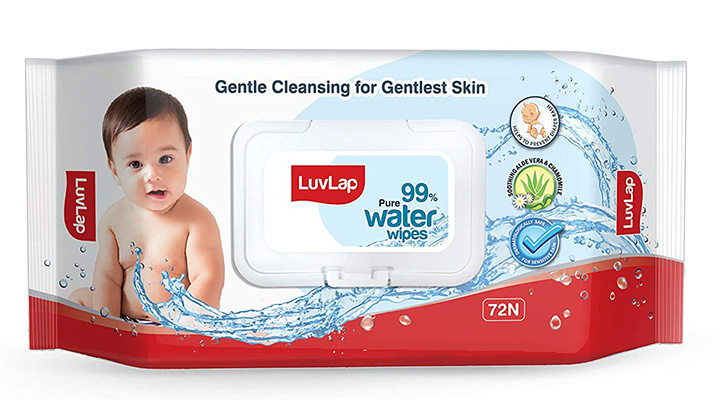 Shop Now!
Gentle skin requires extra gentle cleaning, and these wipes from the house of LuvLap are enriched with extracts of aloe vera and chamomile, both of which are incredibly soothing for the skin and help prevent any skin irritation.
Moreover, they contain Vitamin E which is an excellent ingredient to moisturise the skin and keep rashes at bay.
There is no alcohol in these wipes and they are paraben-free, making them safe to use on delicate skin. The pH-balanced formula is hypoallergenic and will clean your baby's skin gently.
Pros

Contain aloe vera and chamomile to soothe skin
Contain Vitamin E to moisturise skin
Alcohol free
Paraben free
pH balanced
Hypoallergenic

Cons

Not enough wetness
Well! These wipes are not wet enough to clean your baby's buttocks, but they are suitable for the face and hands.
3. BeyBee Water Base Baby Wipes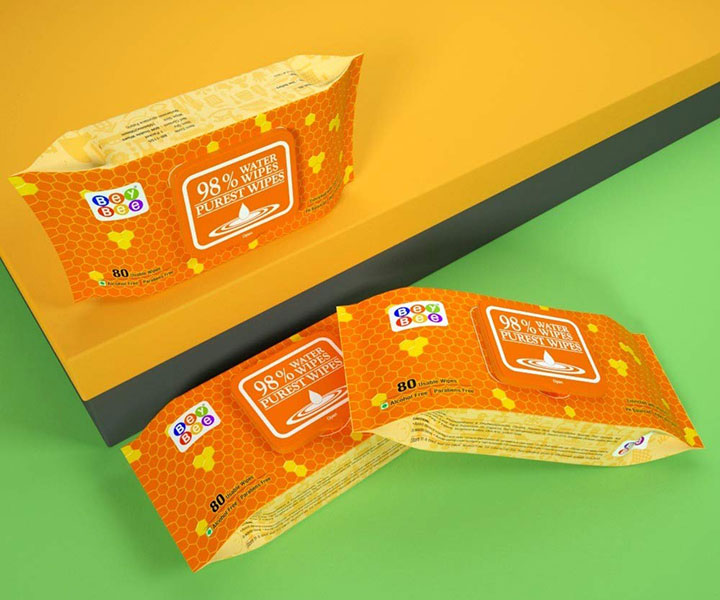 Shop Now!
Created keeping in mind the delicate skin of babies, these unscented baby wipes are gentle on your baby's skin. They contain 98% water, aloe vera and Vitamin E which provide an instant cooling sensation to the skin, leaving your baby refreshed.
These wipes are made of a spun lace, non-woven fabric which does not feel scratchy on the skin and is thick enough to clean the area in one go.
The alcohol-free formula provides a gentle cleaning experience for your baby. They have been dermatologically tested as well.
Pros

98% water content
No alcohol
Enriched with aloe vera and Vitamin E
Dermatologically tested

Cons

The wipes are not as wet as they claim to be
Well, these wipes are not the best for the bottom but would work well for the face and hands.
4. mamaJOY Water Baby Wipes
Shop Now!
Enriched with aloe vera extract, these gentle baby wipes will soothe your baby's sensitive skin while providing a happy cleaning session.
The material is incredibly soft and glides smoothly across the surface of the skin without any tugging or pulling. These water wipes contain no plastic and are biodegradable, so you can use them without any guilt.
Moreover, they have absolutely no added fragrance, which eliminates the risk of skin irritation. Lastly, they are free of alcohol, dyes, parabens, sulphates, and phthalates. They contain 99% water and clean the skin very gently.
Pros

Contain aloe vera extract
Soft fabric
Plastic-free, environment friendly
Unscented
Alcohol, dye, sulphate and phthalate-free
Travel-friendly packaging

Cons
So, these unscented baby wipes are a good choice to be used on a baby's skin as they are free of harmful chemicals.
5. Minimonks Baby Water Wipes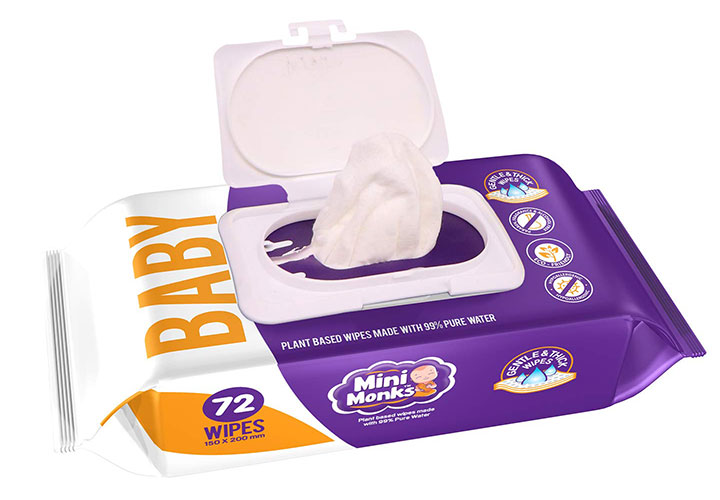 Shop Now!
Containing 99% water, these ultra-gentle water wipes contain the goodness of aloe vera which calms down sensitive skin and prevents the risk of rashes or redness.
The material of the wipes is viscose, which is thick and supremely soft on your baby's skin. These wipes are completely free of artificial fragrance, alcohol, phenols, chlorine processing, parabens, SLS, or any other harmful chemicals.
So, your baby's delicate skin will be safe from infections. The travel-friendly packaging comes with a sturdy plastic flip-top lid which ensures that these unscented baby wipes don't dry up fast.
Pros

99% water-based
Contain aloe vera extract
Free of Artificial Fragrance, Alcohol, Phenols, Chlorine processing, Parabens, SLS, or any other harmful chemicals
Soft material

Cons

A bit more pricey as compared to other brands
Well, if you can afford to spend a bit more on your baby's hygiene essentials, these wipes are a great option for you.
6. Bambo Nature Baby Wet Wipes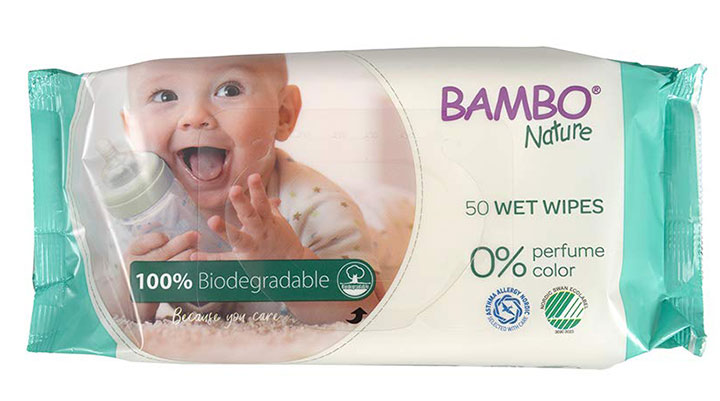 Shop Now!
Bid adieu to mess and hello to clean skin. Crafted with sustainable viscose, these wipes are environment-friendly and completely biodegradable.
The fabric feels soft to touch and will not pull or feel rough against your baby's soft skin. They have been formulated without parabens or chemicals. Moreover, they contain no fragrance, which means that they will not irritate your baby's sensitive parts.
The ingredients are vegan and organic. Because they are dermatologically tested, you can trust these wipes with your baby's care.
Pros

Super soft
Harmful chemical-free
Fragrance-free
Dermatologically tested
Vegan and organic ingredients

Cons

It might be a bit difficult to get a single wipe out of the pack
If you want to raise your baby with vegan and organically sourced products, these wipes are an excellent option for you.
7.

Mothercare All We Know Fragrance Free Baby Wipes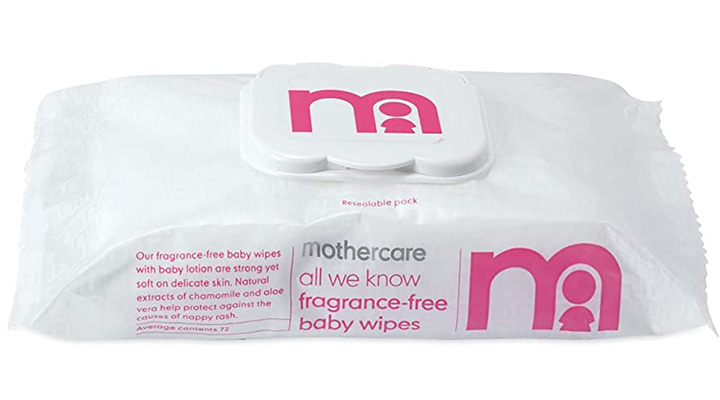 Shop Now!
Cleanups and diaper changes will be a breeze with these baby wipes from the house of Mothercare.
They have been formulated with skin-loving ingredients such as aloe vera and chamomile, which will soothe and calm down your baby's skin and protect it from rashes or irritation.
They have also been enriched with baby lotion to help moisturise the skin. Moreover, no fragrance has been added to these wipes to avoid itching or redness. The combination of these skin-friendly ingredients will clean your baby's skin with delicacy.
Finally, the pack comes with a plastic lid that can be resealed to retain wetness for a long time.
Pros

Contain aloe vera and chamomile
Fragrance-free
Contain baby lotion
Hypoallergenic

Cons

The packaging tends to leak
So, these ingredient-focused wipes are a great option for your baby's hygiene. However, if you intend to travel with these wipes, I would not recommend them because the packaging might leak.
Well, those were all my recommendations. To sum up the most important points you should keep in mind before purchasing the best unscented baby wipes. 
Make sure that they are fragrance-free. #unscentedwipes will minimise the risk of irritation.
Ensure that they are dermatologically tested and hypoallergenic for optimum level of safety.
Soothing ingredients such as aloe vera and chamomile will protect your baby's skin from irritation and help prevent rashes.
Wipes made from soft material will be gentle on your baby's skin and provide a comfortable cleaning experience
Water-based wipes are the safest option as they contain little to no chemical ingredients.
So, which of these baby wipes will you be purchasing for your little darling? Let us know in the comment section below.
Also, don't forget to share this compilation with all your newly-become-parent friends. Take care; celebrate life.