How are you my beautiful friends. Today's review is about Lakme Clean up Face Scrub with Strawberry extracts. I feel a nostalgic connection with Lakme.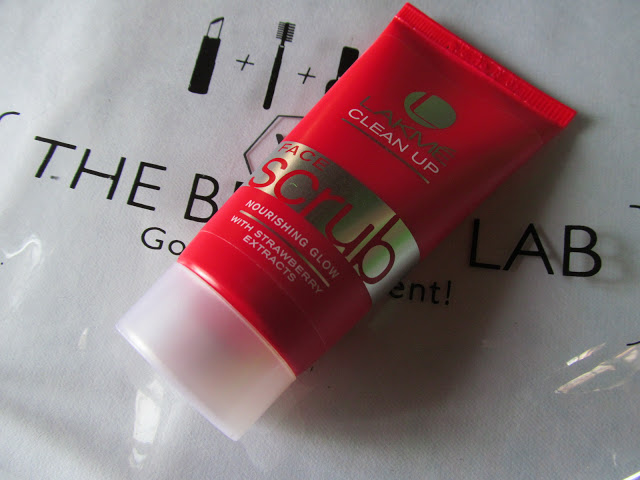 I bought this scrub along with few other items from Nykaa. They have an amazing collection of skin care. Lakme launched this 3 step Clean Up series around 3 years ago and it gained a lot popularity almost immediately. Allow me to take you inside.
Price: Rs. 120 for 50g
Shell Life: 2 years
Product Description and Ingredients

Texture, Color and Frangrance
It has a creamy thickness and the color is off-white. The fragrance is quite good. I think the smell is a fusion of fruits and chemicals.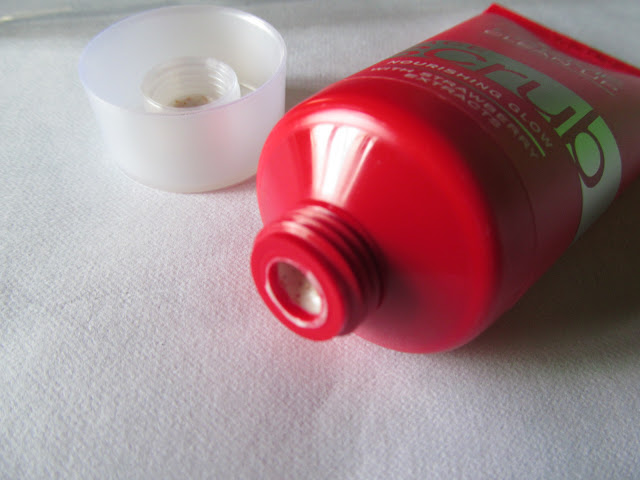 Oh my God!! the packaging is the most amazing thing of this scrub. Lakme has really done a commendable job. The crimson color looks sexy and you would love to flaunt it in your skin care kit. Honestly, it was the packaging that attracted me towards buying it..😛. 
The product comes in a pastic tube with a white twist cap. The title and tags in written in Silver color which gives it a more professional look. The opening hole is made in such a way that right amount of product comes out when squeezed. 
My IMPRESSION about Lakme Clean Up Face Scrub
The Lakme Clean up series consists of 3 steps and these are: 1) wash, 2) Scrub, 3)  Mask. I bought the 2nd step as I am a big fan of scrubs.😊. My bathroom closet is full of Scrubs. Well, my current love is this one.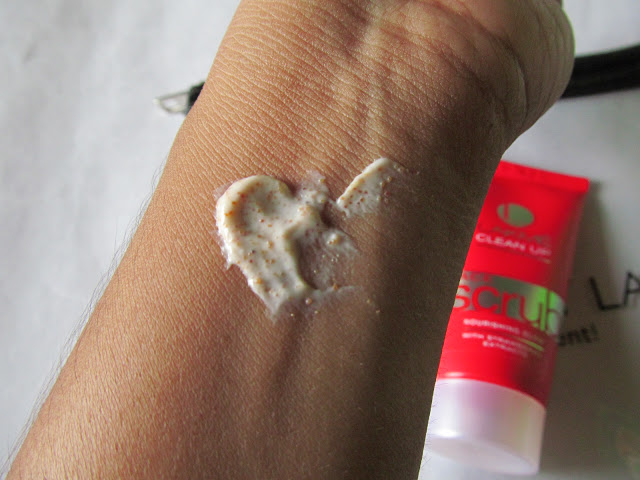 I am using Lakme Scrub twice a week. The walnut particles are used in ample amount, so you need not worry. As the product claims, it wipes off all the dirts, dead cells and unclogs pores. But, it can not remove blackheads effectively. Though the brand claims that for effective use one have to follow the 3 steps properly.
It gives me an immediate upliftment and a healthy glow. I feel hydrated but moisturization is a must after this. 
One thing is that the particles sometimes feel harsh.
Now, let us wrap up the review with the key PROS and CONS.
Beautifully crafted packaging which is travel friendly.

A budget friendly product.

Small amount is needed, so 50g would last long.

Abounds with Walnut particles and it is mentioned almost at first place in the list. 

Creamy texture.

Cleanse all dirt and removes dead cells.

Provides a natural glow and freshness.

Fruity fragrance.
SLS is present. The whole list is full of chemicals and some of those are little monsters..😡

Does not remove black heads.

Fragrance might be felt over powering to sensitive noses.

Does not hydrate, moisturization is must to do.
It is an yes from me. I do recommend Lakme Clean up Face Scrub. A completely budget friendly and effective product. 

I would suggest to go for the 3 steps clean up for more effective result. I would buy again and again..😊😊
Love you my angels. Thank you for being with Cosmetics Arena and making it large. Take care my sweethearts. Do whatever you like and celebrate womanhood.
Thank you for reading. Have you used Lakme Clean Up Face Scrub? Please share your experience here. Love you all..😊