Hello beauties, how is life? Durga puja is about to end today. But no need to be sad, Diwali is on its way…😊😊😊. I have felt one thing that in any occassion we take care of our skin very intensively, but many a times we neglect our feet.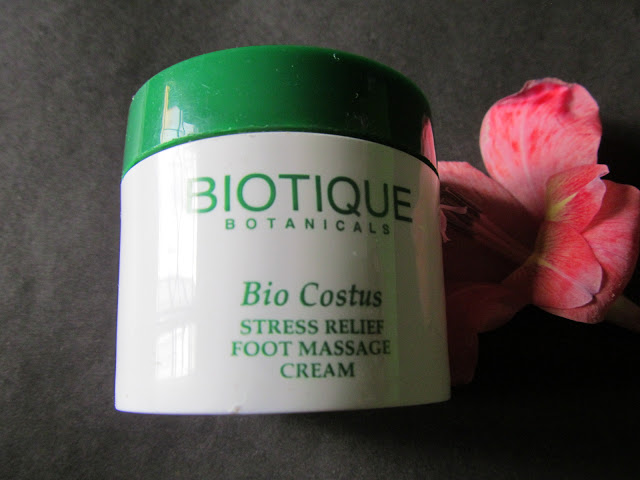 Yes you are right, today I will be talking about something related to feets and that is Biotique Bio Costus Foot cream or Foot Massage Cream…😊😊
If you Google then you will find that this product is counted as one of the best foot creams available in the Indian market.
Price: Rs. 180 for 50g


Availablity:

It can be found on every major shopping websites, and shopping malls where Biotique Counters exist.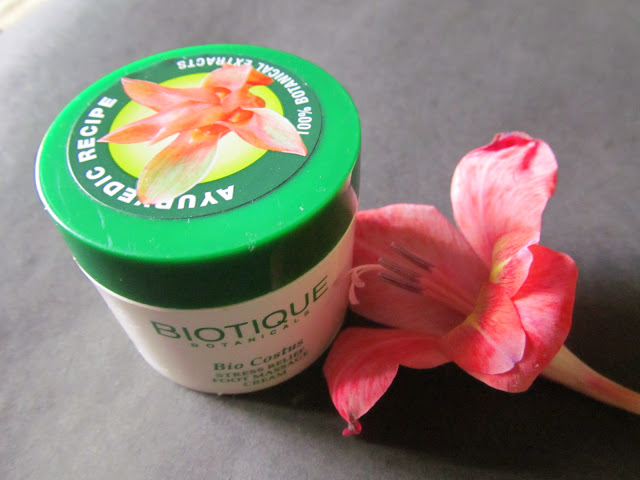 It is quite famous and sometimes goes out of stck..😛😛
Shell Life:   3 years
Ingredients: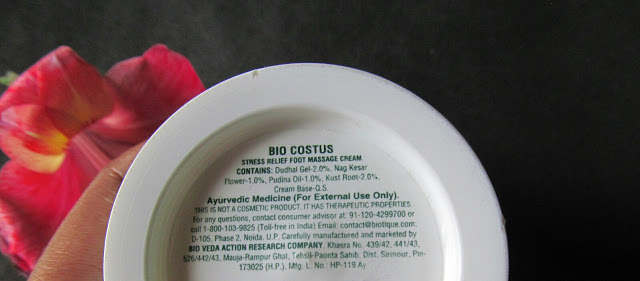 Texture, Packaging and My IMPRESSION
Costus is a very important Ayurvedic herb which is mainly found in the Himalaya ranges. The dried roots of Costus are used to treat many health problems. It is known as a great medicine to treat Eczema, itching and many skin diseases. In hindi it is called Kustha or Kust.
The product comes in a sturdy white pastic tub with a green cap. There is an extra lid inside which protects the product from impurities. The cream is semi solid in texture and white in color. It has a strong aroma which is closer to Menthol. The red flower on the cap is Costus flower.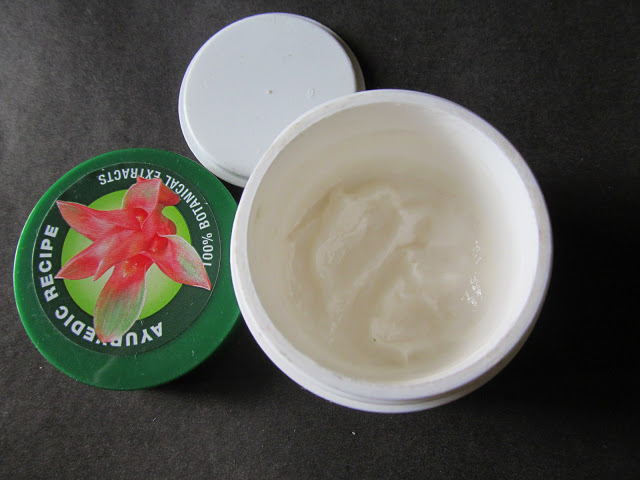 I pamper my foot regularly with this cream. It keeps the skin moisturised for a long time. Another thing I have noticed that as soon as I apply this, I feel relaxed and stress free. Thus it gifts me a good sleeping time..😊😊😊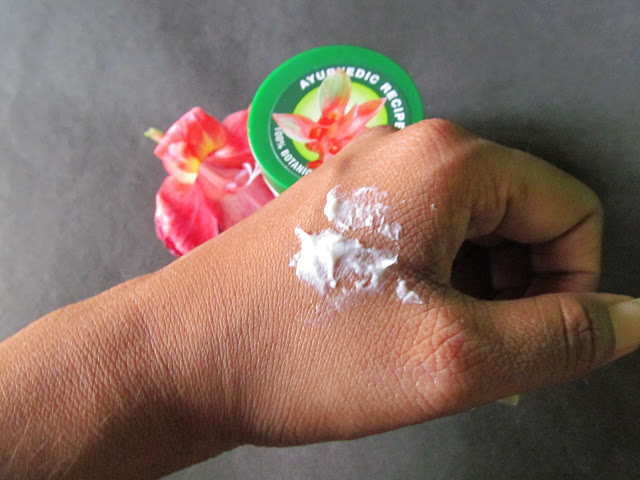 In summer it becomes more softened and in winter becomes a bit harder. Regular massaging helps to keep the skin soft and also removes suntans to some extent. 
Now, let me summarise the whole thing in Pros and Cons.
PROS:
Sturdy and travel friendly packaging.

Ayurvedic medicine.

Enriched with Costus and few other important herbs.

Moisturises and removes tan gradually with regular application.

Induces good sleep.

It smells strong, similar to Menthol.
Like most other Biotique products, this one too has incomplete ingredient list ..and sometimes I feel like being cheated..😯😯

If you notice the ingredients you will find that the herbs are only 5%  of the compostion..😨😨

Feels sticky and needs to be washed off thoroughly after application.

Takes a lot of time to be absorbed completely.
N.B: After massage, try to wear socks or atleast cover your feets with something. It will be more effective.
***CA IMPRESSION: 4.7/5***
So, I would like to recommend this product inspite of some major cons. It is a great foot cream and comes within my budget too. Most importantly itdoes what it claims. 
Love you all, take care my sweeties. Remember that we are the most beautiful creations in this nature. Feel ecstatic and encourage your soul all the time. Never be afraid of the shortcomings. Enjoy this festive season to the fullest..😊😊😊



Thank you for reading.  Have you used this product? Please share you experiences here. Love you all..😊