Welcome to CA my dear friends. Today I am gonna review Aroma Essentials AHA Mask. I received this beautiful mask a few weeks ago. 
I love facial masks. Whenever I get a chance I buy them, sometimes just for trying a new product. Let us dig deeper to know more about this recent addition to my skin care regime. 
AHAs are a collection of compounds made from familiar food products. Among the most widely known are glycolic acid (from sugar cane), lactic acid (sour milk), malic acid (apples), citric acid (citrus fruits), and tartaric acid (wine grapes).
The original seekers of younger-looking skin used these natural compounds many centuries ago, going back as far as the ancient Egyptians. In the United States, their popularity has skyrocketed in recent years. First, dermatologists used them for in-office facial peels, then they found their way into many skin care products after their FDA approval for over-the-counter use in 1992. Today one can find AHAs in hundreds of items, ranging from face and body creams to sunscreen, acne products, shampoos, cuticle softeners, and lightening agents. Overall, AHA is kind of skin saviour for many.
Price: INR 650 for 100g/INR 400 for 50g
Shelf Life: 6 months

Product Description: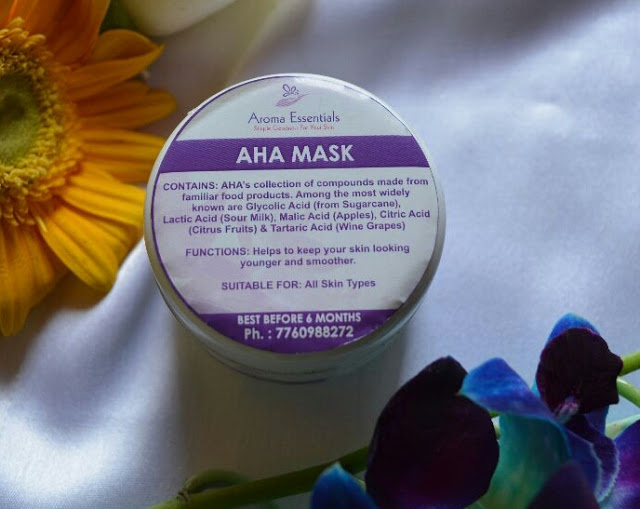 My Experience with Aroma Essentials AHA Mask
Aroma Essentials has an extensive range of products and all of them are made of finest ingredients. What I love the most about them is that price and quantity is properly justified. And most importantly all of them come with 6 months of shelf life!! This is rare and something which has the ability to challenge the commercially available products in Indian market.
Now, I have used this product about 10 to 11 times till date. I would share my experience through the following parameters.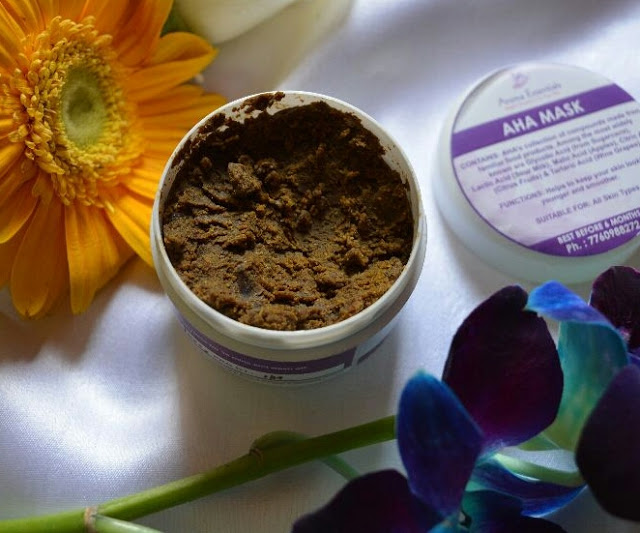 Sturdy tub packaging which is also travel friendly. All the important information are mentioned on the label. It is not unneccesarily decorated, which provides a simple and practical look to this tub.
As soon as I received the package, I smelled it. Trust me dearies!! it has a heavenly aroma. I felt like I am in a luxurious SPA in Kerala. I am not joking an inch. It is exactly that I felt. After wash off my skin smells like that of pure sandalwood. Overall, it deserves a separate 5/5 for the lovely aroma.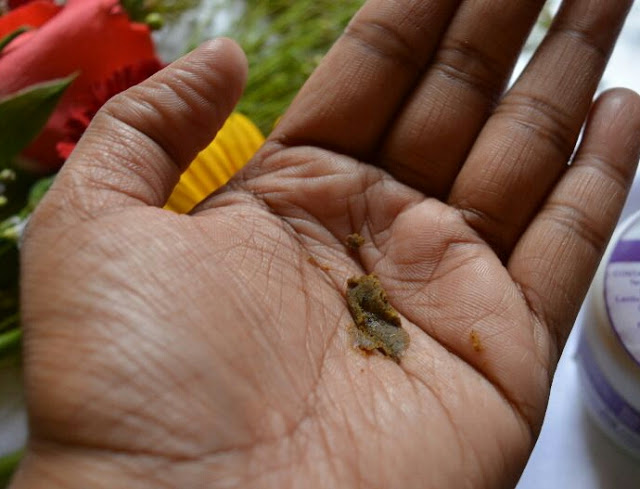 The texture is soft with some nuts like particles in it. The mask feels moist and easy to blend. 
I use a dry spatula to take the product out. And then just one to two drops of water is enough to make a smooth mixture which can be easily spreaded over the face. Just let it sit for 5 to 10 minutes and wash it off with cold water. No need to wash off with face wash. It gives me a gorgeous glowing and youthful skin almost instantly. 
Currently I am using it twice a week for a rejuvenated skin. It gives me a relaxed Spa like experience after a long and tiring day. 
So, here I am listing the good and bad things.
Budget friendly.

Made of finest and high quality ingredients.

Travel friendly.

Amazing aroma.

Easy to apply.

A great mask for a youthful skin.

It provides a subtle glow to the skin.
Could not find any!! :)).

***CA IMPRESSION: 5/5***


As a beauty blogger I have used and received a lot of skin care products. But this product is really special and unique. I have fallen in love with this face mask. And I do recommend this product to everyone. This mask is worth trying. 
Take care my sweeties. Love you all. Embrace yourself. And celebrate womanhood with pride.
Thank you for reading. Have you used this product? Please share your experiences here. Love you all.
**
PR sample sent by Aroma Essentials. But the review is self opined and genuine.