Hello my sweethearts! Today I am gonna review Ecotique Aromatherapy Breathing Blend Oil. By the way, there is a Giveaway running on my blog, I would feel blessed if you participate. 
We all know that how important essential oils are. They not only provide aroma but also have theraputic value. Honestly, I have never used any Breathing Blend oil, so the concept was pretty new to me. Allow me to share the whole experience. 
Brand Introduction:
Ecotique
 is a personal care brand that combines the ancient Indian tradition of 
Ayurveda
 with its holistic approach to daily life and 
Aromatherapy
 with its mood enhancing benefits derived from the use of essential oils. 
All Ecotique products are free from sulfates, parabens, artificial fragrances, phthalates, silicone, glycol and harmful preservatives.
 Our products are vegan and cruelty free.

Price: INR 249 for 10ml


Availabality: Easily available on Amazon, Nykaa.
Breathing Blending oil can have a variety of combinations. This oil is the blend of Eucalyptus Oil, Peppermint Oil and Tea tree oil. All of these oils have a very strong aroma. 
Eucalyptus oil is a divine oil. Inhaling this particular oil not only provides relief for Cold-Cough, but also makes breathing easier. It increases the uptake of oxygen into the lungs from bloodstream. Overall, this blending is just perfect.

My Experience with Ecotique Aromatherapy Breathing Blend Oil

I got this product two weeks ago. Since then I have used this oil thrice. I also gave this oil to another person who has a long term breathing problem, actually he is a patient of COPD. So, now I am ready to share the whole thing on the basis of following parameters.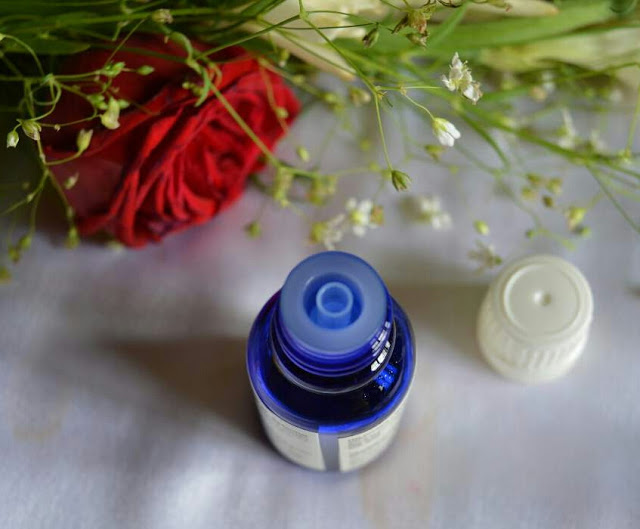 Packaging:
I just love the blue color. Essential oil has a tendency to be oxidized easily. So, keeping them in a dark color bottle is always preferrable. And Ecotique has taken care of that. The bottle is made of glass. That is why it is not that much travel friendly. 
Aroma:
Really strong. And the aroma is prevalently of Peppermint Oil. 

Texture:
It is a very light weight oil which is absorbed really fast. It has almost no color.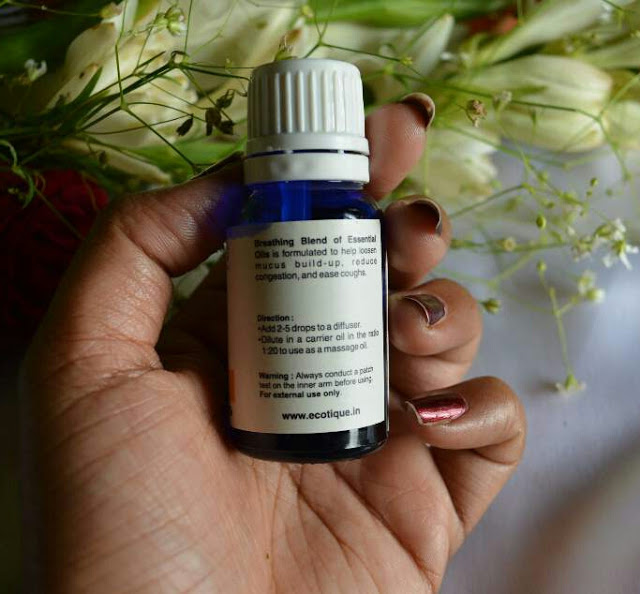 Now, let me talk about its effectiveness, Due to sudden change of weather, I got a mild cough. And my nose felt runny. So, I added 3 drops of this blend oil into my regular bathing bucket. Honestly, it gave me an instant relief. 
After experimening with this oil, I gave this oil to the person who has been suffering from a serious stage of COPD. He told me, "I added 4 drops oil into my bucket. Usually, I always feel uneasy to breathe inspite of the strong medications. But, this oil came to my rescue. After bathing, I did not feel uneasy for the whole day. It was like breathing as any human being does."

I hope you have understood that how effective the oil is. To sum up, I would list down the important points.


PROS:
Budget friendly.

Logical packaging to protect the oil.

It is 100% effective.

Blend of very strong aromatic oils.

100% natural and free from harmful chemicals.

It does what it claims.
CONS:
***CA IMPRESSION: 5/5***
I  really love this oil. It is 100% effective and comes from the house of a reputed brand. I would recommend this oil to everyone. Even if you do not have breathing problem, then also this oil can give you a relaxing bathing experience.

That is all for today. Take care. I hope you like this review. Celebrate womanhood with courage. Love you a lot :)).  
Thank you for reading. Have you used this product? Please share your experiences here. Love you all.
**PR sample sent by Ecotique. I am thankful to them. But the review is self opined and genuine.