||Pond's Vitamin Micellar Water Hydrating Aloe Vera Review||
Hey angels! I believe that many of you would agree with me if I say that Pond's is such a brand that is straight connected to our childhood days. Pond's cold cream used to be a common name, especially during winter. It is a brand that is trusted by millions. Recently, Pond's has come up with a number of Micellar Waters. The range has three products as of now namely, Pond's Vitamin Micellar Water Hydrating Aloe Vera, Pond's Vitamin Micellar Water Brightening Rose, Pond's Vitamin Micellar Water D-Toxx Charcoal. I bought the Pond's Vitamin Micellar Water Hydrating Aloe Vera just a week back and have been using it since then. Is it worth the hype? Is the performance equally amazing like Garnier Micellar Water? Let's try to find out the answers.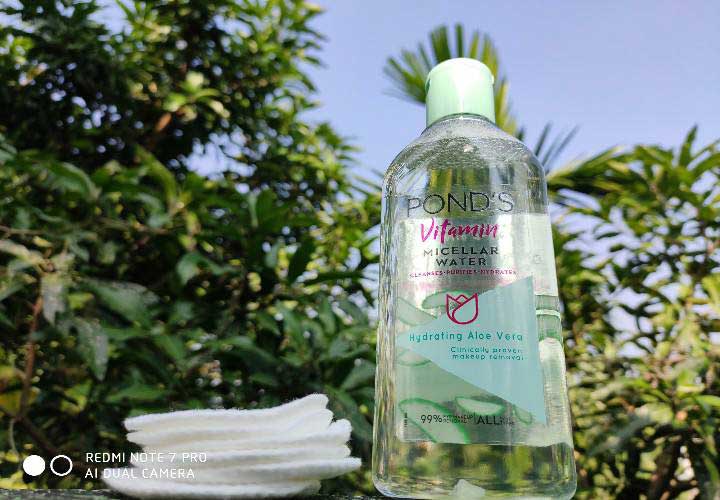 'Micellar' the term coined from 'Micelles' or tiny lipid molecules suspended in soft water. So, these tiny balls get attracted to oil and dirt and drive away all the toxins from the skin. Micellar water does not make the skin dry and maintains a healthy pH balance. They look like water but the texture is different.
What Does the Brand Claim about Pond's Vitamin Micellar Water Hydrating Aloe Vera?
Lose the makeup but not the glow. Presenting a 100% alcohol-free Micellar water which is enriched with the Organic Aloe Vera and 5 essential oils. This non-sticky or non-oily formula has the power to brighten up your skin. Removing makeup is easy now.
Basic Information about Pond's Vitamin Micellar Water Hydrating Aloe Vera
Price: INR 125/299 for 105/250ml
Shelf Life: 36 months from the date of manufacturing
Buy from: Nykaa
Ingredient Analysis of Pond's Vitamin Micellar Water Hydrating Aloe Vera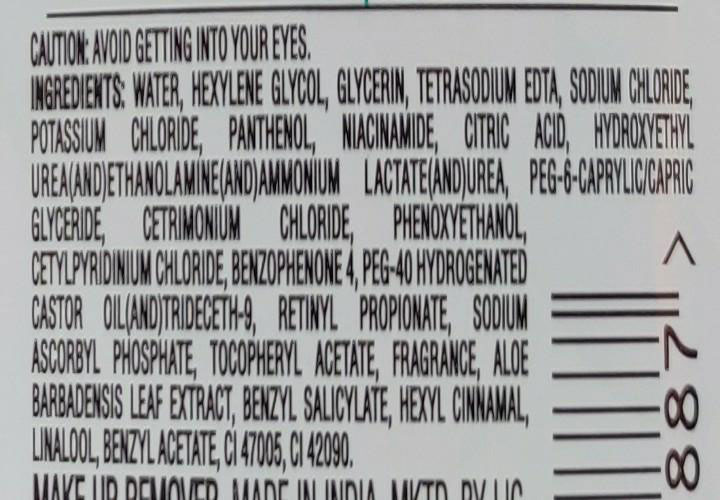 Well! A cosmetic review is simply incomplete without this part. In this section, I have analyzed all the components. This part also comes with a safety warning that says, grab your coffee cup as the post is going to be lengthy. If you are running out of time, then here is a PDF File containing an analysis of all the components. You can download it to read later. Without any further do, let's dig out the ingredients of Pond's Vitamin Micellar Water Hydrating Aloe Vera.
Water: Base of any liquid-based product.
Hexylene Glycol

: A safe fragrance ingredient, which also works as a fragrance agent.

Glycerine: Great humectant
Tetrasodium EDTA: A fairly safe chelating agent that is used to reduce the reactivity of the metals ions if any present in the product.
Sodium Chloride

: A flavouring and viscosity increasing agent.

Potassium Chloride: A water-soluble viscosity increasing agent.
Panthenol: The other name is Vitamin B5. It is great as a skin

conditioning agent.

Niacinamide: Wow! This is something rare in Micellar waters. It is actually a vitamin B3. Niacinamide helps to even out skin tone and also in reducing fine lines & wrinkles.
Citric Acid: Basically, it is the AHA in cosmetics. The functions include Chelating agent, masking agent, pH adjuster, and buffering component.
Hydroxyethyl Urea (and) Ethanolamine: It is a safe component that is highly water-soluble. Ethanolamine helps to bind Hydroxyethyl Urea to blend with other oil-soluble components.
Ammonium Lactate and Urea: The first one is actually a moisturizer and the second one helps to loosen the rough and scaly cells. This blend helps to soften the skin and moisturizes it.
PEG-6 Caprylic/Capric Glycerides: It is a moderately safe component that is mainly used as a skin conditioning agent

.

Cetrimonium Chloride: A moderately safe component that is used as an antistatic agent which gets attracted to the positively charged particles.
Phenoxyethanol: This is the second most used preservative after Paraben. The safety index is very poor for this component.
Cetylpyridinium Chloride: It is a moderately hazardous component which is mainly used in oral care products. The functionalities include antistatic agent and antimicrobial component.
Benzophenone-4: This pale yellow liquid is an excellent sun guard component. The penetration power of this component is weak but helps other components to get penetrated.
PEG-40 Hydrogenated Castor Oil (and) Trideceth-9: The second one is a solubilising component that helps to solubilize the Castor Oil.
Retinyl Propionate: It is actually a synthetic Vitamin A component. This component helps to condition the skin.
Tocopheryl Acetate: Another name of Vitamin E; basic functions include skin conditioning agent and humectant.
Sodium Ascorbyl Phosphate: Stable form of Vitamin C that helps to even out skin and helps the fine line to disappear.
Benzyl Salicylate

: Ultraviolet Ray absorber which is highly hazardous

.
Fragrance

: Not sure about the nature of the fragrance, but hopefully they have not used Phthalates.

Aloe Vera Extract: Aloe Vera has many benefits indeed. But I am not sure how beneficial this extract would be in this formulation as the concentration is evidently very low here.
Benzyl Salicylate: A moderately hazardous component that is used as a fragrance component and also as a UV ray absorber.
Hexyl Cinnamal: It is a naturally occurring moderately safe scent ingredient.
Linalool: Basically it is a terpene; it is used as a fragrance ingredient.
Benzyl Acetate: Absolutely safe fragrance and masking ingredient.
CI 47005: Yellow colourant.
CI 42090: Brilliant blue colourant.
Overall, some of the ingredients are harmful whereas some are safe to use. The addition of Niacinamide is indeed commendable. As a whole, I would like to give 4 out of 5 ratings to the ingredients of Pond's Vitamin Micellar Water Hydrating Aloe Vera.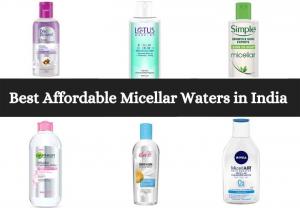 This list is all about the best affordable micellar water in India suitable for all skin types i.e. dry, oily, and sensitive skin.
Read More
Directions to Use Micellar Water
Shake the bottle pretty well before application. Then take out a few drops on a cotton pad and apply on face, eyes, lips, and wherever you find traces of makeup. No further rinsing is required.
Packaging
The packaging seems very simple. Sturdy plastic bottle with a flip flop cap that matches the theme of the variant. As the theme is green in the Pond's Vitamin Micellar Water Hydrating Aloe Vera, thus the cap is green in colour.
Texture and Aroma
The texture is just like any other Micellar water; it is very lightweight. As a number of perfumery components have been used in making the formulation, thus the aroma seemed very synthetic to me.
My Experience with Pond's Vitamin Micellar Water Hydrating Aloe Vera
This purchase was totally out of craze and love for the brand. I just wanted to give this new launch a try. Since the arrival of Garnier, I have fallen in love with the concept of Micellar water and thus, when I heard first about it, I became super-excited all of a sudden. Well! At this juncture, I would also like to confess that I am not a hardcore makeup person. I do makeup occasionally and mostly adore my natural look. So, Micellar water is not my kind of requirement at all; in fact, I can easily remove all my makeup with just oil. But, since the time I have started using Micellar water, I have become a fan in real.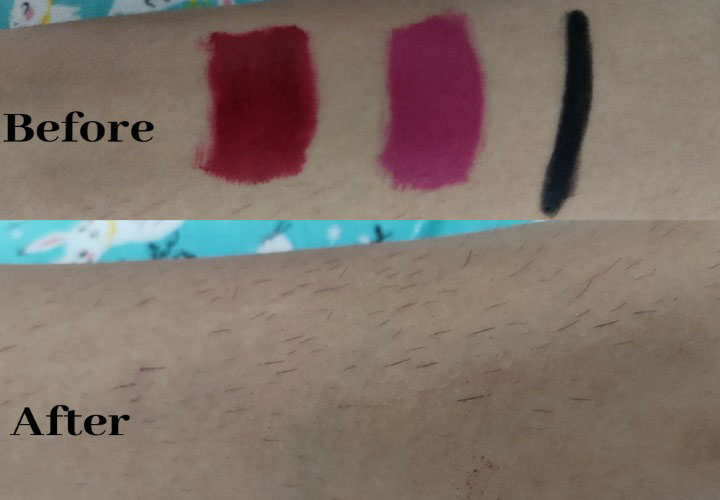 I usually take 5 drops of this Micellar Water on a cotton pad and then, apply on the respective makeup areas. This Micellar Water from Pond's is quite effective in removing every trace of makeup. The only problem is that the cotton pad must be rubbed several times, otherwise, the makeup traces cannot be removed easily. In the picture, I have applied Kay Beauty Kajal, Lakme 9 to 5 Lip & Cheek Moose, and SUGAR Smudge Me Not Lipstick. After swiping the pad several times, the makeup came off. The performance seemed okayish to me. It is mild and gentle; the formulation is suitable for everyone.
Pros of Pond's Vitamin Micellar Water Hydrating Aloe Vera
Travel-friendly sturdy packaging.
Components have been listed on the label; moderately safe ingredients.
The theme and the packaging look quite cute.
Perfect for winter skin.
Affordable; in fact, even the small size of this micellar water is affordable than its counterpart a.k.a Garnier Micellar Water.
Removes waterproof makeup like professionals.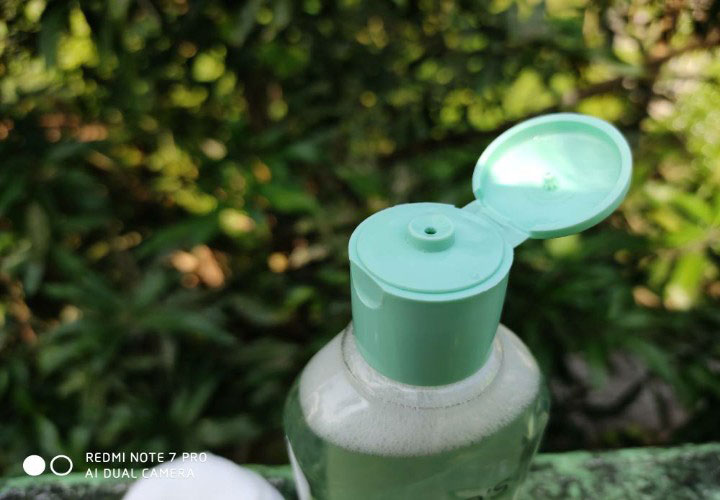 Cons of Pond's Vitamin Micellar Water Hydrating Aloe Vera
Multiple swipes are required to remove the makeup.
Synthetic aroma.
Would I Recommend/Repurchase Pond's Vitamin Micellar Water Hydrating Aloe Vera?
Altogether, the performance of this Pond's Vitamin Micellar Water Hydrating Aloe Vera is quite satisfactory. I would definitely like to repurchase and recommended this Micellar water. So, girls and guys, just go for it.