Hello beauties, today I am here to talk about a concept that is very unique and amazing. It is a Deo Stick!!! Yes, you are absolutely right, a Deo Stick that has been marketed by Cinthol.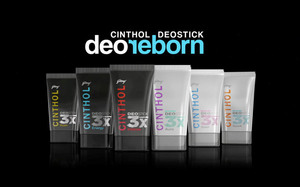 Price: Only INR 69 for 40g
Shell Life: 2 years
Water,Isopropyl Alcohol, Fragrance,PEG-40, Hydrogenated Castor Oil, Polysorbate 20, Carbomer, Triethanolamine; DMDM Hydantoin

Brand claims:
Cinthol Deo Stick: Deo Reborn – The deodorant has made the ultimate sacrifice and has changed forever. Cinthol Deo Stick: Deodorant like you have never tried before. It is soft on skin and 3x long lasting than ordinary Deo's. Use it after shower to experience that awesome feeling all day long. Available in 6 variants.

It is available in 6 variants. There are 3 variants for men namely Rush , Intense and Energy. The other 3 are for women :)) namely Aura, Swirl and Spark.

You can easily differentiate the fragrances, white ones indicate fragrance range for women. And the black ones are for men. 
For assistance, please go through this video. You can also check this link: for more information: 
http://www.cinthol.com/deostick.html
The deo looks more like a cream, that I find quite an innovative one. The packaging is a tube packaging and has a plastic cap. After opening the cap, just press it like any cream, and then just roll on wherever you like. The deo stick has a creamy  thicky consistency. So, you would feel like you are rolling on an amazing creamy fragrance stick :)).
Just try it out, you will love it. I am gonna buy my fragrance stick very soon and then I would come up with a detailed review.
Love you all. I found that this advertisement is amazing. Check this video out. You will love it.
Thank you for reading. Have you used this product? Please share your experiences here. Love you all.