Hello beauties, welcome to CA. Today I would review Ecotique 5 Earth Face and Body Scrub. But before that I would like to thank everyone who has supported my first blog giveaway with such immense love. And if you are new to my website, then check the featured post to know about it. Hurry!!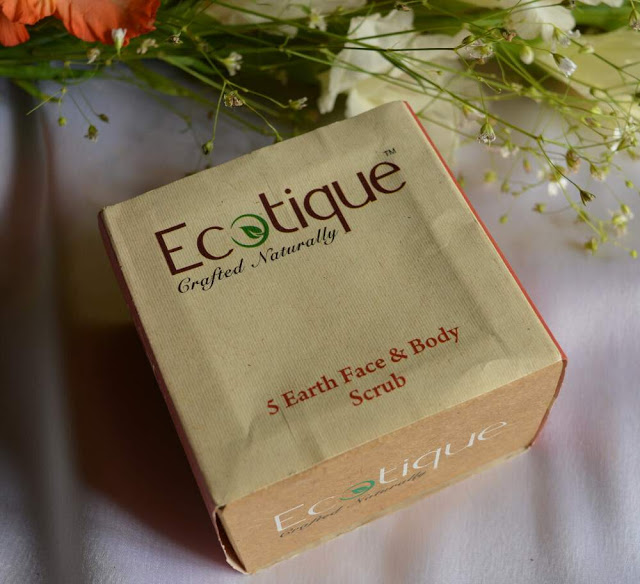 We all know the importance of a scrub for our skin. It not only removes the dead cells but also improves the overall health of our skin cells. So, let us check out whether this product is extraordinary or average :)). 
Price: INR 749 for 30g

Shelf Life: 24 months


Product Description and Ingredients: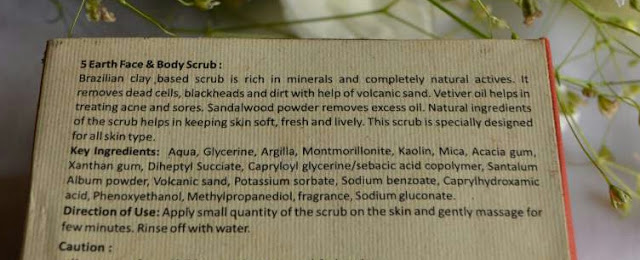 This scrub has some amazing components like Argilla, Sandalwood powder, Volcanic sands. It is also enriched with Montmorillonite clay and Kaolin clay.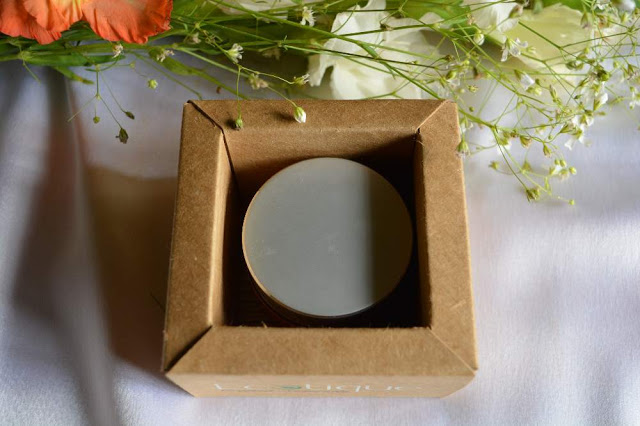 These ingredients are just superb. I find these quite innovative specially the Montmorillonite clay which is rarely found in cosmetics. It also has Mica mineral powder. Ecotique has used Sodium Benzoate and Phenoxyethanol as preservatives. Overall, the ingredient list is quite impressive.
My Experience with Ecotique 5 Earth Face and Body Scrub 
I love scrubs a lot. So, when Ecotique sent me this scrub, I literally jumped out of joy :)). It has two weeks since I am using this scrub. Let me share the whole story in terms of the following parameters.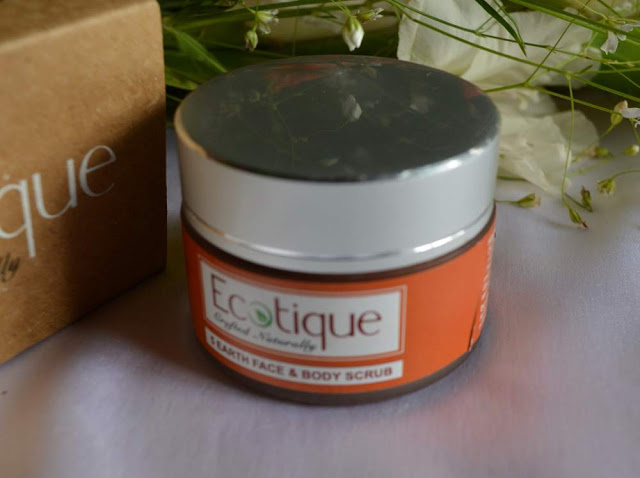 It is basically a tub which is made of glass and the cap is plastic made with a metal shine. It really looks glamorous. But because of the glass made thing, I would not recommend it as travel friendly.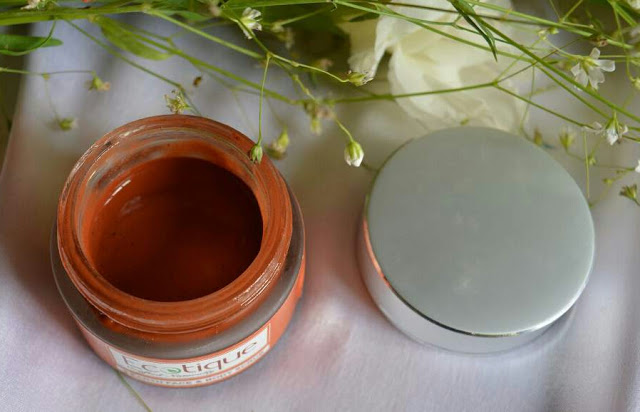 It has a very light texture which is similar to clay-water mixture. If you have ever used Earth Clay or Multani Mitti Face pack, then you would understand what am I talking about. The color is orange with a brown hue. The black colored scrub particles are not harsh at all. In fact they are so fine that this scrub can be used as a great face pack also.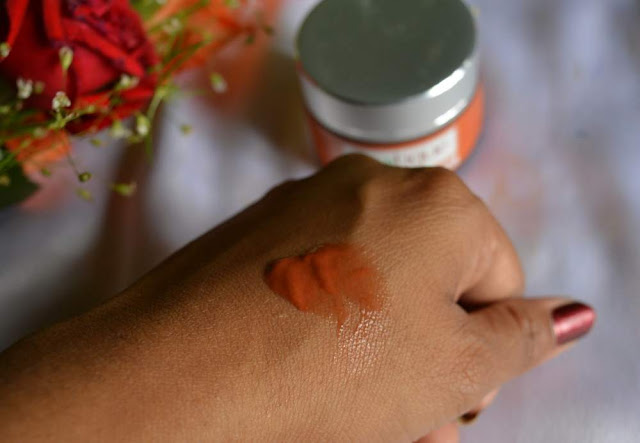 Very very refreshing. It would not give you a headache. I find the aroma spicy and  herbal :))).
I usually use this scrub as a part of my evening skin care routine. After a long tiring day, it provides me a fresh and rejuvenated skin. Another commendable thing is that my skin feels super soft and smooth afterwards. It moisturises my skin pretty well. I love the thing overall. 
Here goes the pros and cons for the busy bees :)).
Enriched with minerals, clays and few other earthy ingredients. 

Gorgeous packaging.

Very natural aroma.

Refreshes skin.

Provides right amount of hydration.

It does what it claims.
An inner lid could have made the packaging more hygienic.
***CA IMPRESSION: 4.8/5***
I would definitely recommend this product. Many might think that the price is a bit high. I would only say that we pay a lot of bucks for TBS Body Butters which is a foreign brand and also which is not completely vegan at all. So, why not pay some extra bucks for an Indian brand. I would like to purchase this product. Try this out my dear friends. 
That is for today. Take care. Love you immemsely. Celebrate womanhood with pride :)).
Thank you for reading. Have you used this product? Please share your experiences here. Love you all.
**PR sample sent by Ecotique. But the review is self opined and genuine.