Plum BodyLovin' Hawaiian Rumba De-odorizing Pit Cream: Review with Ingredient Analysis
Whoa! In the past few months, I have hardly missed anything from Plum Goodness. Sometimes, I feel as if I am the brand ambassador.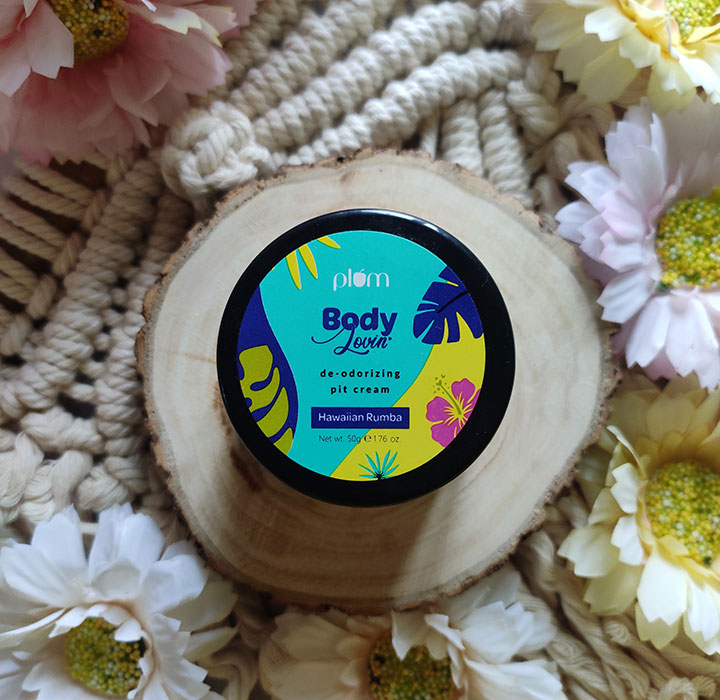 But, nope! As of now, the brand has never contacted me to promote any of its products. Actually, whenever the brand launches something, I feel this immense urge to try that out.
Recently, Plum has launched an armpit cream. Before this, I had only known that such products exist. But, never felt the urge to try one. I have a sweaty armpit and like many women out there, the issue becomes worse from March to October.
So, this time, I felt that I must give this armpit cream a try. It's been a week already that I am testing this product. How is it? Does it block sweat? Does it work like a solid perfume? Well! It's time to talk about Plum BodyLovin' Hawaiian Rumba De-odorizing Pit Cream.
Basic Information about Plum BodyLovin' Hawaiian Rumba De-odorizing Pit Cream
Price: INR 345 for 50g
Shelf Life: 2 years
Buy From: Amazon
What does the Brand Claim about Plum BodyLovin' Hawaiian Rumba De-odorizing Pit Cream?
Do you want odour free pits for more than 12 hours? Get ready to embrace this de-odorizing armpit cream rich in Kaolin and Green Tea Oil. Hey! Let's not forget the ocean derived minerals at the same time that have the ability to absorb sweat.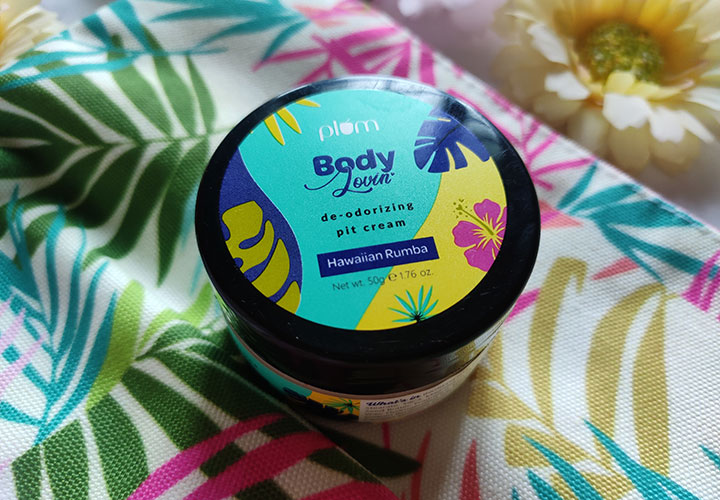 Don't worry! This pit cream is free from Aluminium and Baking Soda, so no more toxic build-up. Let your armpits breathe fresh like never before.
Is it an Anti-Perspirant?

Nope! It is not. In fact, stay away from sweat blockers. Sweating is good as it cools down your bodily temperature.

This pit cream is a de-odorizing cream or in simple phrase, it's a cream that absorbs excess sweat and oil. It has a soothing fragrance which is again not an alternative to shower gel or perfumes.
Ingredient Analysis of Plum BodyLovin' De-odorizing Pit Cream
And now, we have come into the section that Cosmetics Arena boasts off. No matter, how exhausted or sick I am, I would never skip this part. Ingredient analysis of cosmetics gives this blog a motto to stand out in the crowd.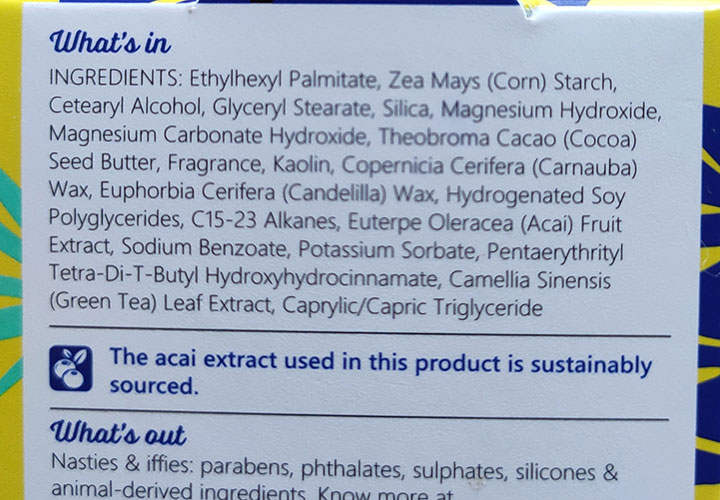 Plum BodyLovin' Hawaiian Rumba De-odorizing Pit Cream is made of 19 ingredients. As you can see, there are only a few names that most of us are aware of or heard of. So, what about the rest? Let's take a close look.
1. Ethylhexyl Palmitate
A safe alternative to Silicone, this component functions as a skin conditioning agent and as an emollient in cosmetics.
2. Zea Mays (Corn) Starch
Corn Starch works as an absorber. It is a great alternative to Talc. This ingredient also provides a dry silky feeling without making the skin cakey looking.
3. Cetearyl Alcohol
It is a common name among body lotions. Cetearyl Alcohol functions as a skin conditioning agent and also as a thickener in cosmetics.
4. Glyceryl Stearate
Another common name among personal care products. Just like the previous component, this component functions as a skin conditioning agent and also as an emollient.
5. Silica
Silica is popular as an anti-caking agent. It is quite popular in the cosmetic industry due to its power to soak sweat and oil.
6. Magnesium Hydroxide
This component functions as a pH controller and also as an absorbent.
7. Magnesium Carbonate Hydroxide
It functions the same way Magnesium Hydroxide does. This component functions both as a pH controller and absorbent.
8. Theobroma Cacao (Cocoa) Seed Butter
Rich in antioxidants, this non-comedogenic butter is an excellent natural butter. It is a great emollient that also helps to get rid of dark spots.
9. Fragrance
I hope Plum Goodness had mentioned the name of the fragrant agent.
10. Kaolin
Kaolin clay is full of benefits. But, in this pit cream, this component is used as an absorbent.
11. Copernicia Cerifera (Carnauba) Wax
Carnauba wax makes a product hard and gives the skin a non-sticky feel which is great especially in a solid bar.
12. Euphorbia Cerifera (Candelilla) Wax
Candelila wax works just the same way Carnauba wax does. It is widely used in conditioners, emulsions, and lipsticks.
13. Hydrogenated Soy Polyglycerides
Basically, it is Soy wax that functions as a skin-conditioning agent in cosmetics.
14. C15-23 Alkanes
It functions as a solvent.
15. Sodium Benzoate
One of the most widely used preservatives in cosmetics.
16. Potassium Sorbate
Another preservative that is quite popular in personal care products.
17. Pentaerythrityl Tetra-Di-T-Butyl Hydroxyhydrocinnamate
Don't worry! The bigger name is the shorter its functionality becomes. As per EWG, this ingredient is a safe antioxidant.
18. Camellia Sinensis (Green Tea) Leaf Extract
This component functions as an antioxidant in cosmetics.
19. Caprylic/Capric Triglyceride
A safe fragrance agent that also works as a skin-conditioning element.
And, that's all! Apparently, it might seem that there are loads of chemical components used in the formulation. But, as you can from the analysis, most of the components are safe for both the environment and also for the human system.
I love how they have used alternative solutions. And, also the brand has made sure that no colour is added to the product. The only thing I disliked about the ingredients is the inclusion of fragrance. Overall, the formula deserves a rating of 4.5 out of 5 for the formulation.
Packaging, Texture, and Aroma
Plum Bodylovin Pit Cream comes in a small plastic-made tub with a spatula in the carton. It is worth noting that the brand uses bio-degradable plastics. Tub packaging is often not considered as a hygienic one; but fortunately, you get the plastic spatula too along with it.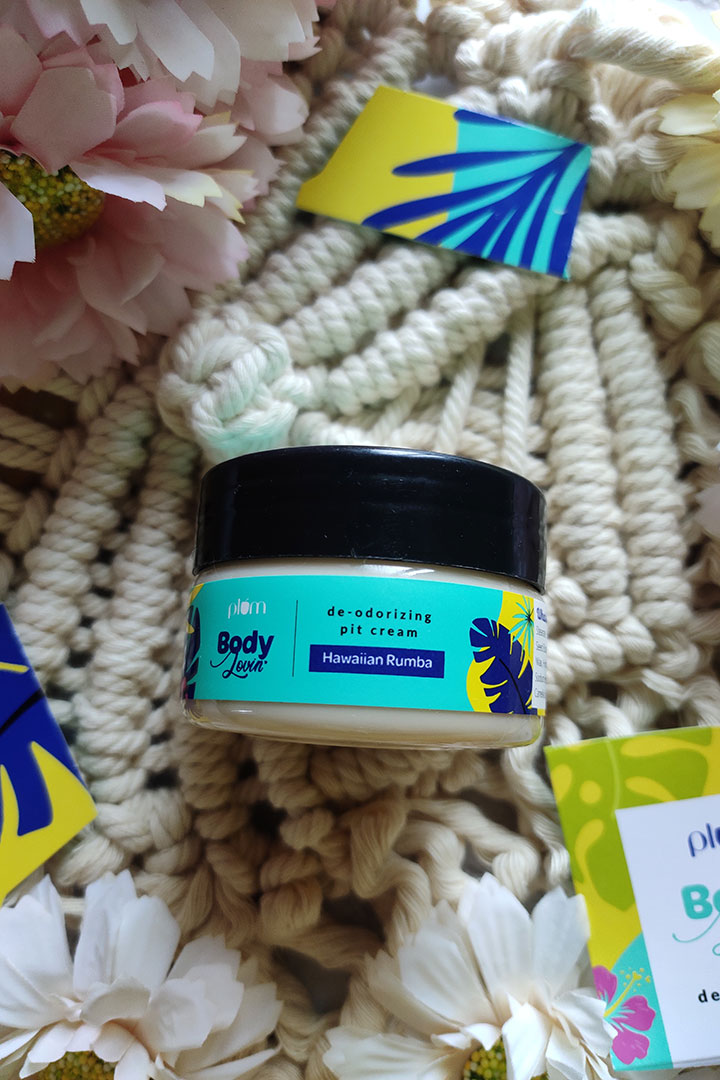 The texture reminds me of powdered cream. With slight pressure, the cream melts and leaves a slightly powdery feel. It is easy to apply.
If you have ever used Plum Bodylovin Shower Gel Hawaiian Rumba, then you already know what it smells like. Exactly, the same! The beachy fragrance is really mind-blowing.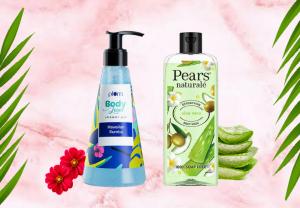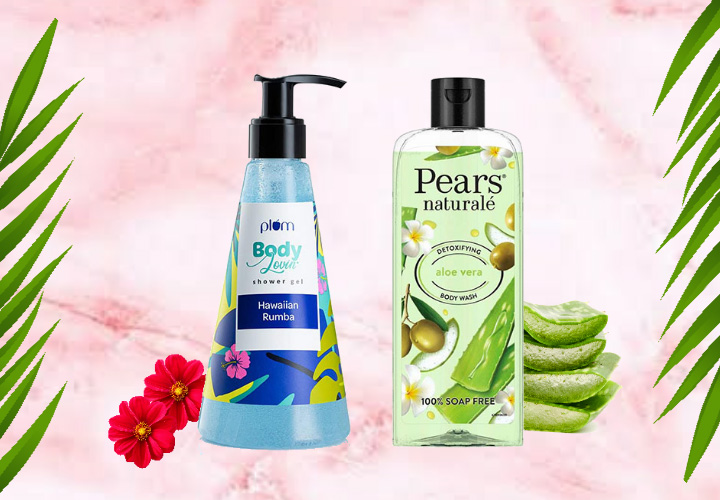 No matter what your skin type is, this compilation is all you need this year to make your summer days refreshing and aromatic.
Read More
One Week with Plum BodyLovin' Hawaiian Rumba De-odorizing Pit Cream
In this entire week, I have used this pit cream quite a few times; at least, 5 times if not close. And, every time, I have experienced a combination of things. So, let's take a look.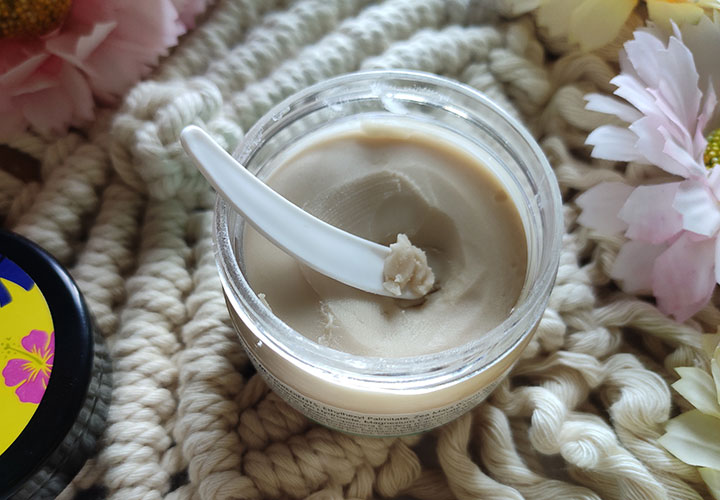 Just a little amount is required for each armpit. Due to its powder cream texture, it is quite easy to apply.
Within a fraction of seconds, I can barely feel anything under my armpits. Only the beachy fragrance stays behind.
Armpits feel pretty smooth afterwards and the feeling stays the same for at least 3 hours.
As the brand claims that the fragrance is not an alternative to perfume or shower gel, so the fragrance never stays for long. The maximum it can stay is 2 hours.
My armpits stay fresh for 3 hours approx. which is good for sure. But, indeed the 12+ hours of claim is quite tall.
After your day is over, you can easily wash off the residues of sweat, oil, dirt, and pit cream with any shower gel.
And, that's exactly what I have felt so far. So, as a whole, do I recommend this pit cream? Well! Here is my final pitch on this.