Radiate Natural Beauty: Lip & Cheek Crayon, where skincare meets makeup
Juicy Chemistry and Color Chemistry, two renowned brands at the forefront of clean beauty, have joined forces to create a remarkable innovation: the Lip & Cheek Crayon.
With a perfect blend of skincare expertise and makeup finesse, this product aims to revolutionize your beauty routine while embracing sustainability.
Why you should consider Color Chemistry Lip & Cheek Crayon?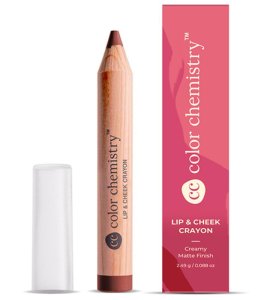 Courtesy of Brand
Shop Now!
Indulge in Vegan Velvety Vibes
Discover the ultra-matte magic of the Lip & Cheek Crayon, which delivers a thrilling burst of deep, rich color that lasts all day without sacrificing comfort.
Thanks to a non-drying solution that leaves your lips soft, supple, and oh-so-kissable, you can indulge in its nourishing embrace.
Enter a World of Weightless Artistry
Take your beauty game to the next level with these multipurpose lip and cheek crayons. Immerse yourself in their silky-smooth, feather-light texture to quickly create gorgeous designs. Let your creativity soar as you choose between a delicate flush and a strong statement.
Unleash Your Colorful Persona
The Lip & Cheek Crayon transforms into your artistic palette with a breathtaking selection of 16 bold and gorgeous colors, perfect to match every mood and desire. Discover a wide range of beautiful colors that enable you to express your uniqueness and exude confidence.
Dare to be bold, enchanting, and uniquely you.
So, embrace the vegan, ultra-matte enchantment, where intensity meets nourishment, weightlessness meets versatility, and vibrant shades meet your every whim.
It's time to let your lips and cheeks shine with the extraordinary Lip & Cheek Crayon by Juicy Chemistry and Color Chemistry.
Juicy Chemistry and Color Chemistry have effectively combined skincare and makeup with the introduction of the Lip & Cheek Crayon to create an exceptional beauty essential for you.
With the Lip & Cheek Crayon by Juicy Chemistry and Color Chemistry, enter a world where sustainability and style coexist, and discover your inner beauty.
Unleash Your Eye-catching Artistry with Eye Shadow Palette Quad
With the outstanding Eyeshadow Palette Quad from Juicy Chemistry and Color Chemistry, you may completely engross yourself in the enchanting world of eye makeup.
This gorgeous palette features 7 eyeshadow powders that are incredibly pigmented and have been carefully chosen to work flawlessly together.
Experience the opportunity to design a variety of eye appearances within the reach of a single quad that radiate confidence and convey your uniqueness.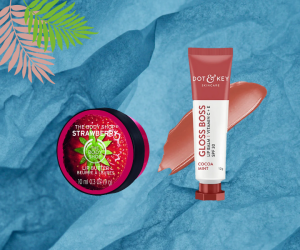 Get ready to find out the best compilation ever. No matter what your budget is, we have got you covered.
Read More
Why you should consider Color Chemistry Eye Shadow Palette Quad?
Seamless Blending, Limitless Expression
Get ready to be mesmerized by our eyeshadows' incredibly blendable formula. Simply glide and overlay each color, admiring how they melt with one another to spark your imagination.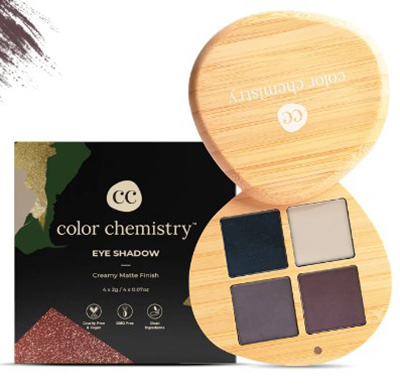 Courtesy of Brand
Shop Now!
Unleash the Radiance
Our palette offers a variety of alternatives to spark your imagination with its highly pigmented matte and sparkly colors. Each color is purposefully chosen to provide a flash of vivid color that catches the eye.
Versatility Meets Magic
Each of the seven adaptable quads in our eyeshadow palette has a wide range of transformational potential. Embrace the ability to work your magic with the assurance that these colors will subtly enhance the beauty of your eyes.
Experience the Eyeshadow Palette Quad and reawaken your creative side. Embrace effortless blending, let your imagination go wild, and savor the pure enchantment that each color holds.
Allow your eyes to take on the role of a painting as they portray your individual story using the remarkable palette we have created.